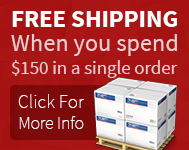 Black Diamond ULTRA Distance Z-POLE Hiking Poles - Large
See all items by:
Black Diamond
Description

Award winning revolutionary product we have all been waiting for.

The Ultralight distance model is designed for thru hikers, fast packers and anyone else looking to shave ounces without compromising support, the Black Diamond Ultra Distance is a superlight, 3-season carbon-fiber pole instead of alloy on other models, and combines on-trail durability with our ultra-packable folding-pole technology
Gone are the days of struggling to pack your poles inside your pack or hang them on the outside because they are too long. These 3 piece poles collapse down to approx 36cm so they can easily be stored inside the stow bag provided! Perfect for lightweight travel. They are also amazingly lightweight and do not sacrifice anything in performance to heavier twin shaft poles.
Simply pull them out of the small stow bag and snap them together!
revolutionary 3-section Z-Pole design features a coated inner cord, a single push-button release, and our speed cone deployment, which aligns like an avalanche probe for increased strength and stability. The lightweight EVA grip features a non-slip extension for choking up on steep terrain, and the interchangeable tips provide multi-surance versatility.

.
Z-Poles' Rapid Deployment System consists of three key components:
a concealed inner cord, a single push-button release to collapse the pole and one-pull, speed cone deployment. Speed cone technology comes from our expertise in avalanche probe design and is a key component of Z-Poles' strength, stability and fast deployment. Simply grab the grip and the first shaft section, and pull them away from each other. The pole will snap into place and lock.
Each speed cone guides a shaft section into place, and stiffens the joint when the pole is locked. Protective, flexible tube ends cover the pole's kevlar center cord when folded.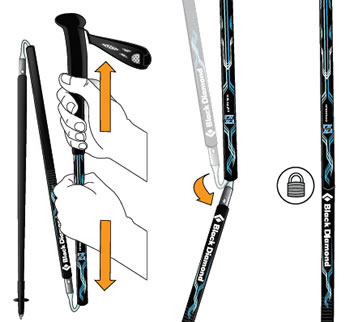 The poles come in various lengths for all user heights.
Size guide chart as follows:
110cm medium to suit users from 5'1" to 5'7'

120 large to suit users from 5'8' to 5'11"

130 XL to suit 6'0" and above
Features:
Carbon-fibre shafts

3-section folding design with speed cone deployment

Lightweight EVA foam grip and breathable,

moisture-wicking strap

Non-slip foam mini grip extension for secure

choke ups

Includes interchangeable, non-marking Z-pole

Rubber Tips, Z-pole Carbide Tips and stow bag

Stopper basket with shaft catcher secures folded sections
Specs:
Series :

z-poles Ultra distance

Weight Per Pair :

270 grams

Usable Length :

120cm

Collapsed Length :

39.5cm

About Black Diamond

What began with a backyard anvil and a hammer has grown into a global company with offices on three continents that's not just for rock climbers, but one that stands for the spirit of the sports we live, their values and goals, past, present and future. Since 1957, our innovative gear designs have set the standards in numerous areas. This is partly the result of dedication, desire and diligence on the part of an incredible team of people. It's also the result of each of us being climbers and skiers ourselves.Here at Black Diamond it's all about climbing and skiing. We share the same experiences that you do on rock, ice and snow and these experiences push us to make the best gear possible for our worldwide family of climbers and skiers.

We're a company of users—it's who we are. We're the greatest dreamers about what could be, and the harshest of critics about what exists and because of this—the creation of Black Diamond is a process which will never end. The company today is more committed than ever, thanks to the many people here in the U.S., at Black Diamond Europe and at Black Diamond Asia whose limitless energy and hands-on involvement have created a promising future for all climbers and skiers worldwide.
1760
(BD112120L)