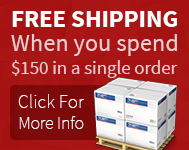 Osprey Atmos 65L Medium Mens Hiking Rucksack Pack
See all items by:
Osprey
Description

Superlight Backpacking, Active Adventure
The series that redefined expectations about weight, ventilation and comfort in backpacking just did it again. Our radically updated AirSpeed™ suspension now provides customized fit, with fully adjustable torso length, interchangeable harnesses and adjustable hipbelt fit. It all adds up to an even better fit and greater comfort on the trail
Airspeed™ Suspension with LightWire™ frame and 3D tensioned breathable mesh backpanel optimizes pack balance, ventilation and support




Men's Torso Adjustable Interchangeable shoulder harness allows fine-tuned fit




Men's Adjustable hipbelt uses dual density foam for improved support and spacer mesh for breathability while offering an exclusive adjustment system allowing the belt to be custom fitted while wearing the pack

When first introduced, the Atmos Men's specific Series turned heads and attracted devotees instantly. For this model it's totally redesigned the trampoline backpanel so that the load sits closer to your back while still providing optimal ventilation. Refined pack features incorporate consumer and dealer feedback along with superbly detailed and ever evolving Osprey design.
The Atmos provides the ideal volume for your next superlight backpacking experience. At 65L cubic inches and with an average weight of 1.6 kg, you can carry your superlight essentials with ease and comfort. A traditional floating top pocket/top load design and twin front pockets with welded water resistant zips makes loading easy.
Other features include wire mesh foam under the airpeed harness, an internal hydration sleeve, zippered mesh pockets on the hipbelt and removable sleeping pad straps.
The torso adjustable interchangeable shoulder harness allows 3"/7.5cm of adjustment for a fine tuned fit while using a new pad design, spacer mesh and ventilated foam for breathable, supportive cushioning.
Features AirSpeed harness Suspension with LightWire alloy frame and 3D tensioned breathable mesh backpanel with side ventilation
The super tough Cordura Nylon fabric is soft to touch but super durable and abrasion resistant. Cordura Nylon is 10 times more durable than cotton, 3 x more durable than standard polyester and 2 x more durable than standard Nylon!!
specs:
Weight: 1.6kg




Size Harness: medium (refer size chart below)




Capacity: 65L




The torso adjustable interchangeable shoulder harness allows 3"/7.5cm of adjustment




Key Material: High tenacity Ripstop Nylon

Dimensions


Dimensions are shown as length (height) x width x depth
Cm: 80 x 44 x 40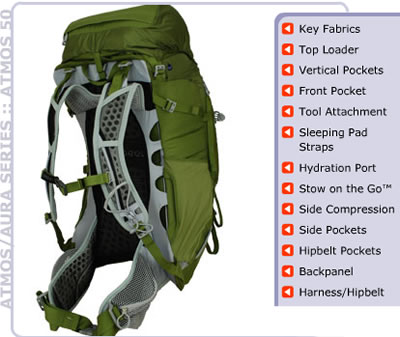 Atmos / Aura Airspeed backpanel
The AirSpeed suspension incorporates a LightWire Alloy frame with a 3D tensioned mesh backpanel. Additionally, side crescents provide further ventilation. All contact surfaces are either breathable mesh or perforated, molded waffle foam. Your experience is a pack fit with comfortable uniform body contact and no hot spots, whether you're bagging a fourteener, hiking the AT or pulling your next 24-hour race.

Harness Features:
LightWire Alloy Frame


Height and hip adjustable


Cross struts provide excellent flex


Tensioned breathable mesh fabric provides superb airflow through back contact zone.


AirSpeed side crescents for side ventilation


Thermoformed and perforated waffle pattern harness and hipbelt for further ventilation
Sizing and Fitting of your OSPREY pack
Getting the pack that's right for you!
Fit is the key to pack performance. Take the time to get it right. If you're buying from our online store measure yourself carefully and don't hesitate to email or call customer service if you have questions. Once you have selected the pack model that meets your needs, you will need to choose the right size.
Step 1 - Pack Sizing
Most of our Opsrey packsvare available in multiple sizes to fit a range of torso lengths. To find your torso length, have a friend measure your back along the spine (as shown in the illustration) from the level of your iliac crest (the top of your hipbones) to your C7 (the knobby bone at the base of your neck).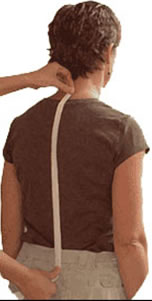 Use the charts below for different osprey models to determine your pack and sizes.
Atmos & Aura Series
AirSpeed suspension with built-in components

| | | |
| --- | --- | --- |
| Torso Length | Hip Measurement | Pack Size |
| > 20" / 51cm | > 33" / 84cm | L |
| 18-20.5" / 46-52cm | 30 - 34" / 76-86.5cm | M |
| < 18.5" / 46cm | <31" / 79cm | S |

About Osprey
Since Osprey was founded in 1974, every single product design bearing the Osprey name has passed through the hands of owner and founder Mike Pfotenhauer, undergoing relentless scrutiny. From stitching the first lines of custom-fitted packs, to meticulously designing innovative products with intuitive features, to forging personal relationships with the sewing operators who construct the packs, Mike has been the unbreakable thread that makes Osprey a company like no other.

To celebrate its 35th anniversary in 2009, Osprey launched the All Mighty Guarantee, an enhancement of a lifetime warranty that was already one of the most robust in the industry. Free of charge, the company will repair any damage or defect in its product – whether it was purchased in 1974 or yesterday. If Osprey is unable to repair the item, it will happily replace it. The All Mighty Guarantee: any product, any reason, any era.
2077
(osp0258m)