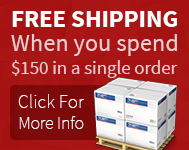 Petzl NAO Reactive Rechargeable 315 Lumen Head Lamp
See all items by:
Petzl
Description

Rechargeable headlamp with self-adjusting lighting - REACTIVE LIGHTING technology

The rechargeable NAO headlamp adapts its two high power LEDs instantly and automatically to the lighting needs for greater comfort, fewer manual interventions and longer battery life. NAO is the first Petzl headlamp with REACTIVE LIGHTING technology: a sensor measures and analyzes the ambient light.
Headlamp with REACTIVE LIGHTING technology has a sensor to detect ambient lighting, allowing it to adapt its beam pattern and the power of its two LEDs instantly and automatically to lighting needs.
Dowload the OS by Petzl software, free for download at www.petzl.com/OS, allows the NAO's potential to be maximized with the option to personalize the headlamp and its performance. You can fune tune brightness, burn times and distance settings, store up to 4 activity profiles and activate when needed, add up to 10 different lighting levels and create custom share profiles.
It has 2 lighting modes either reactive or constant continous.
The NAO headlamp:
- offers adapted, comfortable lighting
- keeps the hands free longer
- increases lighting duration by making optimal use of the energy source
Specifications
Weight: 187 g
Beam pattern: wide and/or focused
Watertightness: IP X4 Resists extreme temperatures (-30 °C to + 50 °C)
Lithium-Ion 2300 mAh rechargeable battery with an estimated battery life of 300 cycles (beyond this, the battery's capacity is approximately 30 % lower than initially)
Certification(s): CE
Product comes with:
- Lithium-Ion rechargeable battery
- 30 cm USB cable
- top strap Packaging completely separable for recycling
Up to 315 Lumens in constant mode or 355 Reactive
made in bulgaria
Two lighting modes available:

- REACTIVE LIGHTING mode
- continuous mode
Customized lighting with OS by Petzl software (free for download at www.petzl.com/OS) allows the user to:
- regulate light intensity and lighting time and distance based on the activity
- register up to 4 activity profiles on the headlamp for direct activation based on your needs
- create up to 5 lighting levels per mode
- create and share personalized profiles
Li-Ion rechargeable battery:
- performs well at low temperatures
- easily rechargeable with the integrated USB connection (compatible with all USB chargers: cell phone, MP3 player, computer, portable energy source, solar panel, car cigarette lighter, etc.)
- with battery charge indicator
- can be replaced, if necessary, with two AAA/LR03 batteries (reduced performance)
-Multifunction on/off switch can be locked to avoid accidentally turning it on when stored/transported
-Headlamp is stable on the head with the Zephyr adjustable headband, which easily tucks away when transporting the headlamp, and the extra top strap for technical activities
-Optional belt kit for NAO (E36R10) allows the rechargeable battery to be moved to the belt to reduce the weight worn on the head, or to keep it warm in winter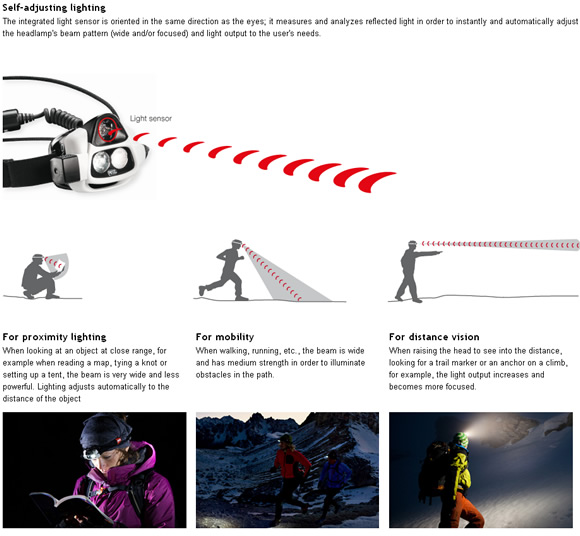 2151
(e36a)