Selecting Your Daypack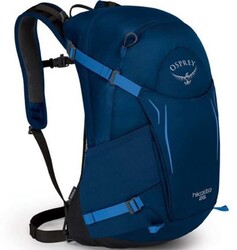 Selecting your Daypack:
Daypacks typically range between 15-35 litres depending on what you want to use the pack for, they are great for all kinds of activities like day walks, hikes, cycling or skiing. Being a smaller pack means the load is mainly carried on the shoulders however some brands incorporate simple waist straps for stability, and many have different degrees of back support and padding with air ventilation for hotter climates.

Materials Used:
Textured nylons such as Cordura are used because they are very strong and abrasion resistant.
Polyester is a strong material but features more on entry-level models.
Canvas is a very heavy material but it is very water resistant and is often found in older bags.
Not many packs are considered waterproof as anything with a zip is a potential water entry point. So in wet conditions it is recommended to use a pack cover or pack liners inside the bag, or choose a dry pack.

Choosing your Daypack:
A daypack is only a small bag, so you would not want to have more than12kgs load in it. Because they normally do not have enough padding and hip belt support, if you are carrying a lot of weight it will be directly on the shoulders (that could be uncomfortable). It's recommended to choose a daypack when you want to pack light for the day. Mostly they have hip belts and sternum straps that are included as a stabilizing method to stop the pack from moving around too much on the body.

Daypack Uses:
Bushwalking: look for a narrow-profile pack so it is not too bulky on the trail. Depending on how long you are going on your walk for is how big a bag you should take, consider if you need to take extra clothing for different environments and wether you need a decent hip belt and sternum strap.

Rock climbing: Depending on your activity (trad climbing, mountaineering) will determine how technical your daypack needs to be. How much gear you need and weight of your gear e.g. ropes, carabineers, shoes, harness, will help with choosing specific features of the pack that you require like internal pockets, daisy chain, crampon straps.

Ski touring: The basic features of a back pack are essential when choosing for this activity. Things like a hip belt and sternum strap are important and it also pays to look at a more specific bag that has areas to carry your skies or board on the pack. The size will generally be determined on any extra clothing you need to take for the conditions.

Trail running/multi sport: some people choose a bum bag with water bottle holders because they like the fact that keeps your back clear so sweat can escape. But if size is an issue the other option is a technical slim line hydration pack that can offer a little extra space. With either choice it is a priority to get to know the fastening system of the pack so it sits properly while you are active.

Hydration packs: These packs range in sizes depending on the use and application that you are after, the smaller ones have bladders that range between 1.5 - 2 litres and are designed for the more active person for hydration as above. They also make models with a larger capacity orientated to the day hiker that wants to take more gear with them like a jacket, food and any other appropriate gear for the trip. Because they are bigger their bladders vary between 2-3 litres and generally come with a slightly bigger hip belt to deal with the weight.

Urban/school/work: these packs are ones that you would use as an everyday commuter. Generally mid size depending on what you want to carry, but these have specialty segmented compartments so you can organise your things better and some have extra padded areas for your multimedia items like laptops, ipads and smartphones.

Daypack styles:
Top loading vs. front or zip loading. Depending on your activity and use, will determine what style you will be looking for. The zip loading is typically used if you are after a wide opening for easy access to books and clothes that can be more difficult to locate in a top loader.

Top loaders do a better job of keeping gear dry in wet weather because anything that has zips is a potential water entry point even though they are covered with a small zip, They also tend to do a better job of keeping your gear from moving around to much as they typically come with compression straps to keep the load where you need it, and that is essential when participating in activities where you require balance.

Spend some time understanding your requirements and getting to know the different brands and models that are available. That way you'll be sure to get the pack that is right for you.
If you need any help, or have any queries, please contact our friendly Customer Service team on Ph: 07 5593 4180 or service@wildearth.com.au
We're here to help.