Five outdoor gift ideas over $300
Looking to go all out this Christmas? Here's 5 outdoor gift ideas for that extra special person in your life.
18.11.2015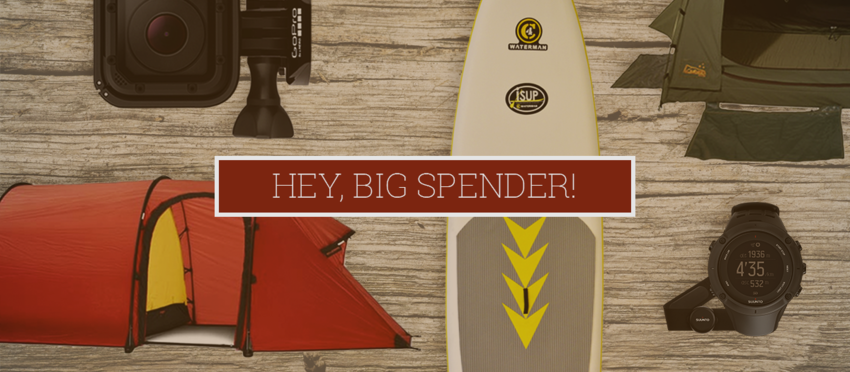 Gift-giving doesn't come naturally to everyone. Especially when buying for a significant other, many of us are still left racking our brains come mid-December. Well, this year you're in luck because we've done the hard work for you. If there's someone you want to spoil this Christmas, we're sure one of these gifts will be a welcome surprise. On the other hand, if you've been naughty this year, one of these 5 gifts is sure to get you back in the good books!

This inflatable paddle board is perfect for outdoor enthusiasts who love getting wet - portable and easy to store, these iSUPs are both fun and practical. Christmas is the perfect time to get out and enjoy the sun, and these boards make for a great day of family fun. You can take turns cruising waves or paddling on flat water, you could even try your hand at SUP yoga! This is the gift that keeps on giving: the Aussie climate means you can enjoy SUP boarding all year round.

Finally, a swag that is easy to pitch and free standing! If you're looking for a gift for a serious outdoorsman or woman, this is the one. This swag comes with everything you need to have a great camping experience, whether it is a well planned trip or a last minute getaway. Purchase this gift for a loved one and you'll be committing to more weekend adventures in 2016. This particular model is extremely well ventilated and has more than enough room for two people.

Watches are a pretty common Christmas present, so why not step it up a notch? This particular watch not only tells the time, it has built-in GPS, a storm alarm, barometric pressure meter and even has specialised features for running, biking and swimming. Sync it to your mobile and customise the settings even more - you can download the Movescount App and take your training to the next level with customised training programs and social sharing. This a great pece of gadgetry to unwrap on Christmas Day, and something that is guaranteed to get used.

This tent is a box ticker. There really isn't a better choice out there for all-weather camping: easy and quick to pitch, this high quality model is super popular with extreme adventurers travelling to harsh envionments. If you know a keen outdoor enthusiast who is a bit of a gear junkie, we're sure that a Hilleberg would be on their wishlist.

This is GoPro's smallest, lightest most convenient camera yet. We're pretty stoked to have it in stock, and we know that all outdoor adventurers - from climbers to hikers to skater to surfers - will want to ge their hands on this piece of tech. This is the perfect gift for people heading overseas in the New Year, or even for those who just get outdoors on a regular basis. So if you know someone who obsessively watches GoPro YouTube videos, wishing they could film their own adventures, this should be your go-to gift.
---
Leave a comment