Big Agnes Copper Spur 3P Wins Editors Choice Award!
The Big Agnes Copper Spur 3P has just won Backpacker.com's Editors Gear Choice Hall of Fame Award - It's a pretty big deal.
21.08.2018


The Big Agnes Copper Spur 3P has just won Backpacker.com 's Editors Gear Choice Hall of Fame Award - It's a pretty big deal.
It's been climbing the ladder as one of our best selling models due to it's comprehensive features and ultra lightness. The Copper Spur UL HV 3 is designed with a high volume hub to maximize strength and increase living space without adding weight. Large dual zipper doors and steep wall architecture make overnight hiking trips more comfortable than you ever thought possible.
At Wild Earth we're proud to be Australia's exclusive retailer for Big Agnes. They've been at the peak of the tent design game since they emerged in the industry in 2008 and their light weight designs have changed the future for all of us. They key development feature being a 20-denier ripstop nylon for the floor and fly; the weave and high filament count increasing durability without adding weight. In addition to using lightweight fabrics, Big Agnes were also innovators of the hub pole geometry which boosts strength and adds volume to their tent designs and allows for easy set up and packup.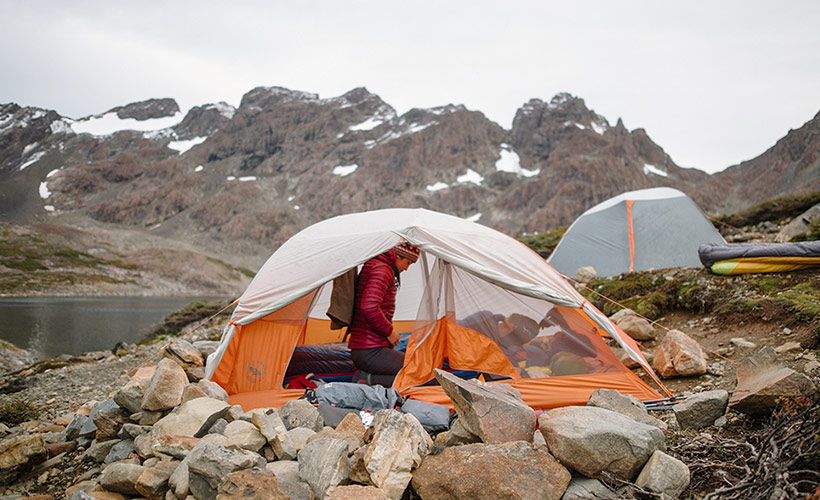 We could go on and on about how fantastic the Big Agnes Copper Spur 3P tent really is, but we thought you'd like to hear the unadulatrated truth from a few very satisfied Copper Spur 3P owners who've tried and tested this tent in some extremely demanding conditions out in the field......
Love the Copper Spur! By: Jacinta on 28 July 2018 Rated 4/5
I have used my Copper Spur 3 on several thru hikes, the longest being five months on the TA in New Zealand. It has withstood some pretty serious wind and snow. It's easy to set up and pack away. It is showing some signs of wear now, with small holes appearing in the mesh on the inner. I packed it up wet a few times on the TA, and the orange colour has marked the grey sections on the fly as a result. I would happily buy the same tent again.
Review of the Big Agnes Copper Spur 3 tent By: John Chapman on 18 October 2017 Rated 4/5
Its our second Copper Spur 3, its a very lightweight tent so dont expect it to last decades but with heaps of space for 2 or comfortable for 3 its a great tent for long trips of 30 days plus which we do every year. Its fairly stable in high winds if pitched well and the old model has seen out a few storms. At only 1.8kg, its lighter than most 2 person tents so for us for long trips its a great tent. Its not cheap but its worth it to us as it saves 1kg in weight. The new model is better than the old, the door has much better designed opening sideways as you can get in and out without having to fully open it (and then let the bugs in). only disadvantage is it has a large footprint so you need a larger site to pitch it but then we just use it for 2 and you can pick which parts to lie down on to avoid tree roots etc so it works out OK. As for the MtnGlo LED lights, with the first tent we thought it was a gimmick but once you use it its a great feature and if a future tent does nto have we will add it (you can buy LED strings only). Its not quite enough to read by but excellent for cooking, finding things without swinging a torch around and blinding your companion etc. The tent is also easy to find when you have to go out at night as the whole thing glows. Overall, if you need a very light spacious tent to live in then this is it, its not cheap but is well designed.
Big Agnes 3 person tent By: Tina on 24 September 2017 Rated 4/5
This tent is light weight and provides plenty of room. The steeper sides allow more headroom. It is light and so simple to set up and pack away.
Review Big Agnes Copper Spur HV UL 3 Person Ultral By: Will on 12 September 2017 Rated 4/5
Great tent, not don any long trips yet but light as a feather and you can put it up solo in a couple of minutes, lighting is great and packs down much smaller than the provided bag if you're tight on space. Very thin base though, needs a good tarp underneath
You can trust this tent By: David on 16 February 2016 Rated 5/5
I've used this tent on five trips in varying conditions: two with soaking rain, one with very high winds, and two were just nice weather. Every time this tent performed superbly. It keeps the rain out. It held up in a roaring forties wind storm on the South Coast Track in Tasmania, when we really thought that the tent might fail in some way. You can trust this tent. The tent is sufficiently roomy for 3 people that one doesn't feel crammed. With two, there's acres of room. The spreader pole makes for plenty of volume inside, which means that one doesn't have the problem of pushing the inner against the damp fly. Some complaints: - Insufficient tent pegs. The tent requires 13 to 15 pegs to pitch with the guy ropes, yet only 8 are supplied. - Groundsheet is very thin and won't withstand any sharp objects. I use an underlay of Tyvek HomeWrap from Du Pont. - Dust blows into the tent. Camping in a dusty area in very high winds, we got showered with dirt inside the tent. - Difficult to pull the vestibules tight to reduce flapping in higher winds. Overall, highly recommended.
Big Agnes produces award winning, high-quality camping equipment that is comfortable and durable and made for all adventures. This forward thinking company has released a number of collections over the years, with different types of activities catered for.

---
Leave a comment