5 Amazing Australian Short Walks
Short hikes can be a much needed chance to escape the stresses of everyday life. They not only allow you to re-energise, but also enjoy the unique beauty of the Australian landscape.
23.08.2017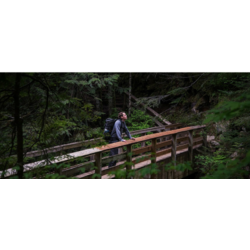 If you're looking for some inspiration to get out there and experience some incredible short walks, you've come to the right place.
Australia offers many great walks, including short walks and one day walks perfect for the casual adventurer. Short walks are especially ideal for people with busy lifestyles, allowing you to take bit of time off work to focus on your health.
Here are five of our favourite one day walks to get you inspired to discover your own.
1. Macushla to Cape Richards track – Queensland
Offering much more picturesque scenery than your average stroll, the Macushla to Cape Richards track on Hinchinbrook Island in Queensland skirts a beach paradise. Walking the track, you'll discover the nesting mounds of scrub fowls and listen to rainforest pigeons high in the trees. At low tide, you can watch tiny crabs scuttle across the sand at North Shepherd Bay.
Not sure what to bring on your trip? The Osprey Mira hydration backpack is the perfect choice for one day walks like the Macushla to Cape Richards track, able to carry everything you need from a water bottle to an extra warm layer and snacks for the trail.
Length: 4.9 kilometres
Time: 2 hours
2. Mt Anne and Eliza Plateau – Tasmania
One of our most cherished short walks in Tasmania, the Mt Anne and Eliza Plateau tracks offer many diverse hikes for people with different levels of fitness. The most challenging trail, the Circuit Track Junction to Mt Anne Summit, arguably provides the most rewarding experience, with the awe-inspiring Mt Anne towering above as you take in the scenery of jagged Tasmanian ranges and vast lakes at the top of the summit.
What should you know before heading off to Mt Anne? Wear clothes that will keep you warm with base layers or thermals, and remember to purchase a permit upon entry to the national park. And just in case you get stuck out there when a storm rolls in, the Gerber Bear Grylls ultimate survival kit, complete with knife kits, survival blanket and fire starter, will help you survive even the most hostile environment (just in case of an emergency).
Length: Varies
Time: 1-2 hours
3. Sealers Cove Track – Victoria
The Sealers Cove Track in Wilsons Promontory Park, Victoria, offers many short walks with great views of glassy turquoise water and beautiful golden sand. If you plan to do the full seven hour walk, it's best to be prepared for some blisters and chaffing with balm such as the Bodyglide anti chafe balm, which will help you avoid any discomfort during or after your hike. Visitors need to purchase a permit to enter the trail and carry it with them at all times.
Length: 20.5 kilometres
Time: 7 hours
4. Bluff Knoll – Western Australia
Bluff Knoll is a peak in the Stirling Range in Western Australia, and the perfect place to hike if you're seeking a moderate challenge that will test your endurance. If you're interested in jaw-droppingly beautiful views of mountains, with the possibility of abseiling (you'll need to book ahead), Bluff Knoll is for you. The Suunto Ambit 3 peak GPS watch will help you stay on course and keep good time. You can also track and share your sporting achievements and adventure with your friends and family via the Suunto Movescount App while you're on the go.
Length: 6 kilometres
Time: 3-4 hours
---
Leave a comment