April Monthly Product Review Prize Winner!
21.05.2017

Congratulations Anthony Fewster!
You've won a $50 Gift Voucher this month for your 4-STAR review of the Zempire Atom 1 Person Hiking Tent
Anthony writes; "Purchased the Atom 1 for bike packing and hiking/short term trips with mates. With two trips completed, I'm really satisfied with it. The design allows for quick and easy set up and provides enough space to sit up, move around and store gear while you sleep. I'm 182cm and have plenty of room. Tent has only been used in moderate conditions - so no heavy wind and cold. The fly and floor seem quite durable, so I'll be happy to use in shoulder seasons with a reasonable sleeping bag. When compared with a few mates' tents, I'm really happy the the Atom - good value, light, quick set up and ample space."
Here's Anthony's review on the Atom 1 Person Hiking Tent;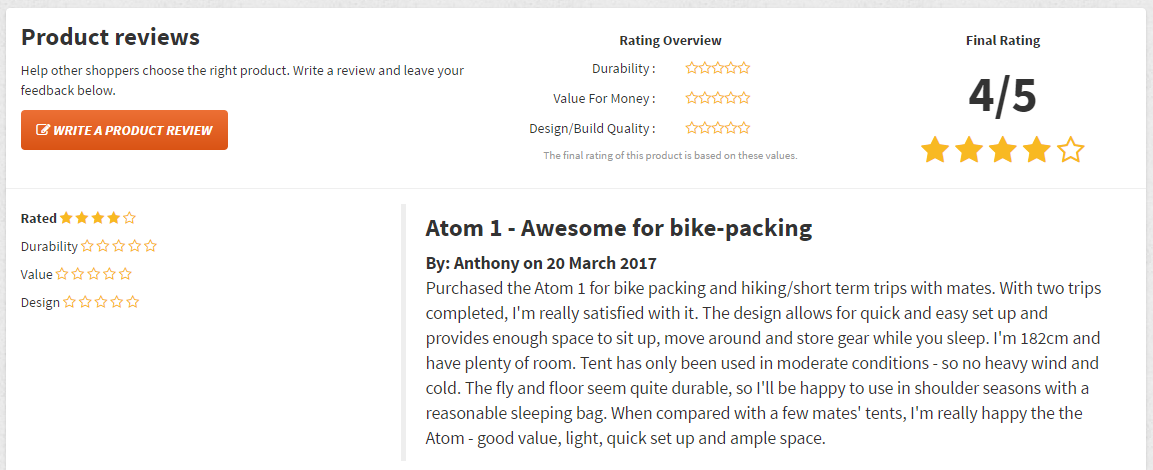 To view the whole Zempire range of amazing gear

---
Leave a comment