April Weekly Review Winners!
05.04.2019

Congratulations Marcus!
You've won a $50 Gift Voucher this week for your 5-STAR review of the Osprey Mutant Pack!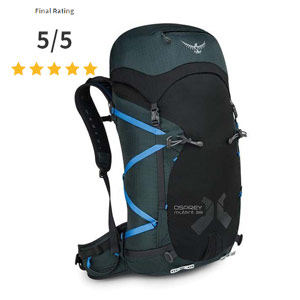 Marcus writes;
"
I have only used this backpack for a weekend but am already impressed with it's extremely intuitive design and versatility. It is a champion for it's price range and there is no surprise that it has won the Outdoor Gear Lab climbing pack of the year two years running. I bought it on the recommendation on someone who has used it for over 60 nights of long distance walking in Tasmania, Kakadu, multi-day scrub bashing in the Budawangs, and mixed mountaineering in the Darrens in NZ, and it is still in great nick. For my purposes I'm very impressed by both it's ability to shoulder and distribute heavy loads and the ability to strip out the frame, padding and the lid to drop it down to around 800g which puts it in the ultralight range. THe flapjacket second lid serves to highlight how well thought out the design is throughout. For trips when you aren't utilising the ice axe gear clips you should find the internal hole in the base cavity of the pack and remove them as they can create a slight rub zone and then you can easily put them back on when needed. Overall I'm extremely impressed and Ospreys great record for quality customer service and strong gear guarantees is a nice bonus."
FOR YOUR CHANCE TO WIN!


If you want the chance to be our next WEEKLY review prize winner, be sure to leave a review for any of the gear on our website & you will automatically be in the draw!

---
Leave a comment