When spending a full day running in the mountains, it's crucial to have your gear dialed because little annoyances with your gear compound over the course of a day.
After putting some of Wild Earth's gear through its paces I can say that they've exceeded my high expectations. My Salomon advanced skin 5 set running pack was the perfect size to fit enough water & snacks for a couple of days on the trail. I'm definitely in love with the comfort & look of these multi-purpose hydration vests, so much so that I doubt I'll be using my old-faithful Camelbak again when going for personal bests. The vest's functionality made it easy to access everything on-the-go which is crucial when time is of the essence. The Garmin forerunner 45 GPS watch felt like it was custom made for my wrist. This incredible device is very easy to use & has all of the essential functions most athletes require. I like how it's super compact & the battery seems to go forever. Never again will I run without it! The Salomon XA lightweight performance tee has had hundreds of hours of usage outdoors & it still looks brand new. The comfort, breathability and aesthetic appeal of this performance tee are amazing & therefore it's quite obvious why every start line is littered with Salomon running shirts.
In August 2020 my mate, Brendan told me of a wild Kosciuszko ultra-marathon he'd been eyeing off for a while but hadn't quite found anyone game enough to join him. There was a bit of back & forth banter about the bold idea but before you knew it, I'd agreed. Out of nowhere I found myself writing a sponsorship proposal to the crew at Wild Earth as I'd heard they were big believers in supporting Aussies to chase their goals & I was in desperate need of some solid gear. It was the first time I'd reached out to a company for free gear & to my surprise they agreed to hook me up with a Garmin watch, Salomon hydration vest & a few other epic trail running essentials. I was so stoked & I'll forever be grateful for the chance they took in believing in some random. I remember feeling so committed to putting in a solid few months of training & preparation, but my priorities shifted & my training took a back seat to work & relationship commitments. Time flew by in the blink of an eye & game day arrived.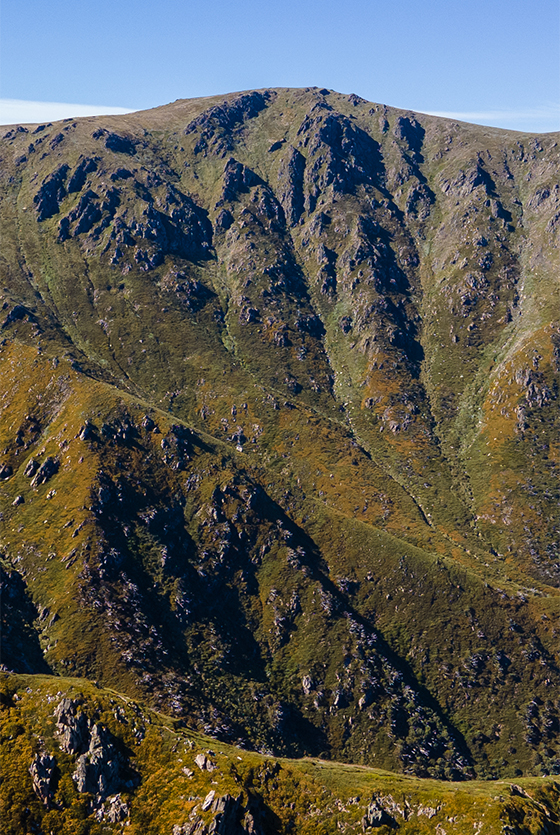 After a solid 2 hours of sleep, I woke to my 2.30am. I was instantly uppercut with a million reasons why I shouldn't attempt to run the 15 highest peaks in Australia in a day. A few key one's being; unfamiliarity with the route, mediocre preparation at best & second guessing my late decision to up the ante from 11 peaks to 15. Luckily, my Dad spontaneously stepped in for support & drove me up to Kosciuszko, giving me time to slowly begin ticking off solutions to all the excuses my brain had been throwing at me. I met two of my good mates at the end of Kosciuszko road, we quickly revisited a map, packed our things & set off from the start of the main range track around 6.30am. Brendan & Damo had come down with a pretty nasty cold so they were unsure how long they'd last on the 11 peaks circuit they had in their sights. Most of the training I'd done prior to the run was solo so it was a real treat to be cruising along at conversation pace with some switched on mountain goats - If only that had lasted longer!
Within the first 10km's I'd gained about 500m in elevation, separated from my mates & gone arse over on a steep, slippery section. The confidence was far from high, I was buggered & I'd only ticked off 3/15 peaks. I decided to give Dad a call to gee him up to make the trek out to Blue Lake. I'd assumed he was still kicking back in the car park & missing out on a beautiful blue bird day on the main range but to my surprise he'd already made it to the top of the main range & was loving life. The phone cut-out, but for some reason that shifted my mentality from being way too goal orientated, to simply just staying safe, finishing & soaking up some epic views in the process. Well that's what I must've convinced myself at the time because sometimes you've just got to pivot your plan in order to keep moving forward. I still subconsciously wanted to snag the Fastest Known Time (FKT-11hrs 52sec) but for the next 20km's & 6 peaks, my primary concern was not letting the head games get the best of me.
It was my first time running more than 20km without headphones in & it was proving to be more of a mental challenge than physical. Navigating on the move in unfamiliar terrain was always going to make or break the day; I knew it wouldn't be all that hard to make a few bad calls that would result in a very cold & uncomfortable night's sleep. To make matters worse, my phone's battery was draining extremely quickly so I had to minimise usage by memorising my route for the next hour or two. On various occasions I sketchily scrambled to the top of the wrong peak & found myself way too close to calling it quits. After about 6 hours I checked my Strava timer for the first time with the hope that I was 3/4 done but I had just reached the halfway point. Up until then I'd made the effort to smile & say hello to everyone that I passed but that facade quickly faded into a death stare at the ground.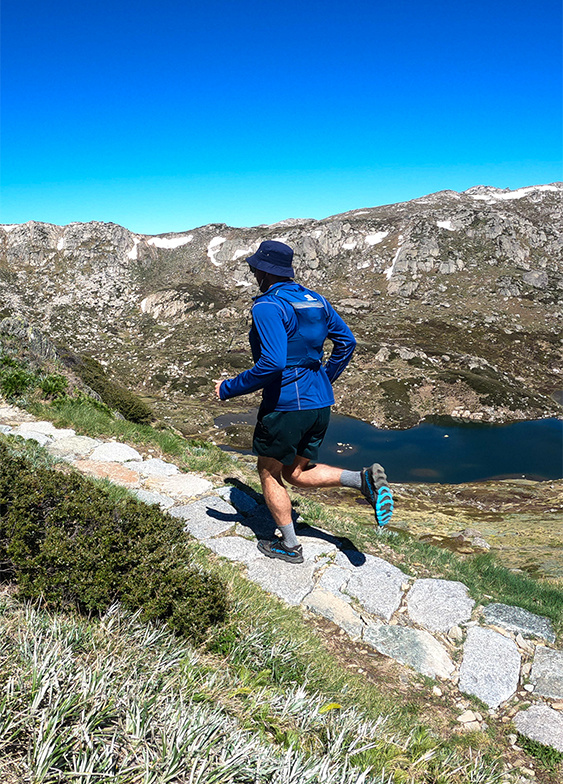 As I waddled towards one of the many mazes of streams to be crossed & it seemed like a great chance to resupply on crystal clear Kosciuszko water & get my head back in the game. Looking back, this quick break was crucial as I took a moment to remind myself why I was there to begin with. Which among many other things, was essentially to see how far I could push my limits in an unfamiliar & unforgiving environment. I was getting served up exactly what I'd ordered & then some. This was the first time in the entire process that I'd committed to finishing the entire run at all costs & something about that decision helped enormously. It was like all the mental energy I'd been wasting on coming up with genuine reasons to stop was shifted toward solution-orientated tunnel vision on my next target. I began to only allow myself time to smash down some sugary snacks after I'd ticked off another peak and treat myself to some water only after continuously slogging out a section. It's these simple shifts in perspective & mind tricking techniques that always seem to help get me through the rough patches that inevitably come my way.
After descending peak #11 (Mt. Kosciuszko), it was pretty clear that my knees were my weakest link & for the first time in my life I began really looking forward to the uphill sections so that my knees could recover from the relentless beating they were copping. It had been close to 6 hours since I'd split up with my mates, so I wasn't constantly on the lookout for them up ahead. On various occasions I thought I'd finally tracked them down, but I soon started accepting that the majority of this adventure was going to be on my own. The timing with this sad realisation & seeing one of the boys wave at me off in the distance was a standout moment in the day; I couldn't believe it. That 10 minute interaction lifted my spirits & reminded me why I want to do challenges like this with friends in the future. The boys had shared an epic day of laughs & yarns whilst I'd been miserable for the majority of the day with the rare spark of magic. Up until this stage, about 2/3 of the run had followed some sort of technical man-made trail so I assumed it'd stay relatively similar when tackling the final four peaks. I remember glancing at Strava for the 2nd time before leaving the track & thinking to myself that I had the course record in the bag. Yeah.. not quite! The next 3 hours consisted of the deepest & darkest pain cave I've been unfortunate/fortunate enough to experience. The terrain was thick, waist high, scrubby bush that could best be navigated by zig zagging my way through it at a snail's pace or steam rolling it head on with a high probability of rolling an ankle. Being so far from help & phone reception, I opted for the safe, snail's pace tactic. After ticking off 2/4 remaining peaks I glanced at my phone which revealed I had barely any battery left & my buffer ahead of the record had quickly evaporated. Not only was I about to lose my primary navigation source, but if my Strava data didn't track the entire run it would prevent any chance of legitimately claiming the FKT. I finally got around to switching it into aeroplane mode & made the move to essentially just winging it to the end.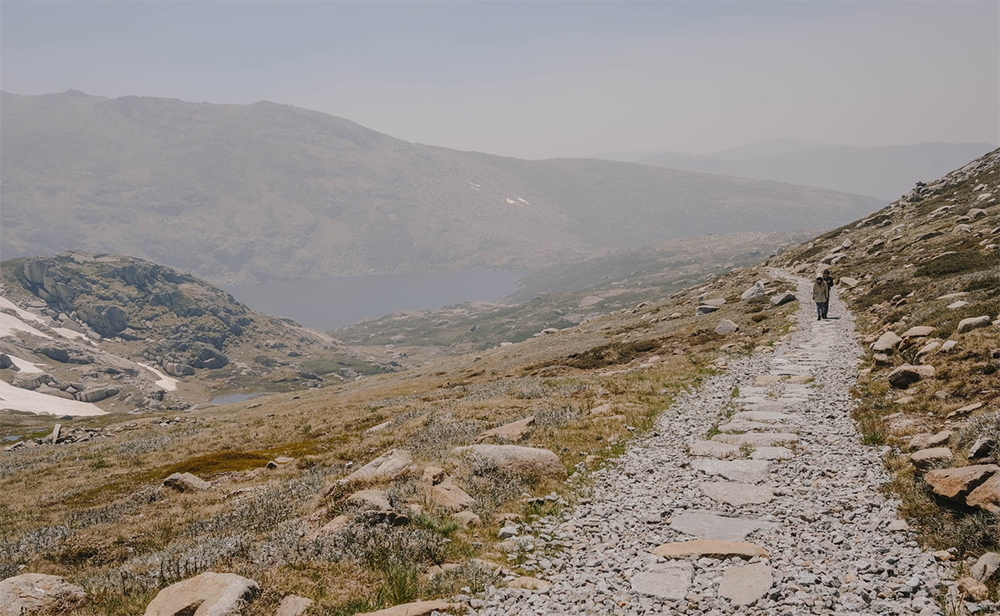 With about 20km remaining, the 'positive reinforcement treats trick' had well and truly lost its potency. I remember summiting Rams head & looking south off into the distance & thinking you've got to be kidding me. The final peak seemed like an eternity away & I wasn't even sure if it was the right one. The slow gruelling slog continued & I genuinely started to believe that I was doing long term damage to my knees. About 5 of the previous 14 peaks required a bit of a technical scramble to the top but were relatively straight forward. Not South Rams head though. Maybe I just took the worst line possible or maybe my exhaustion had my rating scale out of whack but I was seriously scared for my life. A lot of the scramble required precise & strong feet placements which at the time wasn't exactly my strong suite. I began relying on my upper body to pick up the slack because my legs were starting to shake uncontrollably on the simplest of boulder problems. Eventually, I clawed my way to the top or at least what I thought was the top, only to discover that I had summited the wrong peak again. It was only marginally lower than the true peak so for a second there I was considering skipping to sketchy down climb & ascent that still lay ahead. I knew there was a good chance that no one would've ever known I'd skipped the last peak, but it would've eaten away at me for the next 15km & ultimately, left a skid mark on my entire experience. That decision probably cost me about 25 minutes & I was sure that my chances of mowing down the FKT were done & dusted. I found a rare patch of shade that was large enough to cover my body enough to lay down for 5 minutes in the fetal position & come to terms with the fact that I still had at least a couple hours of bush bashing to go. Ensuring my breaks were short & sharp was crucial in combatting the relentless waves of self-doubt that were getting more & more convincing with each plea.


On my return I stumbled upon the largest murder of crows I've ever seen & in sync they left their perch & circled above me. At first, I was blown away at the commotion but then I started tricking myself into believing that they were probably all pissing themselves laughing and thinking, 'look at this miserable bastard, we'll peck his eyes out in a day or two at this rate'. The torturous waddle through thick scrub continued for an hour until I finally saw a track off in the distance. It was an incredible feeling being able to momentarily switch back into autopilot after just spending hours navigating off track. Cruise control along the track lasted all of about 15 minutes before I had to make my final crucial navigational call of the day & to say I was second guessing myself would be a massive understatement. It was a matter of deciding how soon to get off track in search for some old 8ft wooden posts I'd been told to follow. The posts weren't in sight from the track so I knew I had to take a stab in the dark if I was to keep any chances alive of beating the FKT. For the next 15 minutes I was convinced I'd misjudged my exit off the track & my pace began to slow to a shuffle. Seeing the first post off in the distance was almost as much as a relief as it was to bump into my mate after 6 hours of solo time. The posts are about 50-100m apart & the name of the game was to aim my head at an angle that would only allow me to see the next pole ahead because I couldn't bare the thought of having to tick off a few more kilometres of this ankle rolling oasis. I was scraping the barrel for motivation & I'd finally started coming to terms with the fact that the FKT was way out of reach & I'd failed. Which was a bazare thought as the FKT was never the main objective, finishing was. The intangible prize of beating the FKT had evolved into being the hare off in the distance, that was keeping my mind occupied & legs moving, so it was a really tough pill to swallow.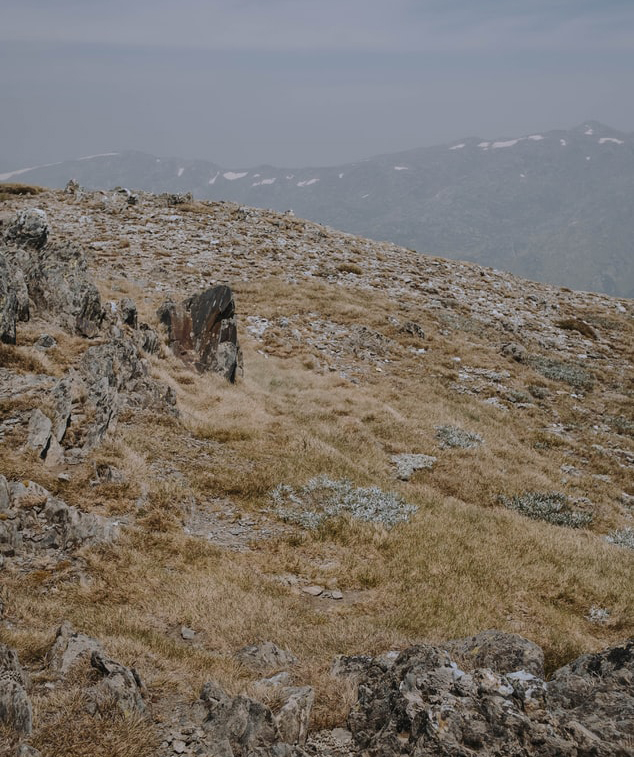 Desperate times called for desperate measures, so I resorted to using what I was sure to be the last bit of battery on my phone to have a flick on Instagram & as I went to put my phone away I decided to have one last look at Strava. I did some rough calculations in my head & figured out that my final 5km split would have to be almost twice as quick as my previous 5km splits. My walking pace turned into a waddle; my waddle turned into a slow jog for the last 1km of off-track running. I finally started feeling a little momentum beginning to flow again as I saw the fire trail off in the distance which signalled that there was about 4km to go. Once I eased into a steady pace on the fire trail, the pain in my legs transitioned from being just about the worst they've ever felt to barely being an issue at all. It was as though my legs had finally given up screaming for a break & they just admitted defeat & committed to coming along for the ride. My 10 minute/km splits were cut in half & all of the sudden I was back in the hunt.
About 2km out from the finish I checked my Strava & accidently swiped onto a screenshot I'd taken of the record holders' 15 peaks route & something didn't quite add up. I realised that the current FKT started & finished at Charlottes pass so in order to beat it I'd have to run past my Dad at the original finishing line & run an extra 1.5km. Figuring that out was almost the end of me. At that stage, an extra 1.5km literally sounded like 10km & I was absolutely devastated that I'd skimmed over some of those finer details. If I'd chosen to stop when looking at my phone, I'm certain it would've been the last time I'd run on that day. Keeping the momentum flowing & shifting my perspective was what had kept me ticking along all day & it saved me again in that decisive moment. I told myself that if I went hard on these next 2km's that the extra 1.5km could just be a cruisy warm down. Dad was finally in sight & his reaction was pretty priceless when I zipped past him & kept on running. His big smile & inappropriate words of encouragement were just what I needed to finish strong on the final 750m uphill climb. I tried to put that foot down as much as my chicken legs would allow me for the final stretch & having my old man there to hug was a moment I'll never forget. So much so, that it wasn't until a minute or so after finishing that I remembered to stop my Strava tracker which indicated I'd run 56km, gained 2500m of elevation & beaten the previous FKT with four minutes to spare (10:55:42).
I visualised feeling a sense of accomplishment when picturing what it'd feel like finishing, but it was more a sense of relief. All I wanted was to teleport to my bed & munch on some chocolate. Those things were still a few hours of driving away so instead Dad & I jumped in the Snowy river & reflected on the day. The boys had made it back safe & sound which was a monumental effort considering the amount of coughing that was going on at the start line. On top of that Damo managed to bag the FKT on the 11 peaks course! It became so clear that the best moments throughout the day were those that were shared with my family & friends. In saying that, it solidified the importance of going after a far-fetched goal even if you have to go alone. Breaking through the point of sheer exhaustion on various occasions has left me with a greater fascination with the way in which we can over-ride our bodies with the use of positive reinforcement, intrinsic motivation & goal setting. Having something bold to work towards, whether it be mental or physical, has been instrumental in getting myself out of a rut on multiple occasions & I can't recommend it enough. If there's one thing I'd like you to take from this, it would be the importance of compartmentalising your problems instead of letting them all intertwine into an overwhelming sense of paralysis.