Big Agnes Tumble 1p mtnGlo Tent – Review
Daniel Gangur takes some amazing photos of our great Country. On a regular basis, we'll send him some gear to field test on his expeditions and give us his feedback on what works and what doesn't.
05.01.2017

Daniel Gangur takes some amazing photos of our great Country. On a regular basis, we'll send him some gear to field test on his expeditions and give us his feedback on what works and what doesn't.
Here's what Daniel had to say about the Big Agnes 1 person Tumble Mtn Glo Hiking Tent.....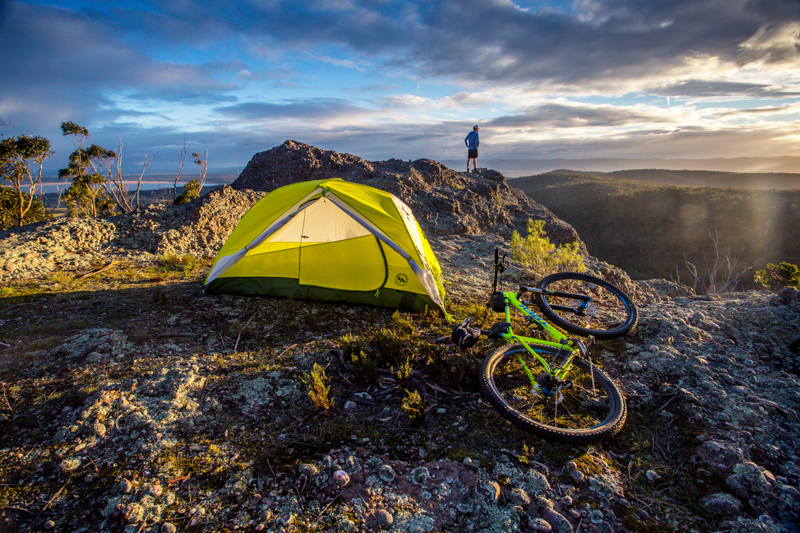 A little while ago I was sent the Big Agnes Tumple 1p MTNGLO Tent from WildEarth in support of my photography and bike packing adventures and goal of completing the Monaro Cloudride 1000 mtbBikepacking race.
The Big Agnes Tumble 1p MTNGLO is a lightweight three season backpacking tent, it features a single door and vestibule, Big Agnes MTNGLO technology, its free standing and can be pitched in two configurations, full set up and lightweight fast fly (fly and optional footprint) here's the specs and feature list.
Specifications
Trail Weight 3lb 9oz
Packed Weight 4lb 1oz
Footprint Weight 6oz
Fast Fly Weight 2lb 9oz
Packed Size 7" x 17"
Floor Area 22sq ft
Vestibule Area 10sq ft
Head Height 37"
Foot Height 14"
Full Features
Feature patent patent-pending mtnGLO tent light Technology using durable LED lights to illuminate the interior of your tent with enough light to sort gear, play cards and hang out with your friendswithought blinding them with bright light.
A simple push button controller with three settings – on, off and 50% brightness – controls the mtnGLO lights.
LED light strand is integrated into the tent seams and is durable and flexible enough to withstand repeated tent pitching and stuffing.
Requires three AAA batteries (not included) to operate the mtnGLO light controller.
• Single door and vestibule.
• Storm flaps on vestibule and zipper.
• Steep wall construction and cross over pole improve tents interior living space.
• Media pockets located above sleeping area enable clean ear bud cord routing from phones or other devices.
• Reflective guy lines and webbing on tent corners.
• Fly is polyester rip-stop and floor is polyester.
• Fly and floor have 1500mm waterproof polyurethane coating.
• Tent body is polyester rips stop and floor is polyester.
• All seams taped with waterproof, solvent free polyurethane tape (No PVC or VOC's).
• DAC press fit pole system with press fit connectors and lightweight hubs.
• Plastic clips attach tent body to pole frame.
• Hub pole design.
• 8 Aluminium hook stakes.
• Three interior mesh pockets.
• Gear loft loops included.
• Fits wall, triangle and trapezoid gear lofts – sold separately.
• Compatible with Big Agnes Entertainment centre loft and power case/loft – sold separately.
• Fast Fly set up available – pitch a shelter while leaving the tent body behind. Fast Fly configuration requires the footprint, rainfly, poles and stakes.
• Footprint sold separately.
• Light strand can be powered by any USB source.
• CE certified.

What's in the package?
Tent body, fly, pole system, 8 aluminium stakes, mtnGLO light controller, guy ropes and emergency field repair splint. Unfortunately the footprint is not included but this is pretty standard practice across all manufacturers.
Set Up.
The Tumble is extremely quick to set up and easy to pitch in both configurations, full set up and fast fly (footprint needed). I had absolutely no problem setting up the tent for the first time. This is how a tent should be, no fuss, there is nothing worse than struggling with a tent at the end of the day.
Why is so easy to pitch? It has some great features to make it easy.
The aluminium pole is a single pole, well more of a single pole system with three hubs and poles connected via shock cord, the poles simply slip into the hubs and then each other to form one pole. You then slot them into the tabs at the corners of the flattened tent.
It is then just a matter of attaching the clips along the tent body to the poles, slip the top pole into the attached pockets, attach the fly by matching up the colour coded buckles, dark green for the foot end and lime green for the head end and stake out the tent, guy lines and vestibule and its done. It really does only take a few minutes.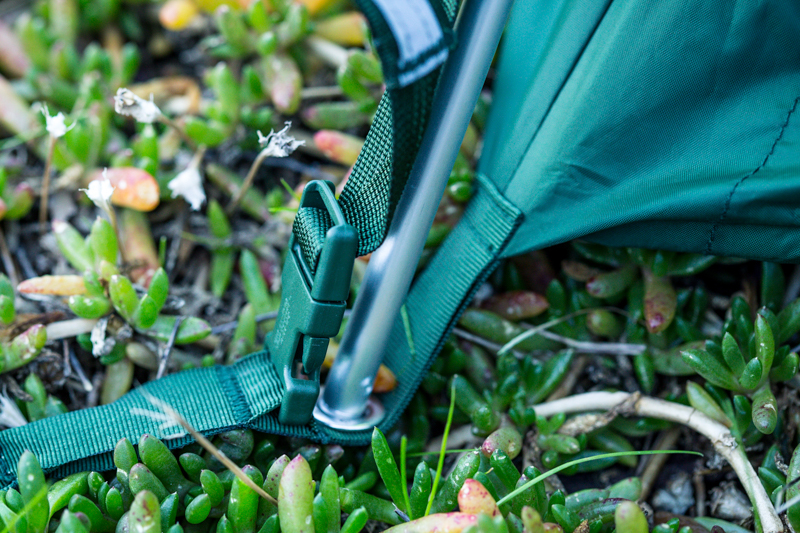 Colour coded buckles and straps for easy pitching.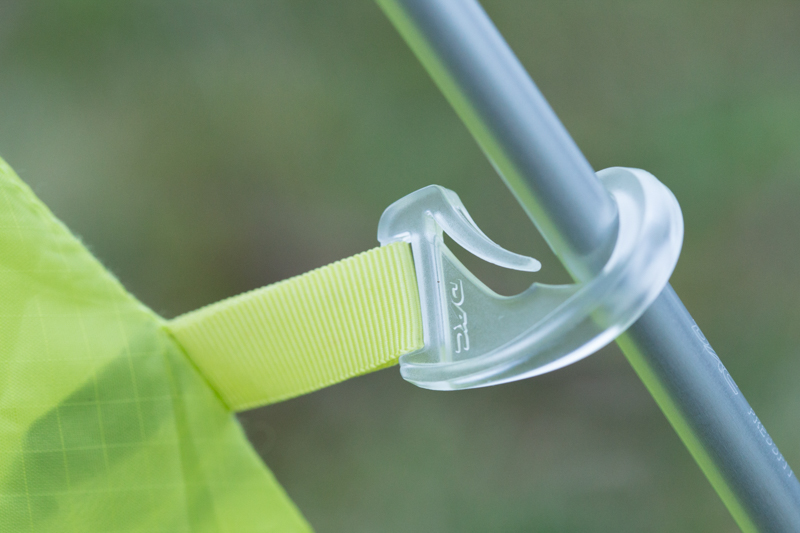 Tent body clips to the poles with easy to use clips.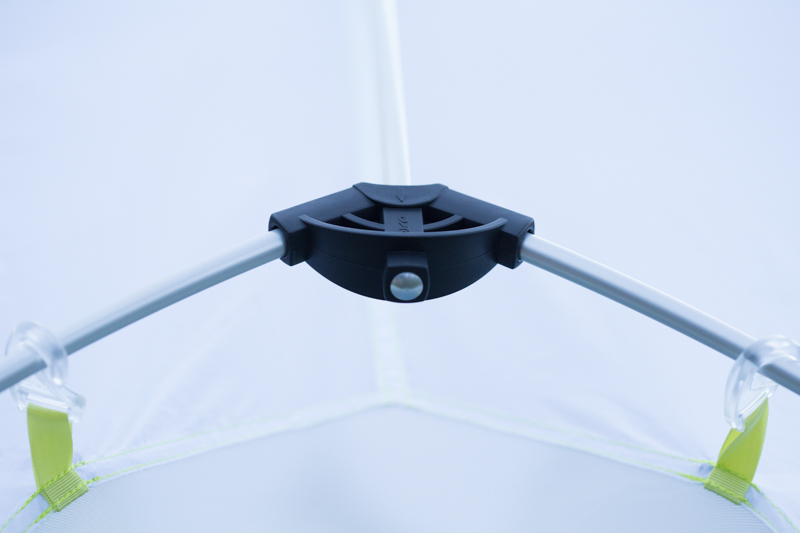 Pole hub, there is one at both ends.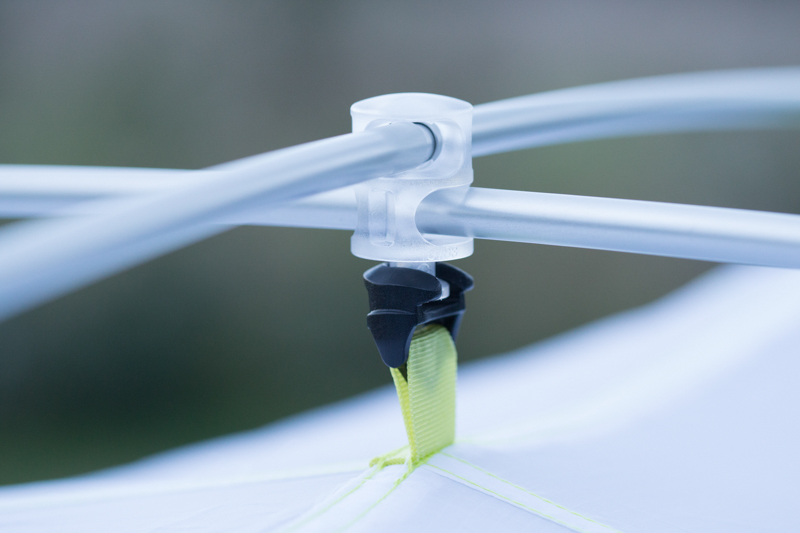 Small "hub" and tent body centre clip. These little easy to use features really make the Tumble easy to get along with.

Comfort/Size.
For a 1 person tent there is quite a bit of room, the first day I got the Tumble I set it up in the lounge room threw my sleeping mat inside and climbed in with my 7 year old son, we could both spend the night in the Tumble if needed, but it would be a squeeze.
Obviously it is not a 2 person tent but it is quite roomy. I'm 180cm and found in practice there is plenty of room for me at the head end, foot end and all round, measurements supplied by BIG AGNES are length 229cm, foot end width 76cm, head end width 109cm. Height wise I can sit up and get changed etc easily, the height in the centre is 94cm and the foot end 35.5cm.
As you can see by the measurements it's quite generous, certainly not cramped, I think it would be suitable for most. I found you can have a few things inside, like your pack if needed.
Sleeping in the Tumble felt comfortable, not claustrophobic with plenty of room to spread out and relax for a good night's sleep.
The single vestibule is small and extends out 79cm in the middle, but it's adequate. In the time lapse above and in the pictures below I have put my large lowepro camera bag under there along with a small Nanuk hard case. The camera bag holds 2 pro dslr's a pro 70-200mm lens and 5-6 smaller lenses along with a laptop, it's a decent size bag. You would have no problem fitting a 70L pack under there along with your boots. While I mention the vestibule it splits in 2 and rolls to the side, making it very easy to get in and out of the tent.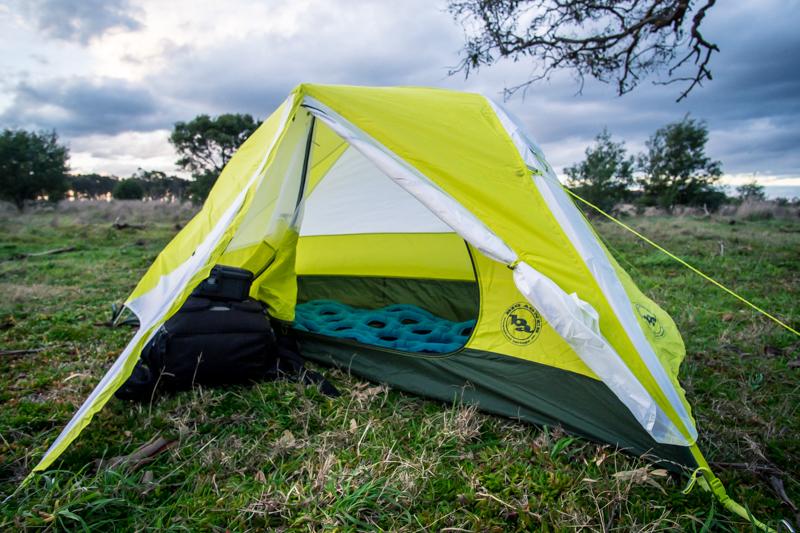 Plenty of room to get in and out along with ample room under the vestibule.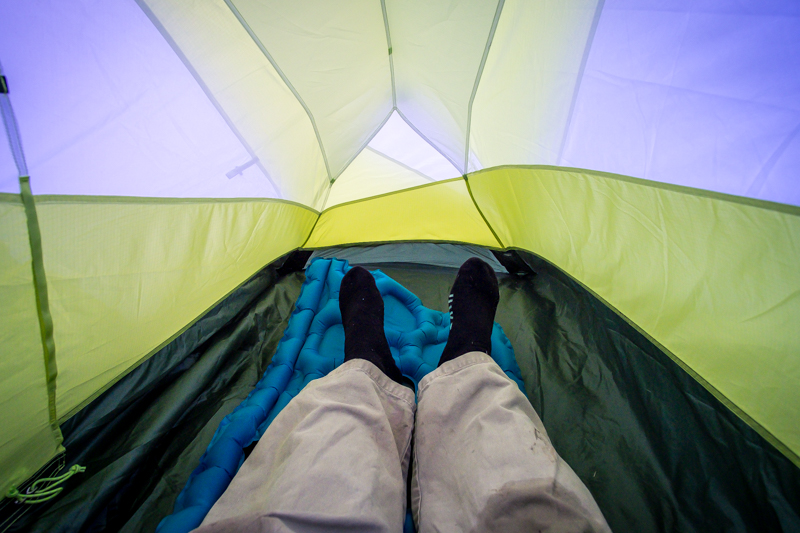 I am 180cm and there is still plenty of room around my feet.
Plenty of room up at the head end, both above and around. You can also see here the media pockets top corners, these have routing for ear buds, there is also a pocket bottom right, so there is plenty of small item storage inside. I believe there is also and entertainment centre loft available, sold separately. You can also see one of the fly air vents (closed centre). The sleeping pad is the Klymit Inertia ozone (mini review to come). So far this pad has given me a great night's sleep is tiny when packed and is also available formWildEarth.

Features.
The Tumble has 3 internal mesh pockets (above), 2 media pockets (above), provisions for an add on gear loft. (wall, triangle and trapezoid) and is compatible with Big Agnes entertainment centre lofts and power case loft. There is storm flaps on the vestibule zipper, reflective guy lines (easy to see at night). Fly is polyester rip stop and the floor is polyester, both have 1500mm polyurethane coating, all seams are taped with water proof polyurethane tape. It also features Big Agnes mtnGLO tent light technology, a great feature!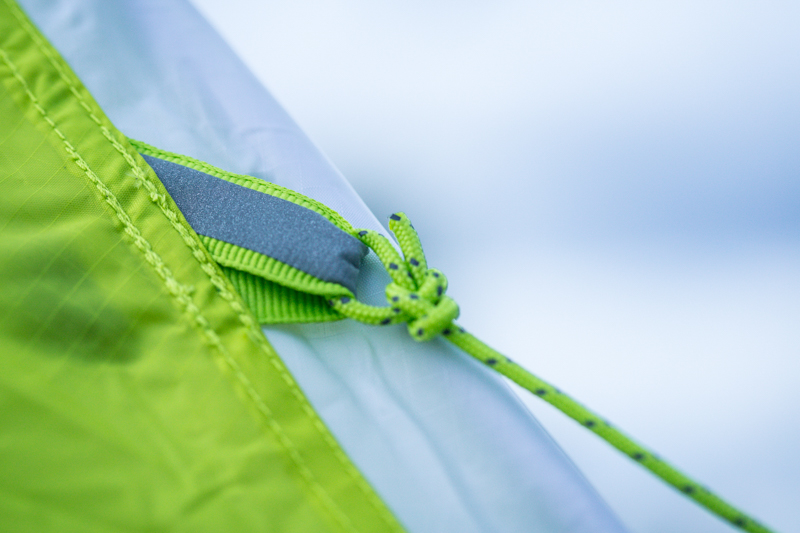 Reflective guy lines for easy visability.
MtnGLO Light system is a great feature that I didn't think I would really use, but it's fantastic. Basically it is a lighting system for the tent. An LED strand sewn into the top seam, this is powered by a small controller (powered by 3 AAA batteries) with 3 settings, on, off and 50% power, so handy, it's a stand out feature. This controller weighs 60g with batteries, I guess you could leave it at home if you wanted to cut a few grams, but I think its well worth it. It stows away in a small pocket at the top of the tent when not in use. The LED strand itself can be powered by other USB power sources so you could use a small solar power bank or similar if you were already carrying one on a ride or hike.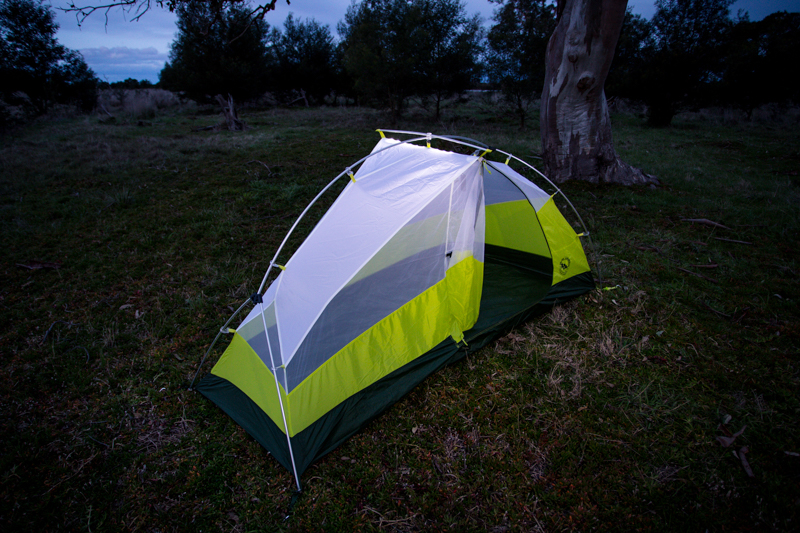 You can see the small LED lights across the top of the tent.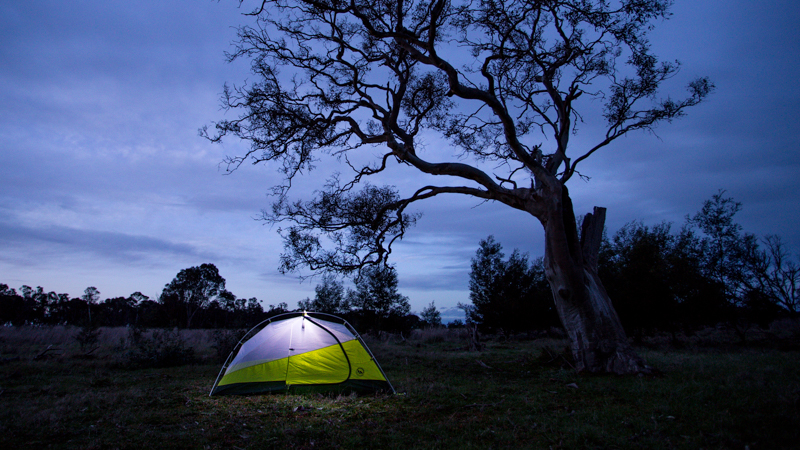 The mtnGLO tent light on full power, a bit of a luxury! I can't wait to get this tent out under a clear night sky with the milky way above, the shots will be epic, yep the photographer in me thinking about how I can use the lights in a shoot!

On the bike.
Along with my photography adventures I got the Big Agnes Tumble 1p for Bike Packing, so it's only fitting I add my thoughts etc on this.
At first I thought the pole system may be an issue as the poles don't sit flat against each other due to the pole hubs, but in practice the hub is fantastic and the poles sit closely together, it's a non-issue.
The fully packed tent sits in a handlebar harness nicely with plenty of space it and the tyre. Although I haven't actually used the tent bike packing yet I have ridden with it on the bike for training and have not had it the tyre once. The fully packed tent fits in an 8L Sea to summit dry bag, so it's a fairly small package, you could also compress it smaller if needed. But the best bet would be to pack it in a larger, say 13L dry bag along with the rest of your sleep system, this works well.
I've also packed the tent without poles into my medium OvejaNegra gear jammer saddle bag, along with a first aid kit, with the poles up front in the harness with a large down sleeping bag and mat. Basically just to test different ways I can carry my kit on the bike.
The Tumble can be set up fully or as a lightweight shelter, fly and optional footprint, giving you the option to drop a bit of weight if needed. Minimalist camping is becoming increasingly popular so I'm sure there is plenty who will love this option. I may use it myself when riding the Monaro Cloudride1000.
Is it the lightest tent out there for this use, no, but its features, weight comfort and price make it a good option for those that prefer a tent over a bivvy.
A bit of an update after a few months of owning the Tumble. I've been loading this up on my bike every training ride for months now and am very happy with its size and weight. I've also used it in some extremely terrible conditions, strong winds and solid rain and it's really impressed! I'm really confident this tent is a solid option for Bike packing in most weather, love it!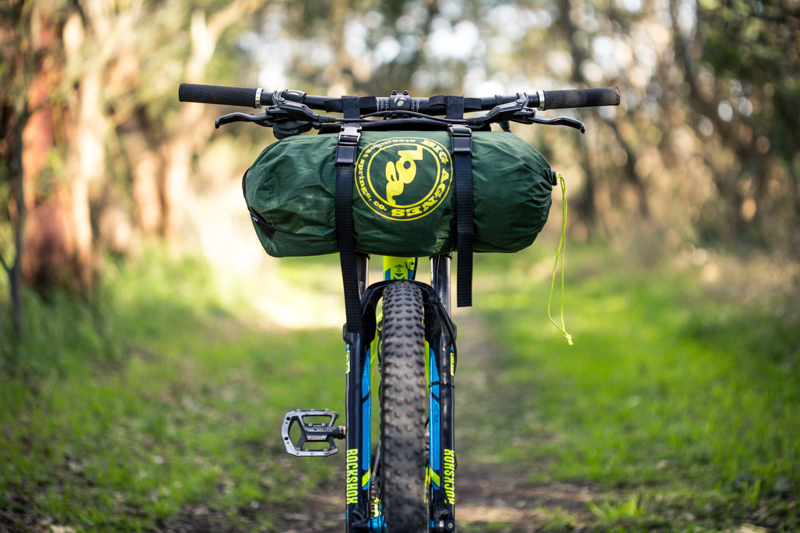 The fully packed, uncompressed Big Agnes Tumble 1p hanging from the bars in a Bike Bag Dude harness.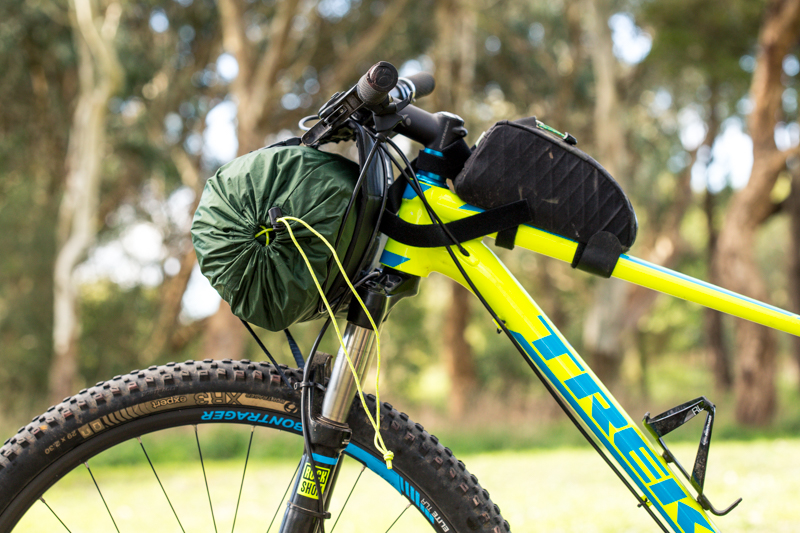 Loosely packed up under the bars, still plenty of room. I've been carrying it in a dry bag on my rides to make it an even smaller package, also carrying my sleep pad and footprint in the same bag for an almost complete sleep system.

Conclusion.
So far I have been really impressed by the Big Agnes Tumble mtnGLO 1p tent. After a couple of nights in it I can say it's comfortable and roomy for a 1 person tent, it's easy to pitch. The build quality is excellent, all fittings and poles are good quality. For a lightweight tent it's pretty robust and I really think it will take a beating. It can be pitched as a full tent or lightweight fast fly shelter for those that want to cut weight even further. The mtnGLO light system is a fantastic feature, I really like it along with the media pockets, you can never have enough pockets! It shows Big Agnes are creating modern up to date equipment.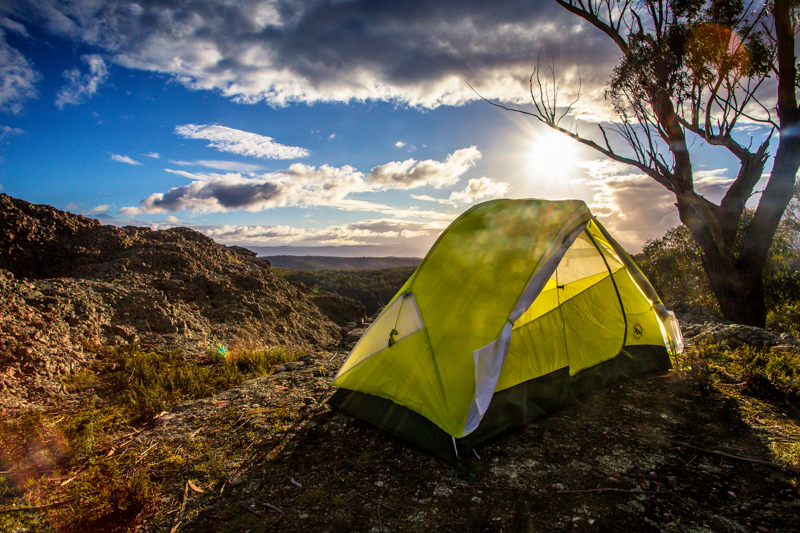 For those looking for a lightweight 1 person tent for hiking, bike packing, kayaking or solo photography trips like myself the Big Agnes 1P Tumble really should be high on the list of tents to consider.
Thank you Wild Earth for your support.

Author
Daniel Gangur
https://www.instagram.com/gippslandimages/
https://www.facebook.com/gippslandimages/
www.gippslandimages.com.au
The sleeping pad shown in the review is the awesome Klymit Inertia ozone, mini review to come.
---
Leave a comment