Sarah Gallagher recounts her lifelong dream of climbing Mt Kilimanjaro over 6 adventure-filled days.
Climbing Kilimanjaro had been a dream of mine since trekking to Everest Base Camp. Towering over Tanzania at 5895m, Kilimanjaro should not be underestimated. Although it is entirely a non-technical climb, it's a challenging one. Most people spend 6-10 days on the mountain across various routes and paths.
Due to time restrictions and a tight budget, I settled on a 6 Day route up the Machame trail. The Machame Route is considered one of the favourites due to its ever-changing landscapes and campsites. You cross a variety of different zones, including alpine desert, rainforest and arctic.

I decided late 2018 that I was going to complete Kilimanjaro. It was a bit of a spur of the moment trip but it was something I dreamt of doing. Tanzania was a 26-hour flight from Sydney but I was committed to completing the climb. So on Feb 14, I found myself boarding a Qatar Airways flight bound for Kilimanjaro International Airport.
Arriving at Kili airport was surreal. Once handing over $50 USD, my visa was granted and I was picked up by a driver from my hostel. Leaving the airport was overwhelming. I had not visited East Africa before and really had no expectations or awareness of how Tanzanians lived. Departing the confines of an international airport, I noticed the significant number of women carrying items on their heads and walking in traditional clothes. It was also stinking hot and my van had no aircon. Welcome to Africa.
The next day, I met my climbing group and we were delivered our pre-trip briefing. We were informed of the difficulties in climbing the mountain and the need to be honest and true to our abilities. Our guide, Gerard, stressed that on summit night, we could expect vomiting, insane headaches and feeling inebriated. The summit night was to be our most difficult and longest day, beginning at 11pm and finishing at 10am.
The next day, with our packs carefully organised and weighing less than the prescribed 10kg, we set off in our van towards Machame Gate. Driving through the local villages was exciting as we noticed that the houses became further apart and the beast of Kilimanjaro loomed closer and closer. After a quick lunch, meeting our team of 43 porters and guides and officially signing into the park, we took off.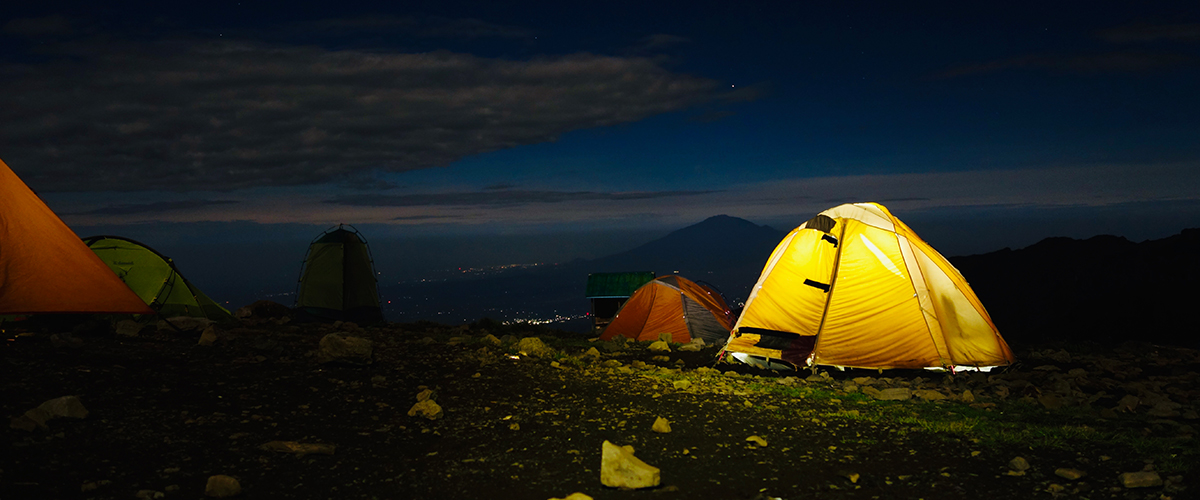 Day 1 featured hiking in the rainforest, interrupted by intermittent rain and the screeches of monkeys in the overhanging canopies, no doubt laughing at our impending doom.
Camp 1 was ironically named 'Machame Campsite' and sat at an altitude of 2835m. Already the effects of altitude were apparent on the group with everyone short of breath. The pace was slow but we were rewarded with stunning views at our campsite. The campsite was busy with teams mapping off individual sections. The site had at least 25 groups occupying it. Fortunately and not so fortunately, we were pitched near the tents. A midnight run to the toilet was easy but the smells of the pit toilet were destructive.
After an early night's sleep and a dinner of soup and pasta, we woke early, ready to take in day 2. The team were in high spirits. Day 2 saw us break out of the tree line and offered rewarding views of Mt Meru in the distance. The hiking wasn't too tough but there was a fair bit of climbing involved. Day two showcased the challenge of sharing the mountain with so many other groups. Often, we had to move over to allow porters to pass, carrying heavy loads. This was difficult at times due to the vertical nature of the track.
Our second campsite was spectacular. Shira Camp was at 3,850m and offered incredible views of Mt Meru and Moshi shining below. This was one of my favourite campsites on the hike. Again the effects of the altitude were prevalent with some reporting headaches and oxygen sats depleting.
Everyone welcomed bed that night, knowing they needed as much rest as possible to acclimatise and continue on. The chefs fed us so much food and constantly encouraged us to drink water. I remember distinctly drinking 6L of water that day. Our team were constantly needing to use the bathroom but willing to do anything to prevent altitude sickness symptoms.
Day 3 was our second biggest day. It was our first and only true acclimatisation day. Nerves were at an all time high as the team prepared to hike up to Lava Tower at 4,600m to have lunch. That was a huge climb considering the day before we were at 2800 metres. This would be the real test to see if the team would be able to physically make it to the top. We headed off at a slow pace. The entire hike, we were spoilt with views of the summit of Kilimanjaro in front of us. You are rewarded with the view of the Western Breach and Breach Wall along the way. Despite the hike and climb, the mountain really didn't seem to be getting any smaller.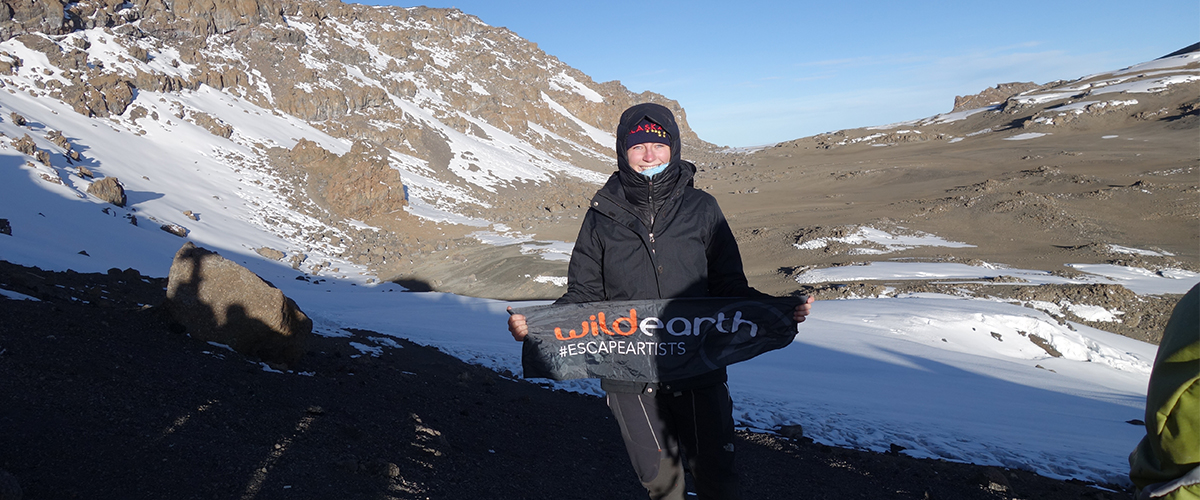 After lunch at Lava Camp, we headed back down to our third camp, Barranco Camp. The walk to Barranco was incredible, passing through what seems like a desert oasis with huge senecio trees towering around you. Barranco camp sits well above the cloud level at an altitude of 3,900m, relatively similar to the night before. Everyone was excited upon descending to camp, glad to have survived the acclimatisation hike. Our guide highlighted that this is often where groups begin to fail and members of the team may start vomiting or really exhibit symptoms of altitude sickness. The only vomiting we did was when we peered into the bathroom toilets. I can promise, that after all the toilets I've seen in the world, the toilets on Kili are the most filthy and disgusting. I often opted to pee in the open rather than walk into one of those sheds. There is no need to worry about the death zone on day 4, the toilets are the real death zone.
Waking up on day 4, we were eager to move upwards. Tonight, at 11pm we would begin the push for the summit. That's almost a 2000m elevation gain that day. Today was going to be a big day and extremely tiring. We wouldn't get to Base camp til 3pm and would only have a short nap before we would have to wake up again.
Day 4 began with the infamous Barranco wall. Barranco wall, also known as Breakfast Wall is a steep climb. It involves a lot of rock scrambling and climbing. It is non-technical but the drop to the valley below can leave the light-hearted feeling faint. We all found it exciting, grateful for a mix up from our standard hiking. After the climb, its another 6 hours to Barafu Base Camp.
Arriving at Base Camp, we had an early dinner and quickly shuffled off to our tents, aware that we only had 4 hours before we were to be woken up again. We all tried our best to sleep but sleeping on a slim mattress in gale force winds at 6pm was challenging.
Before we knew it, 11pm had come. The guides eagerly greeted us as we left our tents, wearing all of our gear. We wore 4-5 layers. We were sweating but prepared for how cold the mountain would be. We were briefed that the summit can be as cold as -20C. After a quick cuppa and some biscuits, we were ushered out of the mess tent and began our summit attempt.
The summit climb was 6 hours of continuous hiking in freezing temperatures. The trek was completely uphill with no breaks in site. We walked for two hours continuously before our first break. Our guides continually encouraged us to eat and drink at every possible break. Soon, our Camelbaks were completely frozen and our fingers were no longer working to find our snacks in our packs. As we neared Stella Point, the breaks become more frequent and the team became less quiet.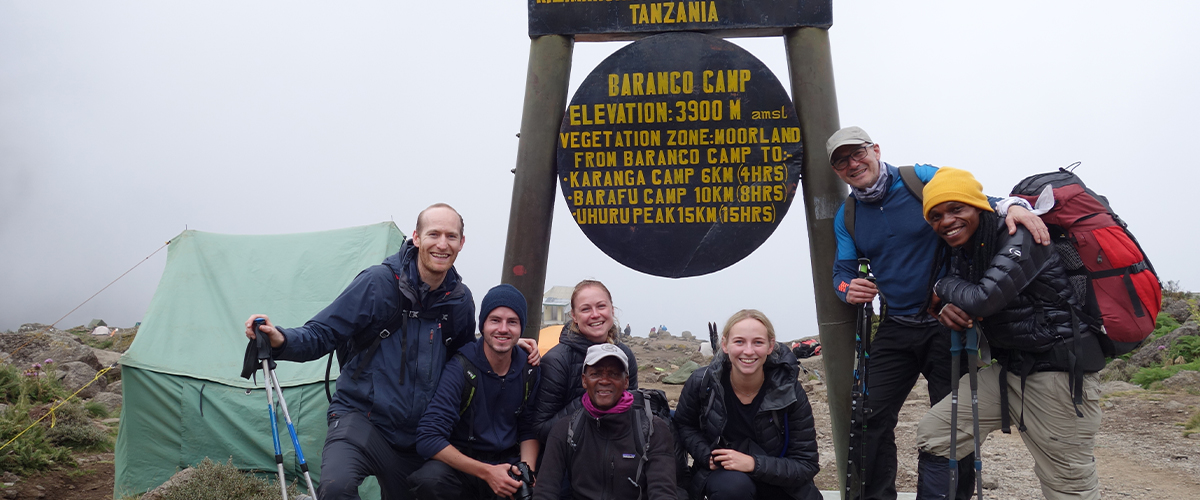 We were stumbling around as we climbed, doing our best to push forward and encouraging each other up the mountain. At one point I must have been so effected by the altitude that I imagined people ahead sitting down eating gummy bears. It was only when I looked up, I noticed that there was nobody ahead of us. We arrived at Stella Point (5685m) at 6.05am and were rewarded the most incredible sunrise we had ever seen over Mawenzi Peak. Uhuru Peak was another 45minutes from Stella Point, our final destination.
Our spirits were high as we continued towards Uhuru Point. The team were very cold and exhausted at this point but the realities of our efforts were beginning to set in. Our pace quickened as we approached the sign congratulating us for making it to the top of Africa. We cried, cheered and embraced each other. It had been the most physically and mentally draining trek of our lives. We were so proud of each other and stoked that the whole team had made it to the summit.
We stayed on the summit for roughly 10 minutes, quickly snapping photos and taking in the views of the surrounding glaciers, clouds and the towering Mawenzi Peak off in the distance. The views on the summit were not what I had expected. It was like being on Mars. It was incredible and insanely beautiful.
From the summit, we began our descent, continuing straight down to the High Camp. Arriving at High Camp at 11am, our legs were exhausted. Many of us had tripped or slid during sections of the descent and we had no energy left in the tank.
Our final two days were tough as we headed down the mountain quickly. The hiking was mainly in the forest and we were just glad to be getting back to our hotel room. The idea of a shower was just too good.
Upon arriving at Mweka Gate, we received our completion certificates and were bundled into our van to be transported back to Stella Maris Camp. All in all, the trip was amazing. Our guides were incredible and offered a wealth of knowledge. Our group got on so well and the food on the mountain was always good. Climbing Kilimanjaro had been such a spontaneous trip and I really hadn't done much planning. The 6 days on the mountain would have to be in my top 3 favourite trips I have ever been on. We achieved so much and pushed ourselves. I would 100 percent return to Kilimanjaro one day to try a different route.
Packing List for Kilimanjaro:
Upon arriving at Mweka Gate, we received our completion certificates and were bundled into our van to be transported back to Stella Maris Camp. All in all, the trip was amazing. Our guides were incredible and offered a wealth of knowledge
If you're thinking of tackling Kilimanjaro (or any mountain for that matter!) drop in and see us at our Burleigh Heads store or shop our massive range online.