Arriving back from this walk we realised how loud our home is, our neighbours chatting, the lawnmower, the hoover upstairs, cars on the road, even my laptops fan.
In the five days we spent walking this track we heard none of these sounds and how quickly we got used to that! Only the birds, creaking trees and my terrible singing (not ashamed). We had been planning some sort of multi-day walk for a while now, but because of Covid it seemed to be all talk until two weeks ago the parks reopened and we packed up and headed out before work started again. It was decided our first Multi was to be Queensland's longest walk: Cooloola Great Walk - Noosa North Shore to Rainbow Beach.
Day 1: Noosa North shore - Brahminy Camp 17.1km (Plus 2.5km from Ferry Drop)
We walked from south to north, and found getting to the start a little tricky from the Gold Coast, and without the help of Al's dad driving us to Rainbow Beach to leave the car and then back to Noosa North shore Ferry it would have been even harder. In regular times there is a bus to hep you out, but it is suspended at the moment so lucky for us Al's dad, Kevin was up for the drive in exchange for some whiskey.
We packed the night before, and from advice kept our bags to under 20% of our body weight. We set our alarm for dawn, but as it is a fair drive we didn't get to the start of the trail until 11:30am, so were chasing light for the first camp on day one. As we didn't do a whole lot of research to the trail itself, we didn't have any expectation for day one but the terrain was constantly changing and we found ourselves stumbling on surprise after surprise. We Started in classic bushland, and then walked through serene salt flats and then landed on Teewah Beach, up into the sand dunes, to a gentle slope which overlooked the glassy water of the Cooloola Lakes, (which we reached at Sunset, and were stoked with our timing).
After 5 hours on the trail, I admit I was pretty restless for camp, and the last few kilometres felt longer and steeper than the first! So arriving at camp, and seeing three Brahminy Hawks playing above us in the last of the suns rays, was the perfect end to a long day full of Cooloola Great Walk - Our first Multi-day Hike lessons. This is without doubt the most picturesque camp on the route, set up high with views of east and west and with a full moon we barely needed our head torches. We set up our camp in a matter of minutes in our Birkenstocks which were worth their weight in Gold, and settled in for our first night on the trail.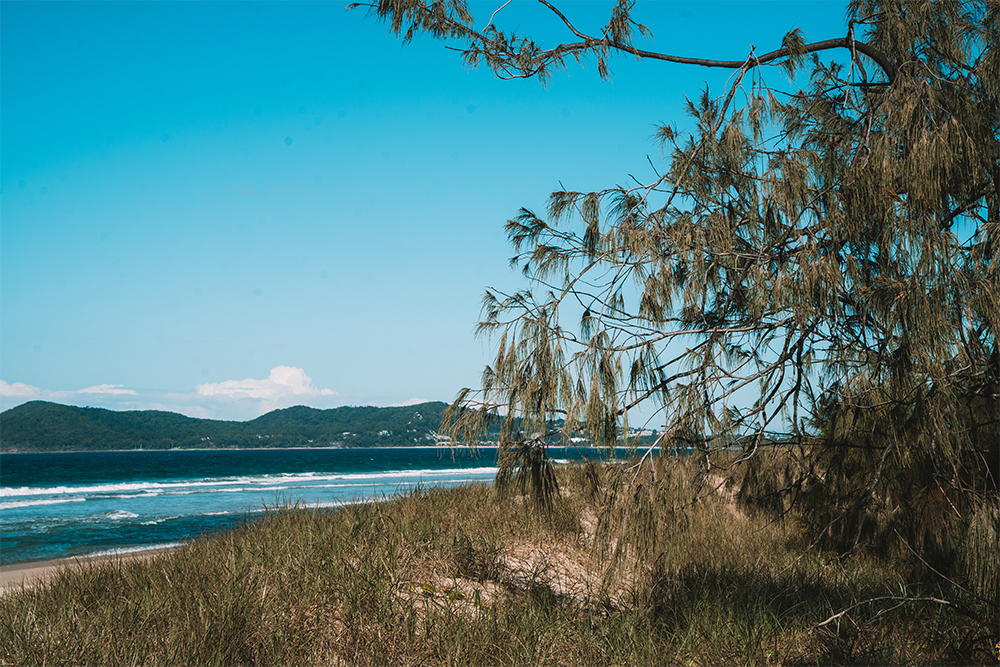 Day 2: Brahminy Camp - Dutgee Camp 19.6km
We woke up to a soft sunrise and the full moon was still showing off in the sky. We were the only ones at camp so spread out on the benches and had coffee first up. We had another big day ahead so made a plan. We decided to have a late start and enjoy the view and a big breakfast, and then walk through until lunchtime stopping at the sand patch (10km). The track starts in the dunes, and the colours were intense. Bright blue sky and matching ocean, contrasted with sand so white it could have been snow all cut in half by the green and yellow flora. I loved the plants in this section of the walk the most, the banksia and native flowers are the making of a florist shop.
Arriving at the sand patch, the 2k walk across reminded us of the baron land from movies. Here we saw people for the first time and felt mildly jealous with our bags and boots, as we watched two guys barefoot jog along the sand! With the sand patch crossed we meandered downhill towards the Noosa River into camp. Again we were the only ones at camp this night, so had our pick of spots and after two days with heavy packs and 40kms under our feet we wisely/lazily chose the closest to the path! We set up camp, drank tea and whiskey and then lucky dipped for our dinner - Mexican Chicken from Backcountry. Im pretty sure as soon as the sun set we were asleep.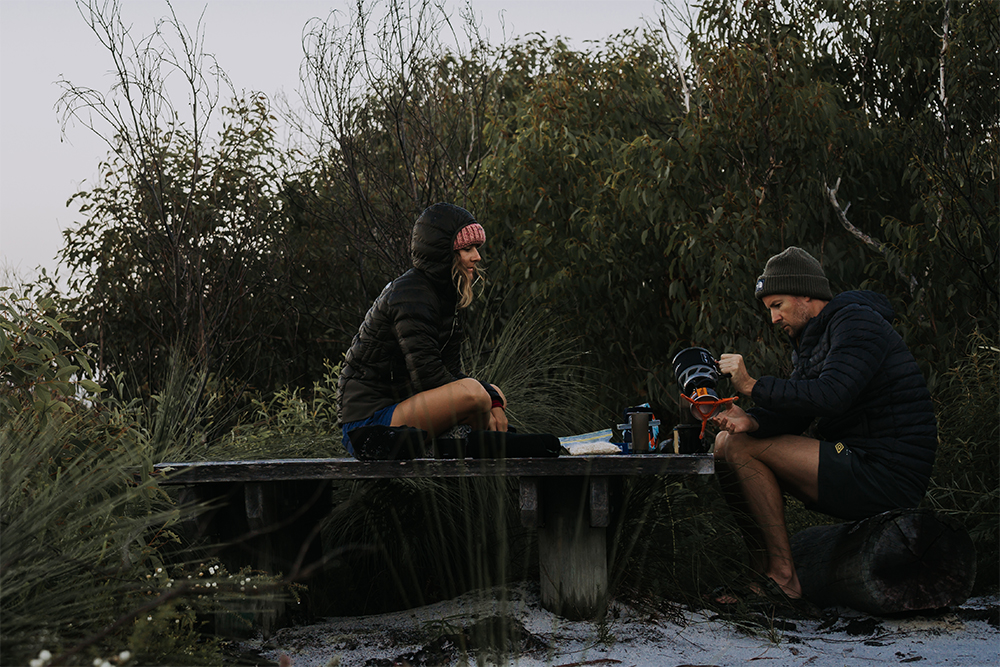 Day 3: Dutgee Camp - Litoria Camp 14.6km
Waking up on day 3 we may as well of been in a cloud, there was so much fog and morning dew! As we set off the spider webs were all decorated with water, and the sun seemed to light them up like Christmas decorations. Knowing we had just 14.6km to walk today we were excited, and set off early to arrive at Cooloola Great Walk - Our first Multi-day Hike camp for 2pm. We also realised that we had been marching to get to the camps and not relishing the walk as much as we could have been, this was a lesson we learnt and put it down to inexperience of long hikes. So we made a pact to enjoy the walk as much as the camps. This said we had breakfast on the trail and found a fallen tree to sit on and make coffee.
Day 3 felt like a long prolonged up hill, which I strangely enjoyed and found easier with the backpack than the downhills! We arrived at camp early, and decided to eat all of our excess food we overpacked for "just incase" moments. It was a feast of muesli bars, nuts, and coffee, and made our bags much lighter for the coming days! We also tossed up whether to leave our card game in the toilet hut for another hiker to enjoy and make our bag that tiny tiny bit lighter! But we decided to keep it "just incase". Next time it will be left at home for sure! Tonight we shared the camp with others for the first time.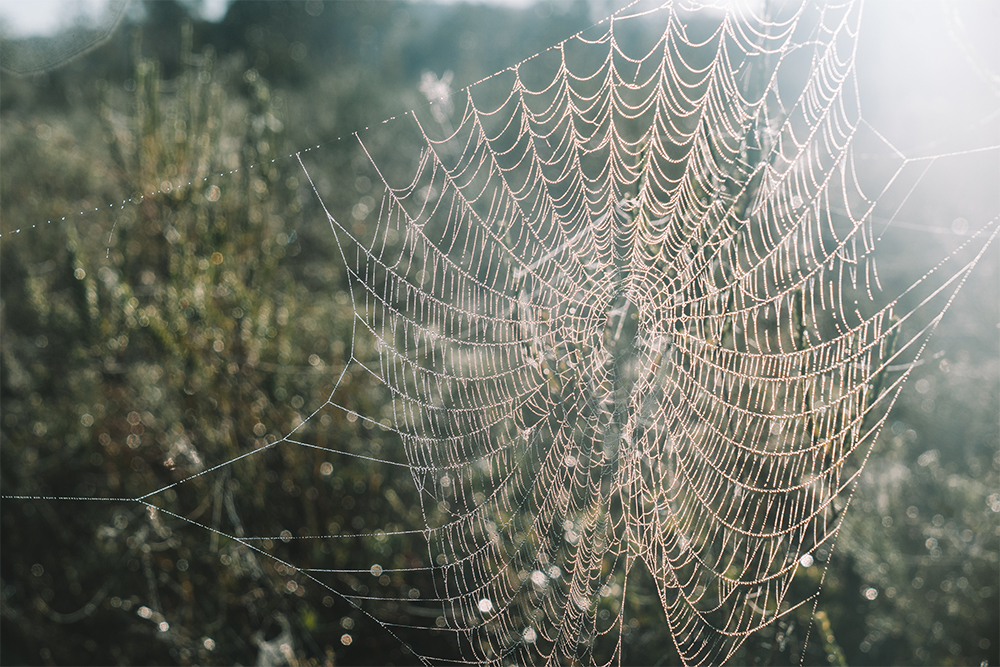 Day 4: Litoria Camp - Kauri camp 20.4km
Day 4 is the longest official day of the walk, and after a few days of views and elevation, we found ourselves low in the rainforest for the majority of the day. The canopy used nearly all of the light, and the fresh breeze was replaced by damp humidity. The rainforest itself is wild, giant palms and fig trees fighting with each other for light, and the floor is carpeted with strange mushrooms and bright green moss. We spent the majority of the day side by side making jokes and chatting, making the 20kms fly by. Until the final two, with my usual impatience to finish the day reappearing. Arriving at camp we were surrounded by jungle and could only see the sky when we lay down and looked straight up. So we left the fly off of our tent and watched the fading light as we read aloud and ate.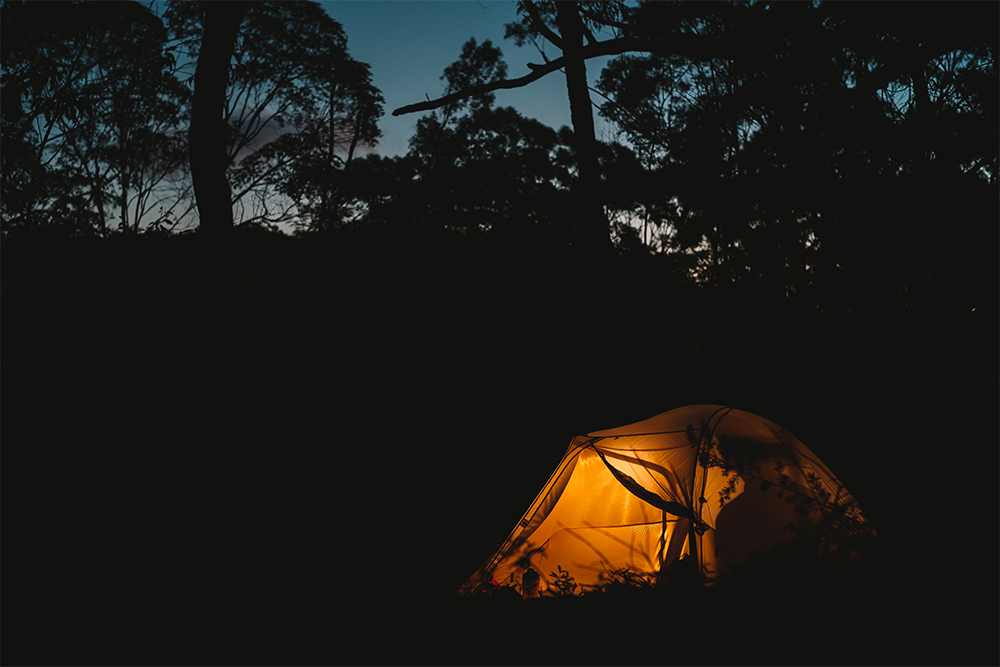 Day 5: Kauri Camp - Rainbow Beach 15.6km
After a night of sporadic downpours and gusts of wind we woke up to drizzle. We were still pretty pleased as our initial weather report on day one had warned us of on and off showers for the duration of our trip. Being the last day, we were both feeling fatigued but looking forward to the finish line, so set off in early in the light rain. After 6kms we found ourselves at Poona Lake. Another surprise we hadn't expected. Poona lake is a beautiful sand bottomed fresh water lake, and as we arrived the sun came out and stayed out for an hour! It was an oasis, we were alone again so had our first swim of the trip. This was definitely Al's highlight, which was clear as he sung "Let the sunshine in" whilst dancing in his jocks on the sand. It was an instant refresh and gave us a final boost to finish the walk in great spirits. As we got back onto the trail the sun was once again hidden by clouds and we walked through the last hilly section of rainforests until we reached the much anticipated sand blow. Walking through the opening to the sand blow was awesome, the canopy cleared from over head and the vast views of the ocean was polar opposite to the confined space within the trees. Only 900m left of our walk and how fast those meters went. We soon found ourselves at our car, on the bitumen, surrounded by the everyday.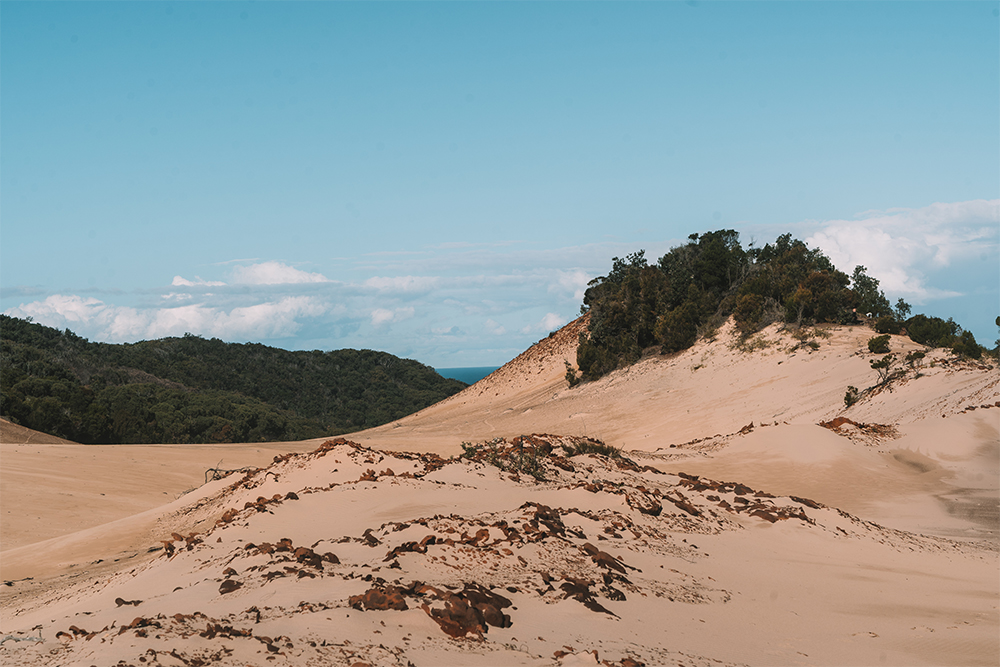 For our first multi, we chose a good one. We learnt heaps about timings, our gear, what works and what doesn't. A big lesson was that things that work on other camp trips and bush walks, don't always transfer well for a multi day hike, and our pace was slower. We had a lot of time to talk on the track, and we made a little list of essentials and swaps:
Essentials
Big Agnes Tigerwall UL2 - At a mere 900g this is a keeper and also an essential for us. It gave us a home base that was cosy and comfortable, because at the end of the day we were on holiday!
Sea to Summit Thermolight Reactor Extreme Sleeping bag liner - We initially bought these for a camp trip in the snow last year, but they are so soft and warm, and importantly light and pack down small!
JetBoil Minomo - This is new to us, we had experience with a Jetboil Flash, but the upgrade to the Minimo gave us the capability to simmer and cook food like porridge on the track as well as boil water.
Grayl Geopress Water Purifier - This water bottle is a little heavy, but the pay off for instant water, which from fresh water sources or the rainwater tanks is cold at this time of year, make it a must for us!
Hydrapak Seeker 2L - So so light, and gets smaller as you drink, perfect for packs.
Swaps
16 year old backpack - We gave this bag a chance, but times have changed, and the padding in the straps has all but disappeared. We learnt quick that the added weight made a huge difference to our energy levels and this bag elevated that!