Cragaconda: The Beast of all Crag Bags
19.12.2017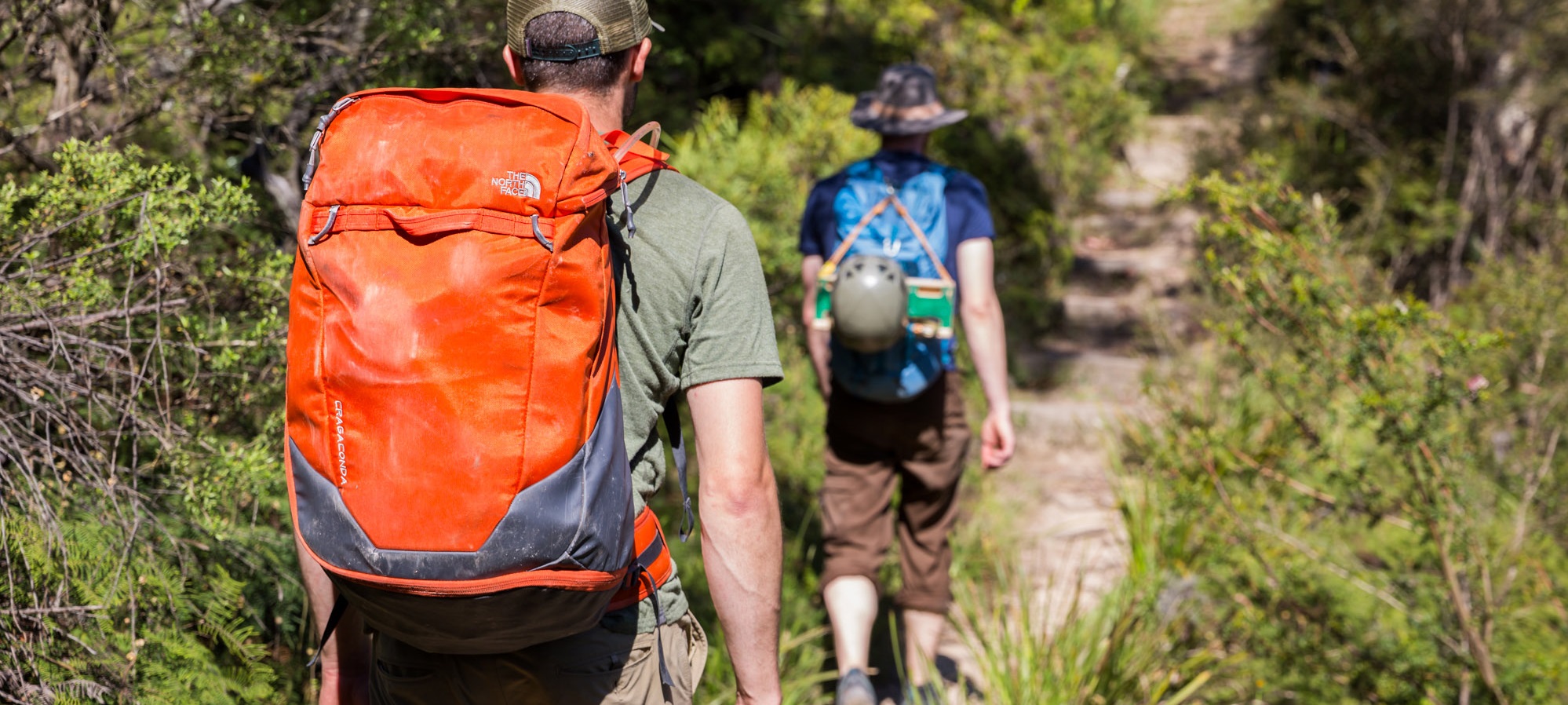 photo credit - Set In Stone Photography

We all love a good back pack & these days there seems to more backpacks available than uses for them. But what happens when a reputable brand releases a pack designed specifically for one sport? Enter, The North Face Cragaconda climbing bag! This thing is specifically designed for a day at the crag with all its features suited for carrying the gear you need for a great day out!

Before you read on, if you want the chance to win a TNF backpack of your choice, CLICK HERE!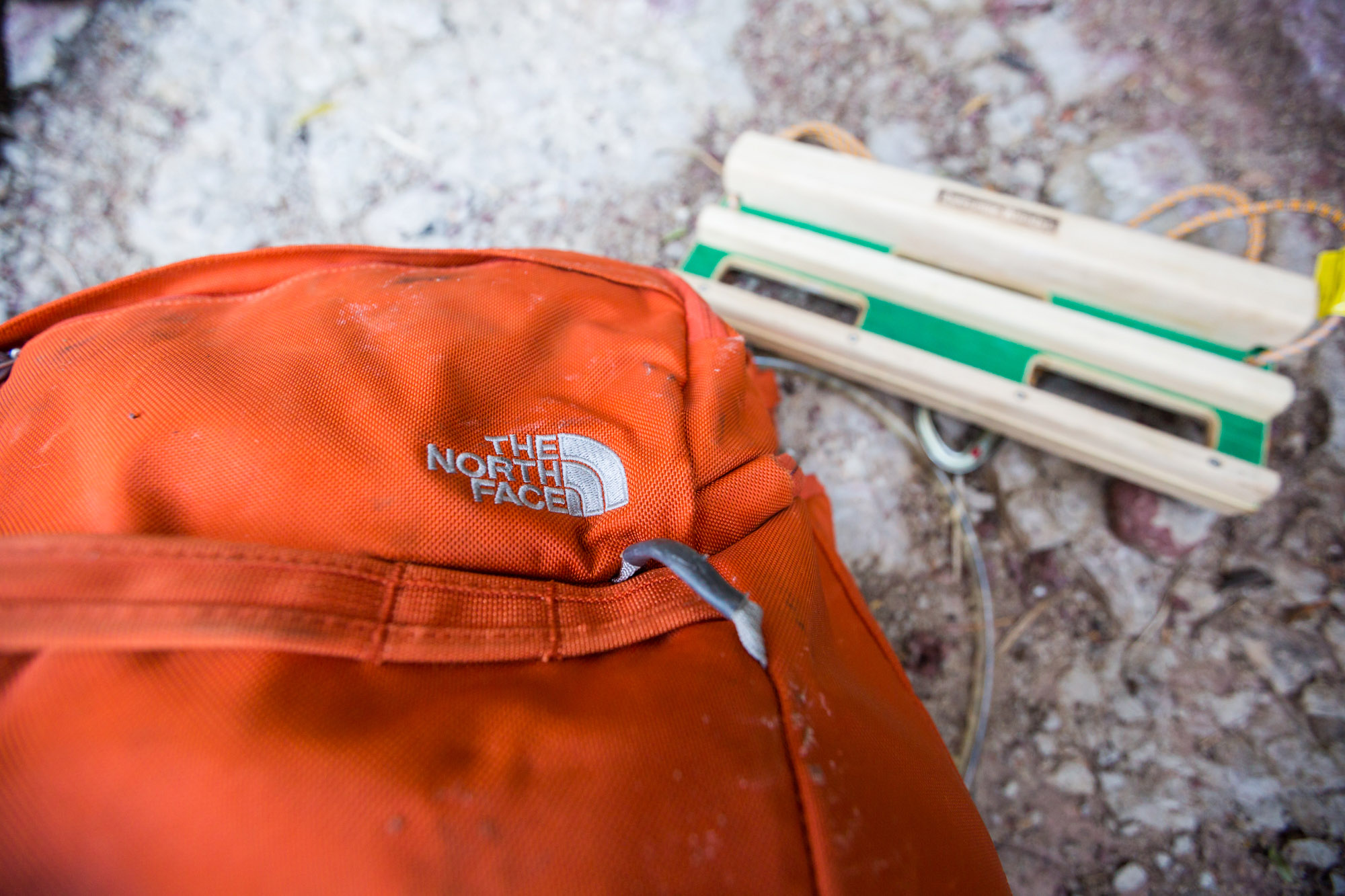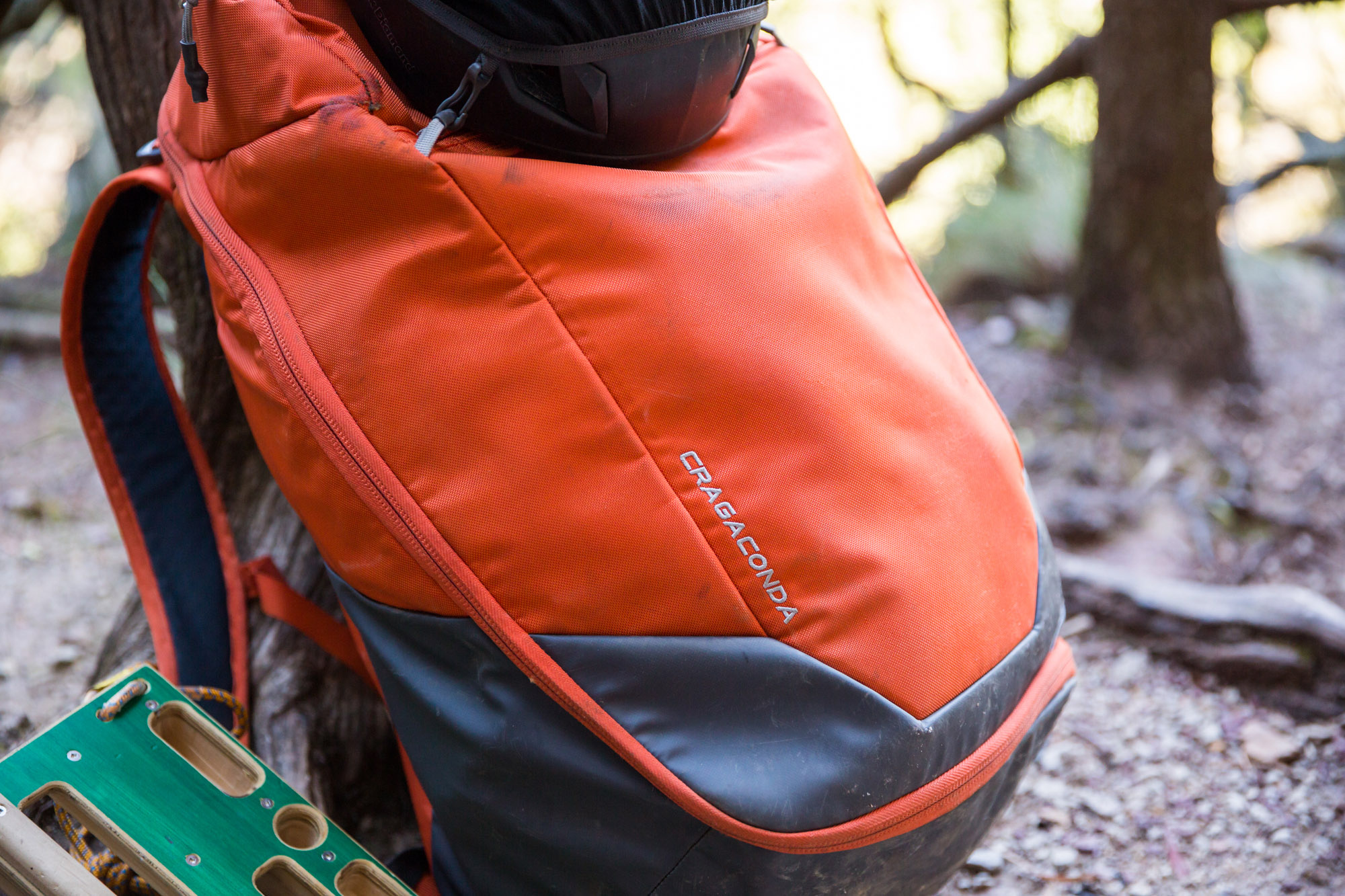 Ok so you're probably thinking, "Cragaconda? Seriously!?", yep seriously! But with a name like that, you know this thing is going to be unique to say the least. Personally, the name grew on me & if nothing else, it makes for a good conversation starter. But names aside lets get into the details:

SPECS FEATURES
| | |
| --- | --- |
| Weight - 1.39kg | Internal racking points for climbing gear |
| Capacity - 45L | External helmet holder |
| Dimensions - 53cm x 35cm x 21cm | Lay flat opening for complete access |
| Material - 840D PU Coated Nylon | Included rope tarp |
| RRP - $300.00 | Removeable waist belt |


So let's break down the above. The Cragaconda is a 45L pack which is the perfect size for a day at the crag, even if you wanted to bring a few extra bits & pieces. The pack is made from highly durable PU coated nylon & has been made with climbers in mind, meaning that they know your pack is thrown down on rocks every time you use it & have designed this pack to withstand the abuse! The external helmet holder is a great feature & adds that extra option to keep your helmet out of the bag to maximise storage for the rest of your kit. The included rope tarp is a nice touch & something I didn't expect. It's small but it's all you need & has sinch string all the way around it for when you need to pick it up & move on to the next route.
PROS
Lay flat design is really nice & means you don't have to pull everything out of your bag to find what you need

I love the helmet strap & included rope tarp. Really nice touch to a pack designed for climbers

Metal buckle on waist strap. At first I wasn't a fan but it grew on me

Internal handles for when the bag is open & you need to move. Really great feature

Internal shoe pocket is great for keeping you smelly climbing shoes away from clothes or food

Durable material, this thing can take a beating!
CONS
No hydration opening. If your like me & use water bladders, you will saddened to see that there is no outlet for your bladder hose. The only workaround was to have it coming out through the zipper which actually worked quite well & made it not THAT big of an issue in the end.

No external side mesh pockets. To me this is an oversight meaning that you have no external water bottle carrying solutions. If you have cold or frozen water in a bottle, the condensation is going to wet everything in your pack.

No side straps. If you want to carry a stick clip of some sort, the only way to not have to carry it in your hands is to have it sticking out the top of the pack through the zipper. Not ideal but it works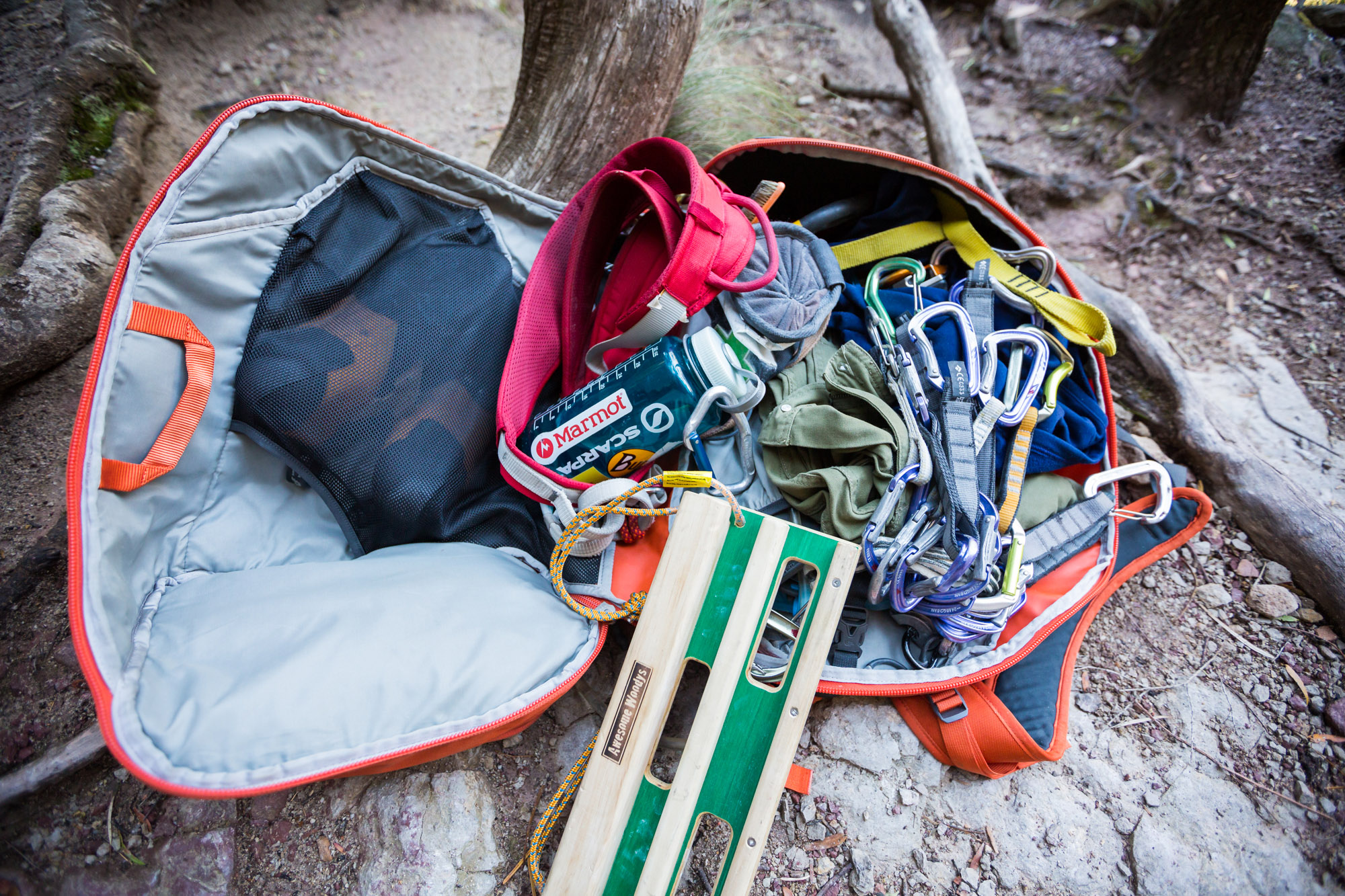 The Cragaconda's lay flat design making access to your gear easy
photo credit - Set In Stone Photography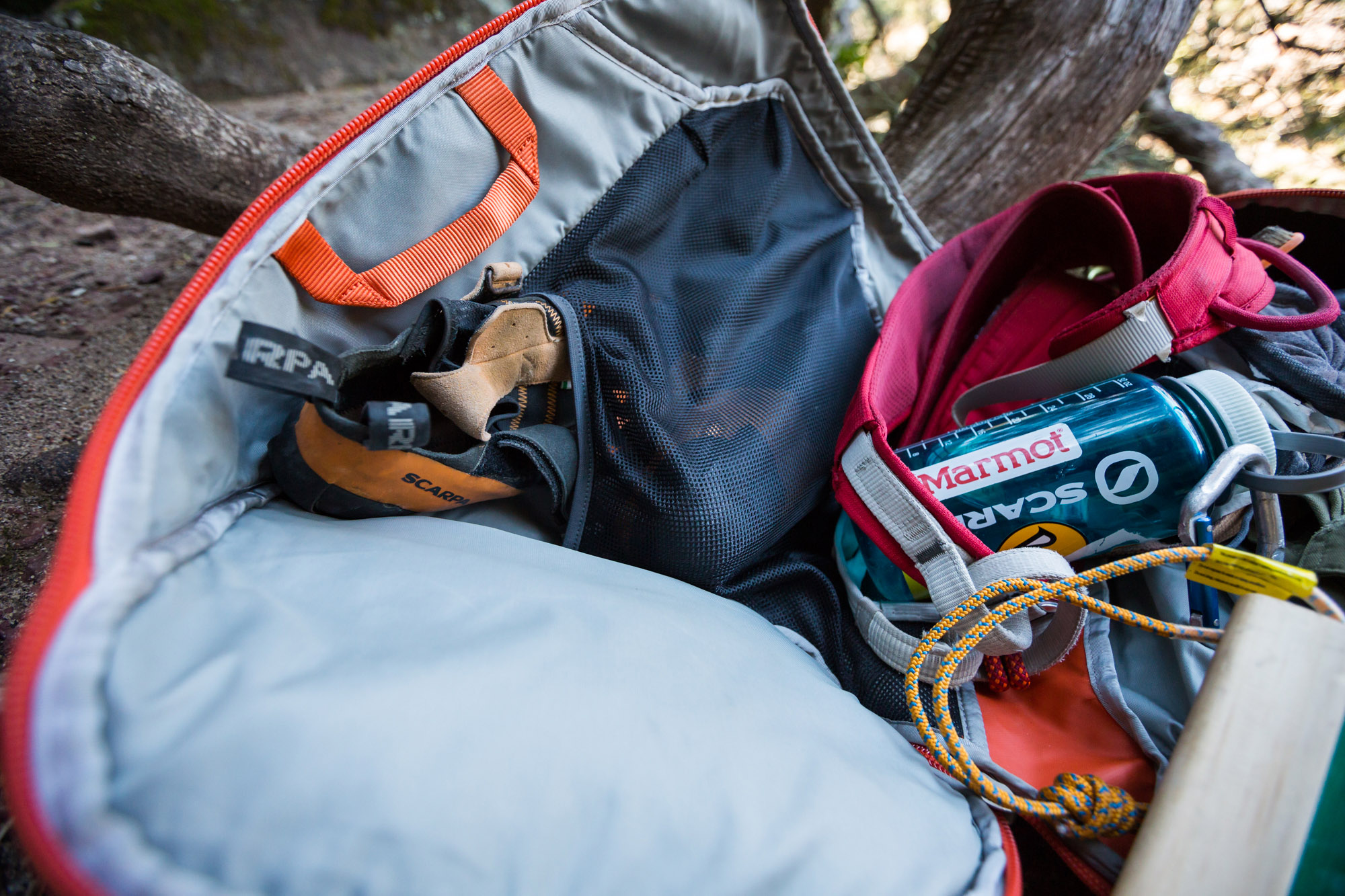 Internal shoe pocket & 1 of 2 grab handles for moving the pack when it's open
​photo credit - Set In Stone Photography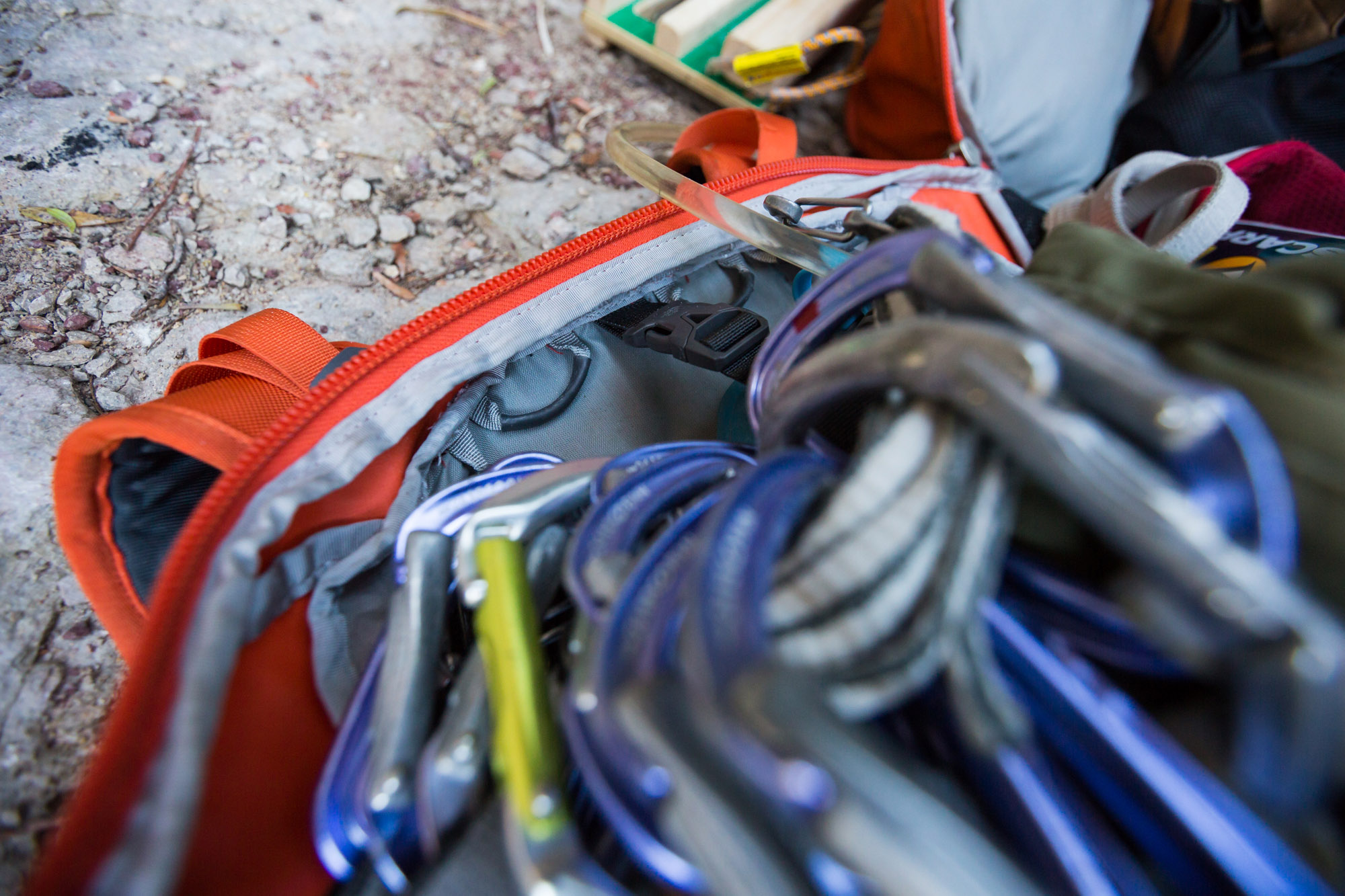 Internal racking loops. At first I thought they would be great for quickdraws but ended up not using them as they can be a little cumbersome. Great for attaching other equipment though.
photo credit - Set In Stone Photography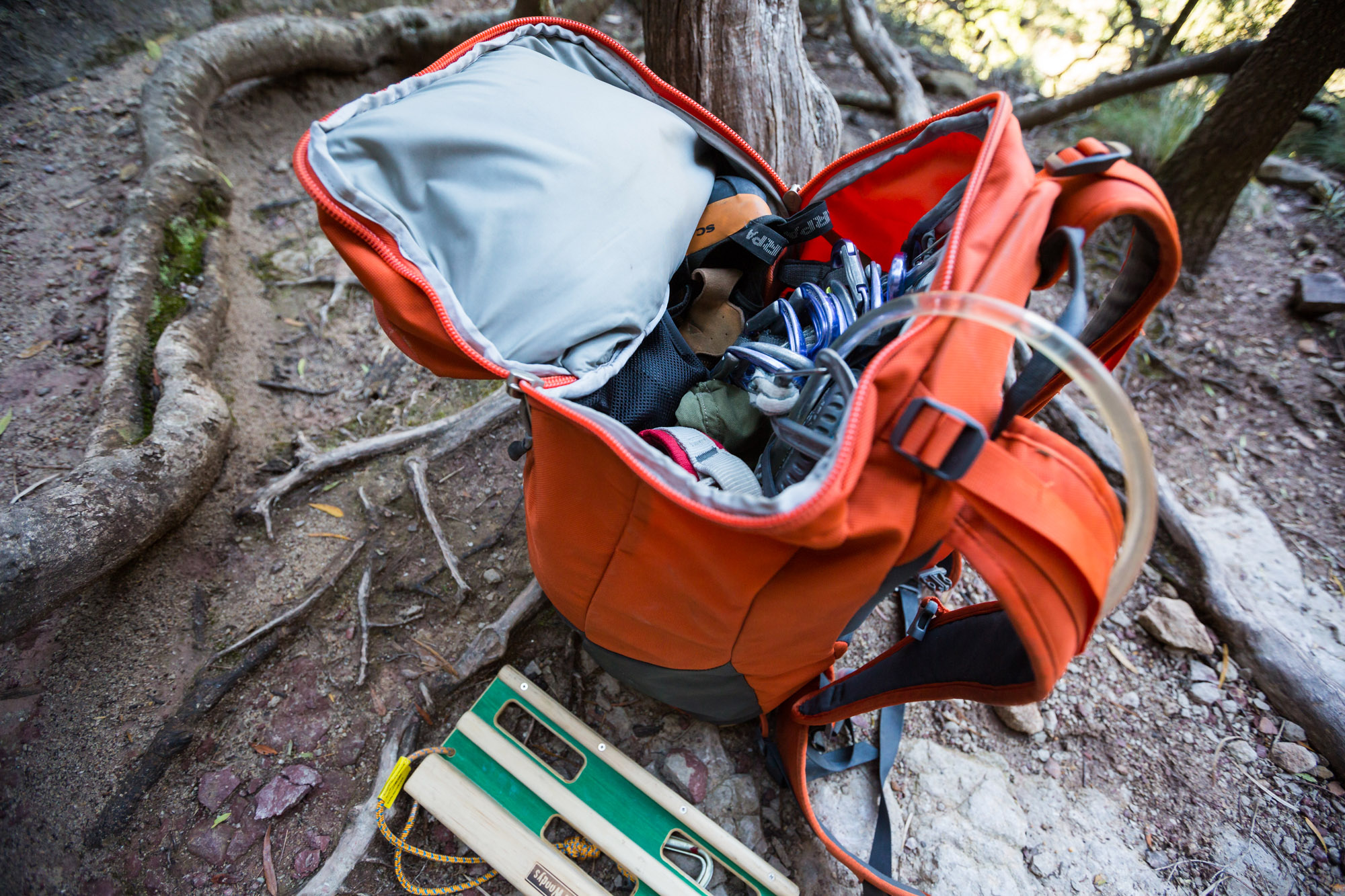 Once you get used to this bag you figure out how to make it work for you in different ways. At first I thought I had to use the bag in the lay flat position only but it stands up the lid can be opened like a normal rucksack if you want. Just need to open the zipper to the right spot :) ​
photo credit - Set In Stone Photography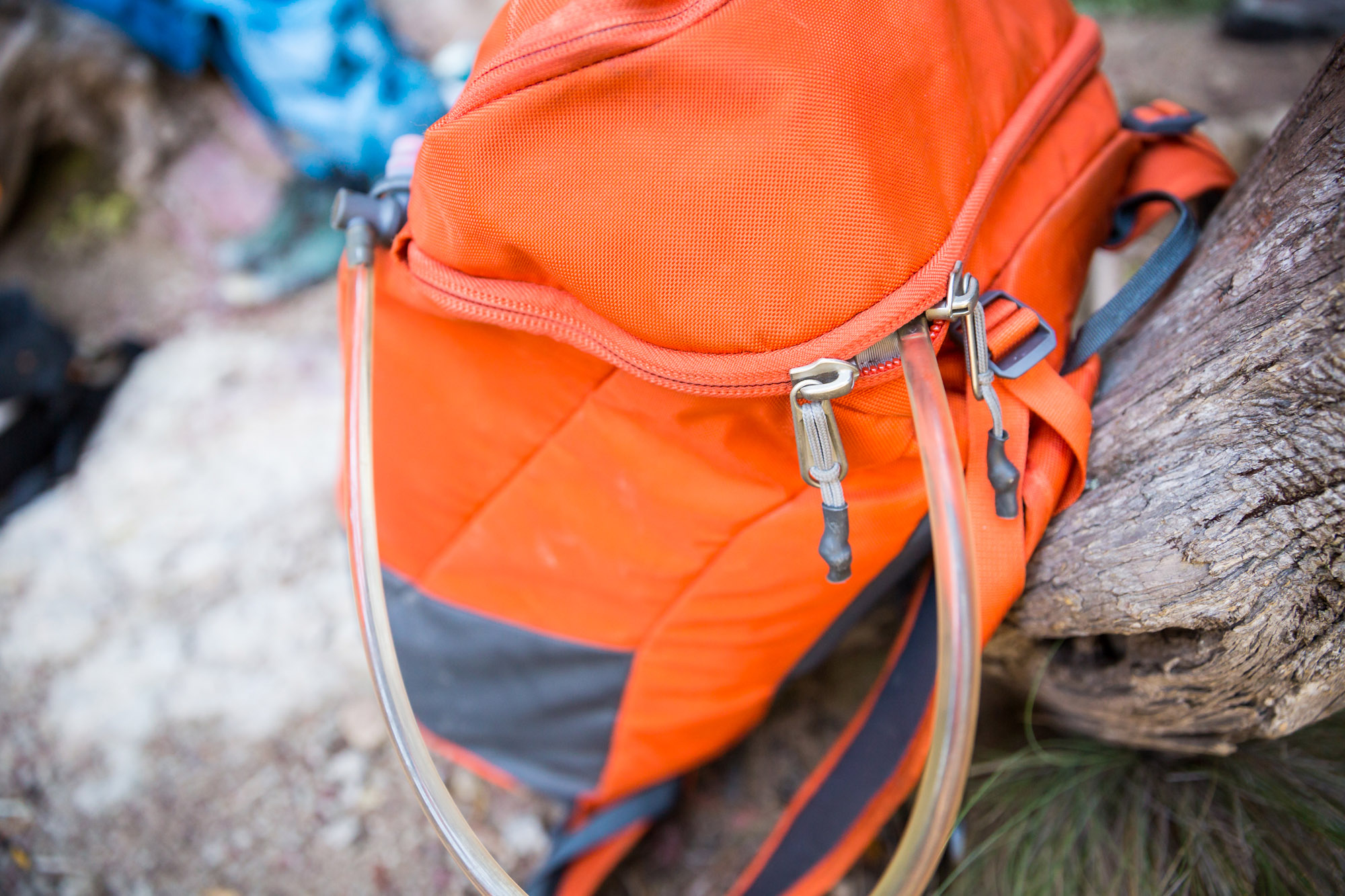 Image showing the workaround for the missing hydration port. As I said, not a deal breaker but would be nice to have
photo credit - Set In Stone Photography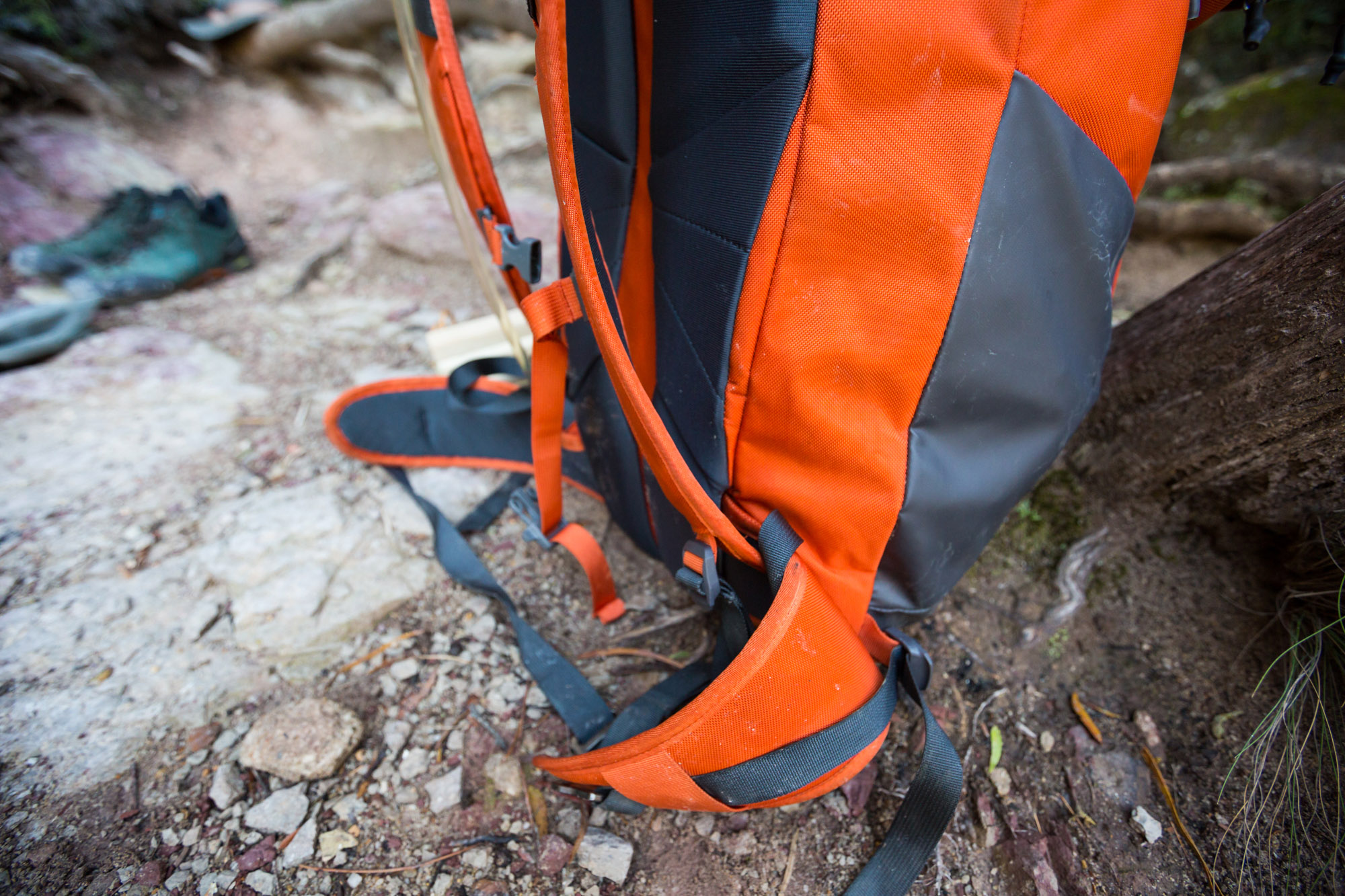 This image shows the nice hipbelt & strap but also the lack of side straps & side mesh pocket which again is not a deal breaker but in my opinion something every bag should have.
photo credit - Set In Stone Photography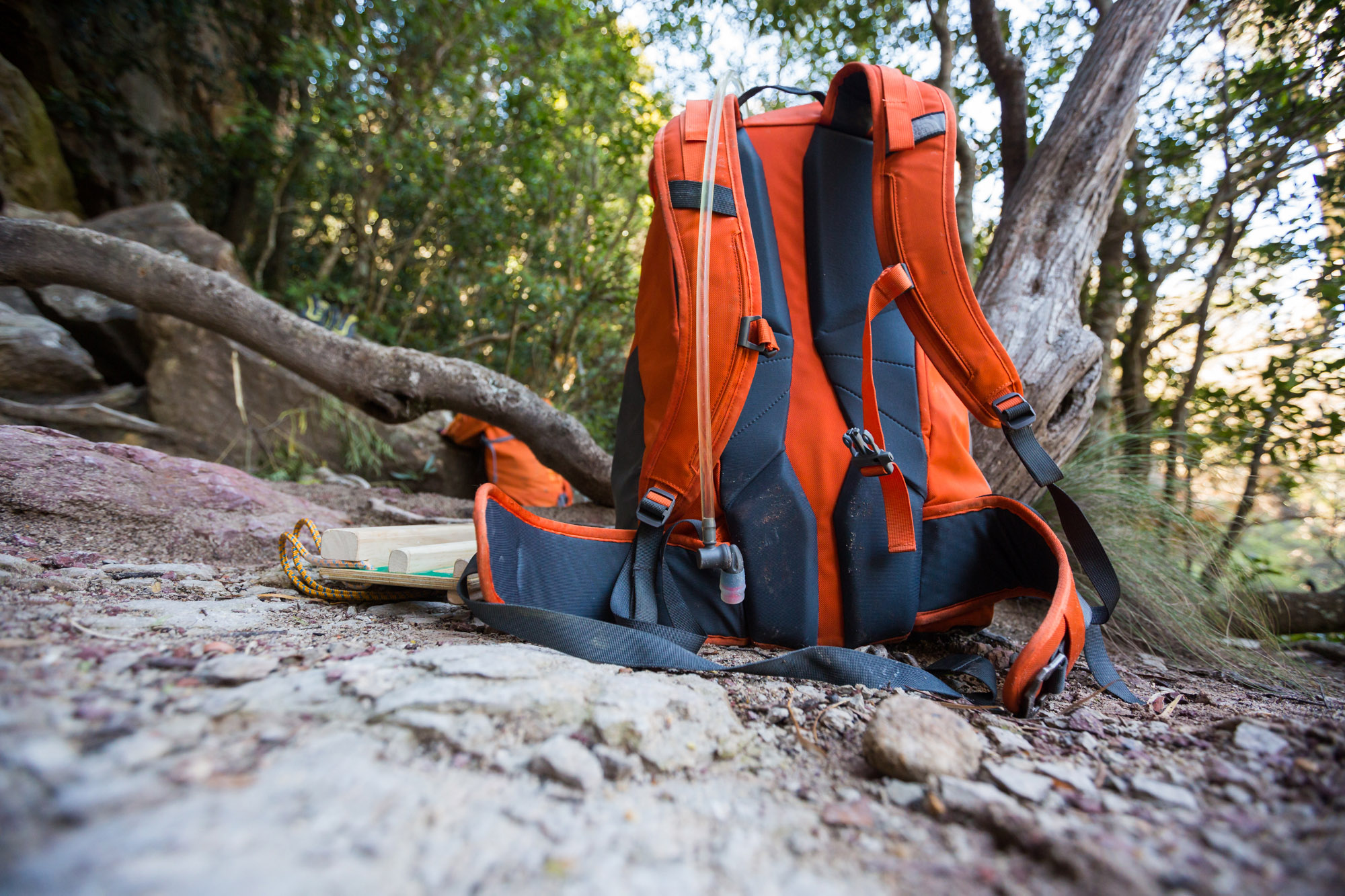 Nice back padding with plenty of lumbar support. She's a good lookin pack that's for sure!
​photo credit - Set In Stone Photography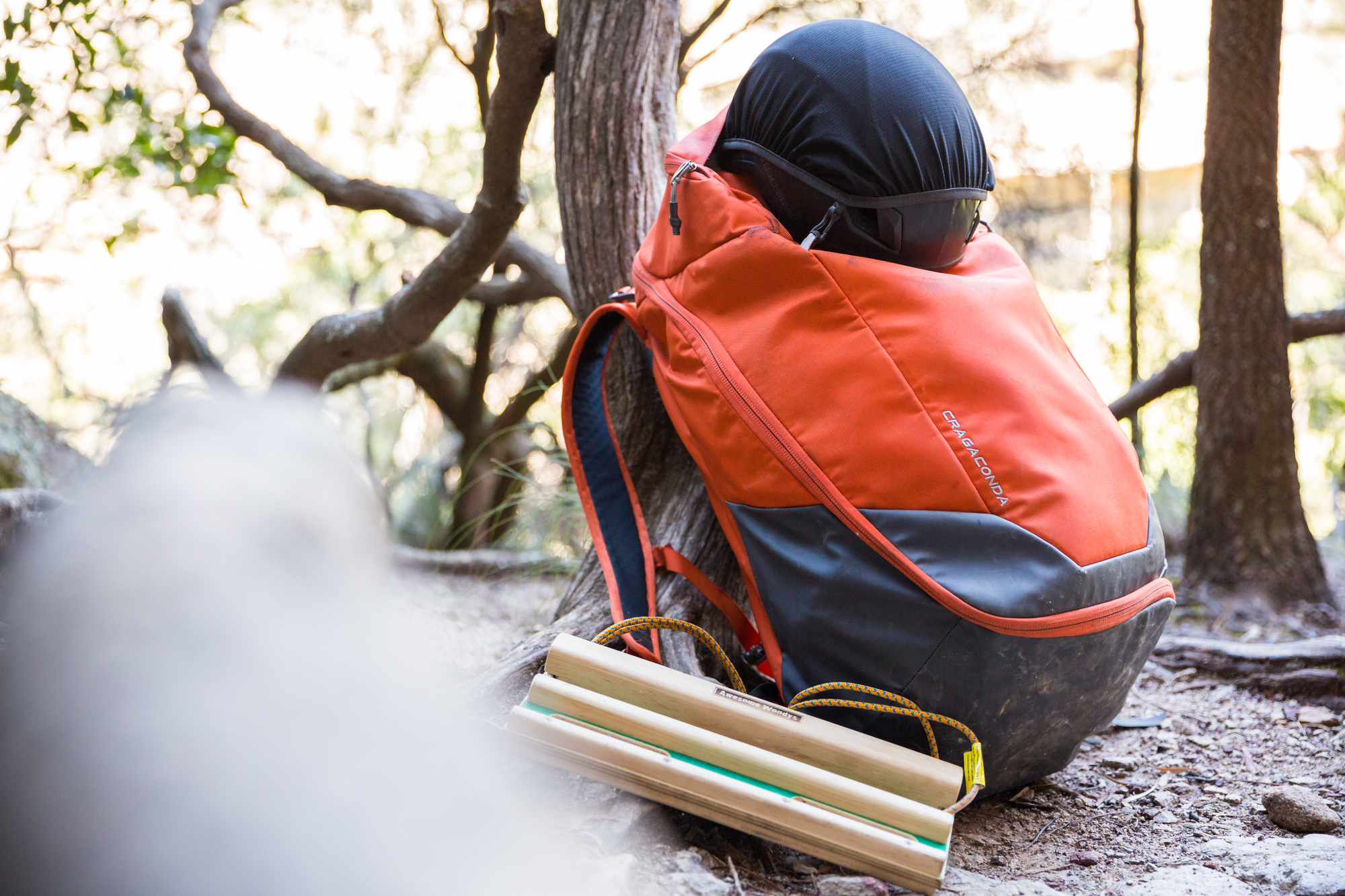 Image showing the mesh helmet strap in use which stores back into its own little zipper pocket... love it! There is an external handle on the front of the bag which unforuntately is innacessible if the helmet strap is in use. Didn't really bother me though.
photo credit - Set In Stone Photography


SUMMARY
With the Pros & the Cons in mind, the Cragaconda is still in a league of its own. In the spirit of honesty, I initially had doubts as to whether I even liked this pack but the more I used it the more I figured how to make it work for me & the more I liked it. It's a rugged, stylish & very versatile climbing pack for a day of cragging that does everything you need it to do. Unlike other crag bags that I have used which have a similar style, this pack offers the ability to function like a normal pack would which is what seperates it from the others. All in all I am surprised at how much I like this pack, even with the missing hydration hose port & side mesh pockets!

RATING



I give this pack a 7.5/10. Side pockets & a hydration port would see it closer to 8.5/10 which for me is a big rating. The best pack in the world would probably get a 9.5/10 in my books ;)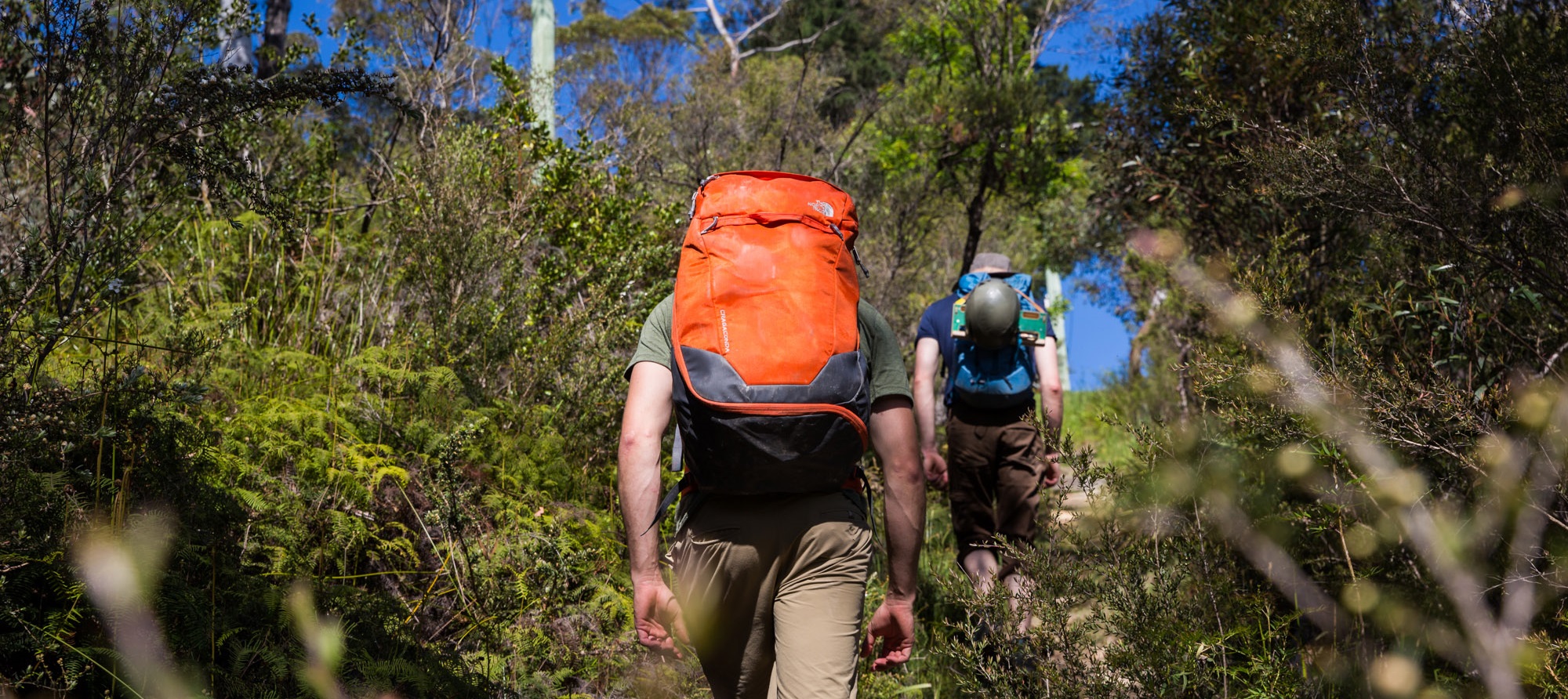 photo credit - Set In Stone Photography

Now that you've read the review, enter to win a TNF backpack of your choice, HERE!
Authored by Nate McNeil - Wild Earth Social Media & Marketing Co-Ordinator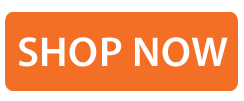 ____________________________________________________________
Check us out on Facebook
Check us out on Instagram
Subscribe to our YouTube channel
---
Leave a comment