James Stuart seeks to break from the Yosemite crowds by trekking into the wilderness, but not before catching up with climber Andrea Hah for advice. We've only just hopped out of the car when I spot it high up in the branches of an oak tree: a juvenile
James Stuart seeks to break from the Yosemite crowds by trekking into the wilderness, but not before catching up with climber Andrea Hah for advice.
We've only just hopped out of the car when I spot it high up in the branches of an oak tree: a juvenile black bear, feeding on acorns. Seeing my first bear in the wild ought to be a quasi-spiritual moment. Instead, I'm shoulder to shoulder with a dozen tourists on the side of the main road into Yosemite Valley. A group of 20-somethings pose for a photo on the roof of their RV with El Capitan's 1,000m high sheer, granite cliffs as a backdrop.
Is this the experience I've flown across the Pacific for? Luckily, for those in the know, there are ways to escape the tourist crush of the Valley – the gravitational centre of Yosemite National Park and its 2,000 square kilometres of glaciated granite peaks, alpine meadows, and endless climbing and hiking potential.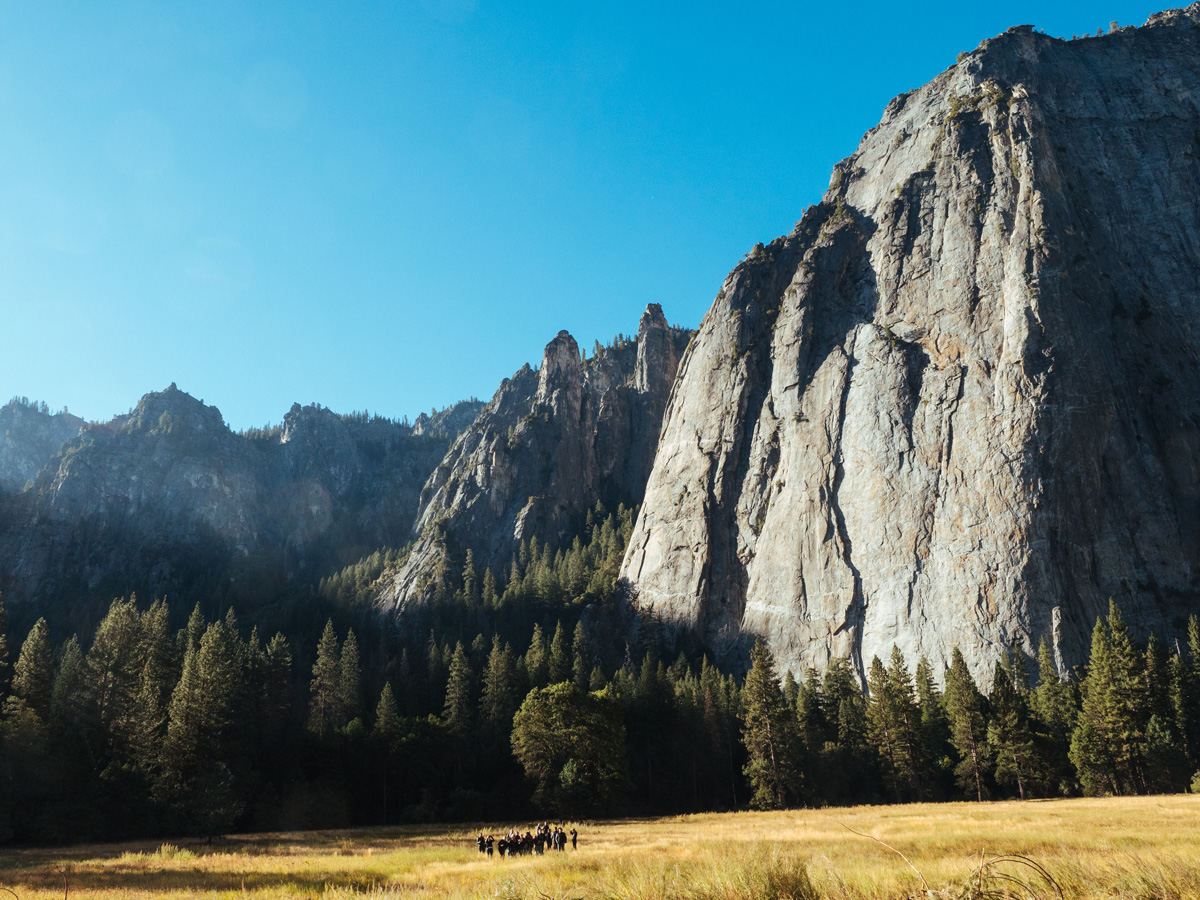 Cathedral Rocks stand opposite El Cap in Yosemite Valley
WELCOME TO THE VALLEY
Time it wrong and your arrival could be worse than LA's peak hour; most of the Park's four-to-five million annual visitors are there to experience the 12km long Valley and be enclosed by its cliffs. At 5pm on a Saturday in early Autumn, however, we wind our way quickly along a steep road above the Merced River and what we supposed would be a dreaded human traffic jam, but, thankfully, it never eventuated.
I'm here with three of my best mates to celebrate our 40th birthdays with a backcountry hike further north at Hetch Hetchy Reservoir. But as an avid climber there's no way I'm missing out on the seeing Valley for myself. Ever since modern day climbing took off in the mid-20th century, the place has been a siren call to those willing to dash themselves on its stupendous amount of rock.
We turn a corner and suddenly the river seems to drop away. The first column of granite juts up, grey as galvanised steel. We cross over a bridge and there's El Cap, so massive that I'm completely absorbed by it. Its verticality defies any conventional sense of scale. Lafayette Bunnell, one of the first white men to visit the Valley in 1851, reported finding his 'eyes in tears with emotion.' Even then, he underestimated El Cap's height by 50 per cent.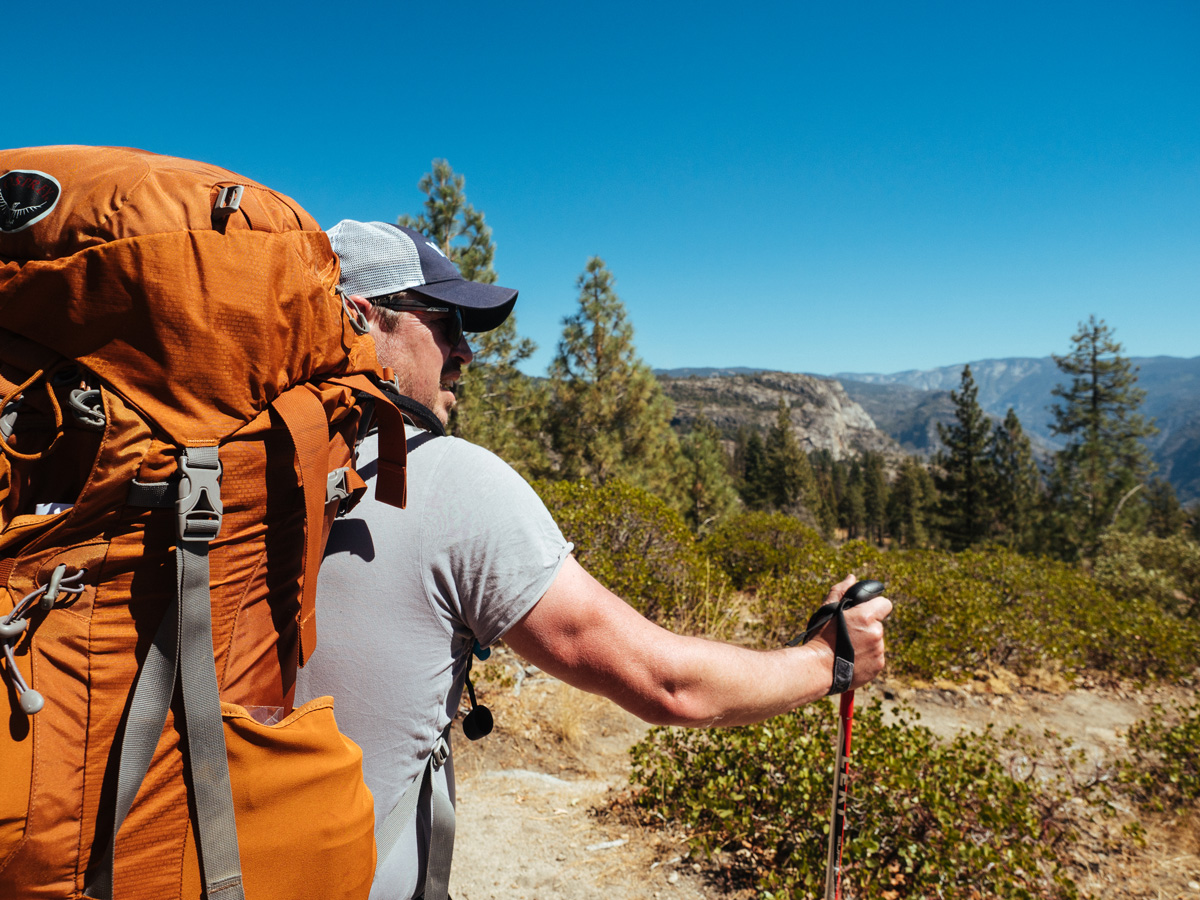 Catching a breather after the ascent from Hetch Hetchy Reservoir
CLIMBING YOUR WAY OUT
I'm thinking that if you're going to find yourself alone here, El Cap must be the place to do so. It's not a given, however: there are a lot of climbers in the Valley. Like, a lot, a lot. Ever since a band of misfits showed up in the 1950s, pioneering the discipline of big wall climbing, scaling the Valley's immense cliffs has become a rite of passage. Consider this, however: before Warren Harding and his team's siege-like first ascent, climbing El Cap, as one observer puts it, had been 'the realm of the absurd.'
Fast forward six decades and technology, techniques and attitudes have all evolved.
Feats like Tommy Caldwell's Dawn Wall and Alex Honnold's mind-blowing, ropeless ascent, documented in the Oscar-nominated Free Solo, have thrust El Cap into .
The mythical Camp 4 is no longer a haven for rebels but a melting pot of global climbing cultures. Camp here and you'll find a hub of kindred spirits, living and breathing the sport. Everyone looks out for each other, but they're also breathing down each other's necks on the Valley's more popular routes.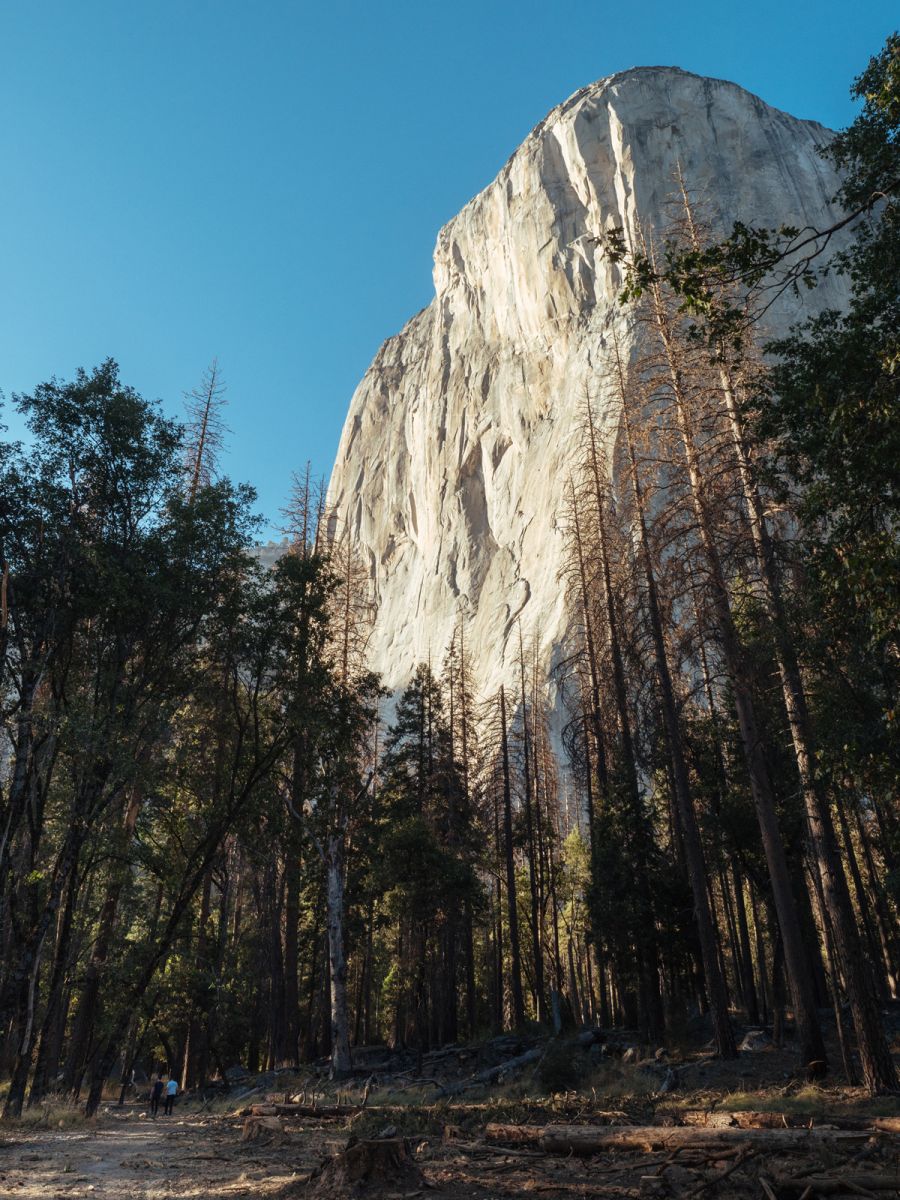 Yosemite's iconic El Capitan rises to 1,000m, towering over everything around it
A CLIMBER'S PERSPECTIVE
The quest for solitude may not have been Australian climber Andrea Hah's principal motivation but she definitely had to slog hard for it. Hah, an elite Australian climber – and Australian Ninja Warrior contestant – spent six weeks in the Valley in 2017 with partner Lee Cossey. As she climbed her way up the 30-pitch Freerider route on El Cap, she was constantly looking over her shoulder.
The same route that Honnold climbed in Free Solo, Freerider is graded 5.12d in the Yosemite Decimal System, or 27 in Australia's Ewbank system. Plain English version? It's hard – harder than anything I've ever climbed. But the bottom 10 pitches, dubbed the Free Blast section, are a more moderate 5.11/21+. A lot of people do it in a day.
"There were several parties on it with us," Hah tells me from her home in the Blue Mountains. "You felt like you had to go quickly. There was a lot of pressure from below and above to keep a certain pace. It didn't feel as enchanting and romantic in that sense where you just got a whole cliff to yourself."
Yet things did improve: "Higher up on the wall, it did feel like it was just us. It was really quite a surreal experience to be pitching a portaledge, 800 metres from the Valley floor. You can see the hustle and bustle and you're up the top on your little ledge, on your own."
Gaining that vantage point, however, required lots of insecure, exposed climbing on featureless slabs and huge cracks. It pushed a world-class climber like Hah to the edge. After sending the crux pitches, she freaked out, worming her way up a moderate 5.10a/18 'chimney' near the summit.
"Each day we'd be up at sunrise and then climb into the night, with the head torch on, for hours," she says with a shrug in her voice. "Climbing 1,000 metres over five days is physically and mentally exhausting. That's why I grew delirious towards the end."
I'm feeling slightly nervous as to how I'd fare in the Valley now, given the gulf between our climbing abilities, but she's quick to reassure me. Hah and Cossey sampled the Valley's climbing thoroughly, from aid-climbing the Nose – El Cap's famous bulging prow – to sauntering up the classic Nutcracker route, a moderate 5.8/16 on the poetically named Manure Pile Buttress.
"There's just endless, endless climbing for all sorts of different levels. Completely new climbers and world-class climbers can all be challenged," she says. "It's such a beautiful playground."
Sadly, climbing even a single pitch of Valley granite, let alone El Cap, is not on the cards for this trip: I've arrived with three, soon-to-be-40 ground-dwellers. We follow the climbers' track up to the El Cap's base, its western face blanched by late sun. My rite of passage is limited to a few stemming moves up a crack. Still, we're finally alone. The rock is gorgeously textured, gripping my skin like sharp Velcro. Three hundred metres above we can just make out a party leading a pitch up the wall. I make a silent pledge to return and climb another day. For this trip, I'm hoping that solitude lies closer to the ground.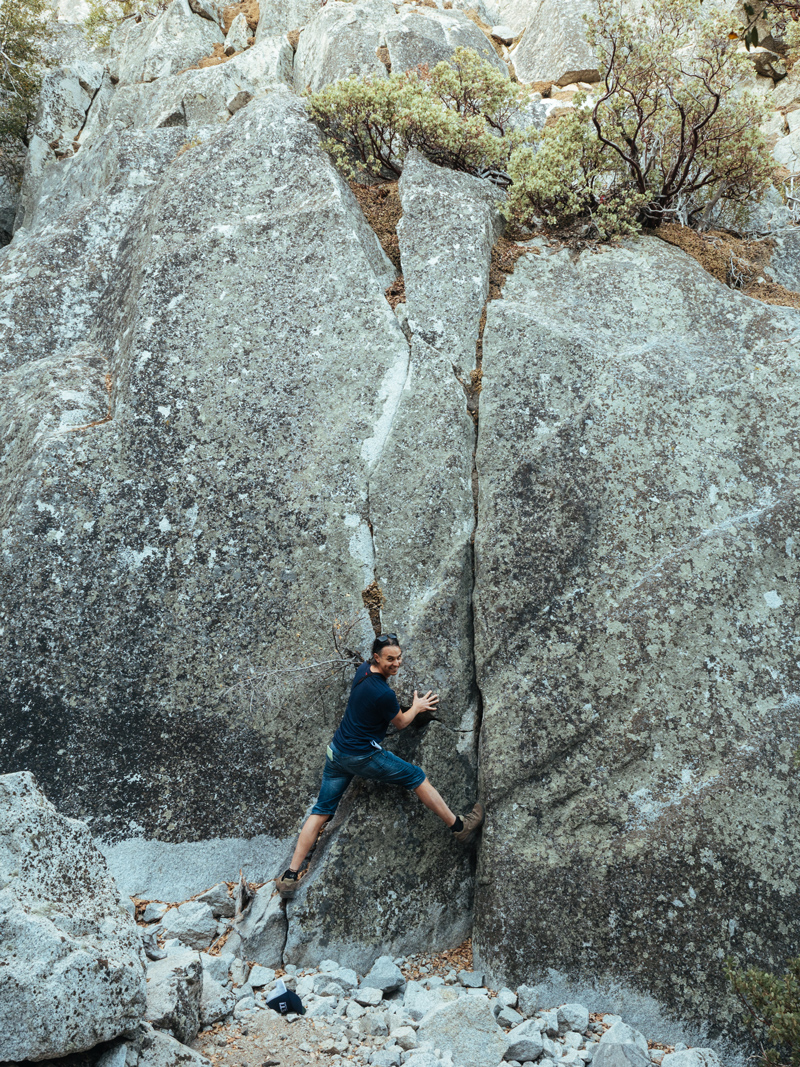 The author gets off the ground on El Cap - but not much further (Photo: John McCann)
INTO THE WILDERNESS
"You could do that route," says our friendly, grey-bearded park ranger at the Hetch Hetchy entrance, "but Tiltill Valley is a forest desert: no water and infested with bears. Or you could walk to the third most beautiful lake in the park."
With those words, our planned 70 kilometre loop to Wilma Lake via Moraine Ridge and said forest desert gets a makeover. Instead of turning east at Wilma Lake, we'll now push further north to Tilden Lake, a large glacial waterbody, and return the same way. The guidebook assures me that traffic will be light once we get beyond Laurel Lake so I've banked on having the place to ourselves too.
Hetch Hetchy Reservoir, before it was dammed to supply San Francisco's drinking water, apparently rivalled the Valley's grandeur. It's entirely plausible: flooded as it is, granite cliffs still encase the dam, plunging into its deep-blue waters. Casual day walkers patrol the highway-like trail along the reservoir's north-west edge, most of them inviting serious sunburn; there's no shade to speak of and even fewer hats. Everyone's friendly but we're still a long way from wilderness. But then we take a left and start uphill.
It's a couple of hours before we finally crest the incline, having zig-zagged our way up switchbacks, dynamited out of the rock after the dam was built in the 1930s. The day walkers are now distant pin pricks. In a shady grove of ponderosa pines a red-capped pileated woodpecker taps away as we lunch with a super-fit group in their thirties. They've lugged 'lots of metal' up the same path to rig a 70 metre slackline between some of the same cliffs we've been in awe of. It's clear they've grown up with Yosemite as a playground. Andrea Hah would approve.
As we ascend Moraine Ridge to our campsite, the last person we'll meet for days is another younger, fitter version of us: a long-haired hiker returning from Lake Tilden which, he reckons, is about seven hours away.
That night, we watch a pink light wash over the valley, below vast fields of rock speckled by pines that have taken root in fault lines. It's hard to believe we're camping above 2,250m, higher than any point in Australia. There's not a hint of breeze and the moon seems to enter a state of suspended animation, frozen by the dense silence that has settled around us.

Camping on Moraine Ridge provides superb views – and natural picnic tables
A SEA OF GRANITE
Moraine Ridge is bone dry and dusty after a hot summer. Descending into the glacier-carved Jack Main Canyon and its flowing creek is a relief. If Tiltill Valley is a forest desert then this is a granite sea: we scramble over exposed platforms and through brief forest patches. From every angle, grey-white, plutonic rock radiates out and up. It assumes the shape of blocky cliff faces that stand like rogue waves hundreds of metres high and low-angled slopes that step all the way to the sky.
We follow the canyon further upstream. A couple of squirrels skitter across stepping stones. Melt-water smoothed cascades fall into deep, cold pools. I'm in a constant state of psych as one landmark gives way to another. I'm in rock overload too: the potential for adventure climbing is unbelievable.
Near the shores of an unnamed lakelet, from which Mahan Peak juts up to its 2,800m summit, I startle two deer. Barely a hundred metres on, John and Shaun come almost face-to-face with a black bear, foraging in bushes just off track. We all vote for an early lunch nearby and watch it emerge onto the trail plodding towards its next feed. It's a privilege to see a bear going about its business, completely oblivious to us.
We never do end up reaching Tilden Lake. By the time we hit Wilma Lake, we're all totally worked and one of us is showing symptoms of mild altitude sickness. It doesn't matter though; Wilma Lake is the perfect pinnacle of any walk. It sits in a natural granite amphitheatre of cliffs and slopes, which perch on conifer-lined shores. We'll get another consolation prize for the return leg tomorrow: a side-trip to Laurel Lake where we'll spend our final night, enjoying its warmer, expansive waters and tree-ringed isolation.
After dark I scramble to the top of the granite dome that backs onto our campsite. Lying down, I float up into the scattered star field above then burst into tears without warning. Maybe there's something broken in my life or perhaps it's the stress of leading a group of friends into the wild. But maybe, just maybe, I've finally found what I came for.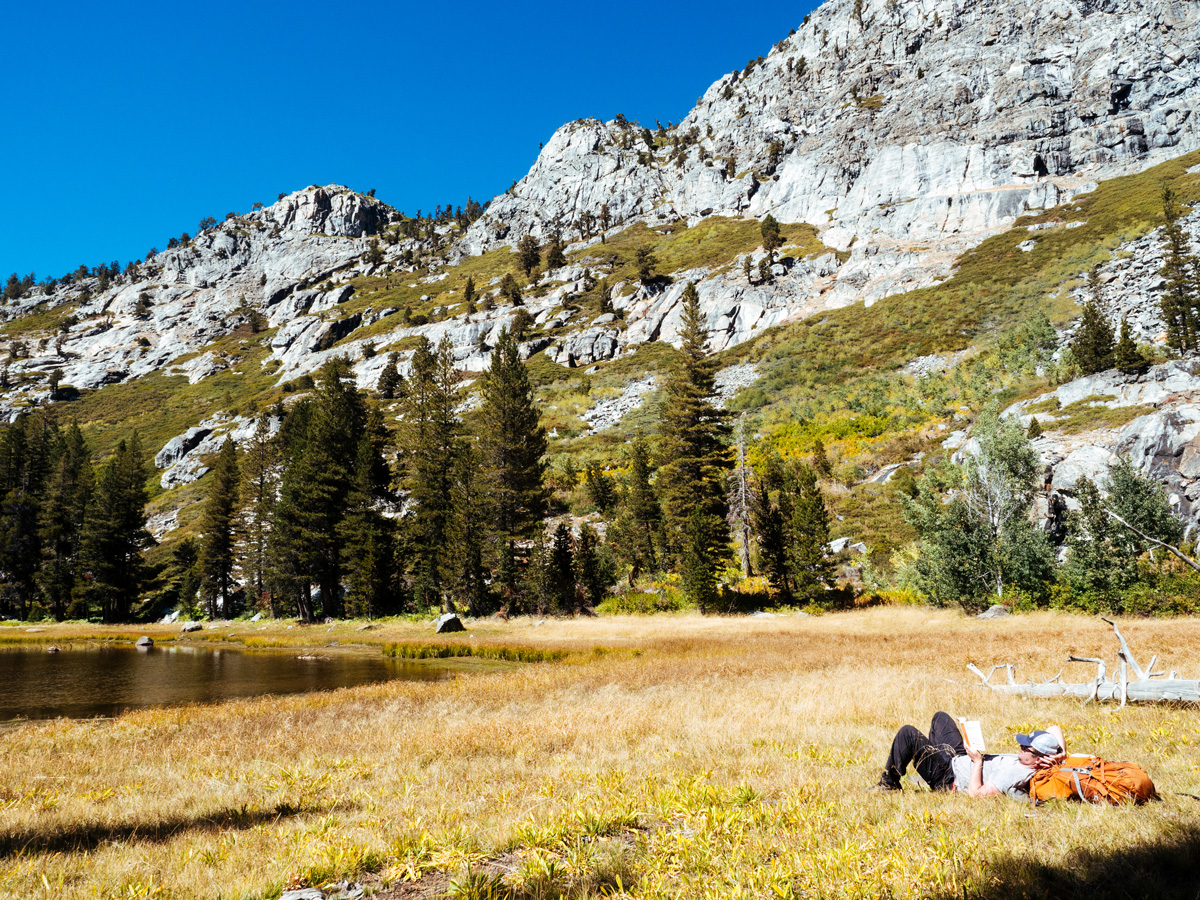 Scenic rest spots are guaranteed, like this lakelet shore where we encountered a bear
SIDEBAR: How to discover Yosemite for yourself

CLIMBING
Climbing guides and lessons: Yosemite Mountaineering School and Guide Service are a one stop shop if you don't have your own climbing partner or want to learn new skills. Guided climbs start from US$360 for 1 person.

Online resources: Supertopo.com (set up by Yosemite Big Wall specialist Chris McNamara) has a brilliant overview of what you'll need to climb in Yosemite

Guide book: Rock Climbing Yosemite Valley (US$40, Yosemite Big Walls): detailed information and topo maps for 750 routes in Yosemite Valley

HIKING
Guide book: Yosemite National Park: A Complete Hiker's Guide ($20, Wilderness Press): contains virtually every trail in Yosemite - from epic multi-day hikes to gentle strolls around the Valley as well as a handy topo map.

Permits: if you plan on walking overnight or up Half Dome you'll need to book a permit through the National Parks Service. Check website for details.

ACCOMMODATION
Accommodation in the Valley is limited so book early through the National Parks Service. There are options for all tastes and budgets from fancy lodges through to pitching a tent in Camp 4.

RECOMMENDED VIEWING
Free Solo
Valley Uprising
The Dawn Wall