First-Timer's Guide to Motorcycle Camping!
Those of us bitten by the travel bug can't wait to get out of the office and into the wild. Pitching our tent, cooking over the campfire, sleeping under the stars is the ultimate escape. Motorcycle touring and camping go hand in hand. Riding those two
16.01.2018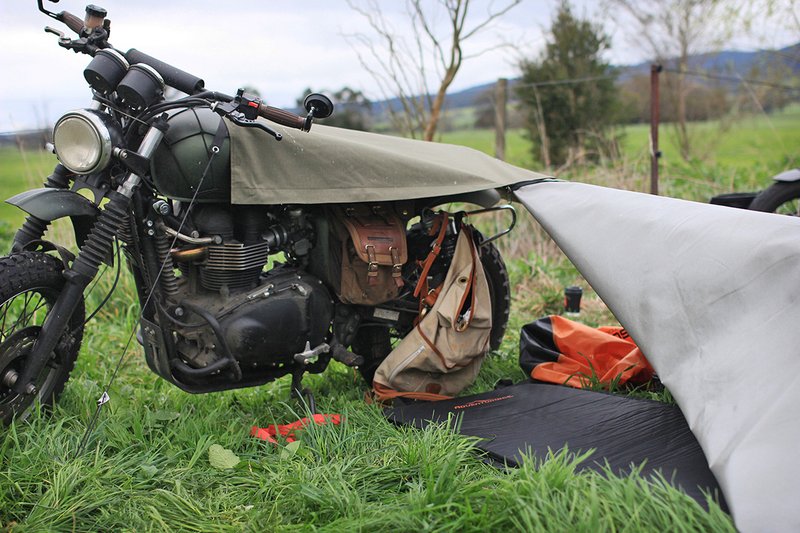 Those of us bitten by the travel bug can't wait to get out of the office and into the wild. Pitching our tent, cooking over the campfire, sleeping under the stars is the ultimate escape.
Motorcycle touring and camping go hand in hand. Riding those two wheels allows us to enjoy the road without constrictions, we are in direct contact with the forces of nature, we read them, respect them and accept them, even when they force us to stop before reaching our destination. Why break this connection by spending the night in a noisy motel? Pack your tent and enjoy a billion-star accommodation under the bare sky.
So you decided to try motorcycle camping. Welcome to the club! Before venturing out, you should know that preparing your motorcycle camping adventure beforehand makes the difference between a failed and a successful escapade. This doesn't mean you have to invest in pricey equipment. Start small, with the bare essentials, and enjoy the simplicity the great outdoors has to offer.
LUGGAGE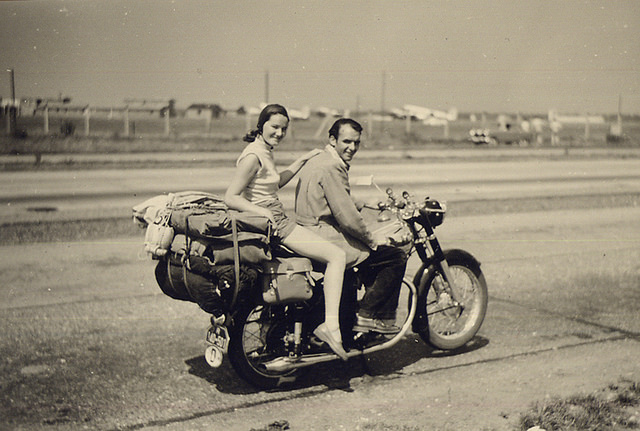 Motorcycle touring in the 1950s - Photo credit: l a b e t e
Sure, you can throw everything in a big plastic bag and just strap it to the rear end of the bike. But the type of motorcycle luggage you use can affect your comfort and even your safety. Hard luggage, leather luggage and textile luggage are the three most popular choices when it comes to motorcycle touring. They all keep your gear dry and steady on your bike, but each comes with its own pros and cons.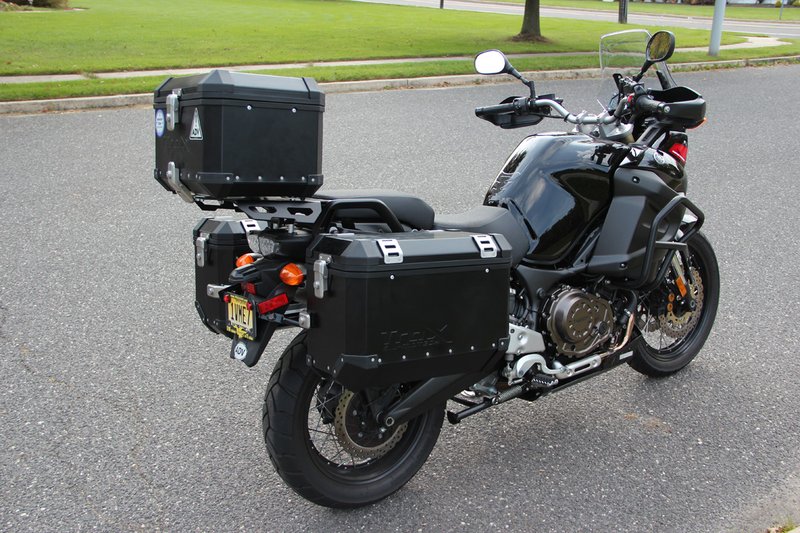 Motorcycle touring hard luggage - Photo credit riding-the-usa.com

Hard luggage, whether it is plastic, fiberglass or aluminum, comes with mounting systems that keep it securely in place. It is quickly detachable and lockable. Just turn the key in a built-in lock and you're good to go. The downside of hard luggage is it can come for a hefty price and is quite sensitive to impact.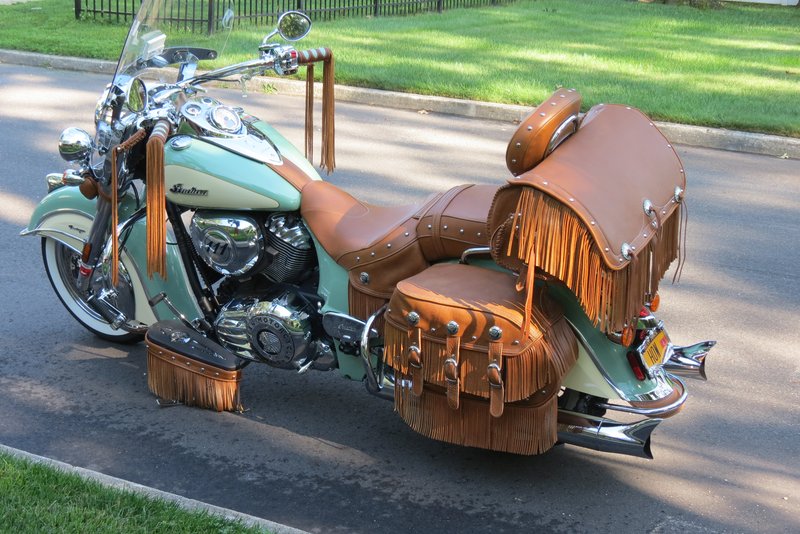 The leather luggage is by far the most enduring style, used ever since the beginnings of motorcycling. When riding a cruiser or a vintage bike, there's really nothing quite like leather to complement your baby's beauty. Modern designs come with mounting systems similar to those found on hard luggage. On the downside, leather does require special attention and maintenance.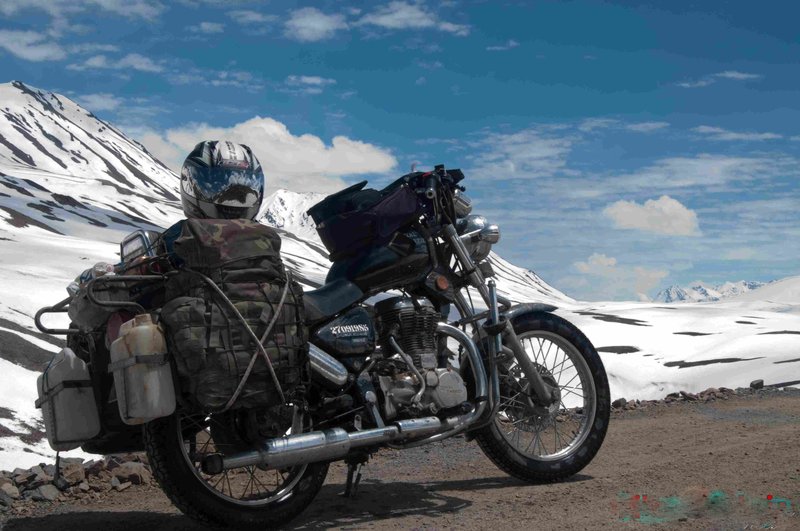 Textile luggage remains the most popular choice when it comes to motorcycle touring. It is durable, waterproof, easy to mount and, most importantly, inexpensive. Unlike hard luggage, it is unlikely to be damaged in case your bike tips over and does not require maintenance like leather.
Before you go ahead and strap all those bags to your bike, weigh your luggage and check your bike's payload in your user's manual. Under no circumstances should you overload your motorcycle. Make sure everything is as low as possible, balanced and secure. Do not load one saddlebag with all the heavy stuff and leave only clothes in the other. And of course, your rain gear should go in last.
TENT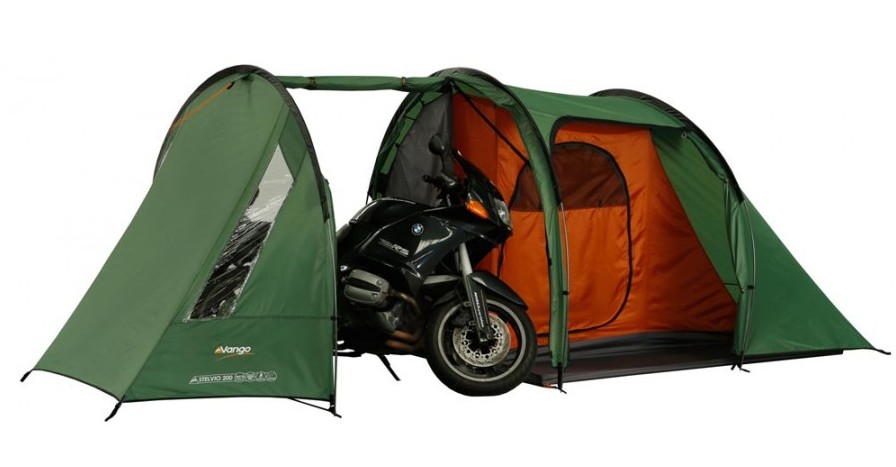 Stelvio/Tour 200 Motorcycle Tent by Vango

Family tents, expedition tents, backpacking tents, there are so many choices out there. Allow me to make it easier. First and foremost, your tent should fit your needs when it is up and fit your motorcycle when packed. Secondly, make sure the tent is easy to set up. You wouldn't want to spend an hour in the rain figuring out all the complicated steps.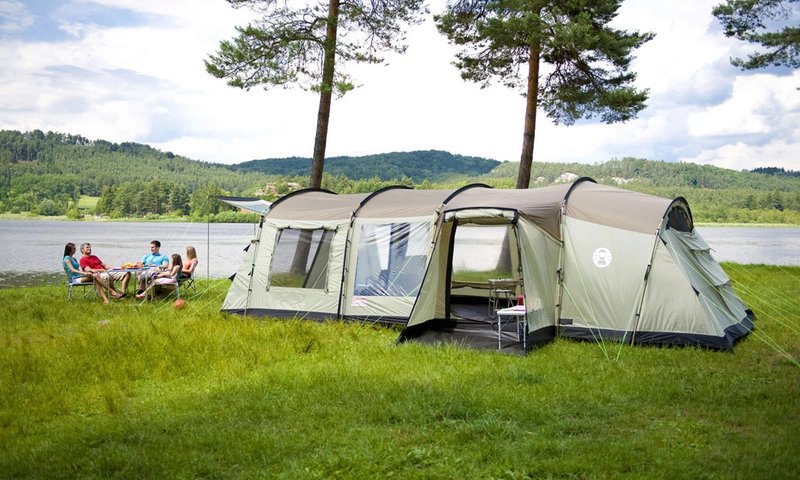 Family tents are those typical dome-shaped tents you probably slept in as a child if you went camping with your family. Depending on their size, they can hold between two to six adults. They can be found in just about any retail shop, and the prices range from dirt cheap to top dollar. Again, it all depends on the quality. Bear in mind that these tents are designed for car campers, where weight and volume are not an issue. You might want to consider separating the items and splitting the load between the people you'll be sharing the tent with.

Redverz Atacama Expedition Motorcycle Tent

Expedition tents are the best choice when it comes to motorcycle camping. They are typically divided into two sections – a sleeping area for two or three adults and a vestibule that you can use to cook and eat in during rainy weather, to store your gear and even your bike. Just take a look at the Redverz Atacama Expedition Motorcycle Tent above, it fits everything!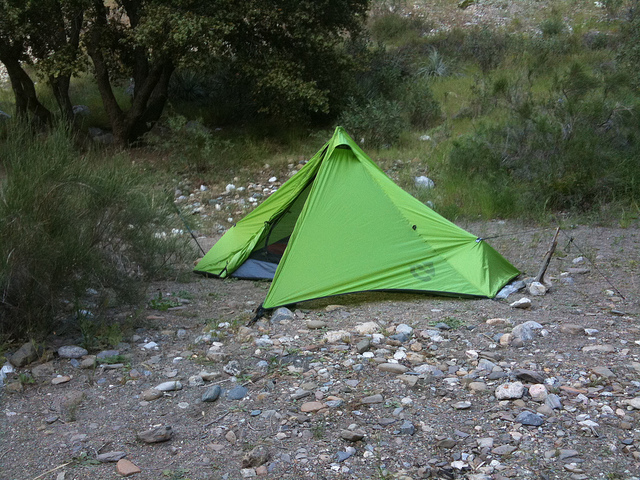 Nemo Equipment Backpacking tent - Photo by Michael W

Backpacking tents are lightweight, compact and versatile, and therefore a good solution for solo travelers and motorcyclists who do not plan to spend more than one night in one place. They pack very small but are also small inside so you don't have much room inside.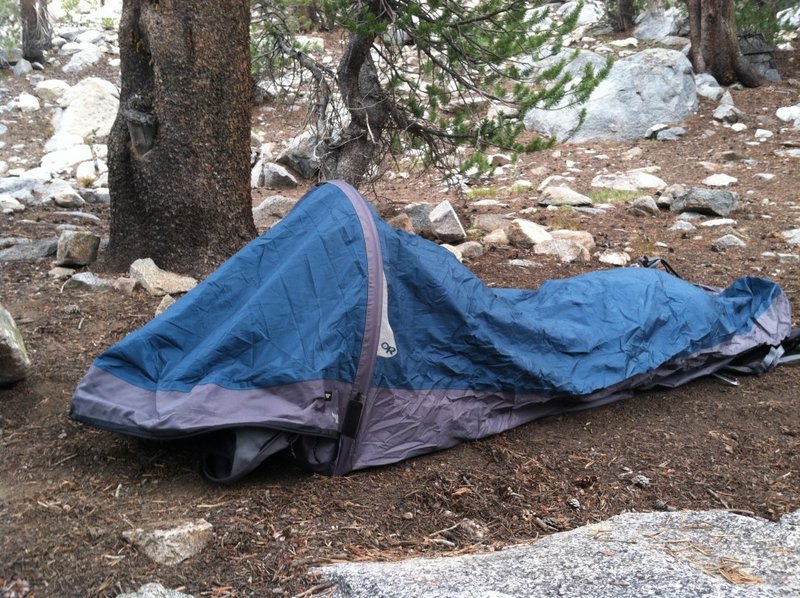 Even smaller and lighter is the bivy bag, a cocoon that's only large enough to cover your sleeping bag. It's easy to set up but it's not so comfortable when it's raining.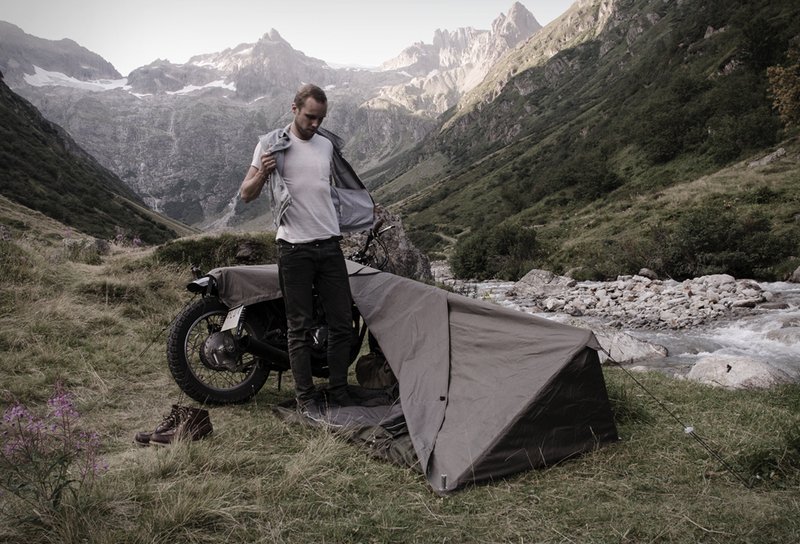 Motorcycle bivouac by Exposed

Some motorcycle campers prefer not to pack a tent at all. They anchor a tarp to their bike on one side and to a picnic table, tree or the ground on the other and sleep under it. A modern, fast and reliable option is the Motorcycle Bivouac by Exposed.
SLEEPING BAG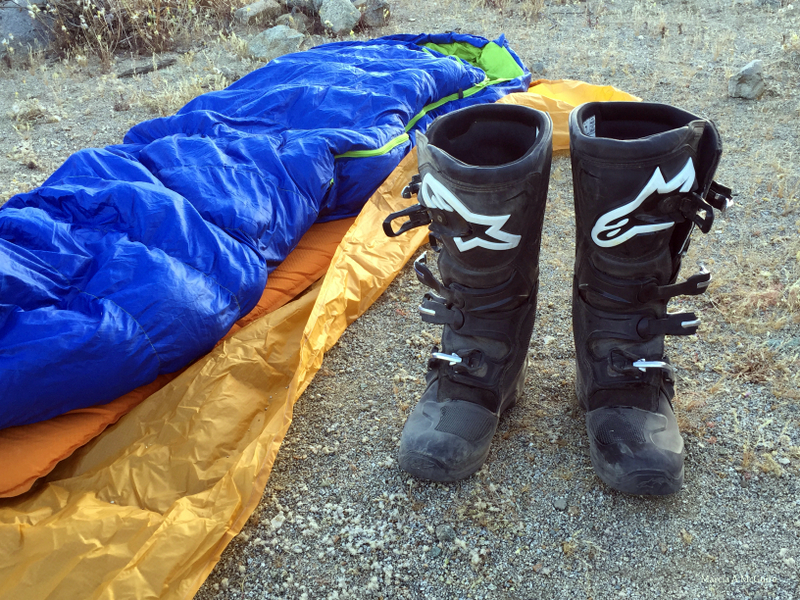 Motorcycle camping - Photo credit inpursuitofquestions.com

Now that you have a tent, you also need a sleeping bag. Even in the hottest of days, the nights can get cold, and no one likes to shrivel in their motorcycle jacket all night. Sleeping bags are assigned two temperature ratings. The comfort rating is the lowest temperature at which the average woman or a 'cold sleeper' feels comfortable. The lower-limit rating is the temperature at which the average man or a 'warm sleeper' feels comfortable.
Goose down is by far the best insulator, better than any synthetic material out there. It is also more expensive, and when wet it does not fluff up and hold the heat as it should. But for the conditions most motorcycle tours encounter, a synthetic sleeping bag will do a good job at keeping you warm. Mummy bags are warmer, but they constrict your legs. If you are not planning to sleep in extreme conditions, a rectangular sleeping bag leaves enough room for all you restless sleepers out there. Do your research & make sure you choose the right sleeping bag for your needs!


SLEEPING MAT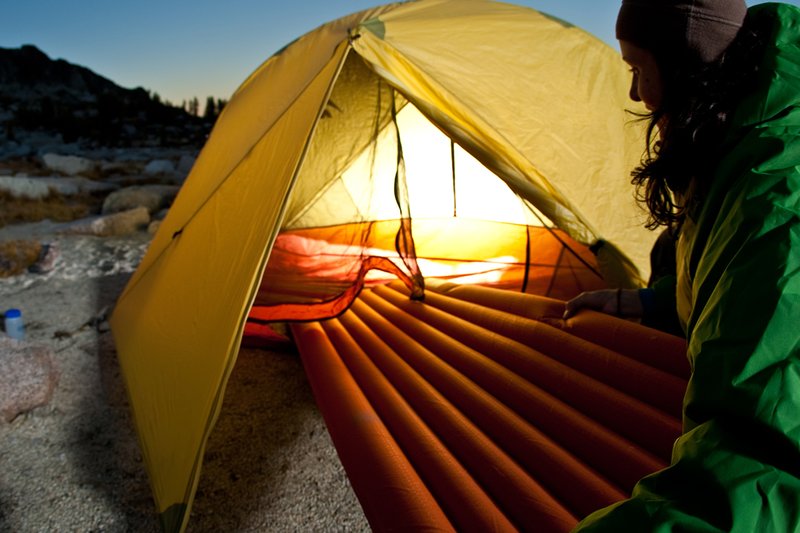 You can't have a sleeping bag without a sleeping pad. Choosing the right one is essential, it can make or break your night's sleep as they provide the cushioning and insulation you need to rest. From budget to painfully expensive pads, closed-cell foam pads, self-inflating pads and air pads, comfort is subjective so make sure you choose the one that fits your needs.
COOKING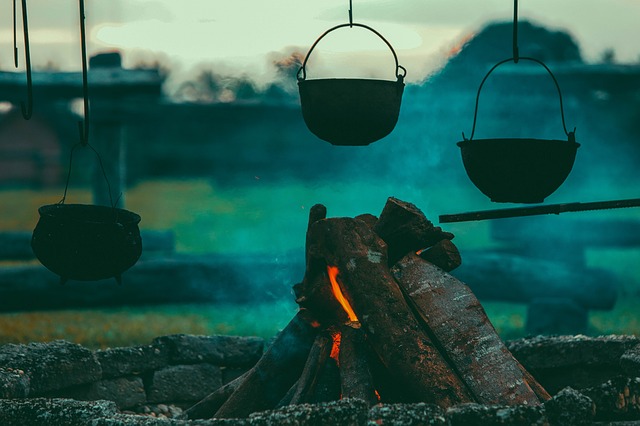 They say the best food is cooked over a fire. Unfortunately, you can't always start one & carrying cast iron pots is not ideal when trying to save weight. That's when backpacking stoves come to the rescue!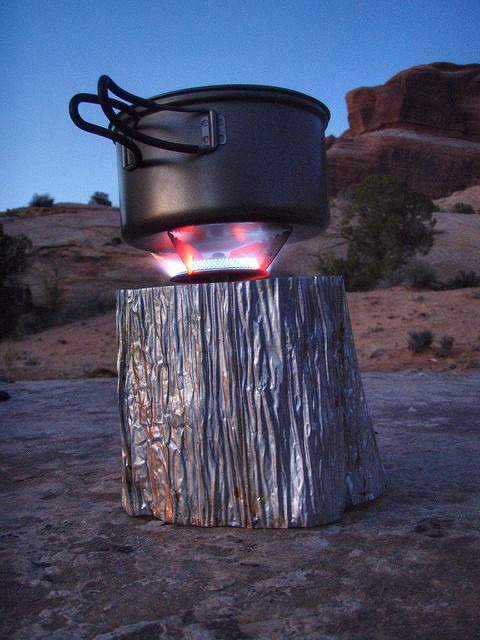 Camp stove - Photo by Rob Lee

These come in many shapes and sizes, but I recommend a small and lightweight one that does not take up too much space. To make sure it lasts throughout your trip, pack a large gas tank and a spare one too. Backpacking cookware offers compact storage as all the pieces (cutlery, pan etc) can fit inside the pot.
WHAT ELSE TO PACK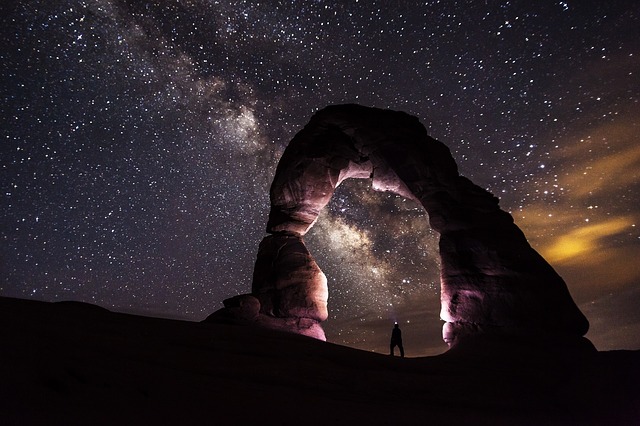 It takes a while to establish your own packing routine and to figure out what else you need to make you feel more comfortable. But then again, it's the simplicity of sleeping under a canopy of stars by the campfire that makes the whole road trip so much more memorable.
Written by Octavia Drughi for bookmotorcycletours.com.

Ready to pack your tent & head out into the great outdoors? Go to BookMotorcycleTours.com, choose a Camping Motorcycle Tour & explore your wild side!
____________________________________________________________
Check us out on Facebook
Check us out on Instagram
Subscribe to our YouTube channel
---
Leave a comment