Get Wild With Geoff Wilson, Antarctic Explorer
We interview one of the most inspiring fathers we know, global explorer, and South Pole crossing world record holder, Geoff Wilson, on what it means to be a good dad in the modern world.
27.08.2015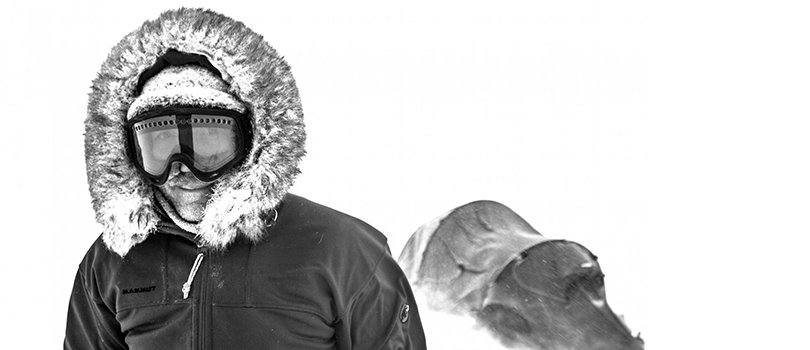 About Geoff
Discipline: Adventure/motivator at 5th Element Expeditions
Nationality: Australian
What's more nerve-racking, heading to the South Pole, or heading into the delivery room?
The delivery room is more terrifying by far - your whole life you are prepared to do anything to avoid pain or suffering of any kind occurring to your beloved - i.e. you are the stop gap to protect and serve your wife - then suddenly you are a bystander whilst she tries to give birth to your child - not able to stop the pain or discomfort at all - very hard to bear - but worth it all in the end of course!
How have your kids made you a better person?
They have taught me to be more patient, to laugh more, to see the fun in any situation, to not sweat the small things, to slow down and smell the roses, to judge less harshly, to have grace for those around you - but primarily they have taught me that time with family is 5 times as valuable as time at work - so protect that time at all costs. No one wishes they spent more time at work when on their deathbed!
"I encourage my kids to see every day as an adventure."
Do you encourage your kids to be adventurous?
YES YES YES - the adventure in our life is so easy to LOSE - so easy to let the business of our IT driven and media mad world ebb the adventure out of us. I encourage my kids to see every day as an adventure, planning for an adventure, training for an adventure or actually doing an adventure. Adventure is NOT a luxury - it is a necessity to keep us fresh, real, humbled, connected to our earth, to keep our spirit alive and ward away indifference, apathy, depression and the ever pervading urban ROT!
Kit's your youngest, when he gets a little bit older and wants to head off to Antarctica solo, is he allowed?
Kit is so much more wise and practical than I was at the same age - largely because he's been on expeditions from as soon as he could walk. He processes change methodically, he looks at problems logically and in an orderly manner and assesses risk well - after a lifetime of training. So I know with confidence that whatever adventure he chooses - he'll be safe, make good decisions and come home with a grand yarn to tell. Short answer - YES he is allowed to go!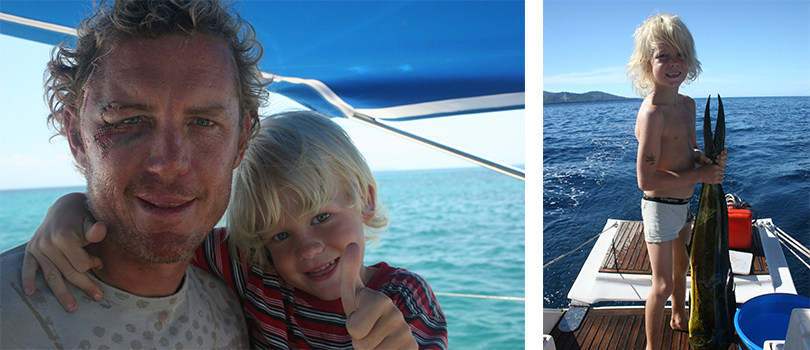 Left Image - "One of Kits early adventure where he saved my life by killing a runaway Zodiacs engine after it had nearly killed his DAD ! My SUPERHERO."
Right image - "Kits first big fish !"
What good luck charm would you give him?
Warm socks!
Your dad was a great adventurer. Does your passion for adventure stem from his influence when you were growing up?
Yes my Dad was an adventurer - but it was so much a part of his life that he didn't consider it adventure - it was just day to day life enacted in such a way that the mundanities of life never had a chance to sneak in. He was a huge influence on me and has always been the first supporter to rally me on whatever crazy journey I have embarked upon. I have caused him stress at times, I know that - but he has confidence in my ability to return home each and every time.
What advice did your dad give you that has stuck with you and passed on to your kids?
"Any fool can be uncomfortable - comfort in the wild is a learned skill"
What does being a father mean to you?
It means never thinking your business is more important than your kids or what they are into.
It's not "child centric" parenting - where the child is taught wrongly that they are the centre of the universe, this leads to real shocks when they realise they are insignificant and that the wild places don't respect this world view. "Child centric" parenting allows no boundaries and teaches nothing that is useful to an adolescent. Nature & wild places do not respect arrogance or a selfish outlook - which is what modern "child centric" parenting is teaching our kids. The firm boundaries of unconditional love teach a child their value, their skills, their gifts and allow them to deal with their place in our huge world.
The benefit of an adventurous life is that it forces us away from our desks and into campsites, beaches, mountains and deserts where proper campfire time can be spent with our kids. It is absolutely essential (especially for boys) that they learn from their fathers how to be comfortable in the wild, comfortable with silence, comfortable in their own skin.
I love being a father - after being a good and loving husband it is the most important role we as men have. If you have been absent minded, made your kids feel second to anything else in your life, have not allowed time for a campfire conversation - correct this now. The young man or woman you are making will never forget the special times, special moments or the important places you imprint in their memory by making time to hike, camp, run, swim, surf and adventure as a family. Your kids are your most precious asset - treat them so.
Geoff's Gear List
---
Leave a comment