Simple in construction though capable of excelling your climbing to the next level, the humble hangboard is an essential training-tool for any climber.
Generally consisting of 'jugs' and a selection of edges, when used properly a
hangboard
can effectively train
climbing-specific
muscles and movement patterns.
It is recommended that hangboard training should not be commenced until you have been climbing for at least 2 years. Prior to this point, climbers will find greater results in simply climbing, developing basic on-the-wall skills and techniques. With that said, in light of the recent gym closures and forced isolation climbers of various capabilities may find themselves resorting to purely hangboard training. If this is the case, we urge beginners to exercise caution and focus more on strengthening shoulders and pull muscles rather than prematurely stressing undeveloped finger tendons.
It is vital you hangboard with proper technique throughout your training session to reduce the risk of injury or developing poor habits. When hangboarding ensure your shoulders are engaged (not sagging) and maintain a slight bend in the elbows. Though you can use various grip-positions whilst training, never use the full-crimp as this places unnecessarily high-loads on your finger flexors, tendons and pulleys. Hangboarding is an investment, thus, good form and adequate rest will garner far healthier, developed tendons than punishing your fingers with high loads and poor management.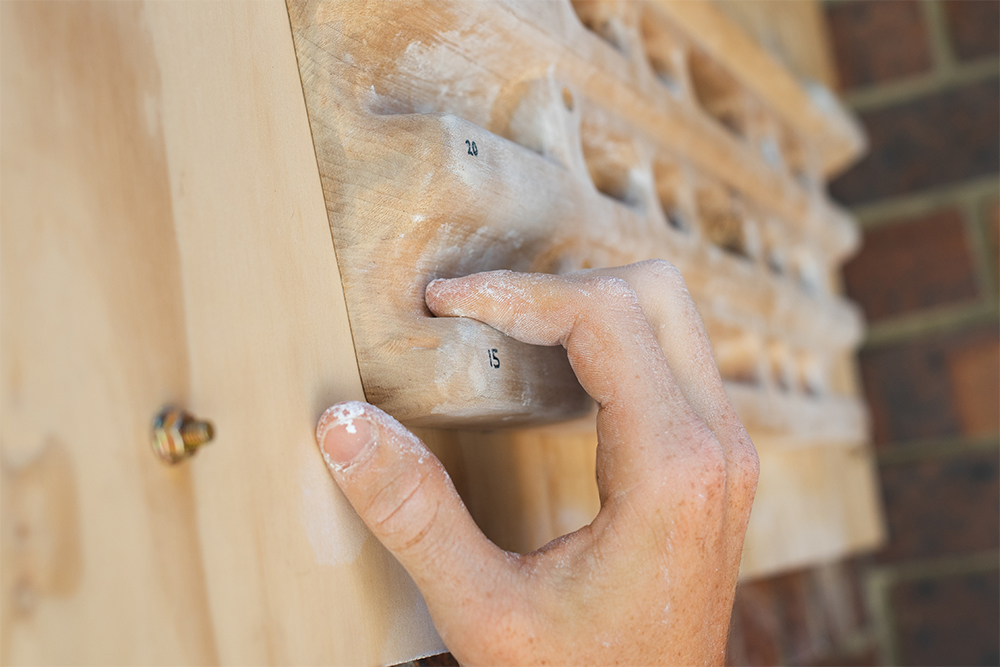 Now let's jump into the exercises:
1. Short-Repeater Hangs
Short-Repeater Hangs are a great way to increase a climber's strength-endurance, replicating the 'pump' faced when climbing long, hard sport routes.
Hang: 7-Seconds ON / 3-Seconds OFF
Repetitions: 6-12
Sets: 3-5 (with 3 minutes of rest between sets)
Instructions:
Hang for 7-seconds, then rest for 3 seconds.
Repeat this for 6 to 12 reps or until failure of your grip.
Then rest for 3 minutes before completing another set - aim to do 3-5 sets in total.
You can change grip-positions or edge-types between sets to target different areas.
2. The 3-6-9 Ladders Protocol by Steve Bachtel
Designed to provide strength increases whilst decreasing chance of injury, the 3-6-9 Ladders Protocol is great for beginners and experts alike as it is scalable and simple.
3-Seconds ON/10-60 Seconds OFF
6-Seconds ON/10-60 Seconds OFF
9-Seconds ON/10-60 Seconds OFF
Sets: 3 sets per grip-position
Choose 3 – 4 different grip positions.

Try to include full crimp, half crimp, and open hand grip positions.

For each grip position determine the load that will allow you to hang for a maximum of 12 seconds.
For each chosen grip position perform the following sequence 3 – 5 times:

Hang 3 seconds, rest 10 – 60 seconds;
Hang 6 seconds, rest 10 – 60 seconds, or more;
Hang 9 seconds. That's one set.

Rest as needed between sets, typically 3 – 5 minutes.
3. Density Hangs
A low intensity, long duration hangboard exercise that focuses on promoting tendon and finger flexor muscle density. The goal is to hang till grip failure.
Hang: 20-40 Seconds or Failure, then 3-5 minutes rest.
Repetitions: 2-3
Sets: 1-2
Instructions:
Choose an edge you can hang on for approximately 20-40 seconds.
Hang for 20-40 seconds or until muscular failure occurs.
Rest for 3-5 minutes and repeat.
Once you can easily hang for 30 seconds move to a smaller edge.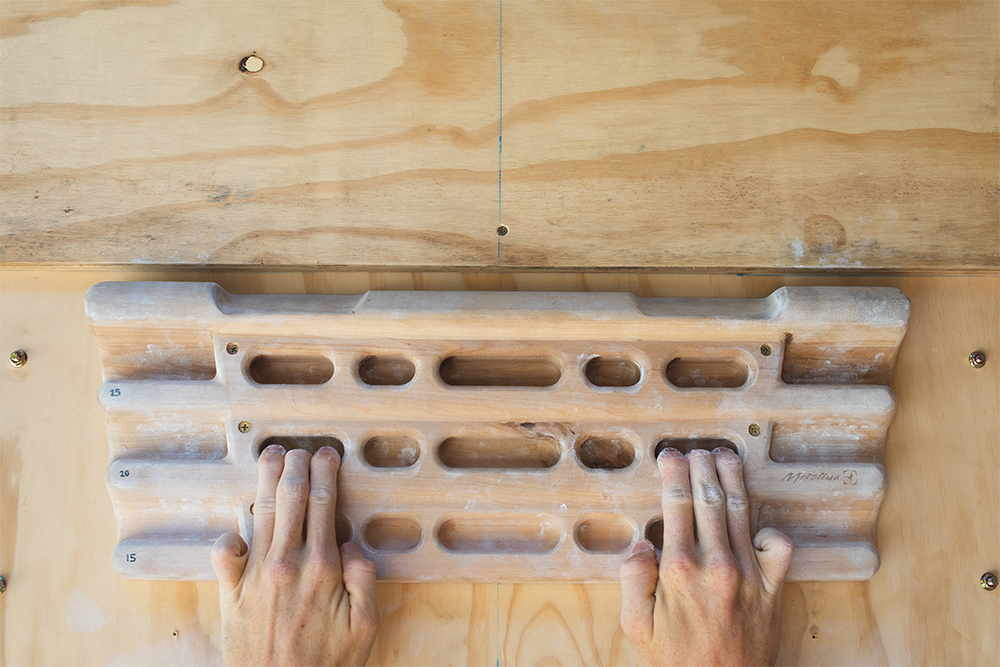 4. Scapular Pull-Ups
Often when hangboarding climbers tend to focus on purely increasing finger-strength but there are numerous exercises that can strengthen your shoulders as well. One of these is 'Scapular Pull-Ups', which strengthens shoulder stabilisers and trains movement patterns for pulling.
Instructions:
Hanging from a bar or grips (palms-away), allow your shoulders to shrug slightly - essentially bringing your shoulders closer to your ears.
Now engage your scapula, drawing it down and together, to raise your body without bending your arms. Try to "bend the bar" as you do this.
Hold both the upper and lower position for one second, the range of movement should only be a few inches.
Complete 6-12 reps then rest for 3-5 minutes.
Aim to do 2 sets in the beginning, extending to 3 sets when you feel competent.
5. Offset Pull-Ups
Often in climbing you will find that the next hold is "reachy", requiring you to pull off one arm as you extend the other to your desired crimp - so why not train this movement. The Offset Pull-Up is an asymmetric exercise that trains lock-off strength by placing a higher load on one arm as you come higher in the range of motion.
On a hangboard, choose grips that place one hand higher than the other (ie. offset).
Do 5-10 Pull-Ups in this position, focusing on coming all the way up to your upper hand then lowering slowly.
Repeat for 4-6 sets, ensuring you switch your upper hands between sets.
If you are easily doing 10 reps, reduce the edge-size or lower your bottom hand (with a sling) so it provides less support.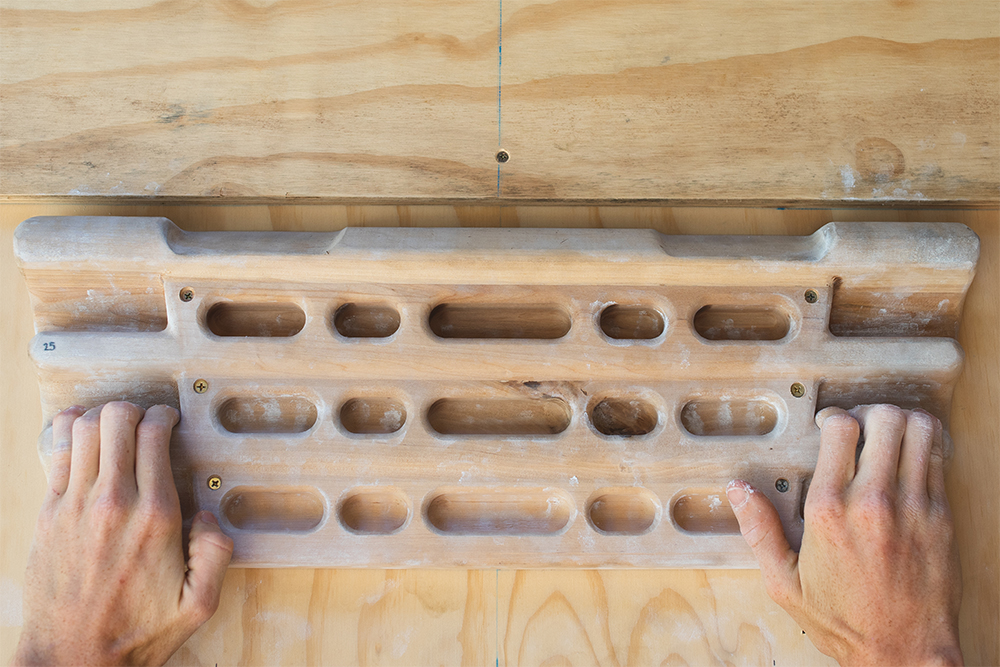 The great thing about all the exercises provided is that they are scalable, so no matter your level of experience or current strength you can alter them to your liking. Hangboards are a great way to build climbing-specific strength and power with very little equipment. Ensure you use proper form throughout your exercise and never commit to starting a session with sore or achy fingers. Hang in there and get strong at the same time!