Hiking Safety 101
If you're looking to keep safe on your next hiking adventure, check out these great safety tips. Hiking is a terrific way to enjoy the outdoors while sampling the amazing natural scenery Australia has to offer. With common sense and the right hiking gear
01.01.2015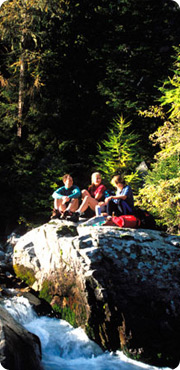 If you're looking to keep safe on your next hiking adventure, check out these great safety tips.
Hiking is a terrific way to enjoy the outdoors while sampling the amazing natural scenery Australia has to offer. With common sense and the right hiking gear, it's also a safe activity that's suitable for all ages.
The most important hiking rule is to let someone know where you're going and when you'll be back. Don't assume your mobile phone will get you out of trouble – the batteries might die or it might be impossible to get a signal.
Keep yourself hydrated, but beware of drinking untreated water from nature. Giardia and other stomach nasties can be present in even the most pristine-looking streams. There are plenty of water purification and filtration products out there – including tablets, liquids and filtration bottles – that will help keep you (and your gut) safe.
Slippery, moss-covered river rocks and waterfall edges are notorious for causing hiking injuries, so use caution around these wet, slick environments. Hopping from one rock to another when crossing a creek is also a dangerous habit.
Equipment to improve your hiking safety
Successful hiking starts with the right boots or shoes. Outdoor footwear should fit your individual foot shape, so try on as many pairs as required. Make sure you can wiggle your toes freely in the front of the boots. Thick, sturdy soles will protect your feet and an aggressive sole pattern will provide the traction you need on tricky terrain. Make sure you invest in some quality hiking socks, too. They'll make your trekking experience more comfortable and enjoyable.
When the rain comes down, staying dry is essential to prevent hypothermia. We stock a range of shell and rain wear that will keep you dry even throughout the worst downpour.
When choosing clothing to take, think about your activity level, anticipated weather and the need for sun protection. Understand the different ways that merino wool, Gore-Tex, goose down, nylon and other fabrics protect you from the elements and help regulate your body temperature.
A GPS watch or hand-held unit can keep you from getting lost, and help you track your progress across the landscape. Always carry spare batteries for your GPS and any other electronic gadgets you've brought along.
Carry a good first aid kit to ensure you're prepared for unforeseen medical issues. Light, waterproof first aid kits are perfect for hiking. Make sure you also stock up on blister dressings – one of the most useful (and often forgotten) bits of hiking equipment.
Grab all your hiking essentials from Wild Earth today!
For the best hiking gear online, check out our massive range – designed to keep you safe, comfortable and happy out on the trail! At Wild Earth, we know the outdoors and have the expertise to get you kitted out with the hiking and adventure gear that works best for your needs and budget.
---
Leave a comment