A tent frees you from the need to find shelter for the night, so you can roam further and experience remote places more intimately. With a good tent you can cycle across China, explore South West Tasmania, or spend a weekend lazing by a deserted beach.
In choosing a tent you should consider what conditions you are most likely to encounter, as well as characteristics such as quality, size, weight, and internal space. Tents serve both a physical and psychological function, they protect you from the elements and surround you with a sense of security. As you would expect there are literally hundreds of models on the market today. Everything from huge marquees to tents barely bigger than one person. As a starting point, consider what times of year you will use it. Most tents are classified as either two, three season or four season tents. The season rating might tell you more than price, brand name, or overall weight will.
Tent Architecture

All tents have the same basic components. The tent fly, a waterproof shield that keeps your tent dry; the canopy, an inner tent with breathable walls to help prevent condensation; and a pole set - ranging from two to five poles depending on the tent's size and its intended use. Single-wall tents integrate the fly and canopy into a single unit.
Materials also tend to be similar. Tent flies typically are made of nylon taffeta or a polyester blend. Nylon is tough and durable, where as polyester better resists damage from the sun's rays and sags less when wet. Tent inners are made of breathable ripstop nylon, with varying amounts of mesh to aid ventilation. Floors consist of polyurethane-coated nylon to ensure waterproofness. Poles on good-quality tents are always of high-strength, 7000-series aluminum (the number denotes the alloy blend).
Tents For All Seasons
Two season tents – Designed primarily as a summer-weight tent, with the emphasis on lightweight and great ventilation. Two season tents, for instance, have an inner that is mostly or entirely mesh. Most have a vestibule (fully enclosed canopy or storage area outside the inner tent) that is big enough for two pairs of boots but not much else. These tents are "hoop" tents, with a pole supporting each end, which requires that you stake the tent out, but do save on weight.
Three season tents - These have less mesh in the inner tent, a more generous fly, typically a more rugged pole setup and a larger vestibule/s, than two season tents. These tents are designed for general camping in all but the most extreme weather, or snow conditions. However, they are usually more compact, easier to assemble, and lighter than four season tents. Three season tents generally have larger windows and doors, and more mesh, all to enhance air circulation than a four season tent. This improved ventilation is more comfortable in hot, humid weather. A good three season tent will handle 90 percent of the camping most people will do.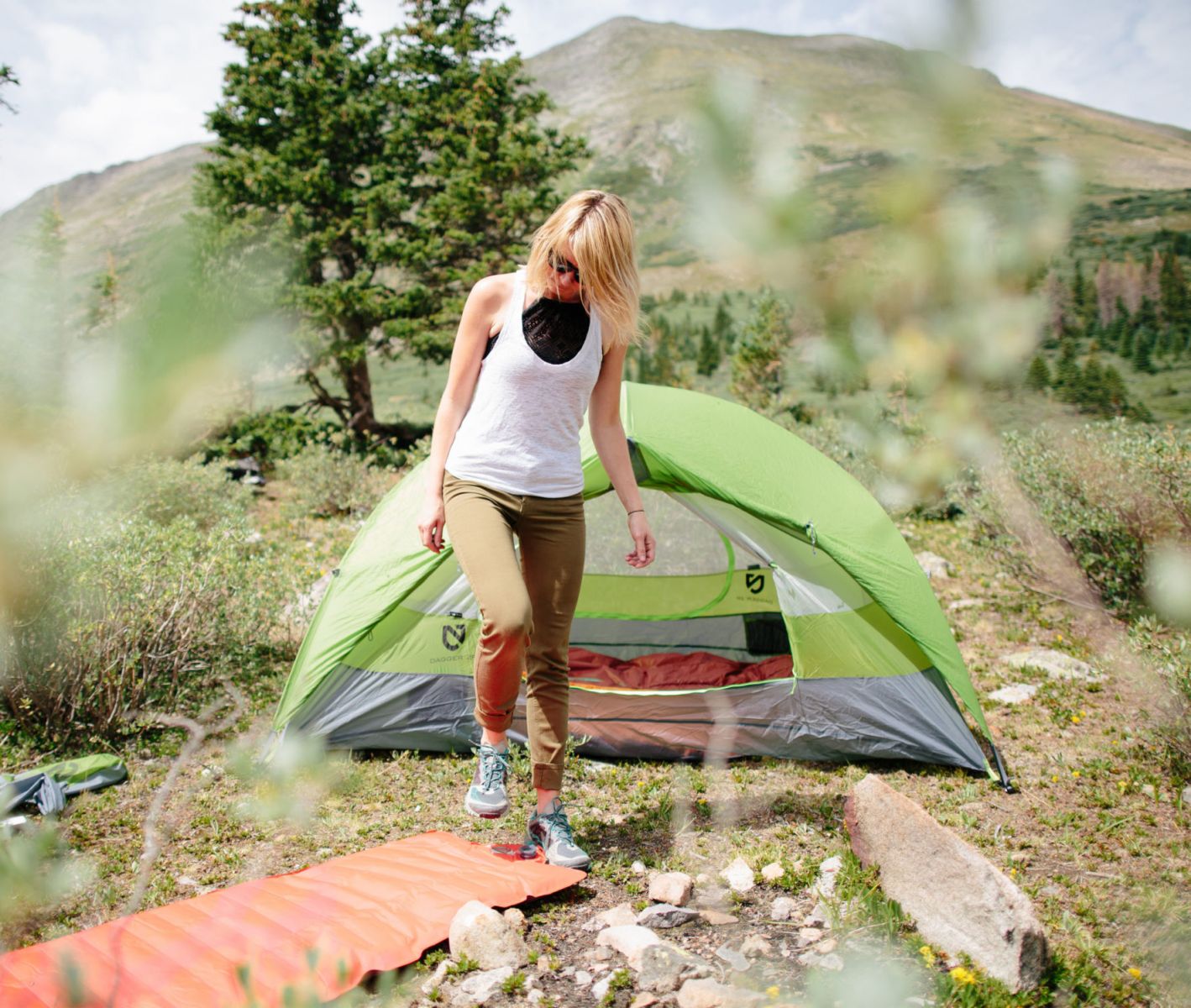 Four season tents - offers shelter and protection for more extreme circumstances including camping above the snowline. Generally they are designed from heavier, more abrasion-resistant fabrics and the tent is reinforced at stress points. Poles are heavier to withstand snow loading. Poles may also be woven together more intricately than in three season tents, more intersection points allow the poles to reinforce one another better. To minimize the 'sail' effect of driving wind, the fly extends nearer the ground and has many guy attachment points. These tents may also have snow valances (for spindrift) and other snow-specific features. Although these are still ideal for general use, if you plan to try snow camping at some stage it is worth considering one of these.
Expedition tents – These tents are designed for minimum weight and maximum protection from the elements. An expedition tent will include all the features of a four season tent, while being made out of the most advanced materials with extra features for extremely harsh conditions at high altitudes. Four season and expedition tents have big floor areas for extra gear and sleeping bags, minimal mesh (though some is useful for allowing condensation to escape), sturdy pole configurations to shed snow; and pole-supported vestibules for storing packs or cooking a meal. Extra features would usually mean extra cost and in most cases extra weight. Hilleberg, Nemo and The North Face offer extremely high quality options when it comes to expedition tents.
Note: No tent can survive all possible conditions. Use common sense by setting up your tent in the most sheltered area available, and if necessary build snow or rock walls for additional protection.
Styles of Tent
The style or shape of a tent is important for a number of reasons. The different shapes offer different facilities and also affect the ease of use.
Hoop tents – Have a single hoop in the middle these tents are quite light in comparison to other tents with more than one pole. They characteristically have a single entrance and trade off inner space and rigidity for weight savings. The entrance is located on the side of the tent.
Dome tents - Provide a much more stable structure and consist of at least two poles crossing at the apex and connecting the diagonally opposed corners of the rectangular base. A third pole makes for an even stronger configuration. Most dome tents consist of two side doors and two vestibules. Because of their uniform shape they don't require pitching longitudinally to the prevailing wind. Entrances to dome tents are on the side of the tent and generally allow for easier access, than tents with openings at the ends.
Tunnel tents – Are elongated tents, which are better suited to snow loading and more extreme conditions, particularly those with three pole hoops (to maximize this the tent should be pitched perpendicular to the prevailing wind). Entrance to a tunnel tent is located at the end and many will have two openings and vestibules. Hilleberg offer a big range of premium tunnel tents, specialising in mountaineering and expeditions.

Size

Manufacturers classify their tents according to sleeping capacity, which ranges from 1 person/bivy to four person plus. This rating refers to the number of people who can sleep side by side within the enclosure/inner tent.
For instance, in a lightweight one-person tent/bivy, there will be very little room for anyone or anything else. A two-person tent will fit two people with their essential gear, though packs may have to be stored in the vestibule. Vestibules do not have a floor, but are usually designed well enough to keep out the rain.
Consider a tent that will adapt well to some of your other travel plans. Maybe if you are anticipating future solo walks, or a long-distance bike trip, a 1 person model might be a good choice. If you are buying a tent for two people and you sometimes invite along a friend or relative, consider a 2-to-3-person, or even a 4-person model, particularly if you enjoy the flexibility of a little extra space. For family's, you can even get up to 6-8 person models and beyond.
To help determine if a tent is a good fit, physically for you, then consider how you and everything else will fit in the tent. If you know your height and the dimensions of your sleeping mat, then it is possible to calculate from the floor plan how much space you will need. Compare your numbers with the floor dimensions provided with each tent. That gives you some idea of how snug, or spacious, a tent might feel.
Floor dimensions, of course, indicate only the maximum width a tent offers, typically the spot where your shoulders lie. Tents often taper in the foot sections, and walls angle in toward the ceiling. All of this impacts the amount of space found inside the inner tent.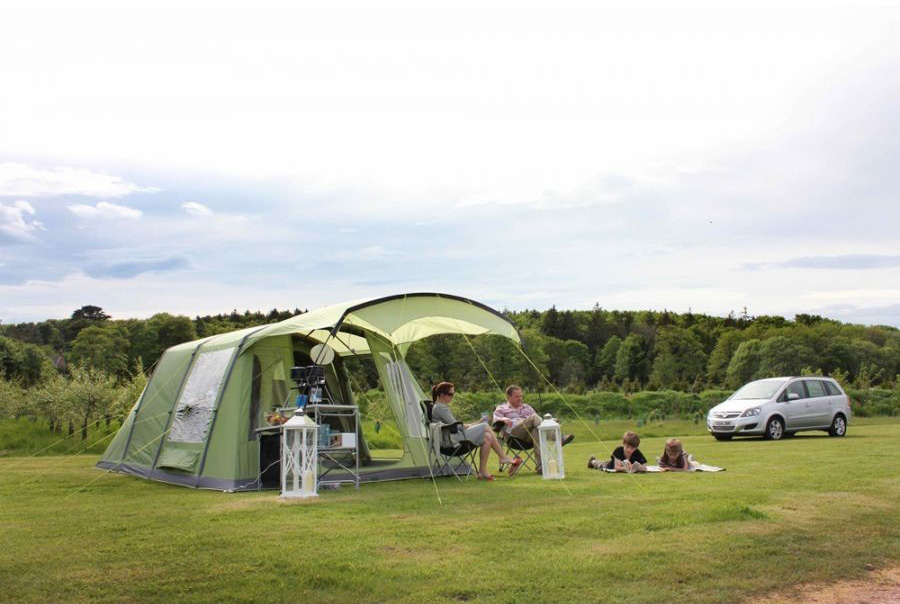 Other features to consider

Weight - As a general rule, a multi person tent should weigh about 1.5kg per person. Bigger tents and those with more features will sometimes exceed that guideline. Single person tents understandably will be heavier, because a solo walker will be carrying all tent components (pegs, poles, etc.) on his or her own.
Poles – Generally more poles give tents added rigidity and stability. Tents designed to stand up to harsh weather, typically have more poles (at least 3) than general bushwalking tents. Extra poles, of course, mean extra weight. Most good quality tents use aluminum pole sets that are joined by elasticised chord (shock-cord), which aids in rapid assembly. The grades of aluminum vary greatly and the more expensive tents prefer super light and strong 7000 series alloy. The poles are often pre-bent to form.
Vestibule - A vestibule is an extension of the tent fly that, when staked out, shields a section of ground outside the inner tent's door. The area of the ground covered by a tent's vestibule is important. Protected from rain, it is a good place to store your packs and boots overnight, and on some tents there is enough space so you can even cook out of the weather.
Doors - An extra door on a tent gives people an optional entry/exit point, a nice feature if your companion is sleeping and you want to go outside. A side entrance on a single-door tent may be awkward if one person wants to leave without disturbing the other. Tents with more than one door are usually more expensive.
External guy points - Refers to the number of guy points on a tent's fly. You use guy points, guy lines and pegs to establish tautness in your fly during bad weather. Doing so helps your fly shed water effectively and prevents it from sagging and touching the uncoated inner tent. (If the two touch, moisture can get inside the tent). Guy points are reinforced loops of webbing stitched into the edge of a fly.
Freestanding or Peg-down models - A ""freestanding"" tent stands up on its own without the use of pegs. They can be picked up and moved around, which is convenient if you want to adjust your site or move into the shade. Of course they can also blow away in a powerful wind unless you secure them with pegs. Peg-down models require pegs to remain upright, but because they often use fewer and shorter poles, making them lighter. Some would argue that they are also more dynamic and thus less prone to breaking.
Pole sleeves vs clips - Poles connect to the tent in one of two ways, either via sleeves or clips. Some tents have pole sleeves, meaning you have to thread poles through a special sleeve, attached to the inside of the fly. It makes tent setup a little easier and speedier. Clips are easier to use, but tent setup is a little slower. Clip tents often, provide a larger gap between the fly and inner tent, which helps minimize condensation, while sleeve tents are considered more stable.
Multi-pitch tents – These tents allow you to pitch both the tent inner and fly at the same time, or take down the inner while the fly stays up. This facility and the ability to pitch either just the fly or just the inner tent, provides for excellent flexibility, depending on your needs.
Ground sheets - Some manufacturers also produce footprints for their tents, these are customized ground sheets cut to fit a tent's floor design precisely. Most come with attachment points, that connect them to the tent. Both footprints and traditional ground sheets help protect a tent's floor from abrasion and punctures.
Extras - Look for little extras such as inside wall pockets, gear lofts, factory-sealed seams and convenient vent windows that are designed into a tent as standard.
Chosen wisely, a tent will add only a modest amount of weight to your load. In return, it will give you the confidence to know you are equipped to take shelter from just about anything you encounter on your trip. Then there is that intangible sense of security that you feel you once you are inside and you zip the door shut for the night. It's impressive how much comfort and reassurance we can find between a few well-stitched panels of nylon.
Choosing a Bivy Sack

Ultralight camping equipment is growing in popularity. Nowhere is that trend more apparent than in the evolving category of solo shelter systems, more commonly known as bivy bags. Bivy bag is short for "bivouac bag". It originated as an invention to serve the needs of climbers who wanted lightweight emergency weather protection for sleeping bags during multi-day ascents, particularly on big walls.
Even when designed with modern fabrics, a traditional bivy bag is intended primarily for mountaineers, committed minimalists or as a backup shelter.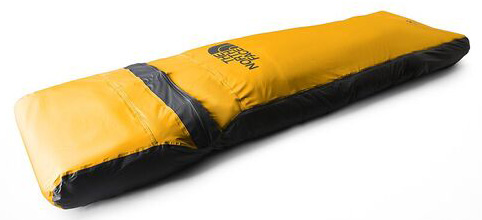 Materials

Early bivy bags were little more than waterproofed nylon slipcovers for sleeping bags, they were good at keeping the rain out, but not so good at ventilating vapor produced by body heat.
Bivy design today often involves two layers of fabric. The bottom layer typically consists of a durable grade of nylon that is coated with urethane to make it waterproof. This is the same material used for most tent floors and although not breathable does not impact much on the bags performance, because it is pressed against the ground. They are also cheaper than the full breathable bags for sale.
The top layer is usually made of nylon (face fabric) and is laminated to a breathable layer such as Gore-Tex® or Reflex®. Multiple layers of a laminate are often applied for durability and performance.
Design
An original bivy bag included an opening for your head. When rain fell, some moisture could potentially find its way inside via the unshielded head opening. Over time, the original bivy evolved with an expanded area of shielded headspace and a full enclosure to block out bad weather and insects. These extras have helped bivy shelters grow in popularity with non-climbers, particularly ultralight enthusiasts.
A basic bivy performs two basic functions, it keeps a persons sleeping bag dry and increases its warming capacity by approximately 10 degrees.
Bivy bags are designed specifically for:
Frequently traveling solo in the bush.
Mountaineers.
People on long-distance bike trips.
Seriously desire to shed every possible ounce from their loads.
Other issues to consider

Confinement - Although a bivy bag may seem like a tight squeeze, in fine conditions it can offer you an intimacy with the outdoors that is lost in a tent, at the same time as providing you with a lightweight, effective shelter from the elements
Condensation - A bivy is basically a single-wall tent. When warmed vapor escapes from your body or lungs, it rises to meet colder air. When the vapor makes contact with the laminated bivy fabric, air can no long carry all the moisture, so some collects on the inside of the treated fabric. With a bivy, though, this can produce a slight amount of dampness on its inner wall. In icy conditions, this could lead to a thin layer of frost on the inside. Generally the amount of condensation is not significant.