A guide on picking the right tent for the right occasion.
Buying a hiking tent is a lot like buying a new car. You wouldn't buy a tiny sports car if you have a family of 5, just like you wouldn't buy an ultralight solo hiking tent to fit 3 other friends. Sure, it may look cool on the outside, all shiny and sleek, but you have to ensure it is fully functional and caters to your needs. With so many things to consider and so many different options, it is important to do a little research before you commit to your final tent purchase. This is my list of things to consider when buying a tent, to help you find the right home for your next adventure.
Breaking down on a long journey is less than ideal, whether it's your car or a tent. It is devastating when your tent fails or collapses and can potentially be dangerous if you are asleep at the time. Quality is everything; seams may fray, poles may snap, water may seep through. Though some tents come at a higher price tag, it is usually worth the added cost if hiking is quickly becoming your passion. The extra money spent usually results in more technical fabric with better waterproofing or durability, improved tent design or features, and a higher quality material; think seams, seals and zippers. A few extra pennies can be the difference between a tent lasting 1 trip and a tent lasting 5 years with regular use.
Consider what type of hiker you are; are you a fair-weather hiker, who needs something for their annual summer hiking trip, or are you a weekend warrior, who does an overnight hike every weekend all year round? This will help you decide how many 'seasons' the tent needs to be. The options are generally between a 3-season tent or a 4-season tent.
A 3-season tent is designed for warmer months, from Autumn to Spring and is made from lighter, breathable, fabric. Typically, a 3-Season tent will be sufficient in the coastal regions and across northern Australia. A 4-season tent (also called a 'winter tent') are made from thicker fabrics, sometimes with two wall layers to provide a little more warmth. These tents are usually designed for snow camping, or cold, wet and wild conditions, however may be too hot and sweaty for use in the Australian summer. Some ingeniously designed tents now have the ability to either split the wall layers to be used separately or together to adjust for your anticipated climate. This means that half the tent can be left at home, reducing weight and allowing for a cooler tent in summer.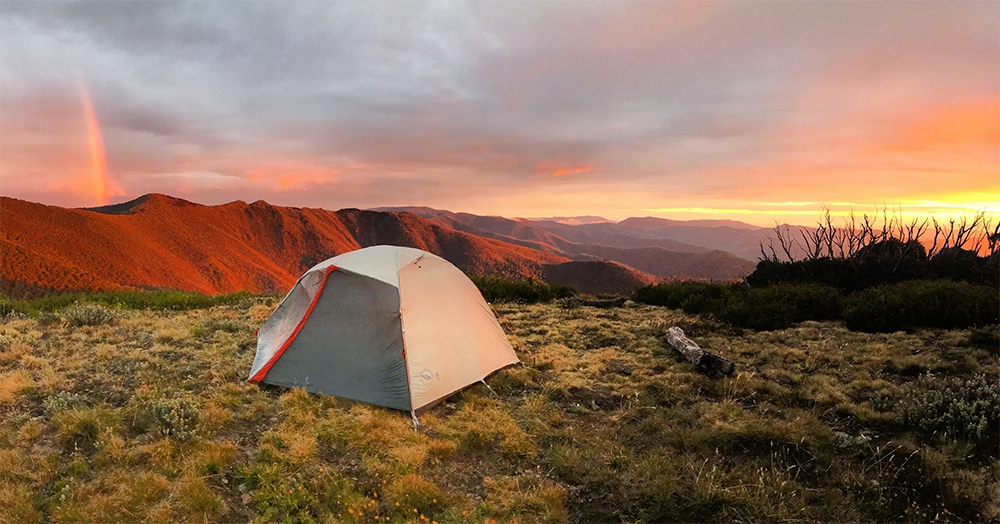 Top Pick for Winter Tent:
Hilleberg Allak – 2-Person 4 Season Mountain Hiking Tent
Next, think about how many people your tent will need to fit-in on regular bases; maybe you're a solo hiker who makes your companions sleep in their own tent? Then a 1-person tent is the size for you.
Are you a solo hiker who likes a bit of extra space for gear, or sometimes enjoy the occasional company of a guest in the tent? Maybe your 6-foot-something tall and need to sleep diagonally just to fit in a tent? Then a 2-person tent may be more suited for you. Keep in mind, that usually a 2-person tent is a snug fit, with sleepers' shoulder to shoulder, so if you want a bit of extra room for 2, size up to a 3-person tent.
Top Pick for 2-Person 3 Season Tent:
MSR Hubba Hubba NX 2-Person 3-Season Backpacking Tent
It can become overwhelming when looking at all the different styles of a tent; tunnel tent, dome tent, free-standing tents, trekking-pole tent, pyramid tent, a bivy or a hammock tent. The best way to figure out your style is to try them all, borrow a friends tent and test it out in the wild, rent one if possible, or be that guy who climbs into a tent in store, no judgement here at Wild Earth! For me, I'm a free-standing, dome tent kind-of-girl. I like the access of being able to enter my tent from either side, the extra gear space under 2 vestibules, and the ability to watch the sunrise and sunset from each door if positioned in the right spot.
The tent that I use: Big Agnes Copper Spur HV UL2 Ultralight Hiking 2 Person Tent
One thing that people often forget to look at when buying a tent, is the weight and packed size. You don't want to carry a tent that takes up all the space in your bag, nor do you want to be weighed down by a tent that feels like a ton of bricks. Make sure when buying a tent for overnight or multi-day hikes that you look specifically for a 'backpacking' or 'hiking' tent, as car camping tents usually fall in the category of being too heavy or too big to fold down into a pack. Some ultralight hikers prefer trekking-pole tents, where you can use your hiking poles to erect your tent instead of carrying specific tent poles and removing additional weight from your pack. Whilst lightweight tents are fabulous for taking weight out of your pack, there is always a trade-off with warmth or durability. Ultralight gear typically is a single-wall shelter, and need to be set-up correctly to ensure they do not collapse from wind or rain whilst sleeping.
Top Pick for Ultralight Tent:
Big Agnes Tiger Wall UL2 Solution Dye 2-Person Tent
The Tiger Wall UL2 and UL3 are Big Agnes' lightest two door, two vestibule, technical backcountry tents. It's perfect for gram counters looking for three-season adventures and is the tent I am looking at replacing my Copper Spur with, as it looks even lighter with the same amount of space!
To help you find the perfect tent for you, write a list of everything you want your tent to have, the non-negotiables, to help limit your options. Use the filter bar on the Wildearth shopping page to limit your search, then start searching for your perfect tent.
Happy Hiking!
Follow Kates adventures on Instagram at @katealiice.