We all need time out to recharge our batteries and what better way to do that than getting out on a wild adventure?
I originally saw this guide by Much Better Adventures who created a UK-specific one and I thought it was such an epic idea I've tried to modify it for Aussies. If your annual leave is limited, this guide will help you make the most of it by leveraging all our public holidays to get the maximum time away from the office for bigger adventures! With overseas and interstate travel back on the agenda in a big way, it's the perfect time to start checking off your bucket list whether it's snowboarding in Canada, paddling your way through Patagonia, hiking the Larapinta Trail or bikepacking through Europe. There's joy in the planning, so let's get stuck in.
The following is based on the official 2023 public holidays in Australia.
JANUARY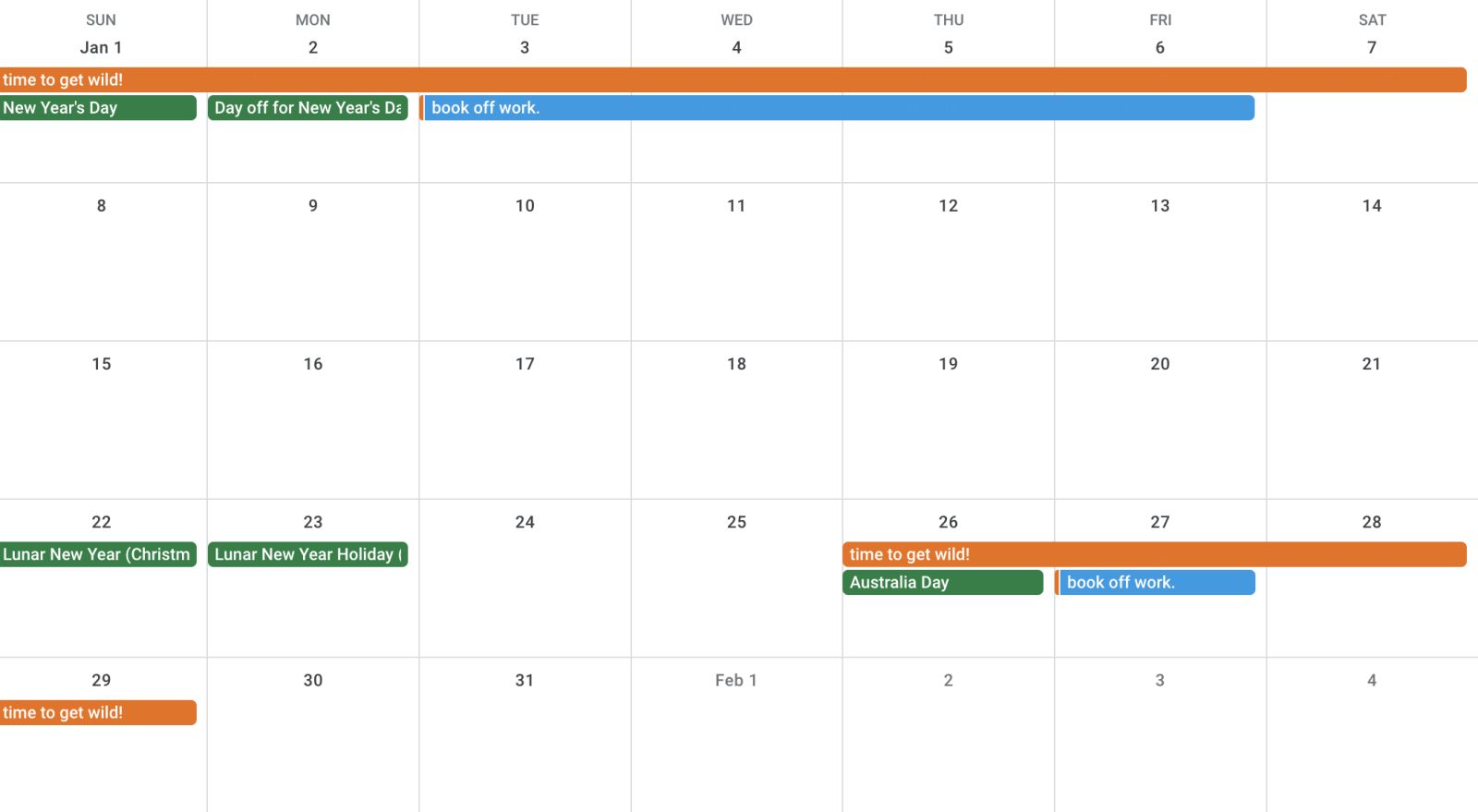 Kick the year off the right way with a cheeky week-long adventure this January. You could take advantage of those last-minute deals and skip overseas or interstate to tick off any new years resolutions. The Osprey Transporter Wheeled Duffel 40L Rolling Luggage is perfect for hand luggage and the Sea To Summit Aeros Premium Pillow will help you sleep like a baby while your mile high.
Public holidays in January 2023: Monday 2 Jan (Monday - New Year's Day, substitute day)
Days away from the office: 9 (Sat 31 December - Sun 8 January)
Days to book off work: 3-6 January (4 days)
APRIL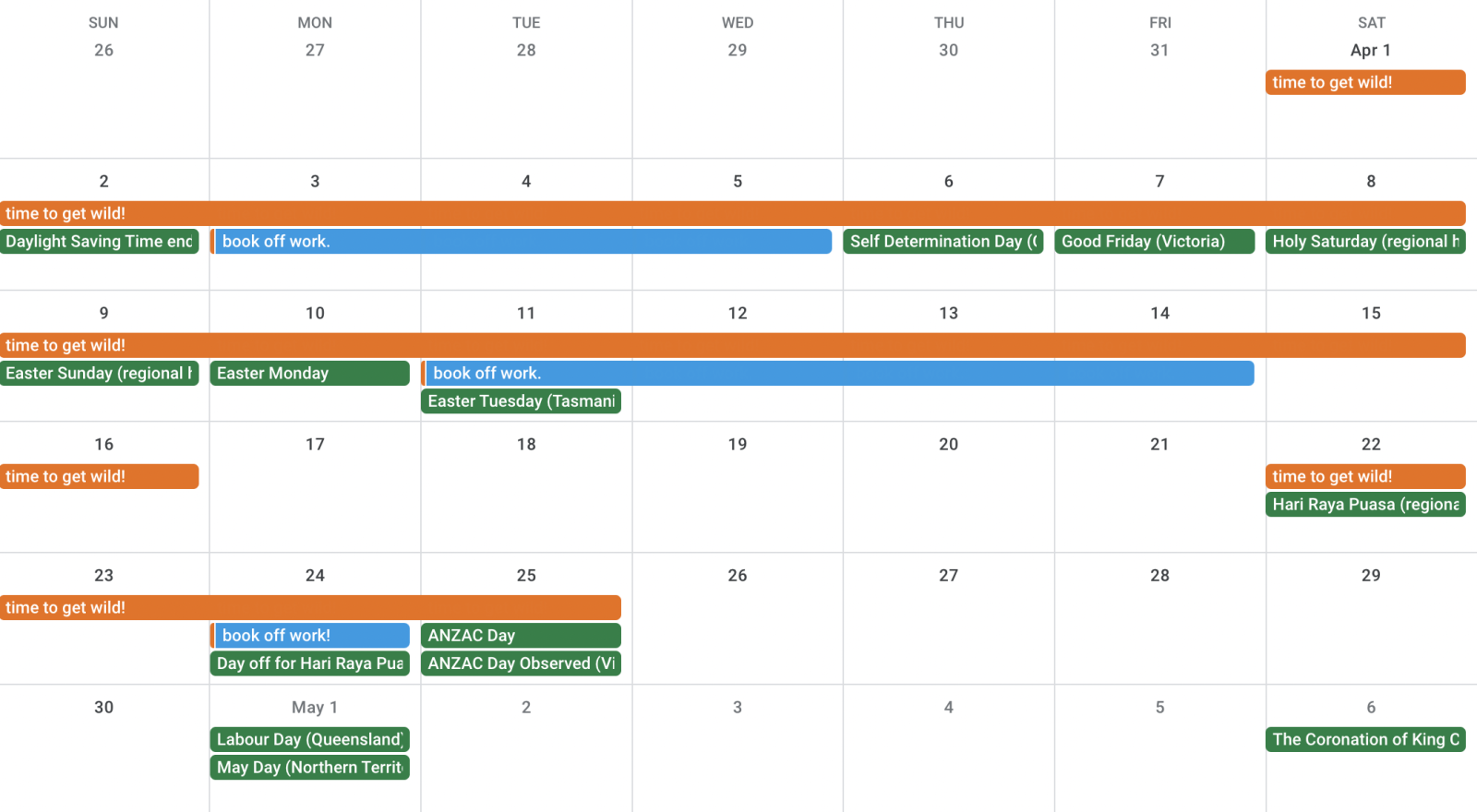 Easter is prime time for long weekend lovers, but why not take it to the next level and ditch both 4-day work weeks leaving you with time for a two-week-long adventure? Perfect for an overseas trip to Asia or to check off one of the classic Aussie Multi-Day Hikes? Take a look at our travel essentials to pick up the gear to get you there.
Luckily for us Aussies, we also get ANZAC Day as a public holiday, perfect for an additional long weekend away with family or friends. Make a plan for some crisp Autumn camping sessions in the bush by the fire! Gab yourself an extra large cooler like this Black Wolf 65L Ice Cooler to keep everything fresh and a SOL Packable Fire Pit to cook up those marshmallows.
Public holidays in April 2023: Friday 7 April (Good Friday), Monday 10 April (Easter Monday) and 25 April (ANZAC Day).
Days away from the office: 16 (Sat 1 - Sunday 16 April) & 4 (Sat 22 - Tues 25 April)
Days to book off work: April 3-6 (4 days) & April 11-14 (4 days) or 24th April (1 day)
DECEMBER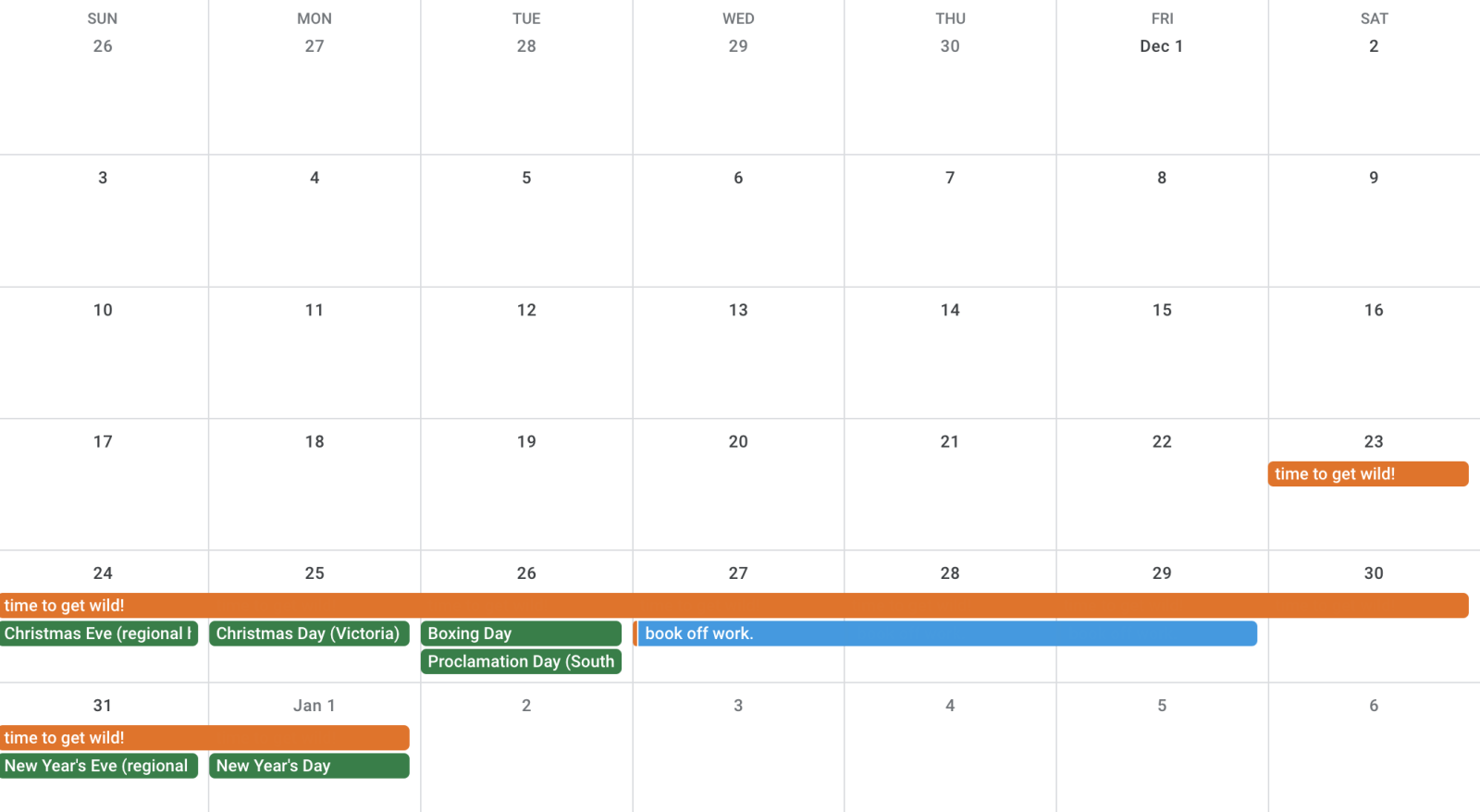 Ditch the turkey dinner and expensive gifts for a ten-day tune out somewhere in Asia or a road trip down the Aussie coast. Or a trip to Japan for the snow season? It's the ideal time for winter lovers to hit the slopes and take advantage of that El Nina weather for a week-long adventure. Shop our winter gear now to make sure you stay warm and toasty on those sunrise missions to the summits! Only 3 work days is what it takes.
Bank holidays in December 2021: Monday 25 December (Christmas Day) & Tuesday 26 December (Boxing Day) + 1 January 2023 (New Year's Day)
Days away from the office: 10 days (23 Dec - 2 Jan)
Days to book off work: 27-29 Dec (3 days)
Has all this daydreaming about adventures got you wanting to level up some of your outdoor or travel gear? Check out the website for the latest and greatest travel bags, backpacks, tents, sleeping bags and technical clothing. Don't forget to share your running adventures with us on Instagram at @wildearthaustralia and use the hashtag #MyWildEarth to be featured.