An awe-filled night sky scattered with galaxies and nebula, the faint glow of a tent in foreground and its inhabitants looking up in amazement.
We've all seen a night-sky image that resonates with us, something about these exposures scream adventure and exploration. Though there is an art to capturing these cosmic scenes, with a little practice and basic camera understanding you to can share your star-lit adventures.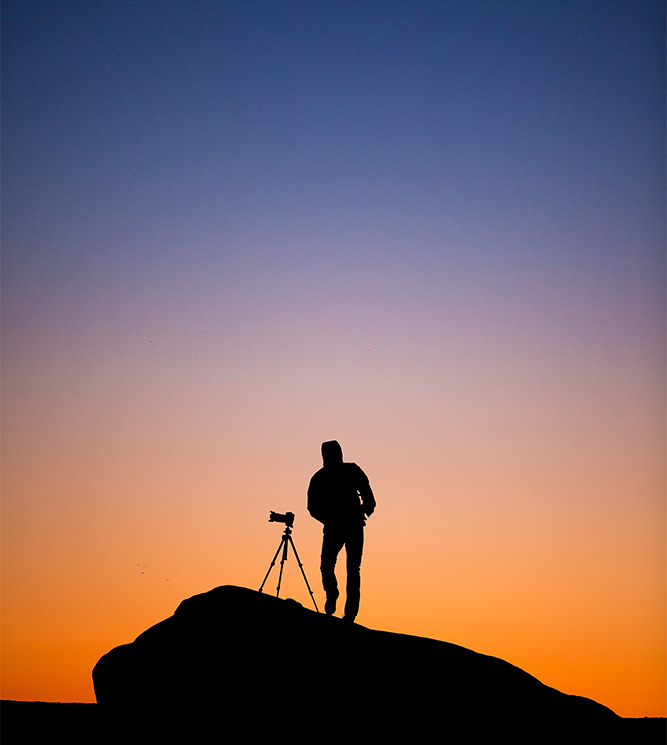 The Gear You Will Need:

- Camera: You will need a camera with interchangeable lenses, manual shooting mode and a large sensor (APS-C or larger). That being said, GoPro's 'night photo' mode allows you to take great long exposures and adjust in-camera settings.
- Lense: a wide-angle lens (10mm, 12mm, or 24mm) with a low-aperture will enable you to capture a greater portion of the night sky whilst also letting in a lot of light.
- Tripod: long-exposure requires the camera to be kept absolutely still - so a stable tripod is essential.
- Remote trigger: Though not essential this allows you to trigger the shutter without touching the camera; reducing the chance of camera movement.
The Best Conditions for Viewing stars:

Many factors influence both the brightness and density of stars in a night sky, so when shooting astrophotography we must consider these variables. The best moonphase for capturing stars is a 'New Moon', or when the moon is below the horizon, as the glare from bright moonlight tends to obscure stars. Moreover, consider the 'light pollution' from cities or towns in your region. 'Light Pollution' will reduce the contrast in the night-sky, diffusing the brightness of stars/galaxies and causing "sky glow" on the horizon - use a light pollution map to find dark-spots. Lastly, make sure to check climate conditions at your intended shoot location, the goal is to have great visibility (no clouds, low water vapour) and stable conditions.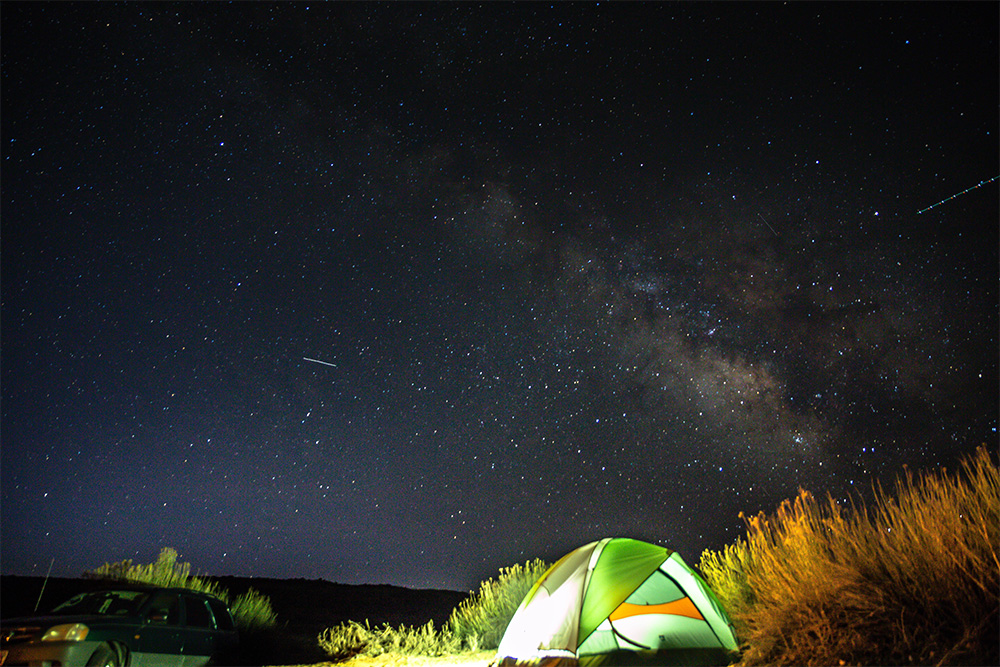 Framing - Finding the Milky Way:

Unlike most photos where you can assess the light and composition in the precise moment, astrophotography requires greater preplanning and forethinking. By far one of the most iconic features of the night-sky is the Milky Way, though with the earth rotating at 1,600km/h it can sometimes be difficult to assess where this galaxy will be. Apps like 'The Photographer's Ephemeris' and 'Photopills' enable photographers to see where the milky way (or particular star) will be positioned at a certain time. With this knowledge you can then frame your subject (person, van, landscape…) and the galaxy to compose the perfect shot.
The Method - How to Shoot a Long Exposure at Night:
1. Set-up
Ensure your tripod is stable and that your camera is securely mounted - it helps to have a tripod ball-head mount for rotation and framing. Plug in your remote trigger release, alternatively you can set a 10-second shutter delay in-camera.
2. Framing
Maneuver your tripod and tilt your camera till you get the desired framing. As it is dark, you may need to take some test shots to assess how your scene looks.
3. Camera mode (shoot raw)
Once your camera is in position, switch to manual shoot mode - this will allow you to control your exposure settings. Additionally, ensure you are shooting in RAW so you can better edit your photos later.
4. Aperture
You will want to shoot with a wide aperture, or low f-stop number, to allow maximum light into the sensor. This will allow you to draw greater detail out of dark scenes, but will also cause a very shallow depth-of-field (so work on your focusing).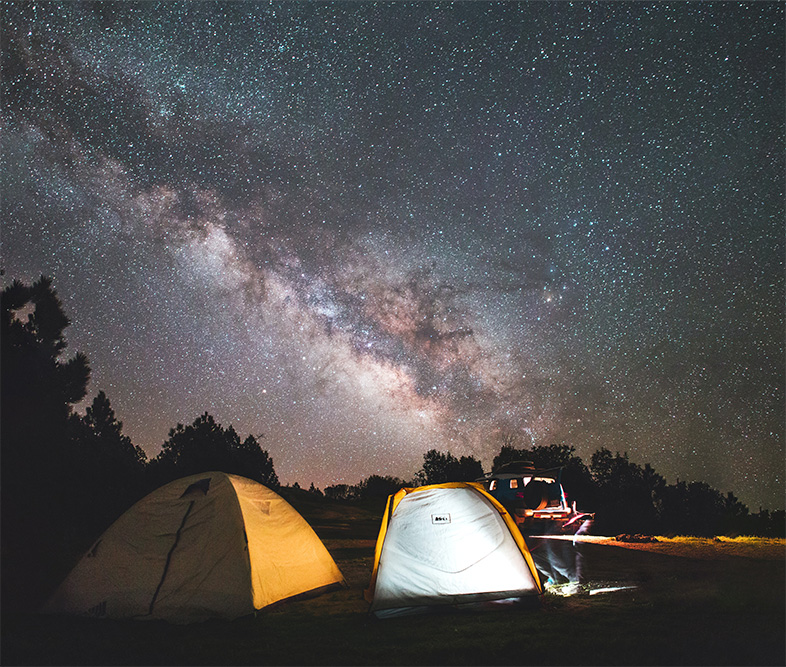 5. ISO
ISO is your camera sensor's sensitivity to light; the higher the number the more light it will capture. As you increase a camera's ISO more light is captured but the scene becomes increasingly "noisy", resulting in grainy photos. Learn what is the maximum ISO you can input to achieve greater detail with minimal noise. Generally, an ISO of 400-1600 or more works well for night exposures.
6. Shutter speed
Shutter Speed is the speed at which your camera's shutter actuation fires, revealing the scene to the internal sensor. Generally, these speeds are given in fractions of a second (1/100, 1/400, 1/1250…), though with night exposures you will mostly likely need to set the shutter to remain open for several seconds.
Though it is generally a case of shooting test images till you gain your desired exposure there are exposure time limits. To minimise the chance of star-trails - wherein stars move throughout the duration of the exposure resulting in oval-shaped, fuzzy stars - we can use the 500-rule.
The 500 Rule
Though fairly basic this simple equation will give you the slowest shutter speed you can shoot whilst still capturing sharp, clear stars. Simply input your lenses focal length (ie. 35mm) into the following equation:
500/FOCAL LENGTH = MAXIMUM SHUTTER SPEED
For more accurate calculation you could also use 'The NPF Rule' - though this method tends to be more complex and time consuming.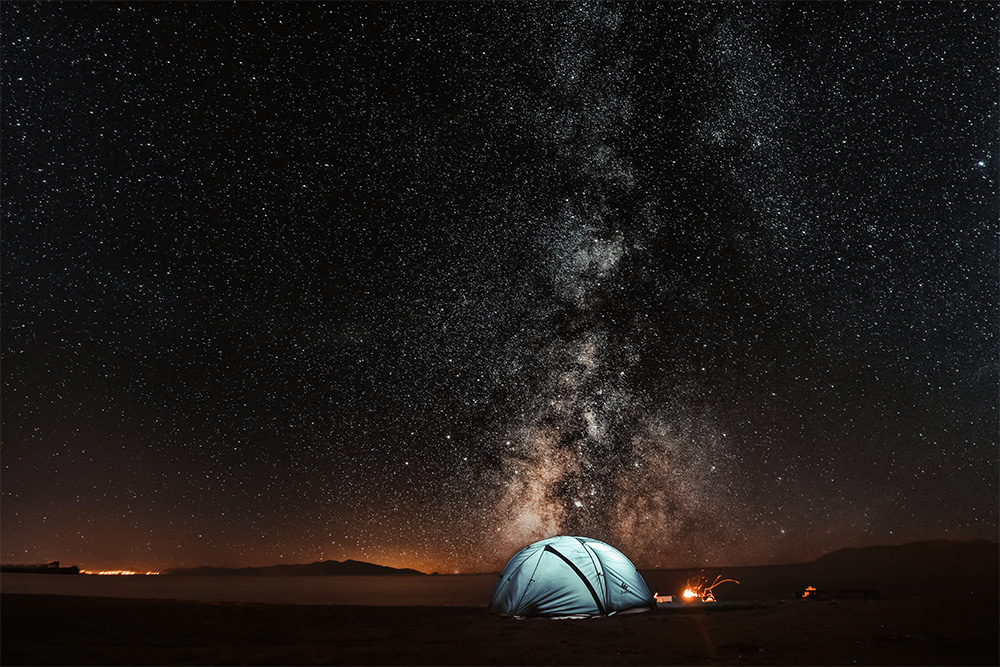 7. Focusing
The final step is to adjust your focus until the individual stars are at their sharpest. This can be done in two methods; the first being, simply taking test-shots until you find the perfect focus and the second, using a mirrorless camera, being zooming in on the LCD display to single bright star to gain focus. The key is to start at a focus range of infinity and wokr your way back
8. Take the Shot
With your settings and focus dialed in, now it's time to take the shot. Be wary of foreign light ruining your exposure - turn off devices, head torches and cover LCD screens.
With this know-how and step-by-step guide, we hope you can immerse yourself into the world of night and astrophotography - taking some stellar images along the way.
Share your starry nights with us - tag @wildearthaustralia and #mywildearth in your next post to be featured.