iSUPS: Just In Time For Summer
01.01.2015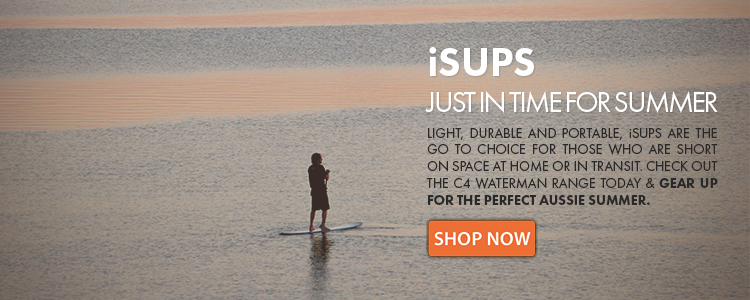 iSUPs are becoming increasingly popular here in Australia – there are a growing number of paddlers who are sidelining their routine watercraft in favour of a more convenient alternative.
Why Use Inflatable Gear?
Inflatable SUPs are light, durable and –most importantly – portable. Our range is ideal for travellers, renters & public transport users. Basically, if you're short on space at home or in transit – inflatable gear is for you.
iSUPs can be stored incredibly easily, meaning you can travel without the burden of a heavy board. You can even fly with this gear, meaning you can head interstate or overseas without bulky checked luggage.
C4 Waterman – The Best Of The Best
The latest C4 Waterman range has just landed at Wild Earth – their iSUPs are constructed of heavy-duty, military-grade, double-wall PVC material. The seams are stitched, not glued, and they provide the closest thing to a hard board experience of any inflatable craft. This means that these boards aren't just for flat water cruising – they can be used to catch waves as well! They are also ideal for people who want to do whitewater SUPing, as they don't ding and the flexible fins make easy work of rocks and logs.
Before you jump on your board, you'll need to inflate it. The included pump makes this process super easy, you can assemble it in seconds and have your board ready to go in just a few minutes.
If you thought it couldn't get any better, this product also comes with a custom travel bag and flexible FCS fins, meaning you won't have to shop around for extra accessories. The only thing you will need is a paddle, and C4 Waterman have both carbon and fibreglass models to suit your needs.
So there you have it, the latest in SUP board technology right here at Wild Earth. We'd love to see what you're getting up to in the water this summer, send us a message on Facebook and tell us all about your adventures!
---
Leave a comment