Outdoor Gifts For Her
These outdoor gifts have been hand picked by us for the women in your life - whether she's a climber, a trail runner or a car camper we've got something in mind!
16.12.2015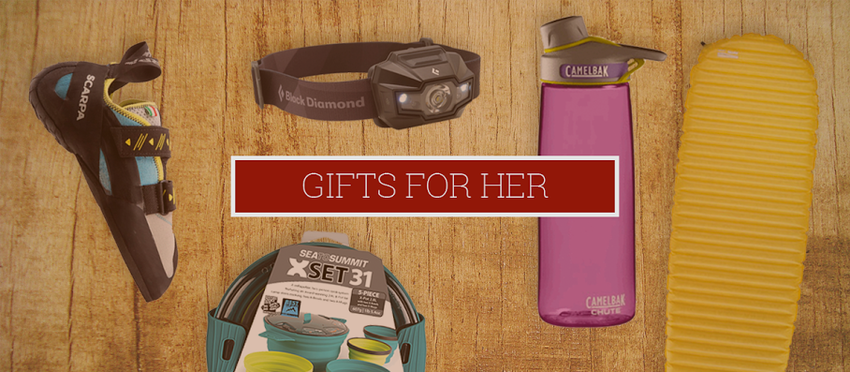 This is the perfect gift for someone that enjoys getting out and about, and appreciates a quick and easy set up! It's made of a great 14oz ripstop poly/cotton canvas, dyed in a colour that is sure to stand out amongst other swags at the campsite. This has all the features you need in a swag that will last.

The Porter 30L is a deluxe duffle that is perfect for travel all over the world. It conforms to international legal carry on sizes and is well constructed with multiple carry options to get you from A to B. It will appeal to the ladies who like having a bag that is both stylish and functional.
If you're out on the trail for multiple days, space-saving items are a must. This lightweight set has everything you need for mealtime and collapses down flat for packing. Make sure you buy one for yourself as well!

This is a great headlamp that is fully waterproof and casts a strong red or white LED light. Four AAA batteries give this great headlamp power and it also boasts a powerful 160 Lumens. It also has a cool little feature that stops the batteries from draining if it gets accidently turned on while in your pack - the perfect gadget for serious adventurers.

This CamelBak waterbottle is designed for hydration anywhere - whether you're out in the bush or at your desk. It's ergonomic, leak proof and comes in a beautiful range of colours. This is one of our top picks for the woman who is a weekend adventurer!

Built for both indoor and outdoor climbing, these shoes are perfect for any female climber looking to take her sport to the next level.
If you're not sure if they'll fit, or if she'd prefer another style, why not check out our gift vouchers? ​
Check out the full range of outdoor gifts for her here!
---
Leave a comment