Sea to Summit Mats are on their way!
The keenly anticipated Sea to Summit Sleeping Mats are about to land into our warehouse, and we have great news on not only the delivery schedule, but also on the Mats themselves.
01.01.2015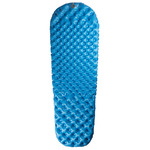 The keenly anticipated Sea to Summit Sleeping Mats are about to land into our warehouse, and we have great news on not only the delivery schedule, but also on the Mats themselves. There has been a lot happen since the Sea to Summit Mats had their international debut at the ORA show in Sydney in June!


Firstly, they can now rightly be described as 'Award Winning', having scooped the pool at the big international trade shows all around the world. They received an Outdoor Award from the Friedrichshafen Show in Germany, as well as being recognised by Gear Junkie and Gear Institute at the Outdoor Retailer in the USA. While it has been great to have the product design validated by external bodies, the interest that we've had about the mats on a daily basis from you guys has been astounding!
Secondly, the Sea to Summit Mats are actually better than what they originally reported. We have only just recently received advice about the official R-Value testing on actual production samples, and the Mats are warmer than what Sea to Summit were advertising back in June.
To explain, those R-Values that they initially published were based upon early samples. Due to the complex manufacturing techniques involved in the mattresses, and a couple of manufacturing tweaks necessary to get the product from the sample room to the production line, they weren't able to produce final production samples until mid-September. Sea to Summit waited for those final production samples before they completed the official R-Value Testing, to make sure that the product they were testing was absolutely equivalent to the great product that you'll soon be receiving.
Sea to Summit also always wanted to have the mats R-Values validated by an independent, third party laboratory, as we are all aware of how important this objective number can be when comparing mattresses to purchase. They chose the EMPA, Materials Science and Technology Lab in Switzerland to conduct their testing, which is ideal as this is the same lab that has previously provided testing for Exped, among other brands. The testing process takes a number of weeks, and Sea to SUmmit have only just received final results in the last couple of days.
So yes. The good news is that Sea to Summit have undersold the warmth of some of their mattresses. The mattress models in question, with the previous and updated values are:



This definitely improves the value of these mattresses compared with the competition. The UL Insulated mat, for example, is now slightly lighter, slightly warmer, slightly smaller when packed up, slightly wider when inflated and definitely more comfortable than the competitive mats.
Sea to Summit have also added a couple of accessory products to the range that we previously haven't seen. Now, they aren't going to completely blow your mind, but they are going to have a couple of 'Coolmax Fitted Sheets' available for the mats available from early December. The idea is to provide you with a comfortable and soft fabric to lie on when using mats in hot and/or humid climates where there may not be need for a sleeping bag. They're expected to cost around $39.95, and these should be a good little accessory to have with you, particularly over the summer months.
Finally, the news that you've all been waiting for… The arrival date. And you won't have to hold your breath for long! We're expecting to see Mats into our warehouse by about the 21st of November, and hopefully we'll be able to start shipping them out to you shortly after. So, if you are thinking about getting a new Sea to Summit mat, you might want to watch this space and get in quick… Cause these are going to go off with a bang!
Want to know the moment they hit our store? Join now and we'll email you > CLICK HERE
---
Leave a comment