The Mighty Dry Bag | The most versatile piece of gear!
03.08.2018


We, much like you, love nothing more than spending time outdoors going WILD- we also enjoy testing kit and and finding new and unconventional uses for gear we have. The humble dry bag is a product which we feel might be a contender for most the most versatile and hackable piece of gear you could have in your pack.
We asked our staff how they use their dry bags and here is a list of what they've used their beloved dry bag for - let's start with the obvious...keeping things dry, Dry Bags are designed for this reason and are a staple item with those who travel, adventure or spend any time in or around water.
Dry bags are great for separating items with-in your pack like thermals, sleepwear, toiletries (having them in a dry bag isolates potential and moisture).
As a makeshift compression sack, squeezing the air out allows you to compress items like down sleeping bags/ jackets small.
Small dry bags are also great as a discreet safe; When worried about the security of my valuables I've buried my phone and keys inside a drybag while I surf...just be sure to remember where you buried it!
Once camp is set up and the contents of the bag have been removed, your dry bag can now be used as a simple seat to keep your pants clean and dry (add some filling for comfort)
Dry bags are also great for keeping wet items separate from your dry gear - after a surf, swim or workout at the gym, throw the clothes inside to stop the moisture from spreading to other belongings - which is also why they make a perfect travel accessory. When travelling or hiking keep your items and clothes clearly organised as well as offering convenient storage and transport of your washing without contaminating other goods in your bag.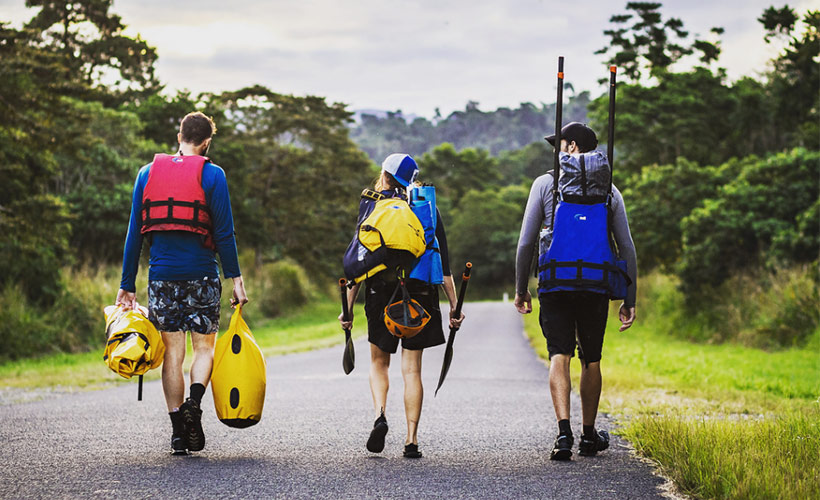 Dry bags can be used as a makeshift camping pillow with a shirt over it for a case and other clothing stuffed inside for cushioning.
From all the uses we discovered one of the most practical and useful we found was that you can even use your dry bag to wash your clothes when travelling and camping - just add warm water, soap and massage the contents inside the bag for a quick clean.
If you're ever looking for that perfect gift for the outdoors person in your life - think about the humble dry bag and be sure to pass on these unique uses they may have not heard of before!
We hope you found this useful and would love to hear the alternative/unconventional ways your dry bag or any other piece of kit!

---
Leave a comment