We caught up with Wild Earth Escape Artist Jack Dobson - @Jackuar_land_rover on Instagram as he embarks on the trip of a lifetime, Uluru Expedition. Jack is making the trip in 'Grandma', a 1964 Series IIA fitted with a Rover V8.
Tell us a little bit about how the trip came about - what made you want to take Grandma out across Australia?

Well, I guess the real driving force behind it was another guy who I met last year at the 70th-anniversary celebration of Land Rover in Kuma, NSW. It was a three-day camping event and I met lots of cool like-minded people, not just Land Rover anoraks. But also people that were kind of fun, young and up for an adventure.

I met a guy from Tasmania and we got on really well. A couple of weeks later after the event, he said he was planning on making a big trip to Uluru and would I be interested? I mean it was almost a year ago when that happened so I sort of tentatively said yes not knowing what I'd be doing and before I knew it it was suddenly just a couple of months away.

So who's part of the crew? Does everybody know each other or is it going to be the first time some of your meet on the road?

It's a mixture really, but there will be three people that I've met, really only that one time at the 70th anniversary.

There are also 4 other people, I've never met - we've just exchanged messages on Instagram. So, yeah I'm hoping we all get along. And I think we will, we've all got that common obsession with Land Rovers and we're all up for the adventure. But it is quite weird when you meet people that you've only messaged on social media because you just don't get their tone of voice when you're messaging. It's quite different when you meet in real life.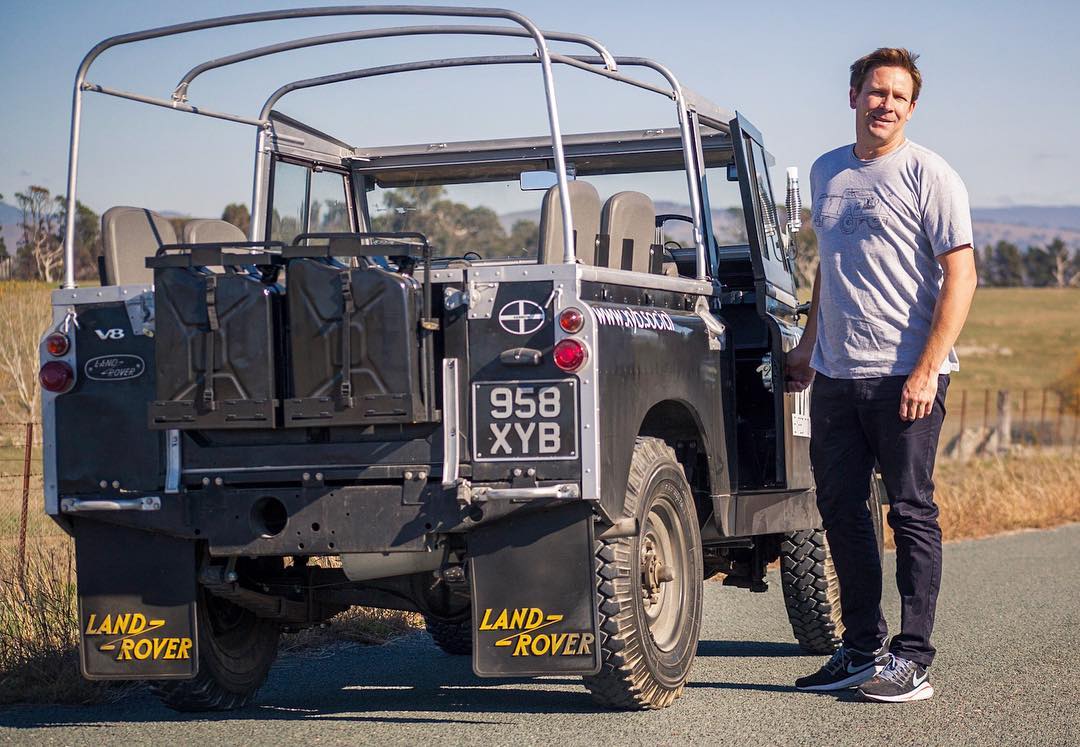 You'll be on the road and there will be all these amazing things to take in and to talk about and to experience. How many cars are part of the convoy? Are people sharing cars?

We've all got partners but not all of us are taking our partners. I'm leaving my wife behind because she couldn't get the time off work, which is a bit of a shame. I don't know, maybe she's secretly relieved. There are two couples that are coming so we've got two girls on the trip.

Are you going to do any camping along the way?

We're going to be camping every night, so I've got a fairly basic tent arrangement and some of the other guys have got rooftop tents on their cars but I can't really do that with Grandma. We're really looking to shy away from staying in the paid commercial campsites. We want it to be fairly basic living and are not keen on staying in the massive caravan parks full of people. I mean certainly when you get to Uluru, I think there's only one main place you can camp so we'll be staying there.

A few people that I don't know have got in touch through Instagram and have sort of said, "Oh, I've got a place you can stay" so it depends how brave we feel... I am very familiar with the movie Wolf Creek but I think there's safety in numbers….

Where are your followers from?

My audience is from all over the place. The majority of my followers are from the UK and then it's Australia and the United States - I'm really popular in the Middle-East for some reason. The people that follow me are really far-flung. It always surprises me where people come from.

That's awesome, you're bringing people together through that common interest.

Yeah, I mean looking at my Instagram account it's obviously all about Land Rovers, which doesn't appeal to everyone but it's been really fun. There's a mix of people who are really into Land Rovers but also really into the adventure. While I certainly do have a bit of an unhealthy obsession with Land Rovers I can see beyond that and understand the benefits of having a vehicle that's capable of taking you off-road and being able to go and explore places that other cars can't get to.

Do you have a mechanic as part of your group? I guess you all know cars as you've all restored your own, haven't you?

Yes, we're all pretty good with cars. With Grandma, I know every nut and bolt of her, having restored her originally with my dad and this last year restoring her again. Between us, we're all going to be carrying spare parts and tools so we should be able to hopefully keep them all running. But with vehicles this age it's going to be inevitable that we will run into some sort of issue. The last few week's I've been driving Grandma every day to try and iron out any issues and I've had various problems actually, which at least I've managed to fix here.

Was this the first car that you ever bought? I know you mentioned you renovated it with your dad.

Yes, that's right, I bought it when I was sixteen, it was my first car and I was desperate to get a convertible. It was the only convertible that I could afford. So, I spent a year building it with my dad. I learnt to drive in it, went to school in it, then went to university it.

Growing up, were your friends jealous of your car?

Actually, very few people were jealous. Most people in my year had regular cars and were like 'why would you have this slow, old Land Rover? There was a lot of times when people didn't realise how cool I was...

So, you shipped Grandma over from England to Australia?

Yep, I shipped it over in 2017 and I had been in Australia at that point for about 7 years, so it had sat on my parents' driveway for that whole time. I managed to arrange for it to get shipped over with a company I work with in the UK that does parts called Bearmac. They helped rescue it from Cornwall and take it to South Hampton and get it prepared and loaded onto a ship and then another company, a shipping company also got involved to help me get it across to Australia.

There are lot's of horror stories, I read all of them and did a lot of research. It's quite daunting when you want to ship a car, it is a big deal because it is a long way. There are stories of people getting their cars impounded at the port because of asbestos.

I was lucky that the company I used were really knowledgable and we took steps to negate that issue. I had all the correct documentation but I was certainly pretty anxious about it.

Do you have any other trips like this planned?

Well, there have been lots of people really interested in this particular trip and I've had people saying 'I'm doing a lap of Australia' or 'I'm heading up to far North Queensland' and they have asked if I'd like to tag along. I think I'd definitely be open to doing more trips like this.

What's the itinerary looking like?

Two people are coming from Tasmania, so their first stop is Melbourne. Then the next stop is Broken Hill - that's where I'm going to join everyone. So we will all meet up in Broken Hill which is where they filmed Mad Max, so that's going to be awesome. It's petty remote looking out there with not much going on. From there we've got Birdsville, Alice Springs, Kings Creek Station, Uluru, Cooper Pedy, William Creek Hotel, Maree, then Adelaide but the route may change as we go.
Follow along their adventure at @jackuar_land_rover.
He'll be making the trip to Uluru with six other Land Rovers and adventure enthusiasts. There's chief organiser, '@rovethelandrover' from Tasmania, then there's '@defender_expeditions', '@rustydefender' and '@thecamelsoverland' from Victoria, '@jeremyottawa_' from South Australia.