Time and culture enrich the red rock and sacred earth of the Flinders Ranges, making for perspective-shifting hiking, as Laura Waters discovers during her week-long immersion. I feel like a cowboy in a Western movie, an outsider gazing out from under a
Time and culture enrich the red rock and sacred earth of the Flinders Ranges, making for perspective-shifting hiking, as Laura Waters discovers during her week-long immersion.
I feel like a cowboy in a Western movie, an outsider gazing out from under a wide brim hat with the smell of dust in my nostrils. Red rock walls rise from either side of a dry riverbed and though the land seems empty of life I can feel eyes watching me.

I scan the rock slowly, keeping one finger on the 'trigger' of my camera. Then I spot one of them – a rare yellow-footed rock wallaby hiding out in a cave in the rock face. It stares down at me for a few moments before bounding across the near vertical wall, dragging an enormous striped tail behind it.

There's more to the outback than meets the eye. What had seemed vast and relatively barren at first glance is actually riddled with intrigue and varied natural beauty.

I'm in the Flinders Ranges, South Australia's longest mountain range, which starts 200km north of Adelaide and stretches 430km in a discontinuous line deep into the outback. It's old, with sediment laid down more than a billion years ago. It contains the fossilised remains of earth's earliest life and traces left by the world's oldest culture.

It also has dozens of hiking trails. Over a week, I'm on a mission to tick off as many of them as I can.
GORGES AND BEYOND

My experience started at Alligator Gorge, 300km north of Adelaide. Deviating from the highway towards Mt Remarkable National Park, the dry roadside grassland had appeared distinctly unremarkable until I parked the car to descend a steep walking trail deep into a hidden gorge.

Suddenly I found myself slotted between towering red rock walls, negotiating a rough path over slabs of rock, loose boulders and fallen trees, while flocks of noisy corellas flew overhead.

Nature crafted this work of art over a lazy few million years, quietly persisting until it had cut through the hard quartzite to create terraced rock platforms and cool passageways that are at times only a few metres wide. The weathering has also unveiled slabs of stone, embedded with ripples from the inland sea that once flowed here around 600 million years ago. It's a striking contrast to the urban cityscape just a few hours drive south.

There are tonnes more trails in the southern ranges, but I was keen head north, to dive into serious outback territory where there's more space, more wandering emus and bounding kangaroos. More orange.

It's an easy drive. The land is flat enough to keep the bubble in a spirit level happy. Straight tarmac cuts across wide open desert towards distant snaking mountains, while wedge-tailed eagles soar overhead, creating a kind of no man's land that feels like the gateway to another world.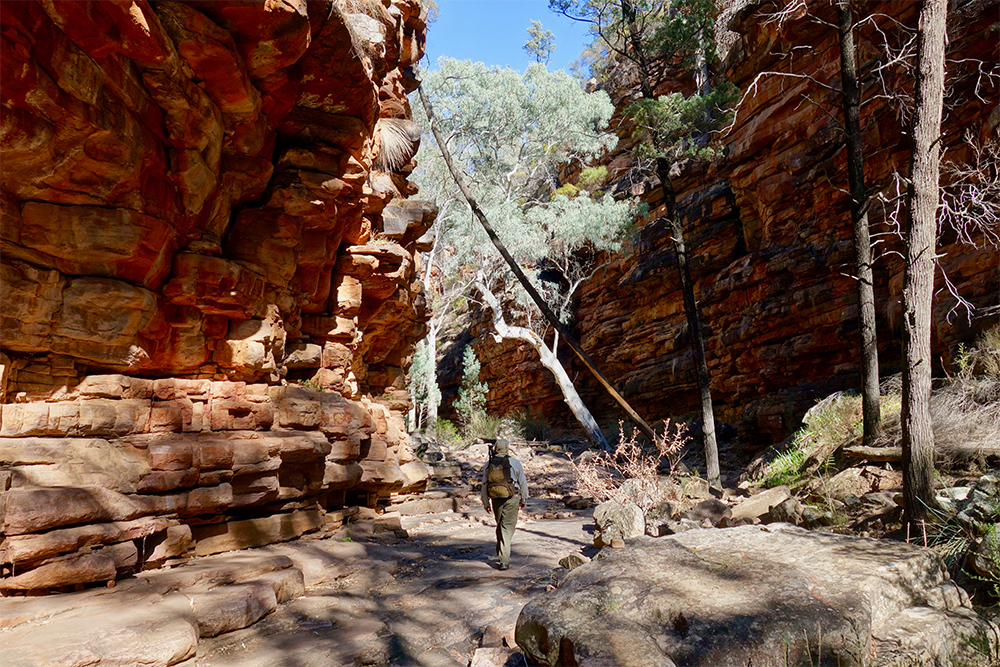 TIME TRAVELLING

And now I'm here – in the middle of Brachina Gorge to be precise – watching a nimble wallaby bound across the rock face. I never would have spotted its furry mug without the help of Mick, the local indigenous guide, nor the two wedge-tailed eagles sitting in a dead tree branch high above. Mick is attuned to things I am not, an expert on the land and all who live here.

What Mick's brought me here to see, though, is not so much a cute marsupial as a snapshot of time. The Flinders Ranges have had a hard life. They've seen ice ages, been at the bottom of the sea, and been uplifted and worn down numerous times over the course of their existence. In Brachina Gorge, we become time travellers, wandering past cross sections of layered rock that tell the story of what happened here and, most strikingly, the evolution of life over a 100 million year period.

Mick shows me stromatolites first, rounded rocks that are the domed remains of communities of microbes that that once grew on the sea floor around 630 million years ago. Further on we pass the 550 million year mark and there, immortalised in sandstone, are the fossils of Dickinsonia, a jellyfish-like creature with radiating circular grooves. Ten million years later, hard-shelled animals had evolved, and scores of fossilised seashells and trilobites, fused into the rock, tell their story.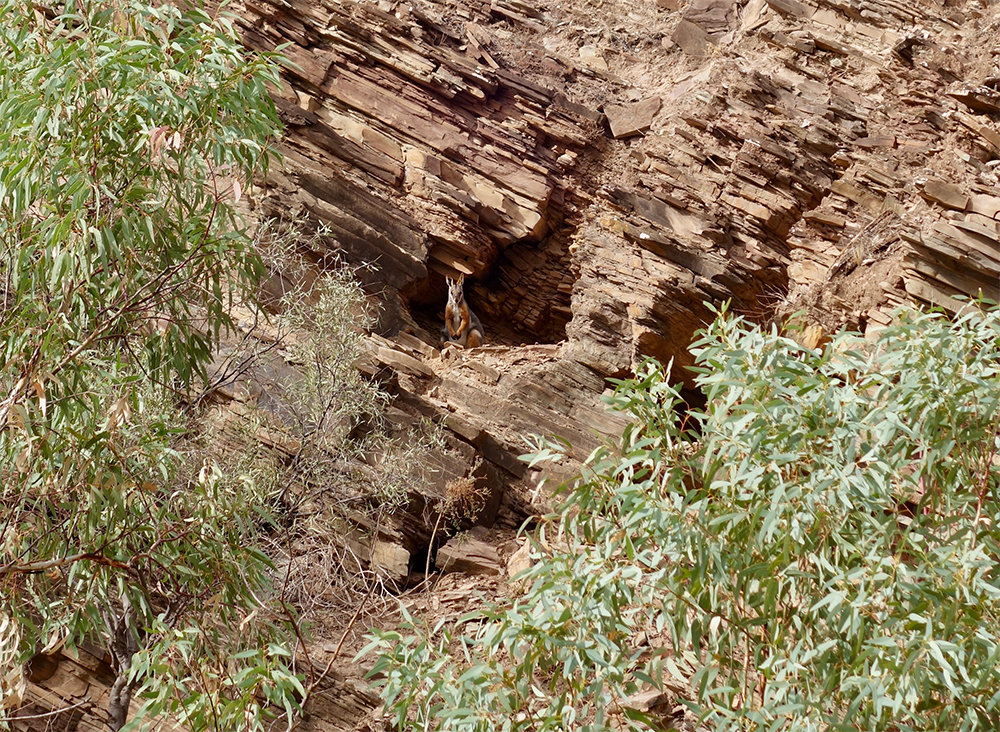 ROCK PEOPLE

It took aeons more for humans to arrive. The indigenous Adnyamathanha – whose name translates to 'hills or rock people' – have been here around 15,000 years. They embedded their knowledge in Muda, creation stories that were effectively mind maps to help them understand country as well as locate food, water and sacred sites.

Ancestors left Muda in places like Sacred Canyon, where I later discover engravings of circles in the rock, once used to indicate the presence of water. West of it, I hike another circuit taking in Arkaroo Rock, an overhang with a panel of ochre paintings underneath, which have been maintained by the Adnyamathanha for more than 6,000 years.

However, the most revered feature of their land is unsurprisingly Wilpena Pound. It's the jewel in Flinders Ranges' crown, an enormous serrated mountain range that curls back on itself to create a natural amphitheatre around 17km long. The Adyamathna called it Ikara, translating to "meeting place", and for thousands of years it had been just that – a place for local groups and neighbours to hold ceremonies and have discussions about life.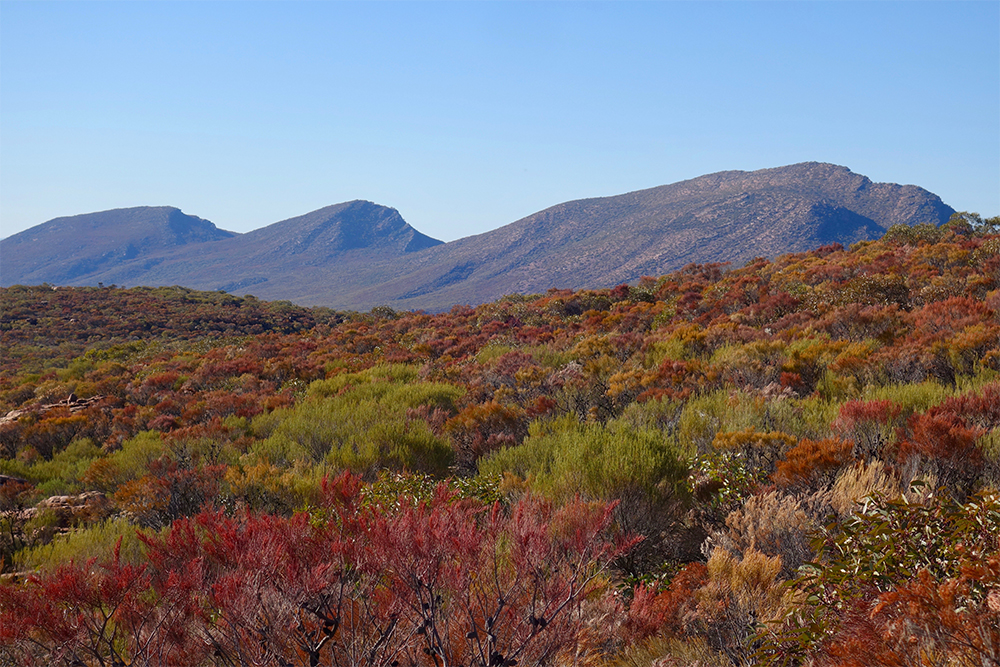 BLUFFING IT

I get my first glimpse into Wilpena Pound from the top of Rawnsley Bluff, one of the highest peaks around the Pound's perimeter. Perhaps ambitiously, I set out mid afternoon to summit it, keen to squeeze in a walk before the day is done. Striding quickly, I attack the dusty, loose track, but what starts out reasonably well-defined soon deteriorates into something considerably less obvious. After a wrong turn – incidentally, a stunning diversion beneath a red rock overhang – I finally reach a lookout to peer into the Pound.

Considering the vast emptiness surrounding it, the Pound itself is a magnet for trees. They cover its flanks and fill its interior, awash with green, red, orange and yellow bushes. The formation reminds me of a huge and gently sloping soap dish plonked onto the desert, but to the indigenous it represents the curled bodies of two serpents.

From the Bluff's summit the most dazzling view is not inwards towards the Pound but outwards over the endless desert beyond. It's not often you see that much space, an uninterrupted view of cobalt sky over orange dirt. The long rippling body of the ABC Range opposite looks like a serpent too, one that has wriggled its way just beneath the surface, disrupting the earth above into mountains. With every degree of the sinking sun it grows more orange.

It's a race against the clock to return to base before daylight disappears completely, but the track is even more vague on the descent. Subtle trail markers – faded dots of paint on rock or small cairns – are even harder to spot and I waste valuable time racing in circles to regain the route. By the time I reach the bottom the sunset has cast a surreal, almost fluorescent glow over everything. The land seems to suck up the light, absorb it until it's so rich it confuses my eyes. The very air itself seems red.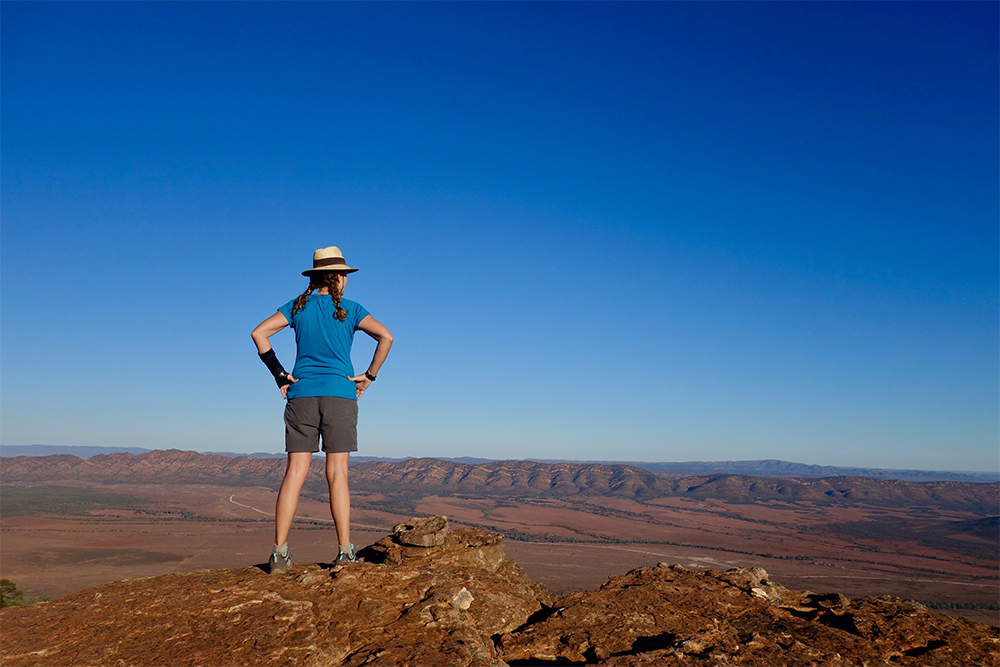 A CHANGE IN THE AIR

I'm staying at Wilpena, a tiny settlement with a hotel, campsite, visitor centre and general store. I could have chosen to sleep in my little hiking tent, but with a less outdoorsy friend in tow we've opted for an on-site safari tent – my first taste of glamping. The proper beds, en suite bathroom, mini-fridge and heater all seem ridiculously decadent – at first.

For days we've been basking in cloudless autumnal sunshine, but midweek the skies darken to a bruised blue-grey before dumping the first rain the region has seen in over a year. Road corrugations fill with water, no doubt a precious godsend for the hardy critters that live here – skinks, frogs, kangaroos, emus, snakes, and ringneck parrots, to name a few.

The rain is accompanied by gale force winds and icy temperatures, and at night I crank up the heater and snuggle under the doona while the canvas walls flap noisily against the onslaught. In these conditions, I decide that I'm not so averse to the glamping experience.

April to October is best for walking, while summer can see temperatures rise as high as 45 degrees. If winter rains have flowed then spring encourages a feverish burst of flowering and seeding before the heat returns, transforming the land with new growth and wildflowers.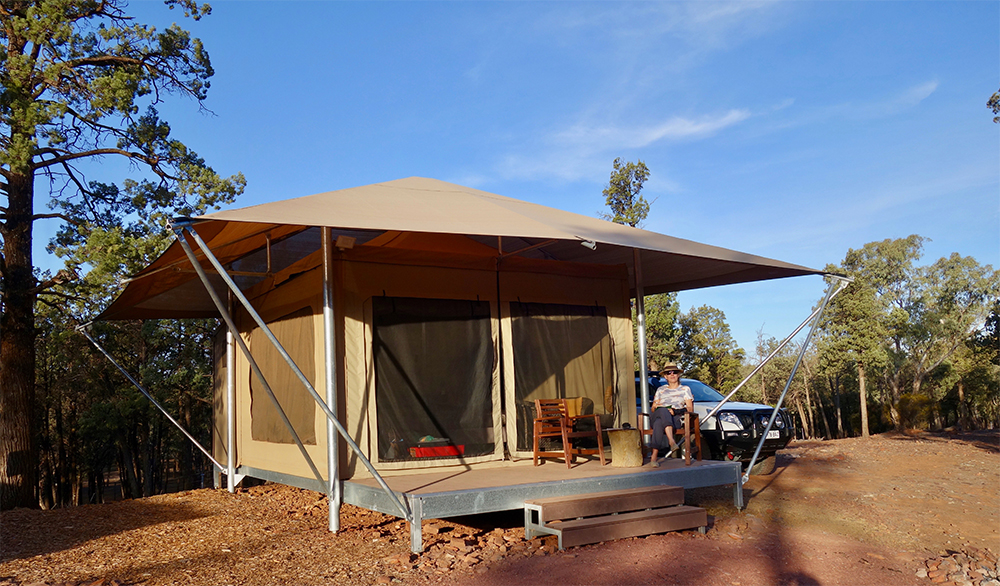 THE MEETING PLACE

There are half a dozen hikes at Wilpena Pound alone, penetrating the interior and traversing its interior and exterior flanks. The most challenging is a full day circuit taking in St Mary Peak, the highest point of the Flinders Ranges at 1,171m. Central to the indigenous creation story, the Adnyamathanha prefer visitors do not walk to its summit; however, Tanderra Saddle, just below it at 950m, still packs a visual punch.

I tackle it via the 'outside' route, starting off with a gentle climb through native pine and over dry creek beds before things get progressively steeper, rockier and more exposed. The final haul over the rocky lip of the Pound is a moderately tricky scramble.

Tanderra Saddle is a quiet place to contemplate the land and hear the silence of the outback. You don't just look at the land here, you feel it. Despite the Flinders Ranges being a popular tourist region, far fewer visitors venture onto the more challenging tracks.

One tourist-evading hike is the nine hour Malloga Falls route, which takes in the spectacular Edeowie Gorge. Alternatively, Wilkawillina Gorge has its own unique geological formations. Even more isolated are the wild routes in the adjacent Bunkers Conservation Area, characterised by rolling red hills, rarely visited gorges and more yellow-footed rock wallabies. The really keen could hike the entire length of the Flinders Ranges as part of the long distance Heysen Trail, stretching 1,000km from Cape Jervis on the Fleurieu Peninsula to Parachilna Gorge.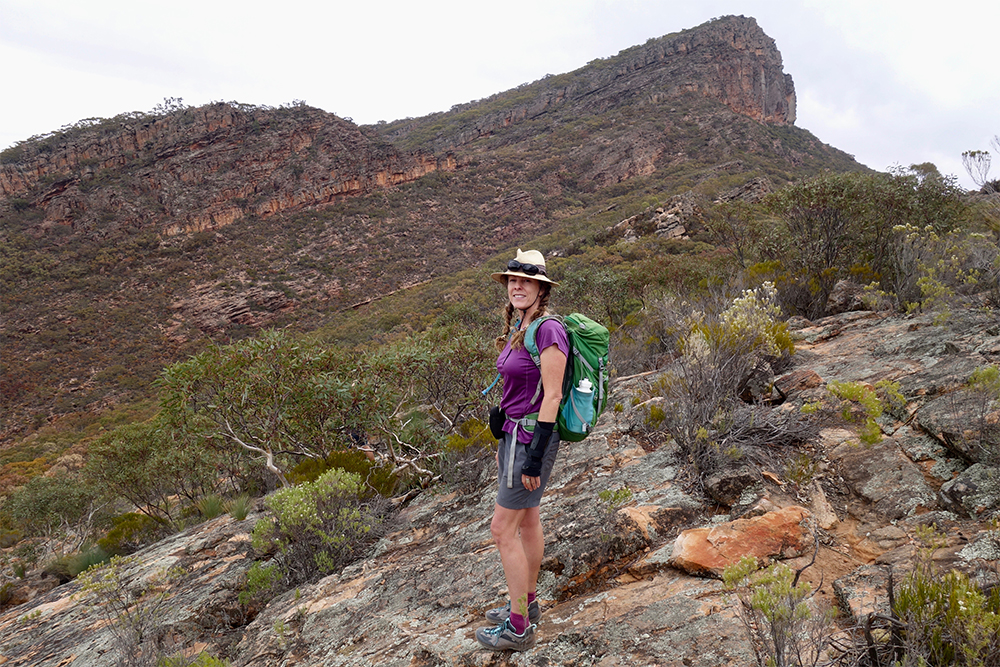 After a week of exploring, I still feel as though I've barely scratched the surface. The place seems an enigma. A mix of hot and cold, wet and dry, of animals and people who understand the land far better than I ever will. There's a silence and stillness to the place, a wisdom bound within the aeons of existence here. It's like an age-old master who has all the answers but, rather than handing them to you on a plate, asks you to go out and discover them for yourself.

I might need another visit.