Hilleberg Yellow Label Tents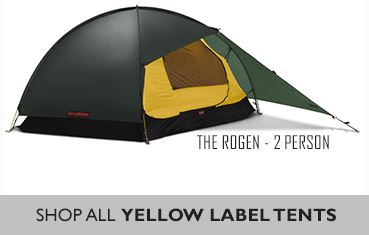 Hilleberg engineer their Yellow Label tents principally to be lightweight. Intended for use in warmer climates and in snow-free conditions, these models have inner tents with large mesh panels which cannot be covered, and shorter outer tent walls. This ensures they have superb warm-weather venting, but can also make them feel cold in cooler conditions. Yellow Label models are perfect for long or short trips in more protected terrain, but, while they do have remarkable strength, their lighter weight materials and their design make them less than ideal for fully exposed or high altitude terrain or far removed adventures.
Yellow Label tents are constructed with our lightest materials:
Features:
Kerlon 1000 outer tent fabric, with an 8 kg/17.6 lb tear strength, or Kerlon 600, which has a 6 kg/13 lb tear strength.
9 mm poles.
2 mm guy lines.
Our lightest inner tent and floor fabrics.
Lighter weight zippers.
Tri-Pegs, Hilleberg's lightest pegs.
Yellow Label tents are designed to be very light and to provide comfort appropriate to use in warmer climates and/or snow-free conditions:
Outer tent does not go all the way to the ground, offering a lightweight balance of weather protection and constant air flow.
Different length poles reduce weight.
Outer tent can be lowered on one side/raised on the other to increase protection on the weather side.
Large, fixed mesh panels on the inner tent and shorter outer tent walls create constant cooling air flow (which can feel cold in cooler conditions).
The interior is designed to maximize light weight while providing sufficient roominess.
Use the table below to compare the full range of Hilleberg Tents to decide the model that's best for you.