Gear Review - Sea To Summit Spark II Sleeping Bag
Daniel Gangur takes some amazing photos of our great Country. On a regular basis, we'll send him some gear to field test on his expeditions and give us his feedback on what works and what doesn't. Here's what Daniel had to say about the Sea To Summit
16.08.2017

Daniel Gangur takes some amazing photos of our great Country. On a regular basis, we'll send him some gear to field test on his expeditions and give us his feedback on what works and what doesn't.
Here's what Daniel had to say about the Sea To Summit Spark II Sleeping Bag.....


I mentioned in one of my other reviews I was trying to lighten my kit for Bike packing adventures, I've had my eye
on the Sea to Summit Spark SP II for well over a year now and finally got one a month or so ago.
The Sea to Summit Spark Sp II Is an ultralight Down sleeping bag from Sea to Summit, weighing in at 463g for
the regular that I'm using it is one of the lightest, smallest packing sleeping bags on the market .

Specifications
Compressed volume*: 2.9 litres
Compression bag: 2XS – 3.3L to 1.3L
Fill weight: Bag weight: Length/zip options:
Regular 280g | 9.9oz 464g | 16.4oz left 1/3 length zip
Long 305g | 10.8oz 510g | 18oz left 1/3 length zip
Suggested use: Travel; Adventure racing; Summer cycle touring; Liner bag; Ultra lightweight hiking; Ultra
lightweight alpine climbing
Season ratings: Summer/Spring/Autumn
Size: regular up to 183cm tall, chest circumference 146cm, hip 128cm and foot 88cm

Features
Contoured mummy; 10D Pertex Quantum shell for minimal weight and bulk; sewn through lateral
baffles for optimal weight/bulk/warmth ratio; 55/45 fill ratio; contoured hood with drawcord; tapered footbox; 1/3
length YKK #3 side zip; includes lightweight 15D Ultra-Sil compression bag, mesh storage cell and laundry bag.
Down: ULTRA-DRY Down 850+ Loft 90/10 European Goose Down
Suggested use: Travel; Adventure racing; Summer cycle touring; Liner bag; Ultra lightweight hiking;Ultra
lightweight alpine climbing
Ultra- Dry Down is a water repellent treatment that is Anti – bacterial, Anti-microbial, repels moisture, retains loft,
dries faster and prolongs the life of the sleeping bag.

Temperature Ratings
Comfort 7 ° C
Lower Limit 2 ° C
Extreme Limit -12 ° C
More information on the Spark and Ultra – Dry down can be found here on Sea To Summits website.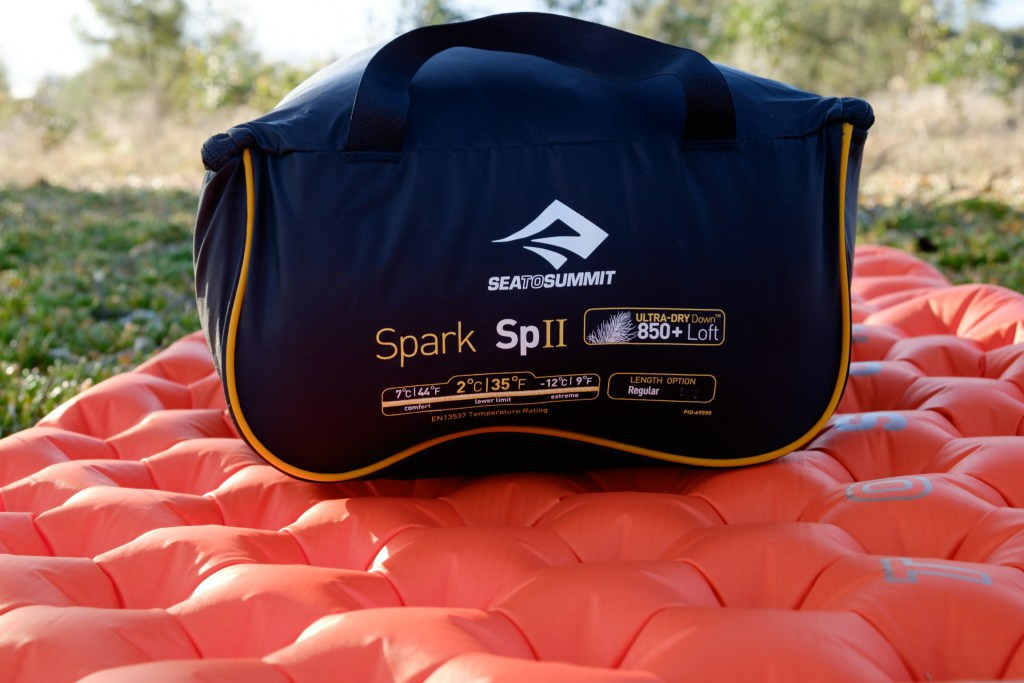 The Spark Sp II comes in it's own storage bag for when you aren't using it in to help keep the down in good
shape and prolong the life of your bag. This Storage bag can be zipped up as shown above or left more open as
kind of a large stuff sack with a drawstring at one end. The storage bag also has care instructions printed on the
outside, nice touch.

Quality
If you have used Sea To Summit's outdoor gear before you will be aware of the great quality of their products the
Spark SP II is no exception, despite being so light weight it is a great quality bag with quality zippers etc.
The bag comes with a Down Batch Test Report from the International Down Feather Laboratory (IDFL) to certify
the loft of the down used.

There is also a letter stating that the down used in Sea to Summit sleeping bags is also sourced and certified by
the Responsible Down Standard (RDS) By using down that meets this audited requirement Sea To Summit has
confidence that the down collection process has been completed with the welfare and ethical treatment of the
waterfowl in mind.

I have owned a few down sleeping bags and none have come with reports and information like this, I think this
shows Sea To Summit are serous about their quality and standards.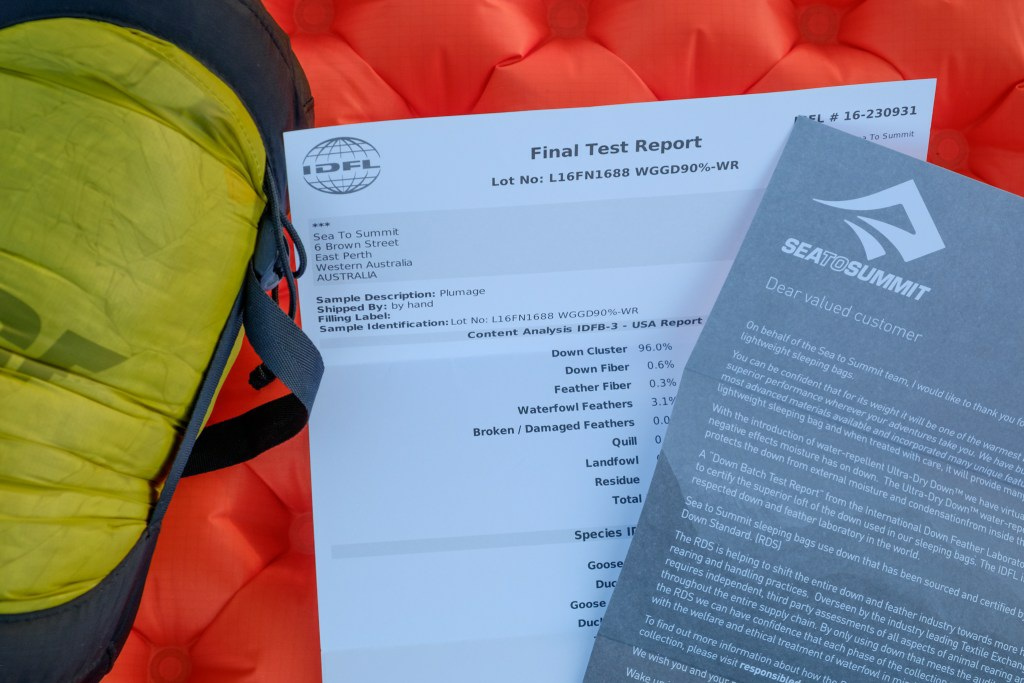 Loft report and information on standards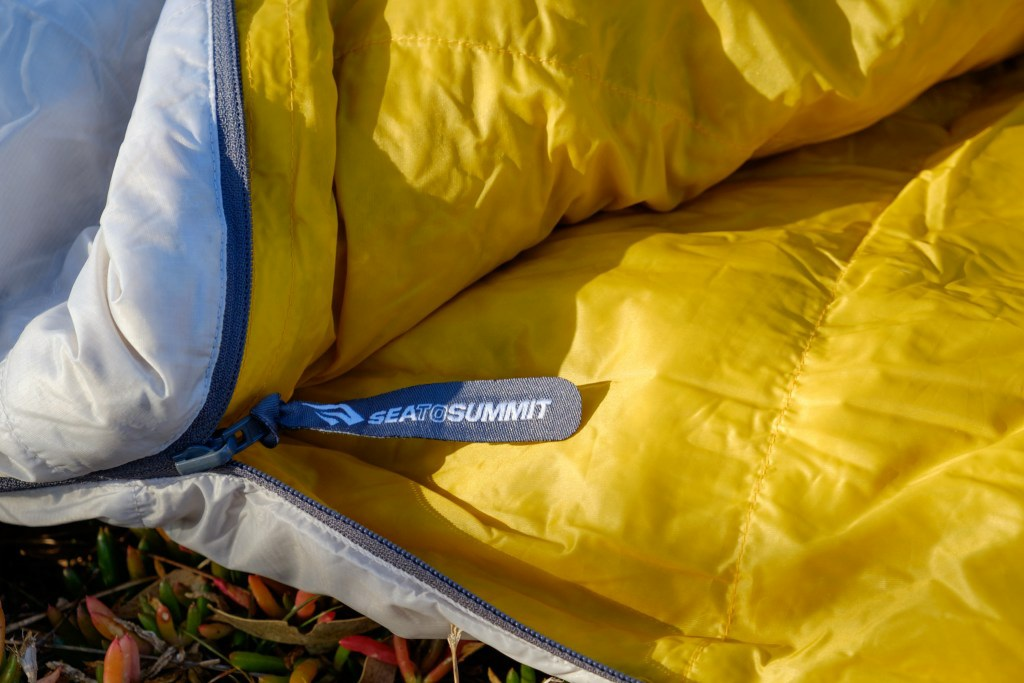 Quality lightweight zipper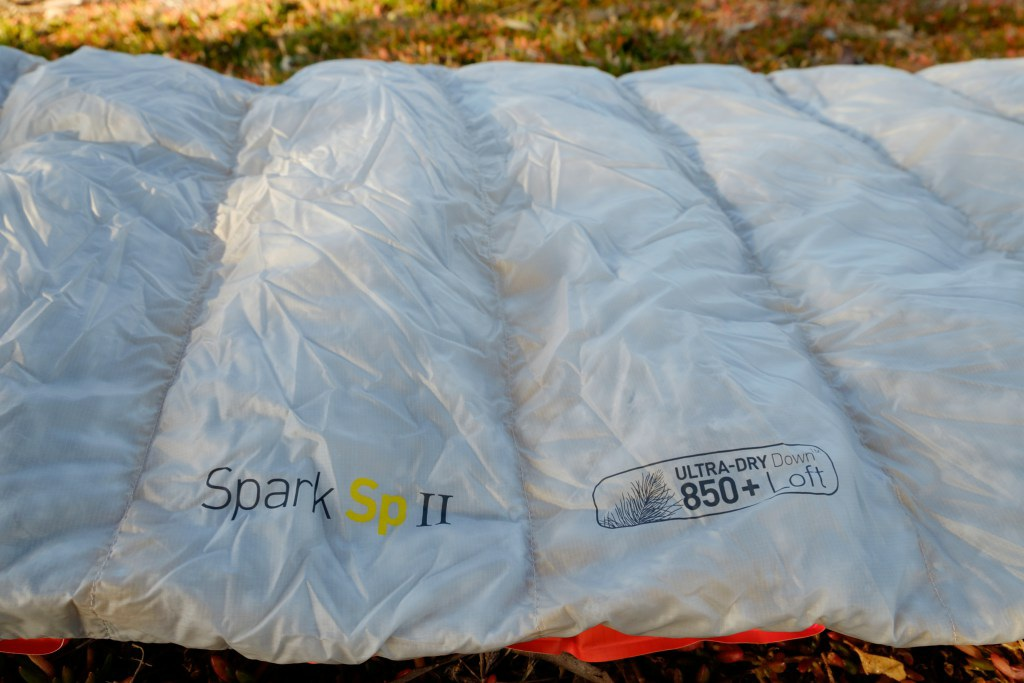 The Spark SP II is all about lightweight, using high performance materials and down. The micro weight shell
although so thin you can see the down through it feels quite tear resistant.

Size
When packed down in its supplied compression bag the Spark Sp II is small, I measured it at about 24cm x
14cm this is only slightly smaller than my Kathmandu down bag but 4°c warmer. I believe the Spark Sp I
compresses down quite a bit smaller if the Sp II is not small enough for your needs but you lose a bit of warmth.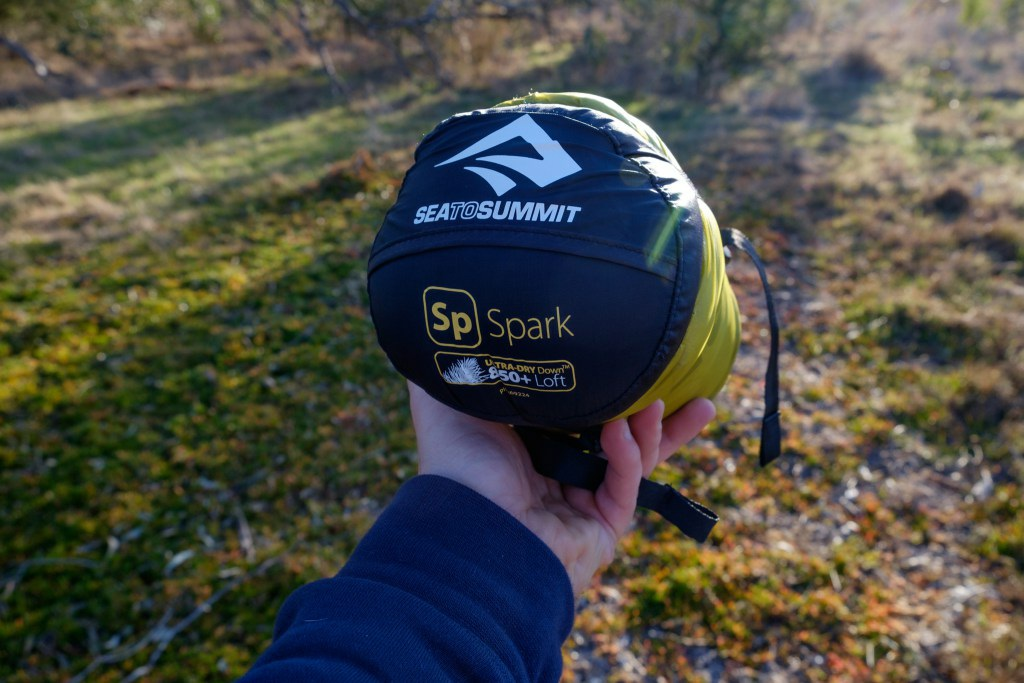 Small enough to easily fit in my hand

The size states for a regular size "up to 183cm tall, chest circumference 146cm, hip 128cm and foot 88cm" I'm
approx 180cm and I have no problem with this bag as far as size is concerned, plenty of room for me.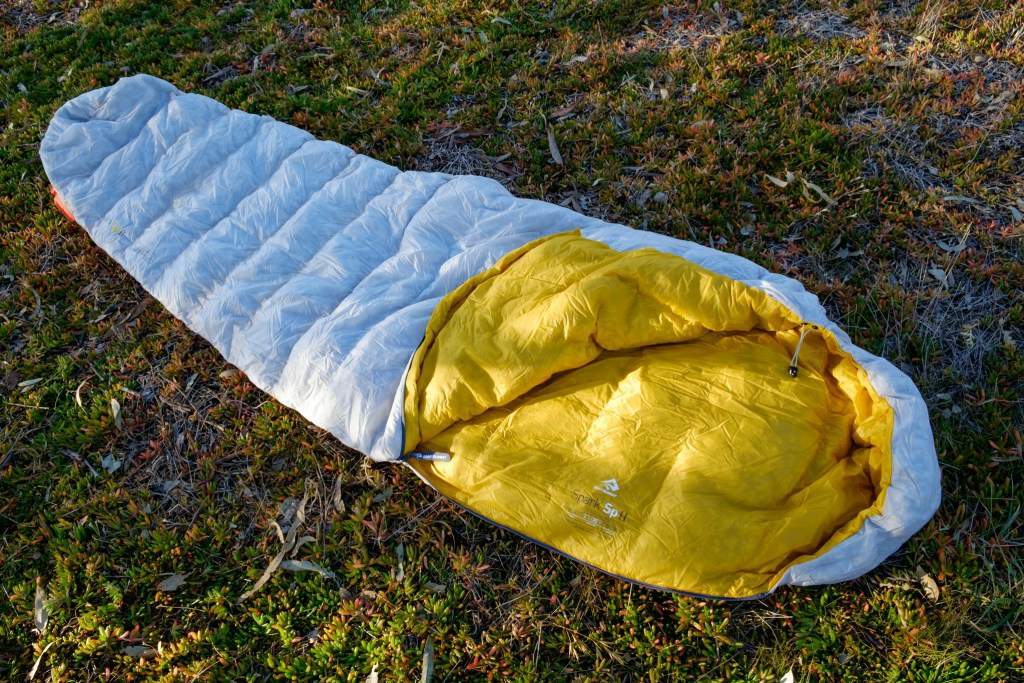 What's it like to use?
So far I've used the Spark Sp II a couple of times, the first night I got it I slept in it on the Sea To Summit
Insulated Ultralight Mat in my lounge room, as you do, and found it to be snug but not restrictive and had a great
night sleep dreaming about actually being outdoors.

The second Time I used it was much more fun, I packed it for an overnighter in the mountains where I rode trails
during the day and stayed overnight to test out of a few items of gear, sleeping bag, tent, sleeping mat to see
how they performed. The night wasn't freezing cold but cold enough that I wore my down jacket, thermals etc to
bed. I had a great night sleep, it was clear this bag is warmer than my Kathmandu bag I've been using for Bike
packing, that extra warmth rating of the Spark Sp II made a difference. I didn't need to use the hood instead just
left open and on top of my clothes that doubled as a pillow, I did however test the hood to see if there was
enough room for me to burrow in If it got really cold, there was plenty of room and the draw cord allows you to
tighten it all up for a snug fit.

Despite the Sp II being quite small in dimensions I honestly didn't notice it, there was enough room for me and I
didn't feel overly restricted when moving.

Something that has bothered me with some bags is the material used to line it. I don't use a liner and I've got
sleeping bags I don't use because I just don't like the feel of the bag, the Spark Sp II however has a lining that is
quite soft, breathable and comfortable, I like it.

I will be using the Spark Sp II for Bike packing, I've packed it in my saddle bag with the gear I would usually use
and it was fine, allowing enough room for spare clothes, nicks, socks, cooking pot and small gas canister. I like to
pack it in my saddle bag rather than up front with my tent etc as the tent gets wet and I'd rather my sleeping bag
stay dry. It uses up about the same amount of space as my previous Kathmandu comet but the Sp II is a warmer
bag and about 150 grams lighter.

Sea to Summit Spark Sp II on the Sea to Summit Ultralight Insulated sleep mat.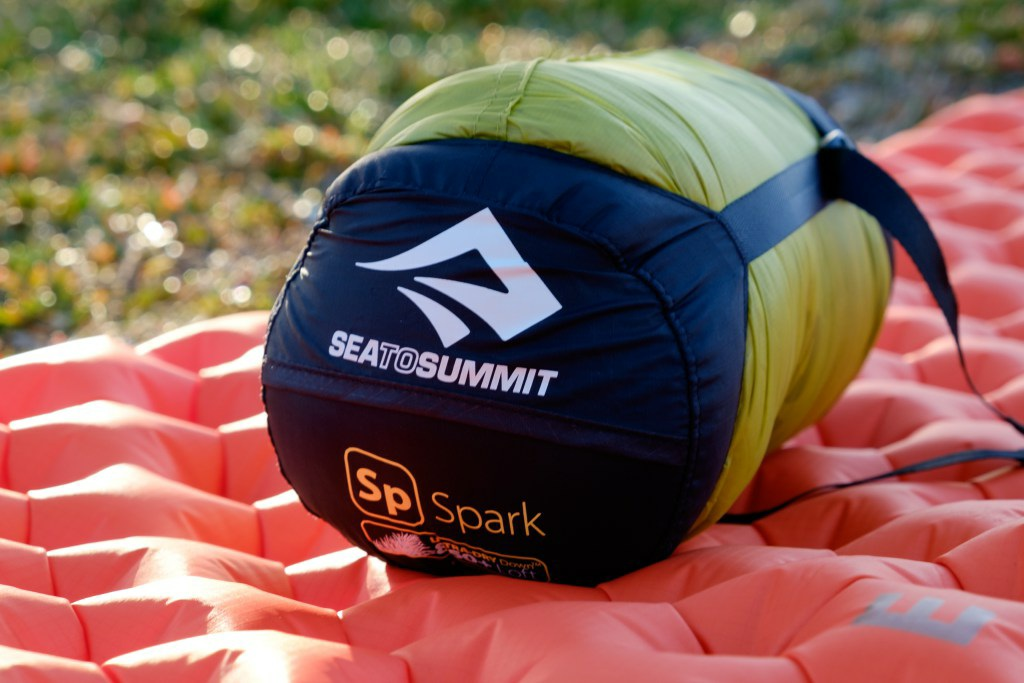 Conclusion
So what do I think of the Sea To Summit Spark Sp II? well I love it! for bike packing which is what I got this bag
for it is going to be fantastic, it's light, packs small, is comfortable and has temperature rating that would suit a lot
of different climates here in Australia I can't wait to use it on more adventures. I think it is a good all rounder for
general hiking, Bike packing and Bike packing races, it would also be great for kayaking trips or any other use
that needs light, small and high performing.

If you are looking for an ultralight sleeping bag the Sea to Summit Spark series bags should be high on your list,
there is three versions with different temperature ratings along with different lengths so It should be quite easy to
find one that suits your needs.
Author;
Daniel Gangur
https://www.instagram.com/gippslandimages/
https://www.facebook.com/gippslandimages/
www.gippslandimages.com.au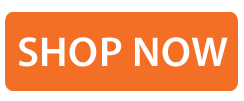 ____________________________________________________________
Check us out on Facebook
Check us out on Instagram
Subscribe to our YouTube channel
---
Leave a comment