If you're here, we seek the same thing - adventure, but at times this desire can carry us into uncomfortable circumstances or dangerous situations. That's why it's essential to pack prepared for the unexpected with a well thought out First Aid Kit.
Getting out into the wilderness is without a doubt one of the best ways to spend your time. Immersing yourself amongst the trees and feeling cleaner air in your lungs. The sounds of wildlife and the faint flow of water distant through wind brushed canopies. The snapping of burning wood as you watch a glowing fire with warm cheeks and questionably hot knees.
Whether you've taken a wrong turn on a sub-zero expedition or a new pair of hiking boots have bullied your heels at a local waterfall, here are the best things to include in an overnight hiking First Aid Kit.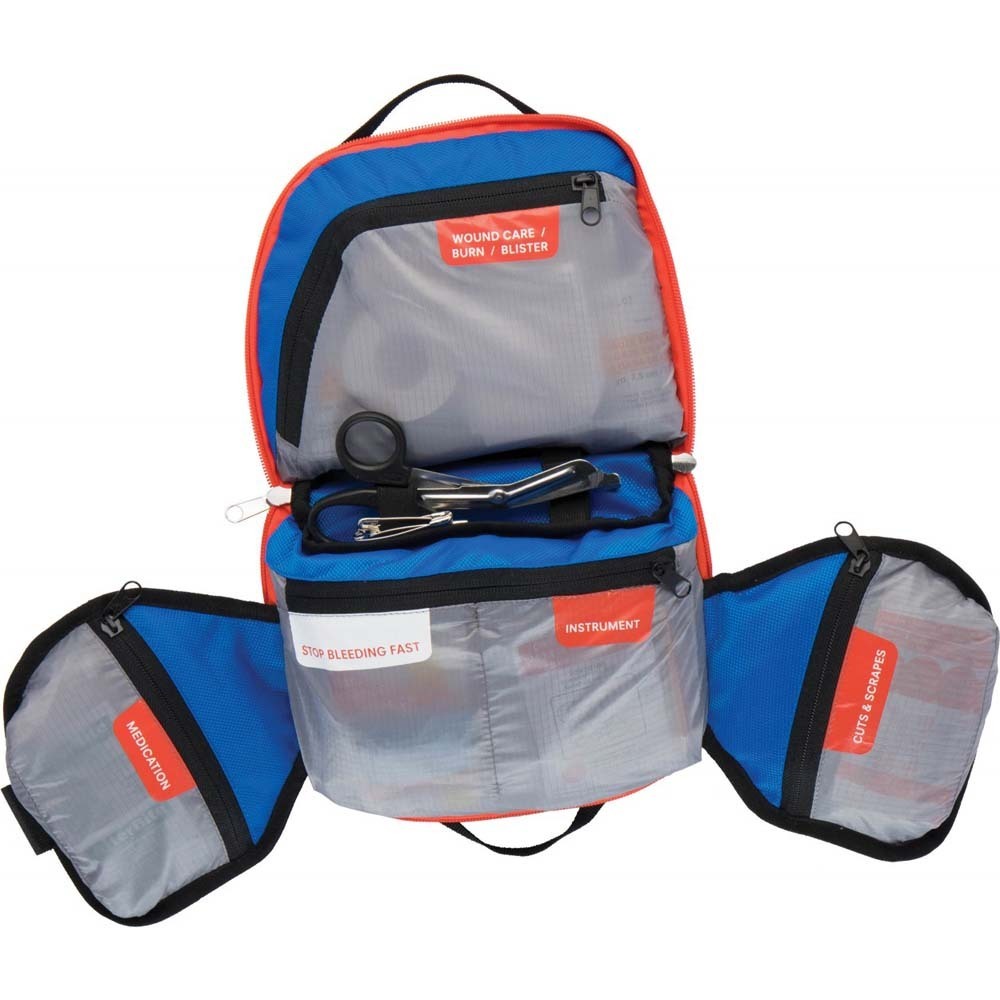 First Aid
Bandaids and Antibacterials
Getting up close and personal with the many limbs of mother nature can leave you looking like you got on the bad side of the neighbour's cat. Brushing up against branches, slipping on sharp rocks, or taking the fast route down a steep section of the down hike, tends to leave its mark.
Having an antibacterial solution and an adhesive patch for your light scratches is essential to ensure you don't make big problems out of small ones. For surface scratches or grazes Medium-sized Bandaids and an antibacterial spray work a treat. For cuts and smaller open wounds try to avoid using alcohol based cleaners and antiseptics like betadine. Instead keep the wound clean with water and light soap (if accessible, you filthy adventures) and keep covered with a clean plaster.
Snake Bandage & Compression Bandages
With the great natural beauty this country has to offer, it comes the dilemma of sharing the landscape with the locals. In this case, snakes. For many, the idea of running into one of these legless friends sends shivers down their spines. Will it get in the tent? Is it in my sleeping bag? Do snakes really fall out of trees onto hikers below? For me personally, the idea of snakes is just one of the many reasons why hiking is better in Winter. But for you sun seekers and heat freaks here are some things to keep in mind.
A snake compression bandage can literally save your life. For how much space it takes up in your carry, a bandage in accessible reach is a must-have when hiking in Australia - as you're aware, home to some of the deadliest snakes in the world. Alongside carrying one of these, take precautionary measures to avoid this nasty scenario, such as stepping on top of logs and rocks before stepping over. Stomping your feet a little harder while walking through long grass, and avoiding overturning or disrupting areas that you think "Might have a snake under." Just don't find out. Oh, and check your sleeping bag before getting in it…
To stay prepared for both snake and spider related emergencies where minimal carry isn't a priority. Take the Companion Snake Bite First Aid Kit for a full arsenal of snake and spider bite equipment.
Tweezers
For removing small debris from grazes and cuts, or impressing your friends with a decent splinter removal, Tweezers can come in handy for a safe and sanitary first aid scenario. As well as keeping your eyebrows on fleek for the selfie at the summit.
Latex Gloves
A pair of rubber gloves is an important part of a good first aid kit. When out in the wild, it's hard to avoid our good friend dirt, gloves keep affected surfaces clean from germs and most importantly lower the risk of cross-contamination from open wounds.
Paracetamol & Ibuprofen
This one is quite simple, you took the adventure to enjoy yourself, so sudden cold symptoms or pesky headaches shouldn't get in the way of that. Remember Paracetamol (Panadol) is great for relieving symptoms of colds - runny nose / sore throat. Ibuprofen (Nurofen) is great for relieving aches, pains, headaches, and joint inflammation.
Insect Bite Ointment
An itchy insect bite is more annoying than the bloke who brought his speaker on the trails. Sort it out.
Antihistamines
Especially during Springtime, immersing yourself in fresh awakening natural flora can be a sensitive noses worst nightmare. Hay Fever can be overlooked at how frustrating it truly is. Red, itchy eyes, blocked noses, and headaches and nausea. Antihistamines are a great way to relieve symptoms when you are so up close and personal to their cause. Even if you don't suffer from hay fever, pack a few for a friend who might have forgotten, that's a real power move.
Gastro tablets
Taking any sort of tummy tablet is a great addition to the First Aid Kit. Being amongst the wilderness we are exposed to germs and bacteria we arent normally. Especially if we find ourselves swimming in natural waterholes, drinking from the wrong stream, eating the wrong bush tucker… Preparing for the worst case scenario saves a lot of unwanted discomfort come the unfortunate situation. Plus, there's only so many times you can use paperbark.
Safety
First aid and safety go hand in hand, packing for both in one secure location can strengthen your emergency plan. Here's some gear that will take your first aid kit to a survivalist level.
Whistle
A whistle is important for attracting the attention of both your group or emergency services in worst-case scenarios. Make sure it is a pealess whistle, as these are one solid piece that holds up better to both the elements and time.
We'd recommend picking up a Fox 40 classic. We could talk it up all we wanted, but with no moving parts to freeze or jam, it's the standard choice for rescue professionals and general safety worldwide. For such little cost, look no further.
Reflective mirror
Similar to the whistle, a reflective mirror can be used for attracting attention in worst-case scenarios. It's very easy to get lost on hikes, for the experienced adventurers diving deep into the wilderness adding a reflective mirror to your navigational equipment can be a useful move (but hopefully not!)
To stay ready for any obstacle, pack the Atka Emergency Signal Mirror. With instructions printed on the back and a safety lanyard included, you can just pack and forget.
Firestarter
Lighters can run out of fuel, matches can get wet, and no one wants to rub sticks together. Packing a fire starter such as a flint and steel or knife spark can be a great emergency solution to ensuring warmth come nightfall. Similarly, it ensures the cooking of the marshmallows you packed before you packed your first aid kit.
The Wolf & Grizzly Fire Set Steel Striker generates 5400°F sparks to get your fire going with ease. Engineered to last 20,000 strikes, it makes the Fire Set more sustainable than matches or lighters. The stackable design nests the striker and ferrocerium rod for safety and portability. A great solution for essential warmth.
Water Purifications
You can't carry water forever, so to ensure natural sources can be of an endless supply, pack either water purification tablets or filters. A filter bottle can also be used to refill your reservoirs to keep you safely hydrated on the move.
Take along the Platypus Metabottle Filter Packable Water Bottle as your everyday hydration to allow you to ensure a safe, drinkable thirst quench from many natural water sources.
Also for extra precaution, include a pack of Katadyn Micropur Forte Water purifiers. Fast and effective water disinfection tablets for clear water. An essential item for any traveller to avoid contaminated water.
Space Blanket
For the cold seekers where temperature can be that of a risk. Pack an emergency thermal blanket. A piece of equipment that utilises body heat to keep you warmer than your layers could. Especially if they're wet… or frozen.
Pick up the AMK Nano Heat Survival Blanket, with it's 80% heat reflective coating on the inside and durable, water repellent coating on the inside, it's a solid product to keep accessible if the situation is ever present.
Ready-to-Go First Aid Kits
If customising your own First aid Kit is not your thing, try getting your hands on a pre-made, ready to go kit. We recommend AMK's First Aid Kits like the Mountain Series Hiker lightweight. AMK provides well made, well packed First Aid Kits for varying group sizes (I.e. 2 person 2 days.) A good option for someone wanting to quickly and efficiently pack to prepare for emergency situations.
Major Emergency
In case of a major emergency, there is one piece of equipment we recommend you keep space in your First Aid Kit or dare I say prioritise -
Chocolate
This piece of gear can hold you up in times of hardship, in the depths of any expedition. In the worst of weather, or on the most treacherous traverse, we recommend any.
Hopefully, you're ready to stay safe on your next trip! If you want to check out some more of our safety and survival products, come in store and see our wide range. If you have any questions or would like to chat with our experts about staying safe in the wilderness, shoot us a message online.
Remember just because you might be taking a holiday, doesn't mean safety should too!
See you outdoors!