FIELD NOTES - Date: Tuesday 23 May 2023 / Location: Borgarnes - South/West Iceland

So, I've found myself in the direct path of an Icelandic "Code Yellow" blizzard. Being late May, it is meant to be the beginning of Summer but the conditions and temperature says otherwise. My mode of transport, my trusty longboard and my refuge in the form of a one-person tent. I'm prepared for Iceland's Summer but now I needed to put my faith in my gear to prevail through these wintery conditions.
Okay so at this point you might be wondering what an obscure set of circumstances to find oneself in?.. in Iceland during an Arctic-like blizzard on a skateboard!? Why!? Well, let me rewind just a little to give you some context…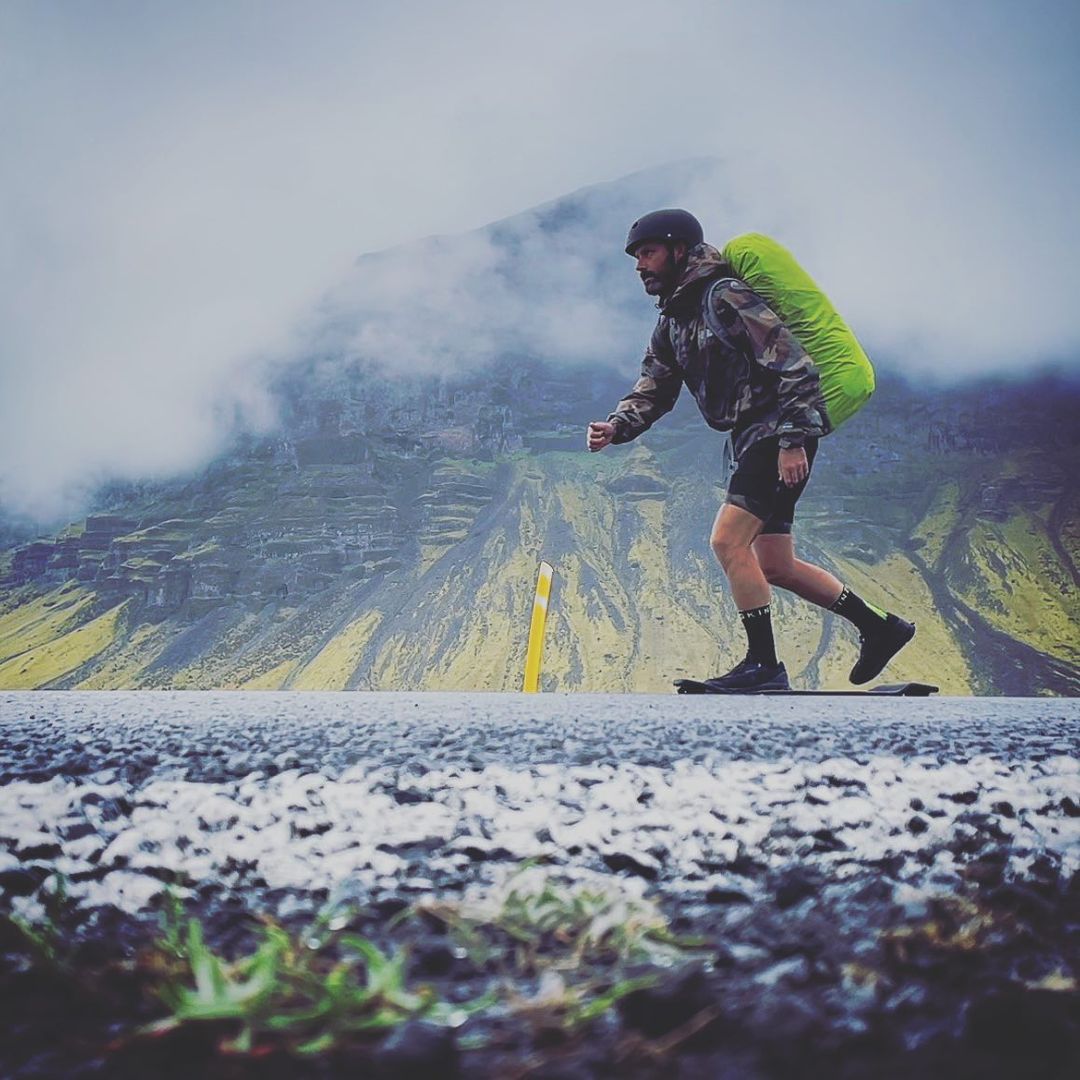 Photo Credit: @skatingforchange
I was 3 days into a monumental attempt to be the 5th person to ever skateboard the entire distance around Iceland. Just a casual 1330kms and part of a bigger picture life path I have recently taken of doing good in the world whilst living out some epic adventures. This challenge was centred on fundraising and raising awareness around the abhorrent whaling industry in Iceland. Doing the trip solo, I had given myself no more than 40 days to complete the expedition. Leaving from the country's most iconic church, Hallgrimskirkja in the city centre of the capital, Reykjavik. Oh and did I mention, I was also lugging my Deuter Aircontact Ultra 50+5L pack, camera gear and all the essentials needed to keep me safe in this inhospitable landscape. So there I was, staring down the face of an intense weather system and needing to get myself and all my gear to some form of safety and shelter.
The warning for the blizzard had been issued throughout the night which inconveniently coincided with my first night in the tent. The effects of the blizzard became very apparent during the night and early morning. Blistering wind gusts of up to 140km/hr were ripping their way through the valleys between the giant snow-capped mountains of Mount Esja and hitting harrrd, repeatedly bending my tent in on itself. For those who don't know Iceland, there are next to no trees so finding a wind buffer was incredibly difficult. I had positioned my tent on the other side of a small grassy knoll but there was no hiding from this. Rest assured I did not get much sleep that night.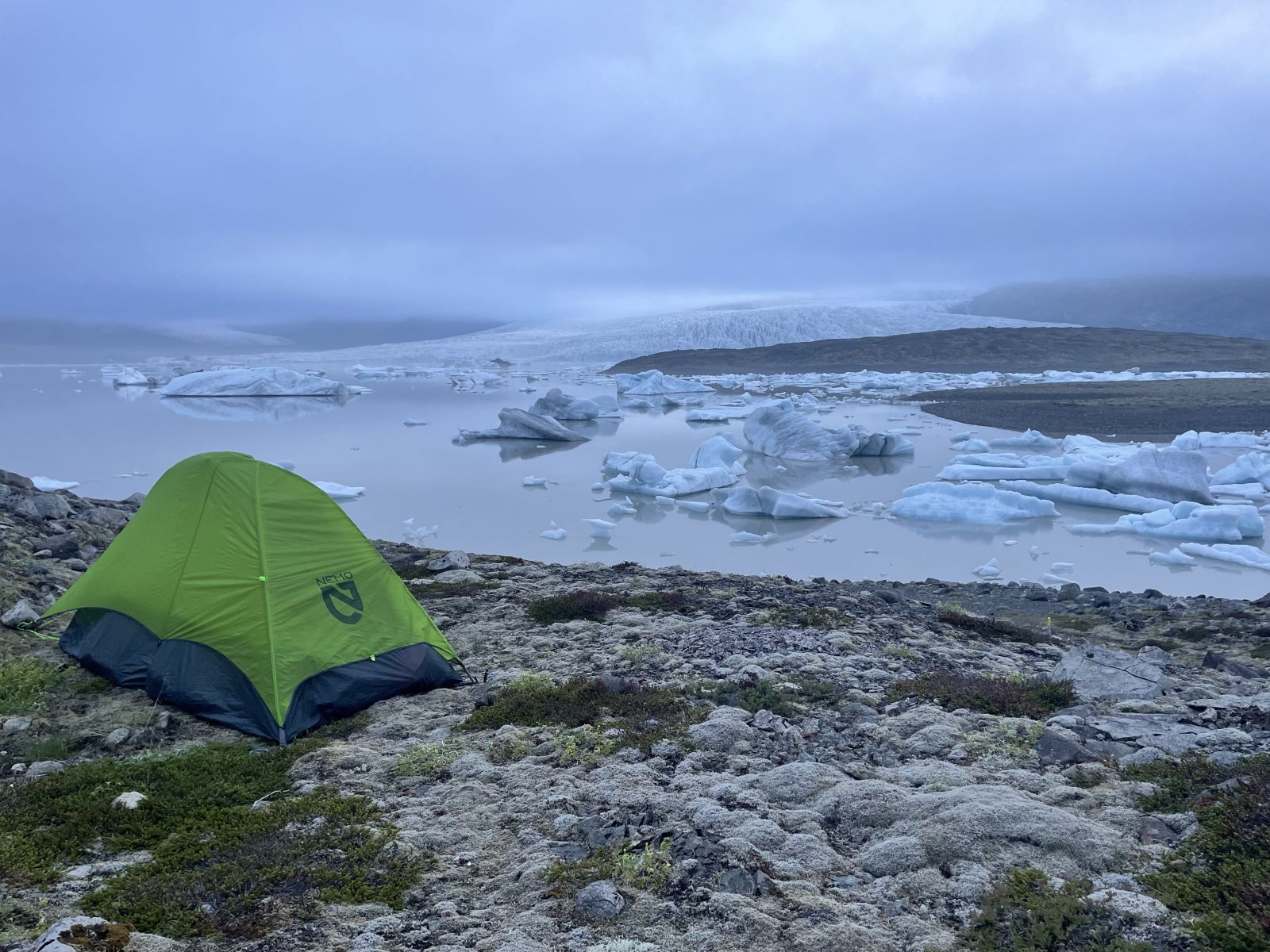 Photo Credit: @skatingforchange
To make matters worse the intense conditions I had experienced throughout the night were just the beginning. The encroaching storm that had generated off the frigid waters of Greenland was now due to peak mid-morning and as much as I had faith in my tent I did not want to risk damaging it beyond repair so early on in my expedition. So I had to make a quick (and relatively easy) decision to seek out a more substantial shelter at the nearest accommodation several kilometres down the road. The only problem was I had to pack down in the middle of a raging storm, skate my board and 30kg of semi-wet gear while not getting blown off the road and into an abyss.
One could be forgiven for really feeling the grip of loneliness and despair in such a situation. But as much as I was alone, at the same time I also wasn't. My longboard, aptly known as "Loki" and yes, named after the Viking God of Mischief was with me every "push" of the way. He became not only an inanimate object but also a loyal friend out on the road. As you can tell it got pretty lonely 10hrs a day skating along a road. And yes maybe I had already lost my sanity but we had made a pact… to keep each other safe. And on this particular day, I was grateful for the reliability and stability Loki gave me even when the most ferocious winds whipped up. Not without a struggle I did eventually arrive at the accommodation, to the staff's shock, saturated and miserable and with enough gear to fill up the foyer. Which leads me to exactly that, my gear.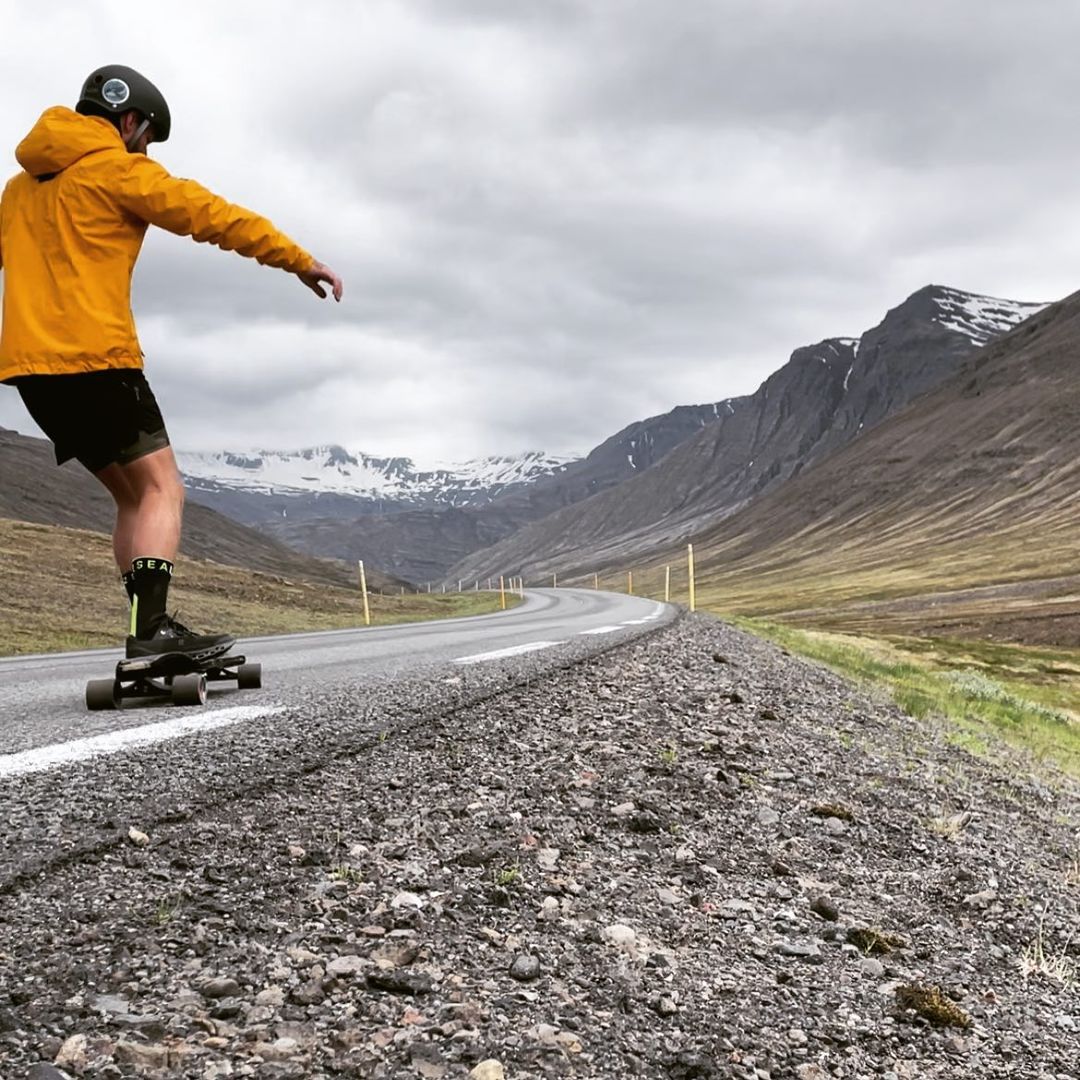 Photo Credit: @skatingforchange
Picking out the right gear and listening to experienced staff at Wild Earth Australia played a pivotal role in ensuring I stayed safe and somewhat comfortable throughout my expedition. In Iceland, the wind and rain have a habit of penetrating from all directions most days and can really expose you to the elements if your gear fails you. So staying dry isn't only a priority but also a matter of life and death. For this reason, the quality of my gear played a much bigger role than I had anticipated and this became more apparent as the trip went on. This was day 3… And the days that followed made it look like a stroll in the park.
Here is a list of some of the key pieces of gear that played a role in my trip.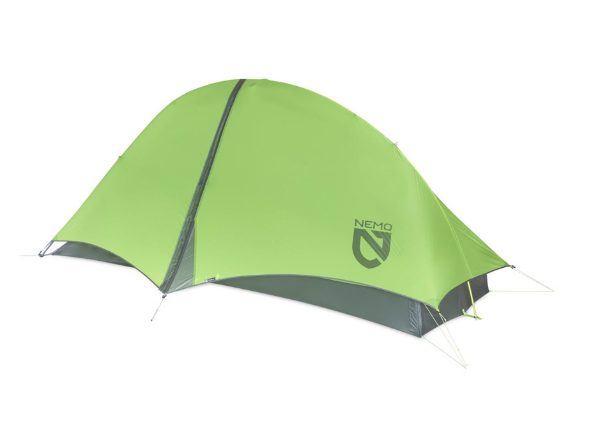 An essential piece of gear for my expedition that kept me safe throughout the journey was the Nemo Hornet 1 Person Tent. Weighing only 905g, it was super lightweight and packed down to 50cm x 12cm, perfect since I was carrying it along with all of my other gear for along the way. The strong DAC Featherlite poles and the premium 10D Nylon Ripstop fly were key features to ensure I endured the unpredictable and harsh Iceland climate.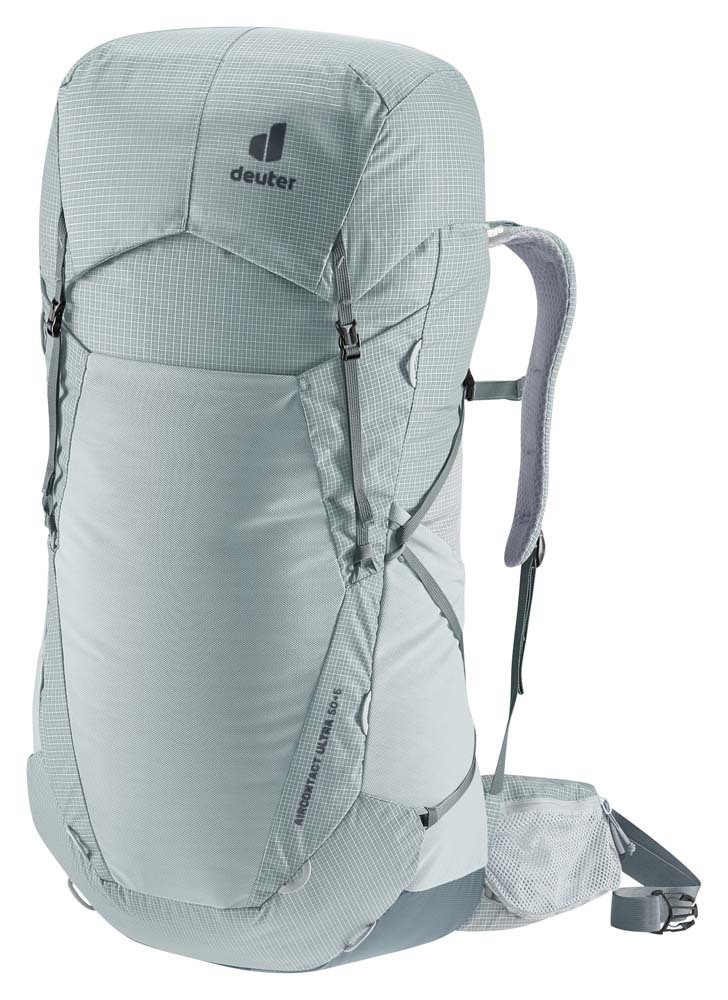 The pack that carried everything I needed for 6 weeks and 1400kms was the Deuter Aircontact Ultra 50+5 Hiking Backpack. It is designed to shed any necessary extra weight and only features the essentials, however, it does not spare comfort. The ripstop fabric is made to endure long-distance trips and inside there is an inner compartment to store dirty clothes or a water bladder. The lid comes off and can double as a daypack for side trips too.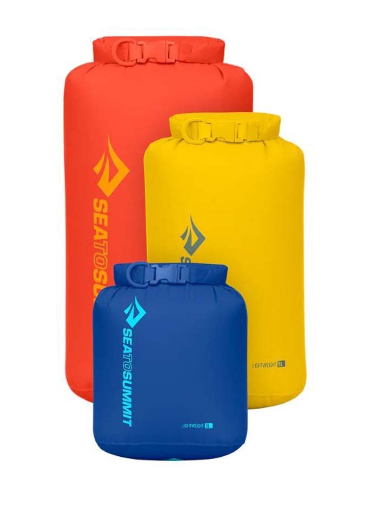 A fairly small but incredibly important piece of gear for my trip was dry sacks and I took the Sea to Summit Lightweight Dry Bag - 3-Piece Set (3, 5, 8L) with me. They were great for organising my pack into electronics, dry clothes and wet clothes too as they are waterproof.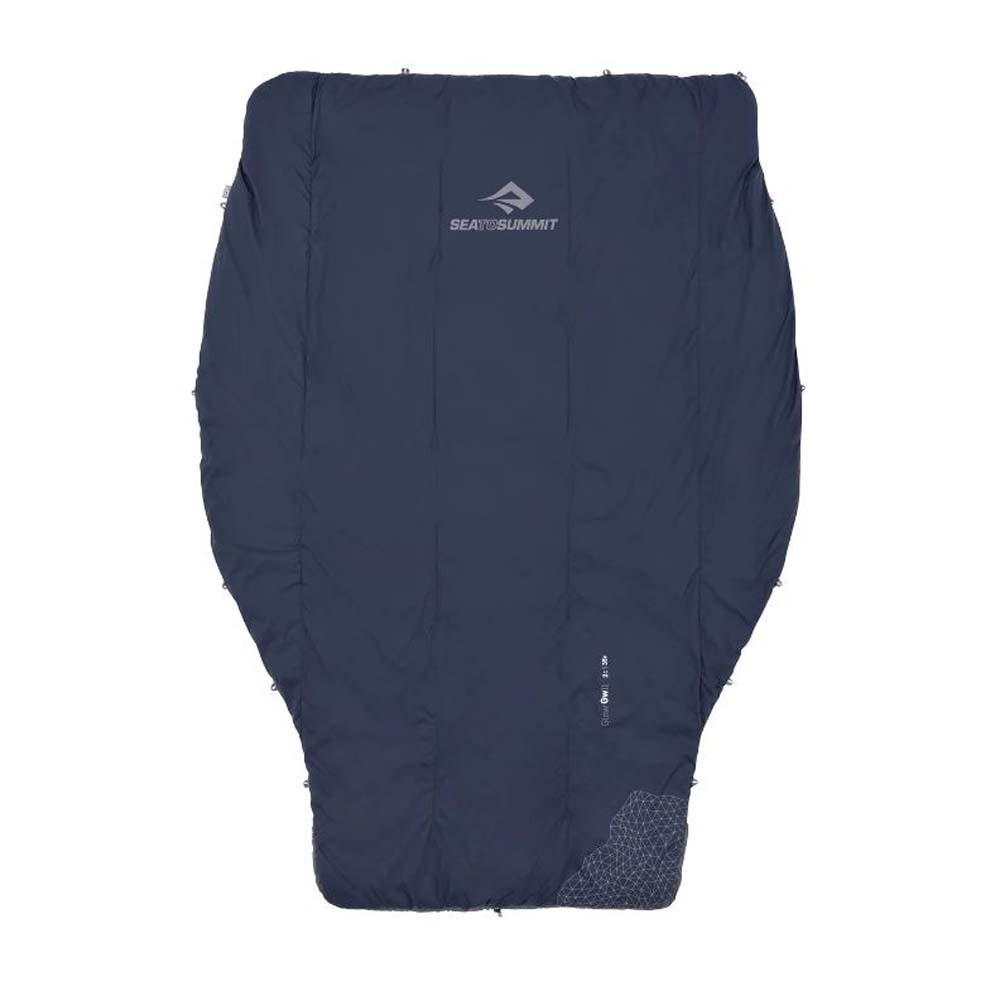 Every gram counted when I was considering my gear options, so instead of a sleeping bag, I opted for a quilt and chose the Sea To Summit Glow GwII Synthetic Quilt. It was a great alternative to keep the weight down and because it is 100% synthetic insulation, it is designed to stay warm even in damp conditions.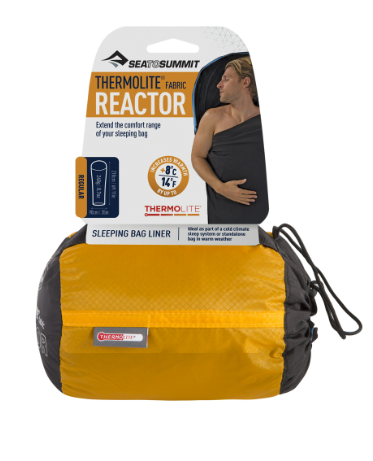 To pair with my Sea to Summit quilt, I also had the Sea to Summit Thermolite Sleeping Liner for extra warmth. The Standard Liner can add up to 8 degrees Celcius and the Extreme Liner can add up to an extra 14 degrees Celcius of warmth. The liners are super soft and comfortable and they also keep your sleeping bag or quilt nice and clean too.
Choosing the right gear can make or break an adventure! Visit us in-store to chat with our experts or shoot us a message online if you have any questions! Don't forget to share your adventures with us on Instagram by tagging @wildearthaustralia and #mywildearth in your next post.
About the contributor:
Duncan Roberts is a Wild Earth Ambassador and purposeful adventurer. The Fingal Head local combines his love for travel and adventure with his passion for charity work and awareness advocating. Often seeing him travel to obscure and cold corners of the globe to complete random adventures. Follow his journey on Instagram.