Planning to walk the Camino De Santiago this year? It could be the best decision you ever make.

Read on for a brief rundown followed by a list of everything you need to know before you set off on this potentially life-changing adventure.

The Camino De Santiago is one of the world's most famous pilgrimages. Beginning centuries ago, you started the pilgrimage where you lived but over time key routes have emerged. The Camino Frances or the Way of St. James has claimed the top spot as the most popular due to its infrastructure and variety of landscapes, villages and historical sites you can pass through. It begins just across the border, in the French town of Saint Jean Pied de Port and makes its way almost 800km across Spain to Santiago de Compostela in Galicia.

A note for the avid tourist avoiders among us: Before you write off the Camino Frances and look for a less popular route, I'd urge you to reconsider. Following many conversations with serial pilgrims, as well as hiking some sections of the other routes, it's clear that the St. James Way is the route that truly captures the spirit of the Camino. Its popularity means that many places on the route try to make things extra special, prioritising community and connection—not to mention that many Albergues are set up by people who walked the way and never left. I'm not saying don't do the other routes, just start with this one so you can bring the spirit with you to the next.

Why Walk the Camino?
It's said that the Camino is made up of three parts—physical, mental and spiritual. First off, your body needs to adjust to the shock of carrying a pack over long distances. Kicking off with the hardest section on day one with a tough walk up and over the Pyrenees to Roncesvalles. You wake up with pains in places you never knew existed. To minimise the struggle, a light backpack with minimal gear is key, you'll be thanking yourself later.

Once you get the hang of the whole walking thing, you'll be moving into the Meseta, the space between Burgos and Leon. This is an underwhelming flat area that seems to last for an eternity. Many people skip this entirely but to me, it was worth every step. During this phase, existential questions may begin to creep into your mind like, 'What am I doing with my life? and 'Why don't I have the willpower to resist eating a slab of tortilla at every pit stop' among other things.

Then finally, comes the spiritual part (*disclaimer, I'm agnostic. I'm partial to a bit of 'woo woo' but this was certainly more than usual towards the end of the Camino). I could share a heap of examples but for now, I'll leave you with only one. I found myself sitting in a small, cool and damp-smelling old church in Galicia to rest my legs. A small choir began to sing. All of sudden I felt this strange feeling of overwhelm… which turned to intense joy…as tears filled my eyes, I felt embarrassed. I looked around at a few other lost lambs who appeared to be in the same state. Was it the Holy Spirit or just the fatigue getting to us? You'll have to see for yourself.

Not religious or searching to 'find yourself'? That's ok. You're still allowed. This walk is for anyone interested in history, culture, food, nature, or the human experience in general. What better way to see a country than to walk through it? And what better way to meet people from all different cultures and walks of life than to trudge alongside them in a beautiful shared experience? I made deep connections on the walk, many of whom I'm still friends with now four years later.

When to go and where to start?
You can minimise the number of pilgrims on route by starting your journey in the shoulder seasons from April/May to Sept/Oct. It's way too hot and busy in the summer for an enjoyable walk. I started on September 9th from St Jean Pied de Port and it was perfection.

To get to St. Jean Pied de Port, it's best to fly into Bayonne, a beautiful French town which has a direct train to St. Jean that takes around one hour for approximately 10 euros. Grab a window seat as the views are stunning.

What to pack for the Camino De Santiago?
The best piece of advice I received before I set off was to carry 10% of my body weight at a maximum. I walked with my laptop in my bag, so every gram counted. The lighter you can get your pack, the more enjoyable the walk will be for you! Here's an in-depth ultralight packing guide for the Camino de Santiago.

HIKING SHOES
Arguably, the most important item on this list. Whether you go for trail runners or hiking boots, they need to be well worn in (duh!). Make sure you've walked at least 25km in one sitting so you can get a true feeling if there are any hot spots or problem areas. I'm a fan of lightweight shoes so ditch the clunky leather boots because that's extra weight you'll be lugging around.
I'm obsessed with The North Face FastPack Hiking Boot, with the Vectiv being the newer version. I've walked 1,000's of km in them across all different terrain and they've never let me down. I like them because they can pass as a relatively trendy shoe to wear in the city as well as on the trails and if you're planning on travelling long term.
Other lightweight shoes that would work well are these two but you can pretty much go for anything that fits you well and is semi-waterproof, light and sturdy in design.
HIKING SANDALS (FOR DOWNTIME)
You'll need a pair of lightweight sandals to give your feet a break in between days on the trail. Ensure these are a pair that you can hike in, just in case you have issues with your shoes and blisters along the way. My number one choice for lightweight sandal that can handle hiking long distances in comfort is the Teva original. It's fast-drying if you need to get it wet. If you have any issues with your knees, hips or feet (especially plantar fasciitis) then the OOFOS recovery sandals is a no-brainer. These will give you the best chance of completing your journey.
BACKPACK
Unless you have plans to camp as well, you shouldn't be needing a bigger pack than 28-30L. If you'll be camping where you can, a 40-50L pack will have you covered. Here are a few options:
LINER / SLEEPING BAG
A light-weight sleeping liner is a non negotiable - albergues often don't provide sheets and have been known to have bedbugs. This silk liner will ensure a great night sleep while protecting from any mozzies or bugs that may be present.
If you're travelling during the shoulder seasons (Sept/Oct, Apr/Jun) it's important to bring something a little thicker like a lightweight sleeping bag as some albergues don't have blankets!
ULTRALIGHT DOWN JACKET
Be prepared for cold weather, particularly in the north and layer up with a good down jacket. I wear the Mac-In-A-Sac Polar Down Jacket as it's lightweight and reversible but the North Face Stretch down clouds also be a good option.
BUM BAG / HIP BELT
Great for carrying essentials like mobile phone, wallet, passport/ credencial. Easy access & simple to carry with you at all times. This can sit easily on your front while your backpack sits on the back while you hike (side pockets are often small and inconvenient to access). It also means there's no need to lug your backpack around after you've found your place for the night.
LIGHTWEIGHT TRAVEL TOWEL
A lightweight travel towel is a must. It may feel a bit like a glasses cleaner but it's going to do the job and dry quickly so you're not lugging around any damp-smelling dead weight. I swear by my Matador NanoDry Trek Towel. The also the Sea To Summit DryLite is also super popular.


LIGHTWEIGHT & BREATHABLE RAIN JACKET
Weather can change at any time and the further north you head, the more likely it is that you'll experience a few days of rain. It's best to be prepared with a rain jacket that's still got a high breathability rating for comfort. You don't want to feel like you're wearing a plastic bag.
THERMALS
Lightweight thermals are a great way to ensure warmth during the night as the seasons change or if you experience a sudden drop in temps while on your way. The Icebreaker Marino 260 are a staff favourite. Made from marino wool, they are super durable, anti-odour and need minimal washing. Perfect to wear as pjs or as a top during the day if the mornings are a little chilly.
FIRST AID KIT
Injuries happen and the more prepared you are the better. A first aid kit is essential for getting you through, and being able to help others in need along the road is a bonus. Adventure Medical Kits 7 gram contains the essentials but there are a few additions you'll be glad you made.
HYDRATION
There are a few options to keep you hydrated on the way. At a minimum you should be carrying around 2 litres of water however, there are fountains and regular places to refill all along the route. A hydration bladder can be a good option as this will prevent you from having to make unnecessary stops to get your bottle out of your bag. A mix of 500ml soft bottles and a Nalgene would be my second choice - particularly if you're carrying any camera gear or a laptop in your bag that you're concerned may get wet. A laptop will be best placed in the bladder pocket anyway.
LIGHTWEIGHT FLEECE
Even if you're planning to walk in summer, it's wise to pack an ultralight fleece just in case you experience some unusual weather. The North Face TKA Glacier is a great option. It packs down small and is ultralight, weighing in at around 230 grams.


ULTRALIGHT RUNNING SHORTS
A good pair of running shorts are essential. They will barely feel like you have anything on and are super comfortable. The lightweight, quick dry material means that you can wash them in the evening and they'll be dry by morning. I took 1 pair of shorts with me for this trip as a second pair simply wasn't necessary. If you're looking for a second pair, The North Face Movmynt 5 Tight Shorts for women can be a great option, or the Salomon Agile Running Shorts for men.
RUNNING T-SHIRTS
Gearing up with a couple of lightweight and quick dry tees or tank tops will help keep you cool while walking. They will also dry overnight if you need to wash them. I recommend taking 2 so you can wear one in the day and wash it in the evening and then continue to swap them out each day. Tank tops with a slightly thicker sleeve over the shoulder work great for this as they stay fresher for longer, with no material against the underarms. It's important however, to keep in mind that you don't want your backpack running on the skin directly as this can cause chafing.
CLOTHES FOR DOWNTIME IN TOWN
You'll want to pack an outfit for when you hit the town after a shower and a quick rest. Some ultralight pants and a basic lightweight top should do the trick.


BAGGIE TEE TO SLEEP IN
PJs are necessary if you're in communal lodgings but to avoid extra bulk I usually wear one of my running shorts or my thermal bottoms and a baggy tee to bed. The Patagonia P6 Logo Tee is perfect for this. Its thick cotton is cool when hot and hot when cool - temp regulated. You can also wear it while hiking!
SOCKS & UNDIES
You can get by with only two pairs of socks and undies (three at a max). This allows you to wear one and wash one each day to dry overnight and it saves you lugging around a bunch of dirty ones. Socks usually don't get much thought but you'd be surprised of the impact a decent pair can have on your walking experience. I swear by Injinji toe socks (they're amazing if you're blister prone!) and Icebreaker socks for long hikes. For undies, my number one choice are the quickdrying and odour resistant Icebreaker underwear. These are all lightweight, mega comfortable and fast drying.


BUCKET HAT & BEANIE
With the changing weather, it's important to bring both sun protection in the form of a durable bucket hat along with a beanie for those crisp mornings and colder days up north. My trusty steeds were from The North Face but any brand on the site will do the job.
TREKKING POLES
Hiking poles are often overlooked, especially by younger people… this is a mistake. Trekking poles provide increased stability and help take some of the weight off. Honestly, I didn't use mine much but they were helpful to have on days where I was particularly achy and I have no doubt that reducing the impact on my joints when they needed it helped me make it to the end. I often lent them to some of the people who were struggling along the way which is in the spirit of the camino! These Vipole Approach Hiking poles are foldable and super lightweight at just over 200 grams - you'll hardly notice them.
ESSENTIAL ACCESSORIES
If you're sleeping in the albergues, you'll 100% need some decent earplugs and eye patches. TRUST ME. Other useful items include sunscreen, a carabiner to link shoes or a water bottle too, swimmers for Finisterre or any rivers along the way that take your fancy. A drysack is also a great addition as you can take your clothes, toiletries and valuables into the shower without them getting wet!
SNACKS


ADDITIONAL ITEMS FOR CAMPERS


USEFUL APPS TO DOWNLOAD
Download apps with the route just in case you get lost. I used the Wise Pilgrim App on my recent Northern Route and it was a great help. It included listings for albergues, pensiones and casa rurales which indicate the availability of services such as laundry, meals or wifi.
Thinking that the Camino de Santiago will be your next thru-hike? Grab your own Camino de Santiago Packing Checklist HERE.
BUEN CAMINO! I hope this article has been helpful. If you're still not sure what gear you need for your Camino de Santiago adventure, chat to our friendly team of Outdoor Gear Specialists in-store or online today and don't forget to share your adventures with us on Instagram by tagging @wildearthaustralia and #mywildearth in your next post.
About the contributor: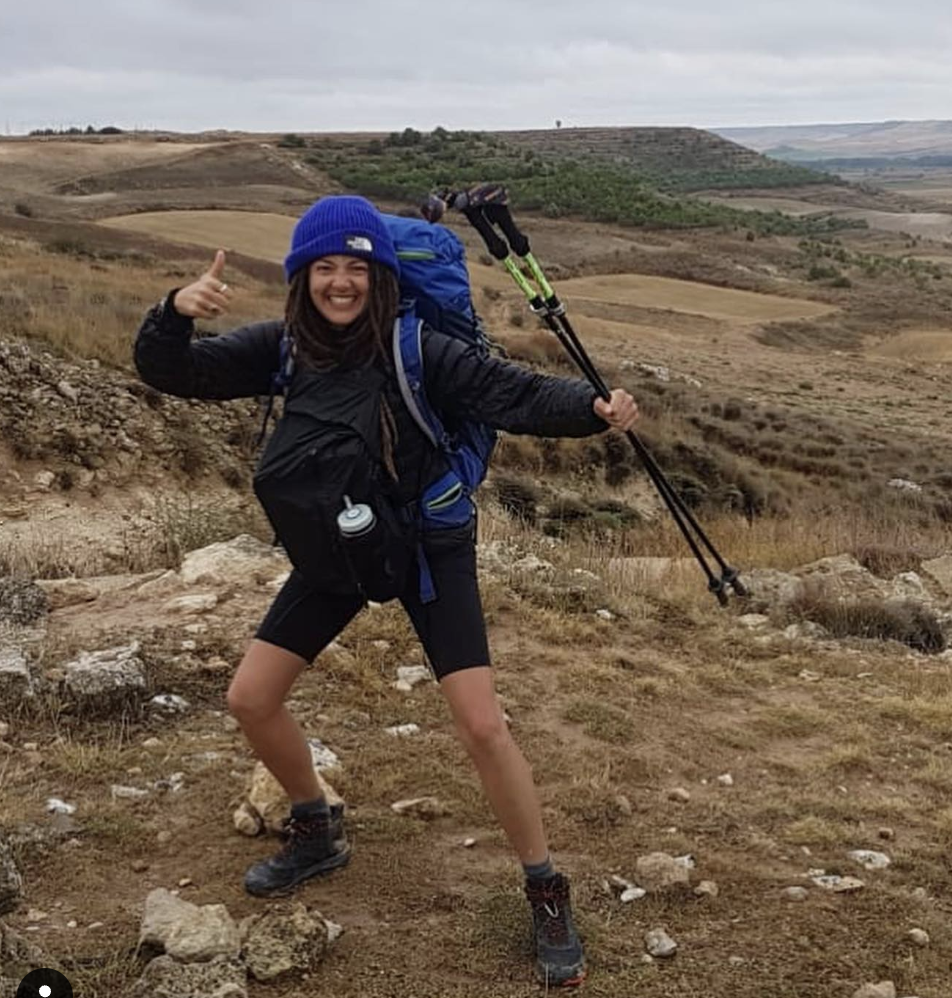 Lauren Clark is the social media manager for Wild Earth. An obsessive gram counter who's always on the hunt for the lightest and most compact gear for hiking and travel. You'll find her overseas in one country or another attempting digital nomad life. When she's not working she's taking in as much culture as she can, eating all of the foods, hiking all of the trails and trying to find people to belay for her. Follow her adventures on Instagram.