Choosing the Right Backpack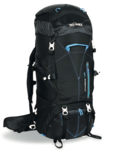 Rucksacks, Backpacks, Daypacks, Hydration Packs and Drypacks - which one is right for you? There is a wide selection of very good backpacks to choose from, so it is important that you know what you are looking for and have an idea of how you are going to use it.
Backpack / Rucksack Selection and Fitting Guide

Choosing the right Backpack or Rucksack:
There is a wide selection of very good backpacks to choose from, so it is important that you know what you are looking for and have an idea of the kind of trips that you will be doing for a few years. Because depending on how long you go for, and the climate of the place you are going to, will determine how big the bag is that you require and what features you will need with the bag.

Materials
For Australian conditions the backpack material will be required to withstand harsh elements, so durable, strong and water resistant qualities are extremely important. Some common fabrics used are synthetics (e.g. cordura) and some canvases.
Full synthetics are lighter, stronger and more abrasion resistant than canvas. Canvas bags are heavier, particularly when they get wet, but are very effective against water penetration due to the water induced swelling of the individual fabric fibres.
But it doesn't really matter how waterproof the material is, because no backpack can be fully waterproof, unless it is purposely built for that application. For normal use we recommend waterproof pack liners for your travel.

Backpack size
Your backpack volume is measured in litres, some people that have large packs tend to want to pack their bag to it's full extent and take more than is needed for their purpose. However if do you end up extending your trip it is better to go with a larger capacity pack, as this alleviates the need for you to strap your gear to the outside of the pack. The quality and brand of bag will determine how accurate they are when measuring the volume of their backpacks. A lot of packs have an extendable throat that can increase the volume of a bag by up to 10 extra litres.

Volumes and uses
Up to 30L: good for day walking.
30L -50L: good for a 1-2 day trip or for smaller people.
50L- 65L: good for up to 3 days of camping.
65L- 85L: can be used for up to 6 days of overnight camping.
85L+: Long treks lasting over a week or more.
Backpack features
Loading options
A lot of backpacks are "top loaders," where all your gear is fed in from the top of the main compartment. So it does require some thought when packing the bag, as you want to keep the quick-access items close to the top. Some of the newer packs are now providing zips in the body of the bag so you can also get to the main compartment with all your gear in it without pulling it all out through the top.
Hip belt and padding
This is an important part of a pack; it helps with comfort while carrying heavy loads. A good backpack will disperse the main load down to your hip belt evenly. Some brands offer interchangeable belts for a more customised fit. There should also be some support and padding to your lower back.
Pockets/storage:
Many packs offer lid pockets for essential and easily accessible items like a head torch / compass. Good packs also offer side pockets to carry drink bottles and they have even started making hip pockets on hip belts for easy access to things like cameras or snacks.
Extras:
Depending on the activity in which you are partaking will determine what extras you need. They can range from Ice axe holders to walking pole storage or even just having enough attachment points to put anything to the outside of the pack if needed.
Fitting backpacks
It is important to get this right; you must fit a backpack up to suit your body. A pack that is short will ride up around your waist while a pack that is too long will have badly fitting shoulder straps causing a gap between your back and the pack. When trying on the pack always do the hip belt up first so it fits firmly on your hips, and then adjust the shoulder straps to bring the bag to your body so it conforms nicely around your shoulders. It is always best to try these packs on in store with some weight in them and walk around for a while so you get a feeling about how the bag is going to perform.
If you are trying to fit a pack at home have a look at this video to help you with the fine adjustments:
http://www.youtube.com/watch?v=X258hs7HHaw&list=PL53D0F71A7A0C95BD
Some brands offer female specific fits, as women are shaped differently to men and may need it to be more customisable ie shorter torso, wider hip belt and narrower shoulder span, this customisation is very good for choosing a bag that fits you best. However everyone is different so the best thing to do is to choose the pack in which you feel most comfortable.
Please note that the manufacturers use general terms to identify their packs like small, medium and large so you should look at each packs specifications to find the actual scale they use.
Choosing the right backpack and making sure it fits correctly can be a tricky business. If you would like some help with your selection, please don't hesitate to contact our friendly Customer Service Team on Ph: (07) 5593 4180 or you can email them at service@wildearth.com.au