Getting a good night sleep is essential while sleeping under the stars. Whether it be to prepare for an early morning hike, or recover from a completed trek that day, it's important to make sure you're equipped to sleep well and sleep warm this winter.
Picking the right sleeping bag can be an overwhelming experience with so many things to consider. What Shape? What temperature rating? What fill? We understand this can be a lot to think about, especially when your precious sleep is at stake. So we've made it easier for you by breaking down some important things to keep in mind, as well as giving you our recommendations for the best winter sleeping bags of 2021, to help you on your way to a better night sleep!
It's important to plan ahead, especially when buying a sleeping bag. Matching an average temperature you'll find yourself camping in with your future bags temperature rating, is a solid safety net in staying warm outdoors. If you're heading into the cold, here are a couple we find to be a great option
Sea to Summit Flame 2
Ultra-light and technical, the Flame Series bags are designed to keep you as warm as possible while minimising packed weight and size. The Flame Series spans everything from an ultralight liner to an expedition weight mid-winter bag. Due to a combination of premium materials and careful design, this bag is a perfect balance between quality, warmth and lightweight. The RDS 850+ Loft premium goose down, light-gauge #3 YKK zip and high performance 10D Nylon shell set the stage for superior performance. These materials are combined with a contoured mummy design for efficient insulation, and that mummy design is then tweaked for each model to best fit the use scenario. The Ultra-dry Down water-repellent treatment protects the down from external moisture and condensation from the inside This Bag blurs the line between a hard-alpine or an adventure racing bag, where every gram is counted and down has never been a viable option.
Marmot Always Summer
If the harsh cold isn't on the cards, but merely the fresh crispness of Australia's Winter where the super low temperatures are harder to find, the ultra-light 'Always Summer' bag provides reliable transport to a good night sleep. Even though it's just over two packable pounds, it doesn't skimp on features. "Feely" draw cords, water-resistant down, trapezoidal foot box with a heater pocket, and the included compression stuff and storage sack all add up to some comfort under the stars.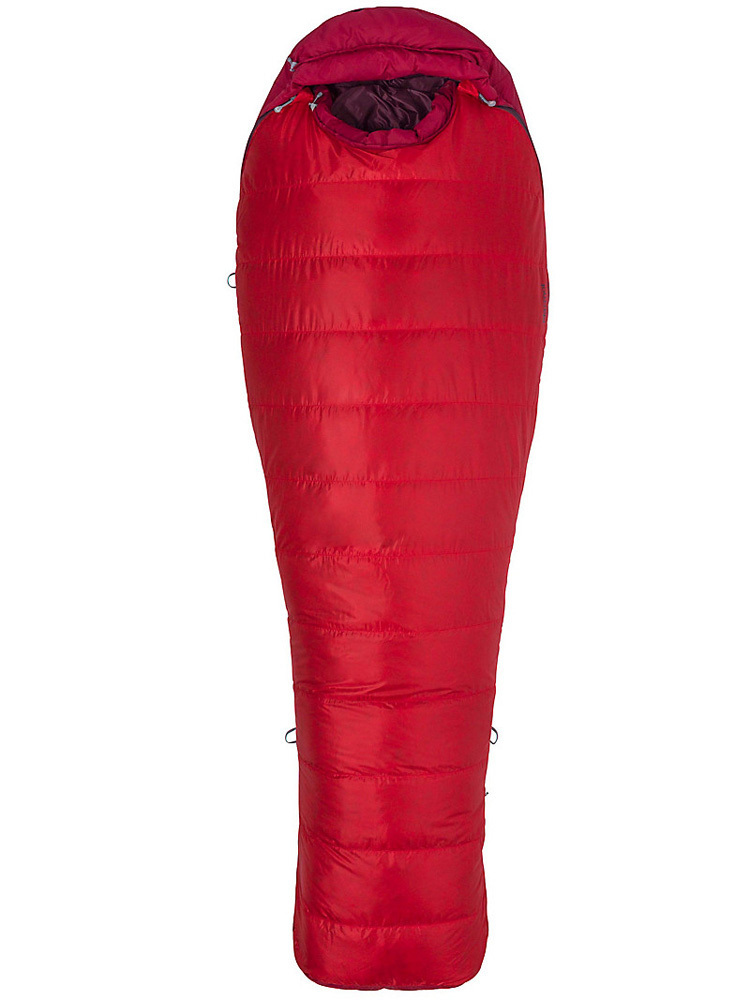 Sea to Summit Spark 2
The Spark Series bags are designed to keep you as warm as possible while minimising packed weight and size. A common theme throughout this, light yet warm is always a winner with a great winter bag.
The Spark is a combination of quality materials and great construction, The RDS 850+ Loft premium goose down, light-gauge #3 YKK zip and high performance 10D Nylon shell and 7D lining fabrics, Similar to the Flame series these aspects combined with a contoured mummy design create efficient insulation. The Ultra-Dry Down water-repellent treatment against external moisture and condensation and virtually eliminating the negative effects moisture has on down. To make it even better, all Sea to Summit Down Sleeping Bags use Responsible Down Standard (RDS) certified down.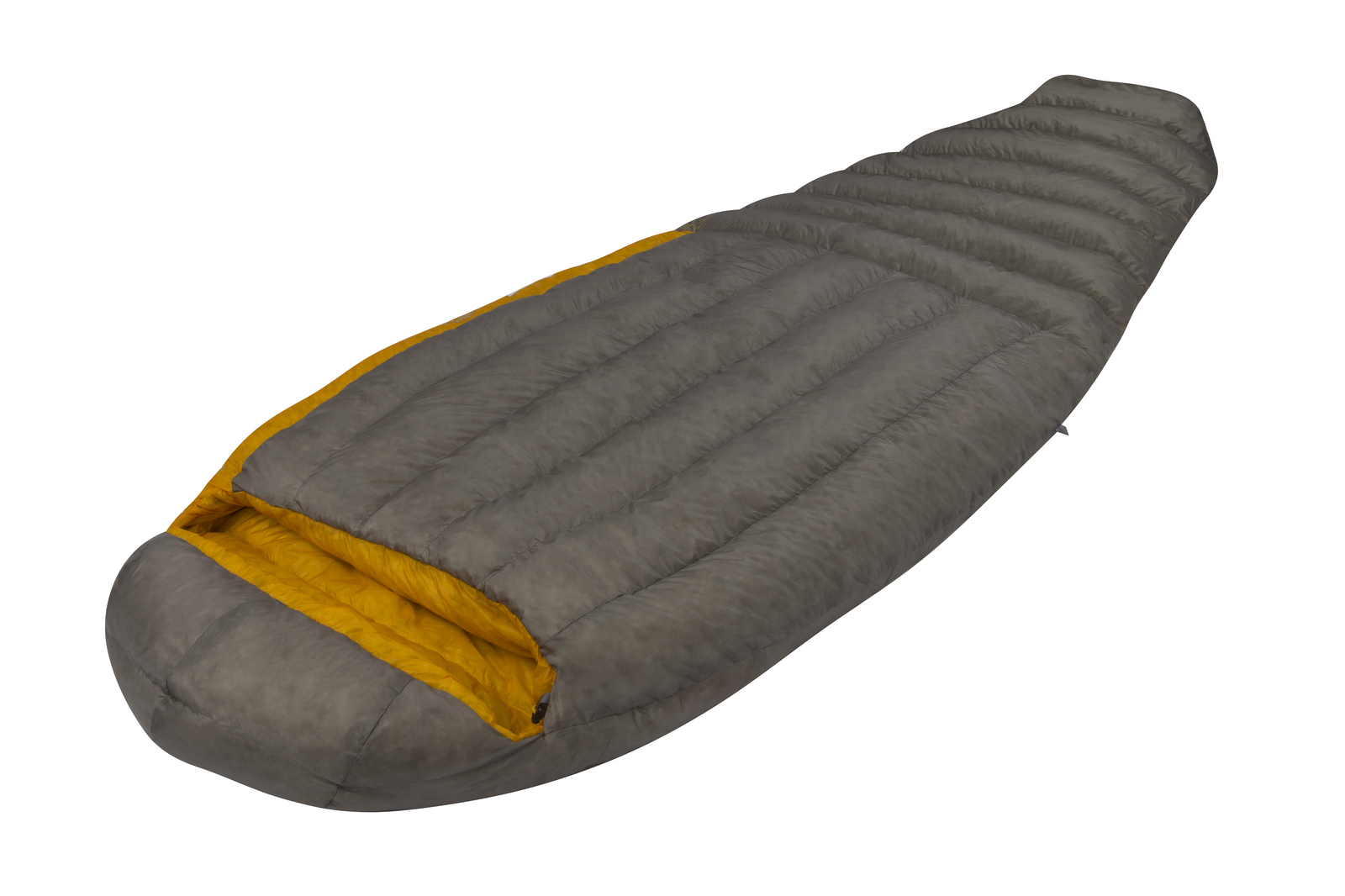 Another thing to keep in mind When choosing the right bag for you, is considering either Down or Synthetic. Both options have many pros and cons, Synthetic tends to be cheaper but a little bulkier, as well as being easier to care for but tends to have a smaller life span. Down tends to be on the pricier side, however is mostly warmer and highly more compressible, as well as being longer lasting but slightly more difficult to care for.
Now you have a little bit more understanding of what to consider, here are 5 more options we would highly recommend to sleep well on your winter adventure.
Sea to Summit Trek 2
This bg demonstrates traditional comfort and value, with an anything but traditional design approach, the Trek Series sleeping bags are what we grab for globe-trotting adventures on a budget. A side block baffle construction maintains the 60/40 fill ratio, keeping more down on the top of the bag for maximum insulation. Lightweight fabrics reduce weight and packed bulk while the two-way #5 YKK full length side zip and separate foot zip, allows the bag to open out completely and double as a quilt if you get too hot or need to starfish the legs out. The foot zip contributes to this important need as well, we know how important a good stretch is. The 3D side-wall baffle ensures that down can loft to the very edge of the bag, maximising insulation, while the panelled hood draws in tight when needed or lies flat for use in warmer weather. The oversized zipper draft tube uses anti-snag materials to prevent the zipper catching and the soft-touch 20D lining fabric is highly breathable yet also down proof. With a security pocket inside the bag, Sea to Summit have really factored in everything in the development of this one.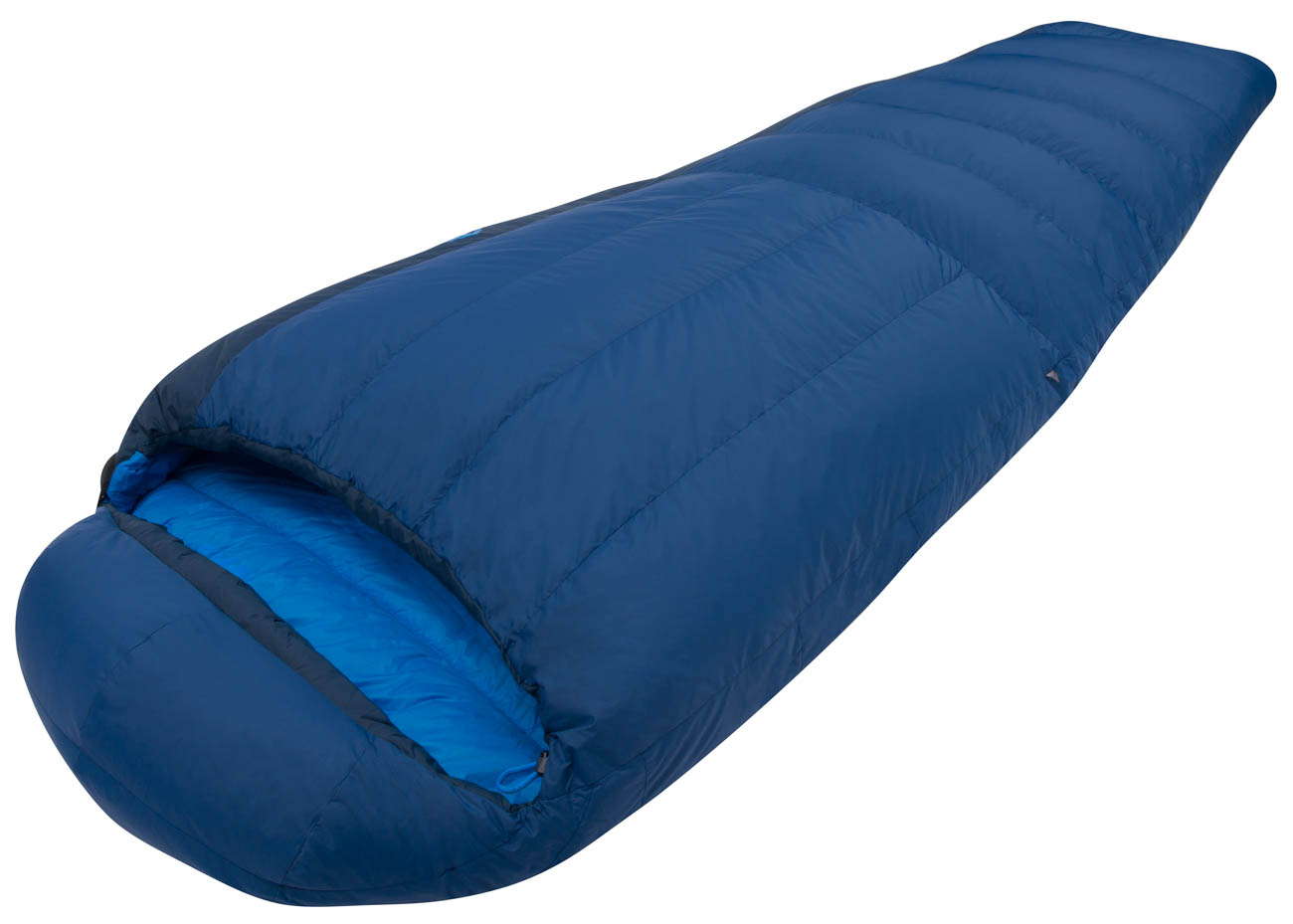 Sea to Summit Quest 1
The Quest is a feature-packed, value oriented synthetic bag for weekend warriors and new campers, yet no slouch when it comes to performance. The unique WaveLoft construction uses thick layers of insulation looped together to gain extra loft and trap pockets of warm air, providing increased warmth in colder conditions. The Quest also features thicker insulation in the footbox, reducing the chance of cold feet interrupting your night's sleep. The women's specific tapered rectangular shape is wider at the hip and narrower at the shoulder, providing more space and comfort than a traditional mummy bag. The full-length right side zip allows the bag to be opened out and used as a quilt while a second zip slider in the footbox provides extra ventilation and versatile temperature adjustment.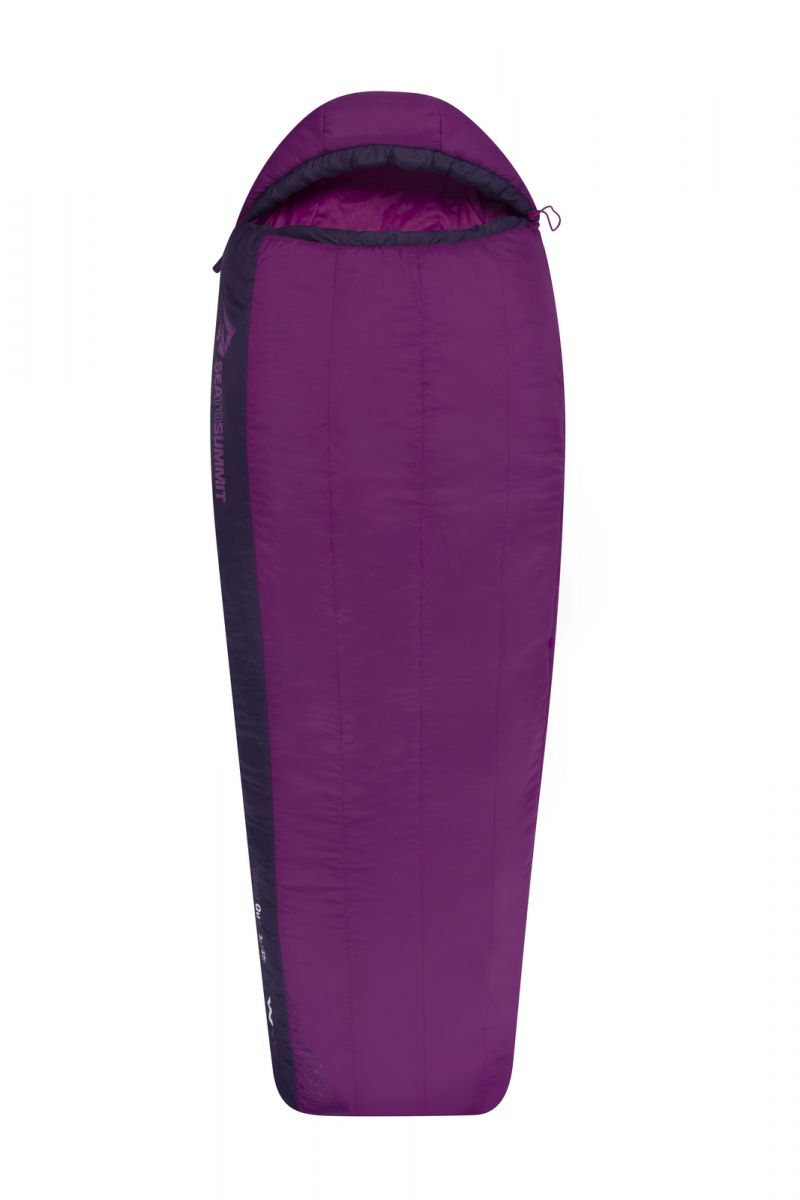 The North Face Eco Trail
Made from recycled materials, embossed lining for enhanced aesthetic appeal, The Eco Trail is one for those looking for a quality product from a trusted brand, while minimizing their environmental impact, a win win. The Extended width in knees for maximum comfort and mobility give the bag a good feel of width, and the wraparound J-zip allows for increased mobility and venting. It carries a fitted hood for warmth and comfort to keep those ears warm, as well as a draft collar for comfort and preventing heat loss for you to go full burrito. The hood cinch-cord tightens around the hoodline and locks in that body heat and allows you to get a nice, warm sleep.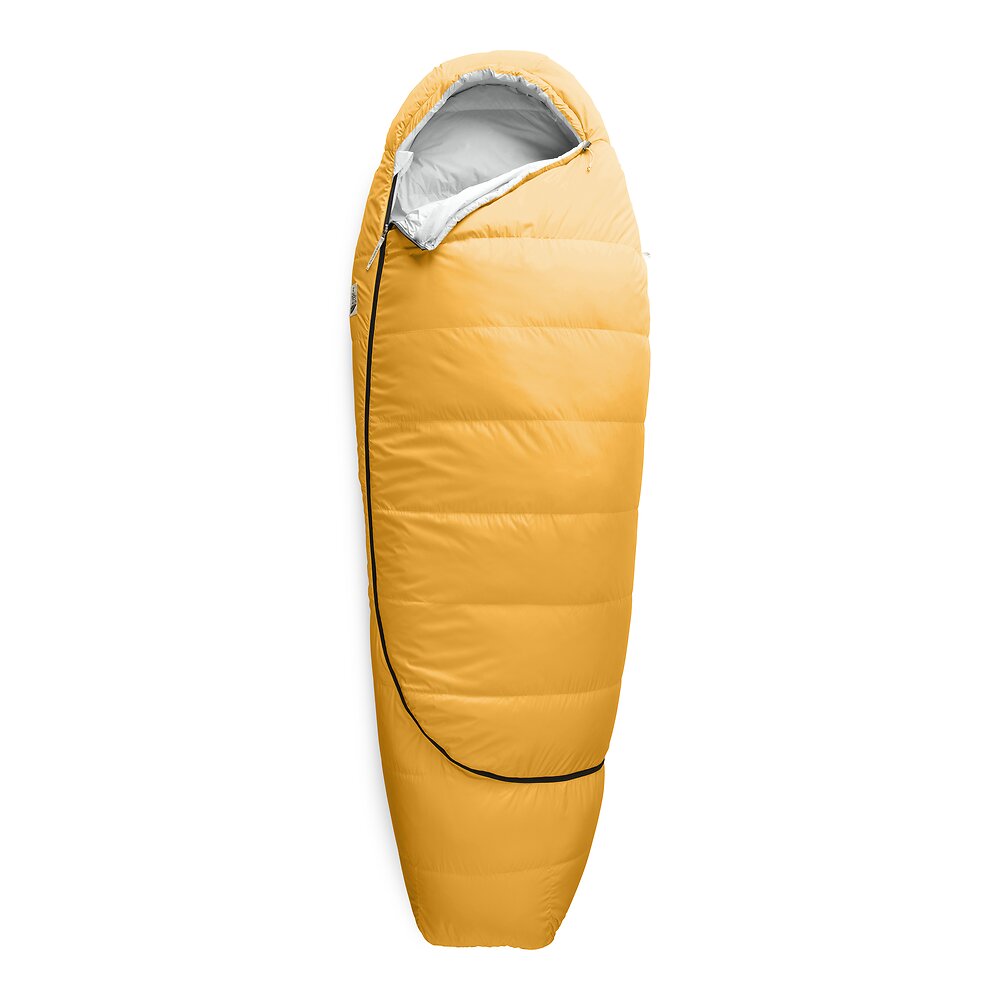 Black Wolf Hiker 300
This efficient hiker 300 down bag is a perfect start for anyone with a smaller budget wanting to build their equipment collection. One of our most frequent sellers, It's available in three warmth options and tested to the international standard for sleeping bag temperature ratings. They are filled with responsibly sourced 700+ loft water repellent down, and has a contoured hood for the colder nights. The zip carries far into the hoodline so you can go to bed like a caterpillar and wake up feeling like a butterfly.
We hope now you've begun to understand what to think when buying your new winter sleeping bag. Remember temperature, weight and shape first, then prioritise comfort. (Then colour because colour coordination is key out in the wilderness.) If You have any questions about our top recommendations, get in touch or come in store to try them out. Have a good sleep!