Christmas is nearly here, and for many of us that means getting all your gear ready, strapping the kids in the car, and joining the traffic to head off to your favourite camp-site!
It's that time of year when the days are long, the air is hot and you're starting to think about and plan your Christmas camping getaway. With so much happening in the lead up to Christmas, just the thought of trying to keep the kids (especially the big kids) occupied and exploring the great outdoors can be a major undertaking, but it doesn't have to be stressful. One of the best stress relievers we've found is to make sure you're organised before you leave so you don't have to worry about leaving anything behind.

So...with that in mind, let's talk about your gear. It's best to pull the tent out a few weeks before you leave to make sure it's in working order, and identify if any repairs need to be made (you know, the ones you forgot to do last time?), so you can fix them now rather than realising once you've set up camp.

We like to set up our "soon-to-be campsite" in the back yard to inspect it and run through a quick checklist; tent – check, chairs – check, table – check,...etc.

One of the best packing tips we can give you, is to use a Camping Checklist so you can be sure you have everything covered and you don't get out to your camp-site and realise you forgot the cooking utensils (yes it has been done before, and it's not that easy to flip eggs with a couple of sticks!).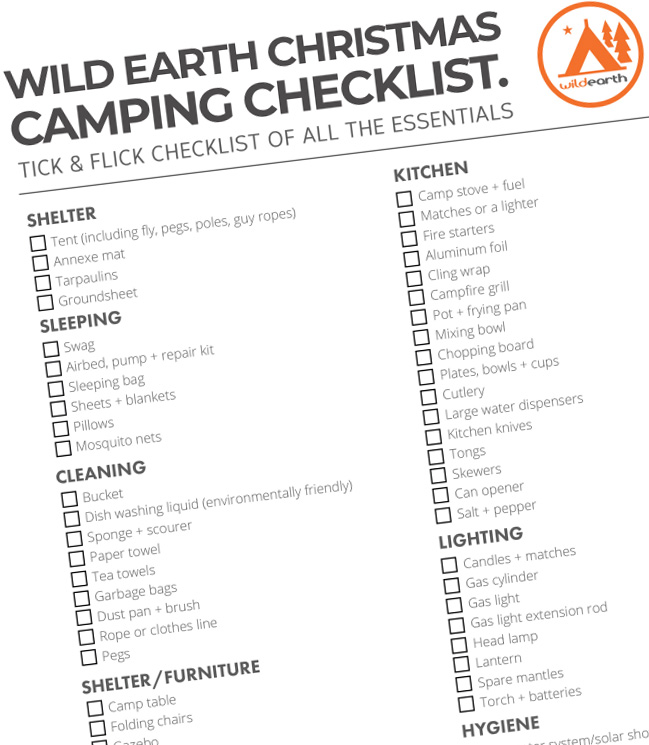 Going exploring in the great outdoors doesn't have to be stressful either. The right gear can save your time and sanity, and the camp envy will be obvious from those camped around you who haven't planned and prepared as well as you. A few things that are essential to pack – THE FUN STUFF!!!

Throw in the footy, slackline, cricket set, Frisbee, bocce set, badminton, totem tennis, and even your bike! This will keep everyone in your camp having fun and, if you're lucky, encourage your camping neighbours to come out of the woodwork for the world's biggest game of touch footy. Taking the right equipment for the location will enhance your family's enjoyment and the opportunity to completely engage with their camping holiday.

We've pulled together a collection of some of the things you're going to need for your long weekend away in our Christmas Gear Guide.

And, for the ultimate checklist of everything you need for your Christmas Camping getaway, grab your Christmas Gear Checklist.