One of the Wild Earth crew, Jamie, went out to Mount Maroon to test the Sahara Drover XL Freestanding Dome Swag. Here is his review of the Sahara Drover XL Swag.
The good old swag, a one way ticket to a deeper sleep out bush. Swags are durable, easy to set up, and provide an extra level of comfort that's hard to find in even the best of inflatable mattresses. Yes, they may not be the most lightweight or mobile method of sleeping, but if a drive-in campsite is your local go-to with no hike needed, then packing a swag will be the best thing you did since remembering to bring marshmallows.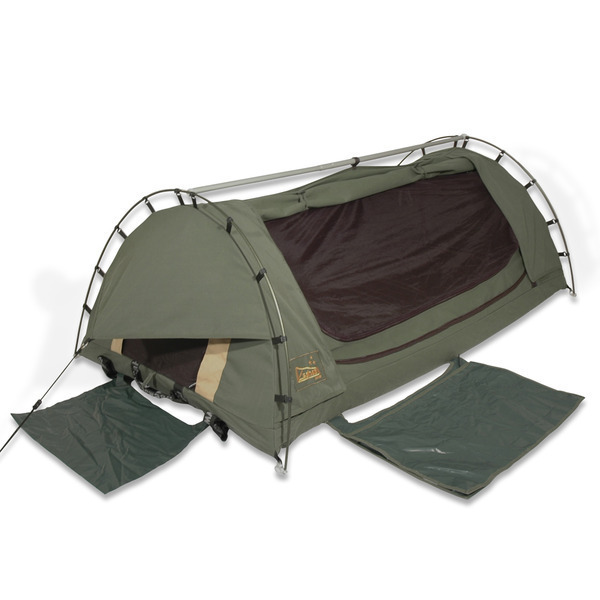 A few days back I tested the Sahara Drover XL swag, a few hours inland from Burleigh Heads, Gold Coast and this was my first time using a swag altogether. The Drover is part of the Sahara Platinum 15oz canvas range and the latest innovation in Freestanding Swag design. Within 5 minutes of pulling up to the campsite, I had taken the swag out of its canvas carry bag, picked a spot and had my sleeping arrangements ready to go. Giving me more time to focus on the more important things - collecting firewood (Eating snacks).
The Drover was so easy to set up that I thought I was missing something, its twin alloy pole design with the middle spreader means the entire swag is up with only 3 pieces, all slotting together to create a durable and solid feeling structure. Immediately I noticed the thickness of the inner mattress starting to expand after being compressed for a while. It reached 70mm thick in no time at all, meaning (obviously) I was inside testing its comfort and was thoroughly impressed, like arriving at a hotel and testing the bed before you've even taken off your backpack.
The outer material feels strong and durable, It's made from waterproof 100% 15oz heavy duty and high density poly/cotton canvas which is rot proofed, UV resistant, breathable and mold resistant - meaning this purchase is an investment, a piece of equipment built to cope with any trip you've got in stock.
That night the sky was as clear as glass and I didnt want to miss out on the stars. I slept with the Inner sandfly and midge-proof mesh zipped down with the heavy duty zippers, leaving the canvas outer shell thrown over the opposite side of the swag. Having half the canvas ceiling above me opened up, I had a full view of the night sky until I opened my eyes to first light. With my belongings with me inside the swag and my boots stashed in the securely sewn waterproof pocket, I still had plenty of space to stretch out my legs. There was no issue with insufficient space by any means, and I'm 6ft tall!
With that adventurous, campsite feeling of a tent, but the comfort of soft bedding between me and the ground, It was probably one of my best night sleeps outdoors. That is, however, until I realised I had fallen asleep before I got to eat my marshmallows!......Doh!
If you want to check out our large range of swags, check out our website or come in store to chat with our experts. Until then, we'll see you outdoors!
Share your adventures with us on Instagram by tagging @wildearthaustralia and #mywildearth in your next post.