Kochi is an oasis for adventurous travellers.

Keira Bleany, Wild Earth ambassador, spent 45 days walking Japan's 1,200km Shikoku Pilgrimage, travelling through the hiker's paradise of Kochi on her way. Here's why she thinks you shouldn't miss it.

Shikoku island situated in the south of Japan is a land of captivating beauty, where tradition blends with modern life seamlessly. Shikoku is made up of four prefectures and nestled on the southern coast of the island is the scenic Kochi Prefecture that beckons adventure seekers to the region. Expect lush landscapes, exciting outdoor activities and historic traditional villages.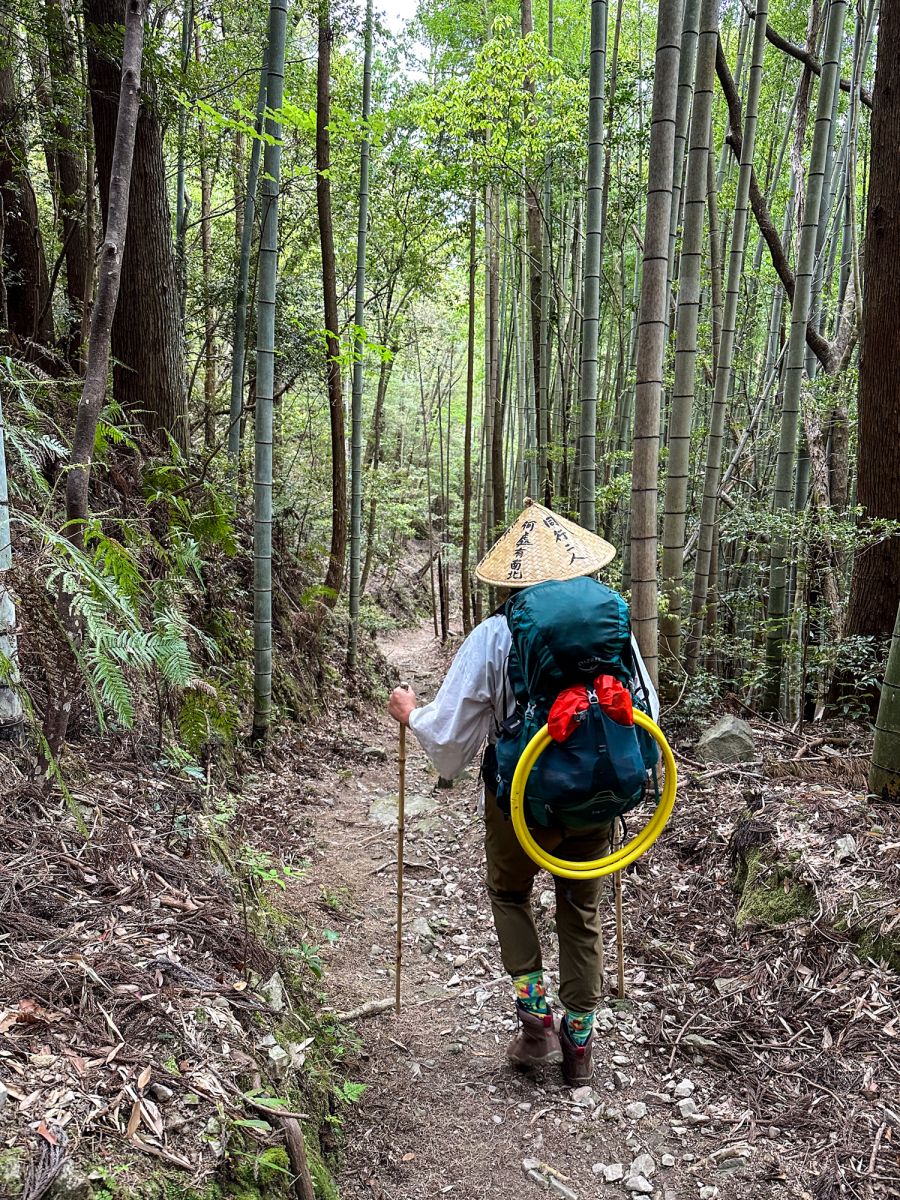 A bamboo forest trail on the 88 Temple Pilgrimage. Photo: Kiera Blaney

With the perfect mix of adventure, history and culture you will see a side of Japan that will surprise and excite you. After witnessing the busy streets of Tokyo you will be taken back in time when you enter Kochi Prefecture.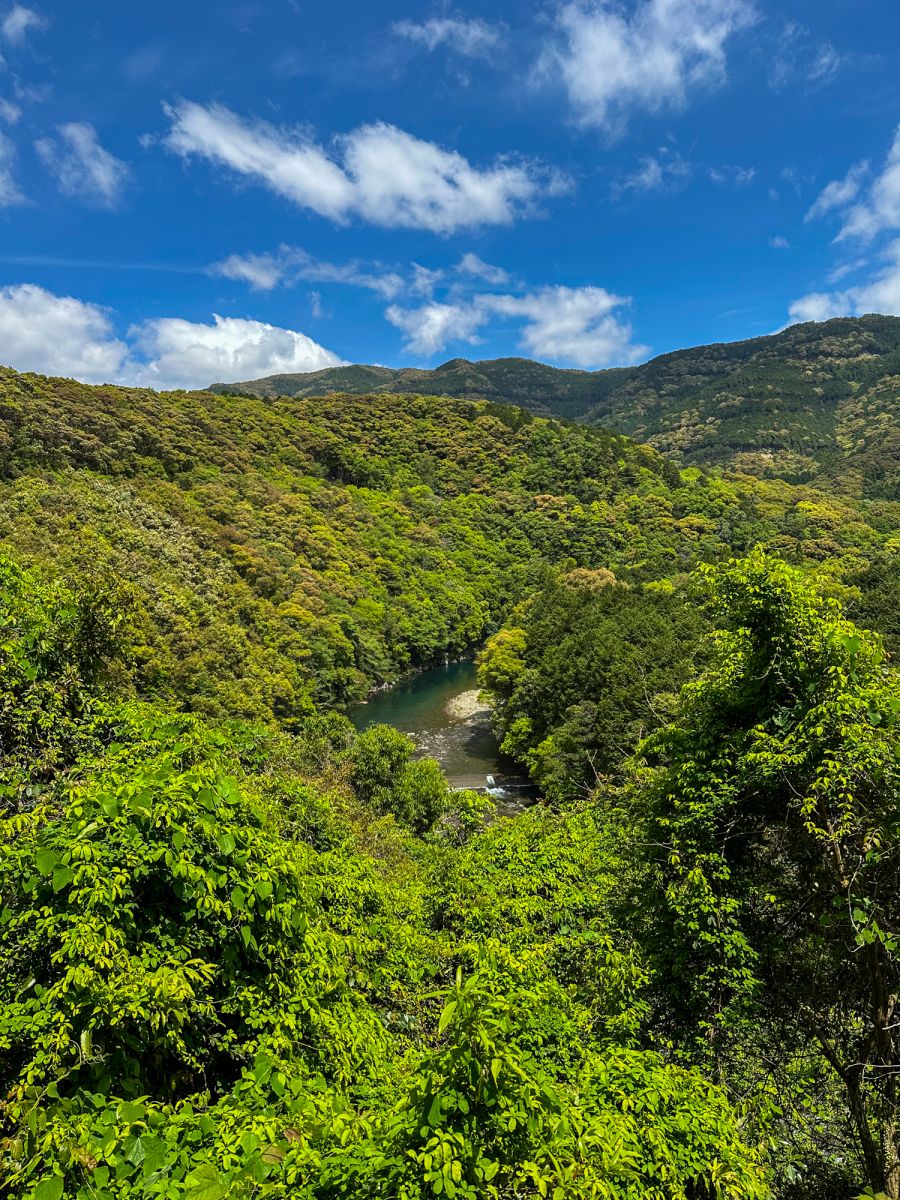 The Ichinose River surrounded by lush green forest. Photo: Kiera Blaney
Adventure options in Kochi Prefecture
For adventure seekers, Kochi Prefecture is a gold mine of action-packed experiences. Its diverse landscape offers an array of activities that cater to any adventure traveller.
1. Let's go hiking!
Kochi is a hiker's paradise, offering multiple trails that traverse through its lush forests and mountainous terrain. The ancient 88 temple pilgrimage trail that is 1250 years old winds through Kochi visiting 16 of the 88 temples along the historic pilgrimage trail. Notable parts of the trail include walking the coastline to Cape Ashizuri through local fishing villages and rice terraces to arrive at Kongōfukuji, Temple 38, pictured below.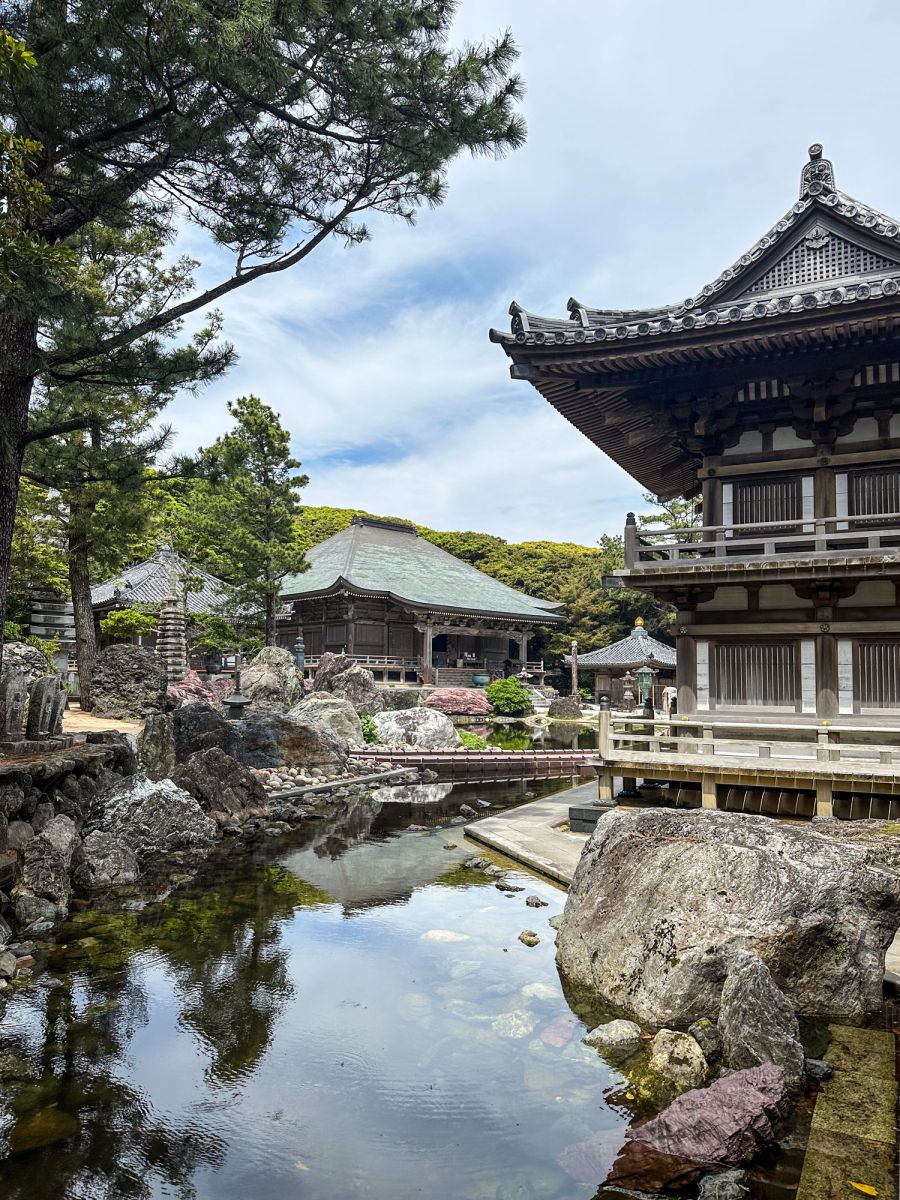 Kongōfukuji Temple. Photo: Kiera Blaney

For those who wish to experience walking the pilgrimage in a shorter time frame, there are multiple options to choose from. The Muroto Peninsula Section is 12km and the perfect way to experience a day in the life of a pilgrim. Starting at Temple 24 you can explore the cave where Kobo Daishi was said to have reached enlightenment and play the 'musical stone' which has small indentations that produce a bell-like sound. From here it is only 6 km along the stunning coastline to Temple 25 and another 5 km to Temple 26 where you can experience walking the steep stairs that lead up to the main gate. The area is connected by public transport making it possible to return via bus or train back to your accommodation.
Temple 37, Iwamoto-ji Temple, is one of my favourite temples. Visitors are able to partake in a unique guided tour to this temple along the 20km Osaka pilgrimage trail starting in the retro village of Kure. The temple is unique because it is one of few that provide temple lodging to pilgrims so you can experience the life of a monk and attend the morning prayers in the temple. Make sure to look up when inside the temple to see the hand-painted tiles decorating the ceiling.
The hand-painted ceiling of Iwamoto-ji Temple. Photo: Kiera Blaney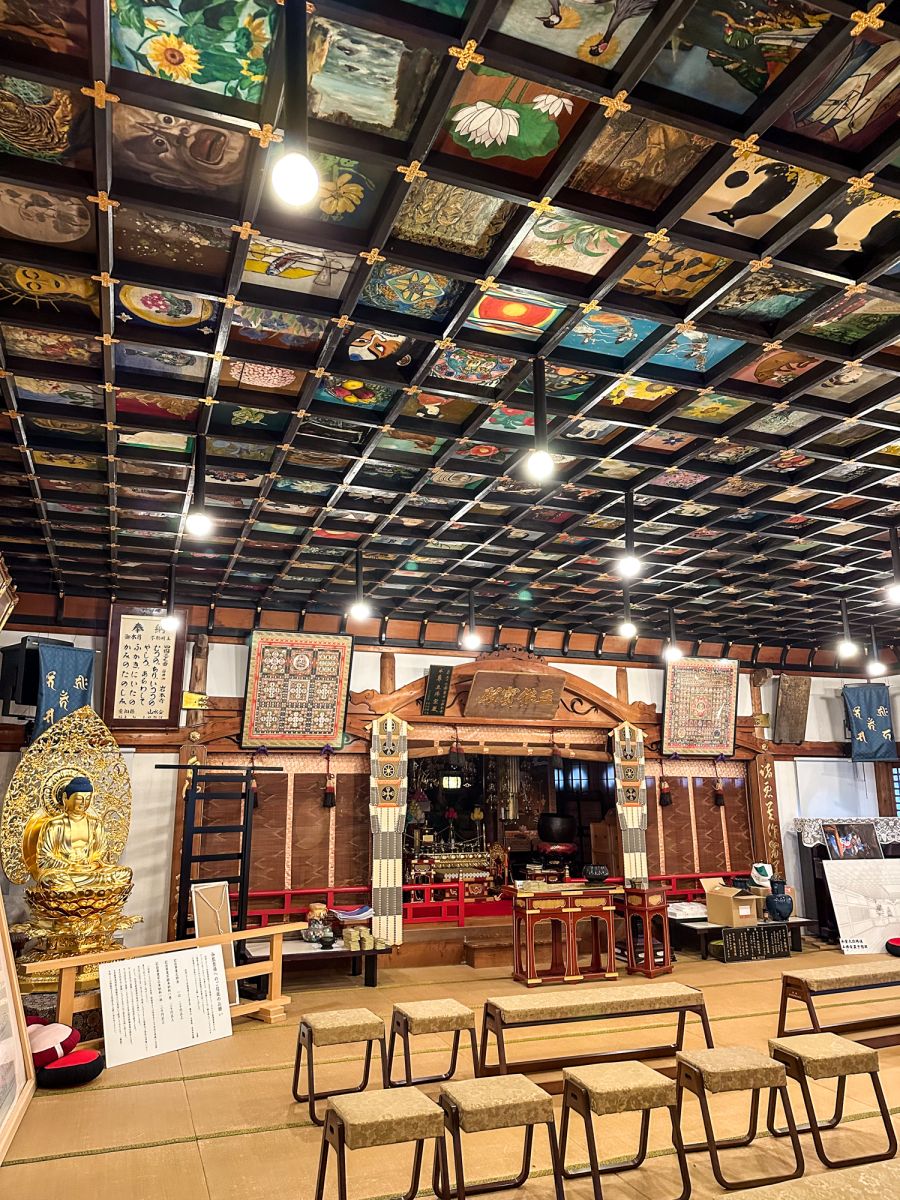 The main temple of Iwamoto-ji Temple where pilgrims can sit and watch the morning prayers. Photo: Kiera Blaney
2. Did someone say rafting and canyoneering?
The pristine Niyodo River is the ideal setting for your water adventures. Rafting and canyoneering fanatics can experience the river's exhilarating rapids and explore its striking gorges with experts of the area, Niyodo Adventure.
3. Learn to surf - in Japan?!
Yes! Did you know that the coast of Kochi Prefecture boasts some of Japan's finest surfing spots? Surf enthusiasts can catch thrilling waves along the Cape of Muroto while staying with a local surfing legend at Minshuku Tokumasu. A family-operated bed and breakfast that has been in the family for three generations. Pictured below is
the eldest generation of Minshuku Tokumasu still caring for guests.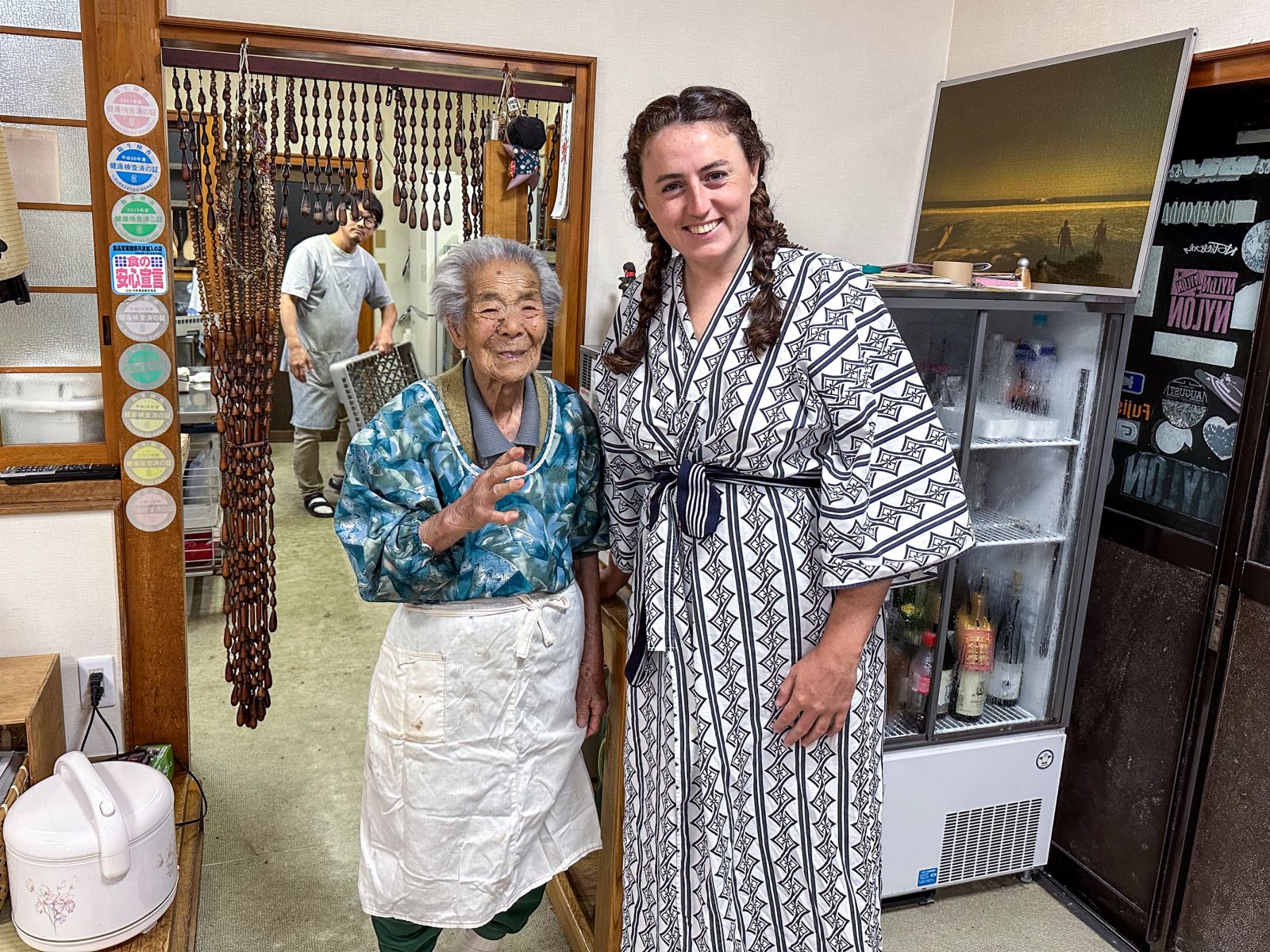 Meeting 92-year-old grandma who started the homestay many years ago. Photo: Kiera Blaney
4. Cyclist haven!
For a more leisurely adventure, a bicycle tour is popular in the region. There are various cycling routes through picturesque countryside and quaint villages and even the 88 temple pilgrimage is doable by bicycle.
An unforgettable way to experience the unspoilt surroundings is cycling the Shimanto River Source to Sea path over 4 days with Kochi Escapes. This adventure is a mix of hiking in the lush mountains to taste the sweet water from the river's source and cycling along the river towards the Pacific Ocean witnessing the local people living in harmony with the environment around them.
The Unforgettable Hospitality
What truly sets Kochi Prefecture and Shikoku Island apart from other destinations is the authentic and warm hospitality of the local people towards visitors. The local people not only take pride in their traditions and culture but they pride themselves in welcoming guests to their country. As a traveller, you are encouraged by the local people to engage in traditional customs and experience their way of life.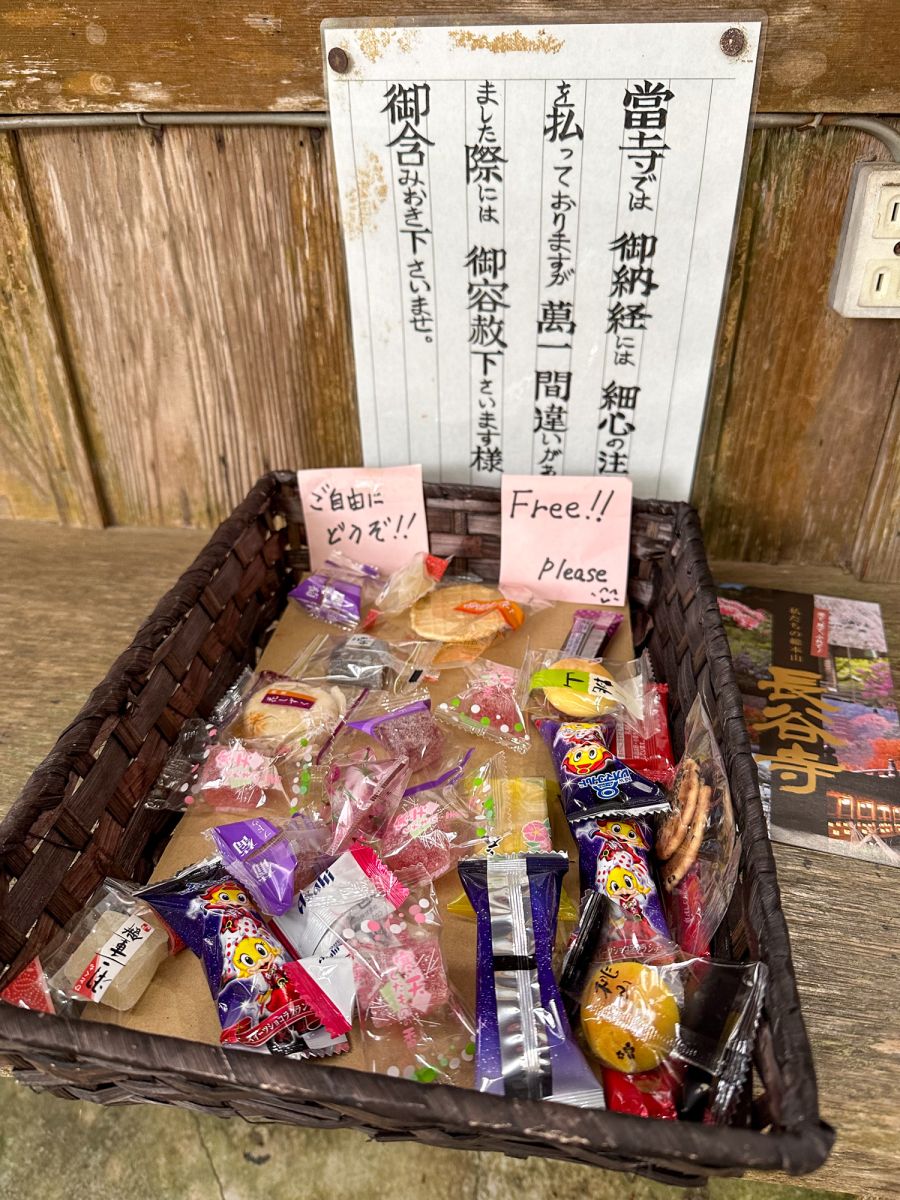 Gifts for pilgrims, a common sight on the 88 Temple Pilgrimage. Photo: Kiera Blaney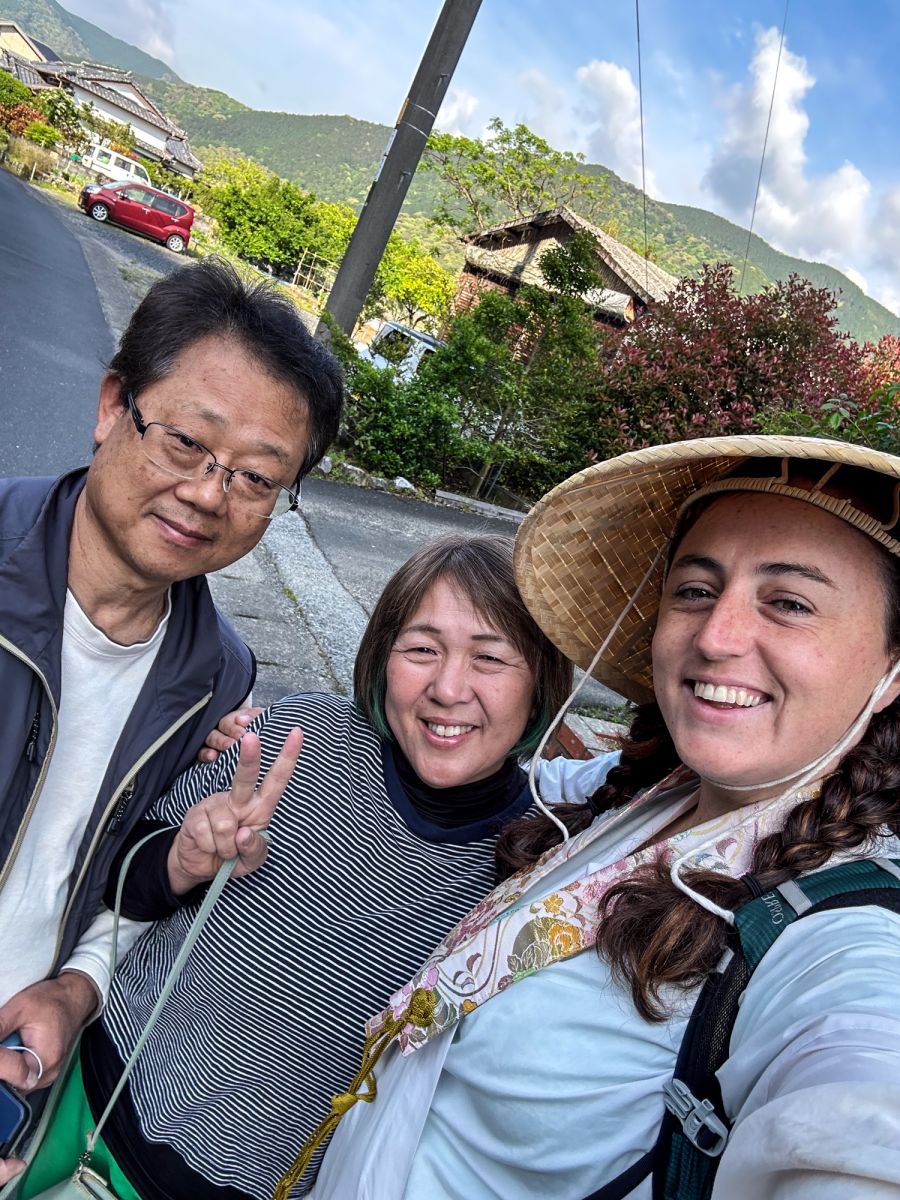 A local family who invited Kiera to stay with them in their home. Photo: Kiera Blaney
Conclusion
Kochi Prefecture of Shikoku is an oasis for adventure travellers. With breathtaking landscapes, a rich culture and a smorgasbord of thrilling activities it guarantees an unforgettable experience for any type of traveller. Whether you are seeking tranquil walks in nature or thrilling adventure sports Kochi Prefecture is the place to be. So let's get packing and go on an adventure!
What kind of gear should you bring with you while exploring Kochi?
● A lightweight and durable backpack like the Osprey Eja 48L would be great for hiking in the region.
● For any of the above adventures a pair of Teva Sandals is a great addition to the packing list. Quick drying for water sports and a lightweight option for short hikes.
● If you are planning to do a longer hike, like the 88 Temple Pilgrimage, I wore the VivoBarefoot Trackers which are a good option for the minimalist traveller.
● Osprey Hydraulics Water Bladder for easy drinking while you are out and about. Tap water in Japan is safe to drink so you can easily refill your bladder anywhere.
● GoalZero 100 PD Power Bank. Japan is a beautiful and picturesque country so you will be taking many photos and videos as you venture around. You will want to have a portable high-powered charger to recharge your devices on the go.

Follow Kiera's adventures on Instagram. If you're planning a trip soon, make sure you choose the right gear. Visit us in-store to chat with our experts or shoot us a message online if you have any questions! Don't forget to share your adventures with us on Instagram by tagging @wildearthaustralia and #mywildearth in your next post.